FlexiSpot Odin E7Q review: A heavy-duty standing desk
The FlexiSpot Odin E7Q standing desk has enough muscle to lift heavy office equipment, so you can readily work on your feet throughout the day.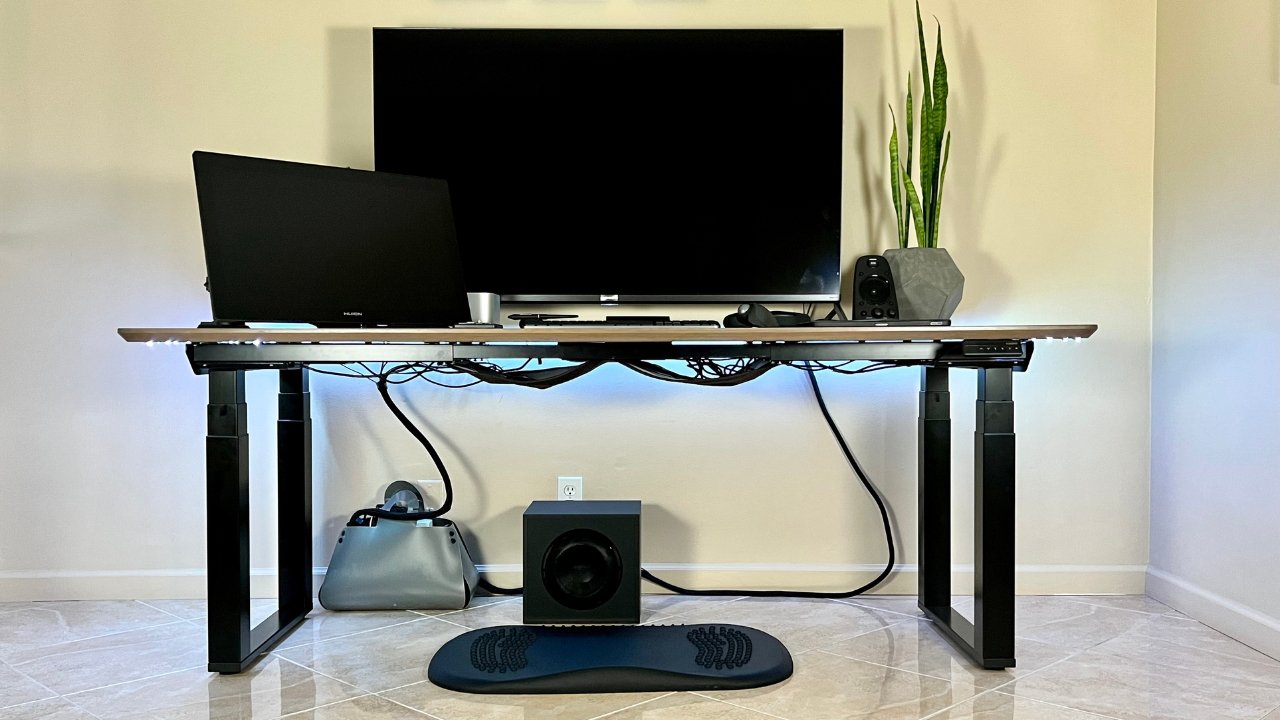 Review: FlexiSpot E7Q standing desk
Using a standing desk is advantageous not just for health benefits but also for functionality. For example, you can use a standing desk to ensure that you incorporate movement throughout your workday or adjust the height of your workspace for various tasks.
For example, a photographer can unload bulky cameras and lenses on a table at an elevated height, then lower it while editing. Likewise, a DJ can sit at a desk to prepare a track list, then raise the desk to perform a set.
You'll need ample space to hold everything if your work involves large and heavy gear, such as long camera lenses or DJ controllers. The table must also be sturdy enough to contain everything without you having to worry about your expensive items crashing to the ground.
The E7Q standing desk, also known as the Odin desk, is a top performer in FlexiSpot's lineup of standing desks. The E7Q desk can be practical if you need a spacious workspace for a heavy desk setup.
FlexiSpot E7Q -- a gentle heavy lifter
The FlexiSpot E7Q is the heavy-lifting big brother of other FlexiSpot standing desks, such as
the Q8
and
E7 Pro Plus
. The maximum weight capacity for the FlexiSpot E7Q is 440 pounds, which is over 100 pounds more than the Q8 and E7 Pro Plus.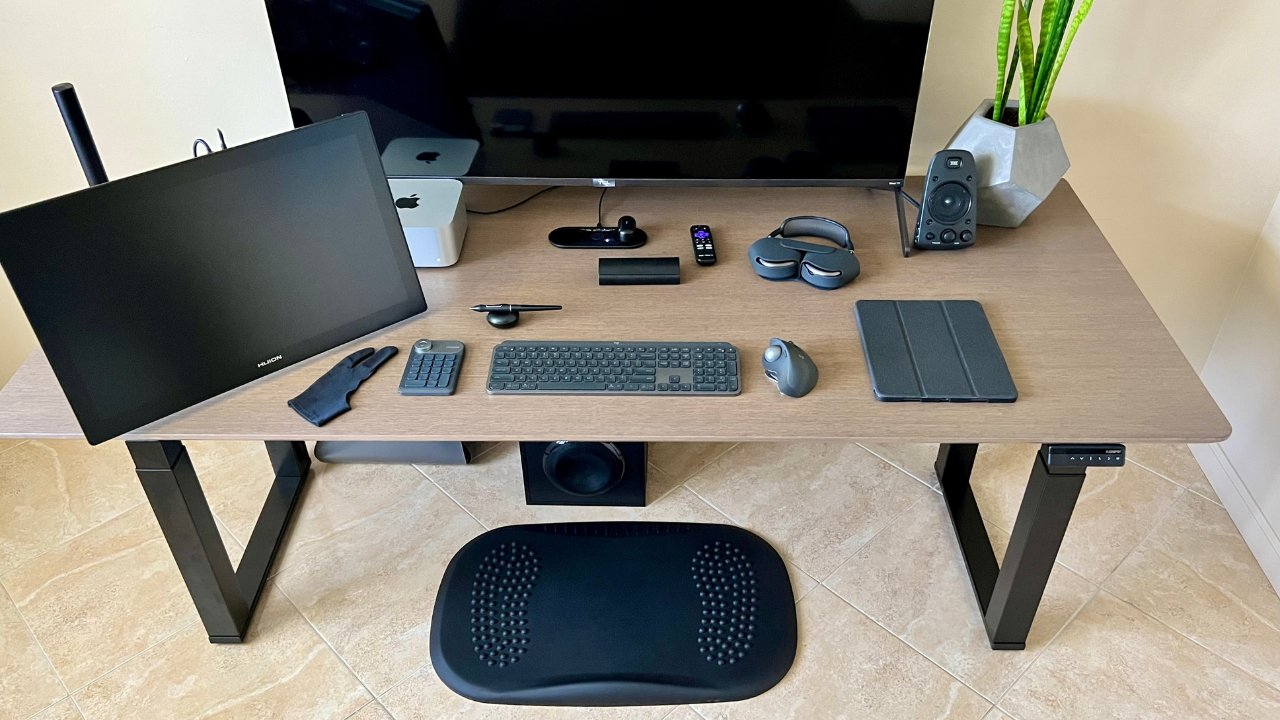 Choose a large tabletop for the FlexiSpot E7Q desk to hold bulky items like wide screens
Not only can the FlexiSpot E7Q handle a substantial load, but it can also accommodate sizable items. According to FlexiSpot 's website, you can choose a tabletop dimension as large as 94.5 inches by 35.4 inches.
To test the E7Q desk, a digital artist's work setup was used. Sprawled across the back was a 55-inch TV for storyboarding and reference photos. In front of that was a 23.8-inch
Huion drawing tablet
mounted to the desk.
Even with these sizable screens, there was plenty of room left to spread out a
Mac Studio
, an
iPad Pro
, and other accessories.
Depending on your work, you may not have wide screens. In that case, you can use the desk space for a shelf. Depending on your desk height, you can use the area underneath for a file cabinet.
With all your expensive gear on the standing desk, you want to ensure that your equipment is stable during the lifting and lowering of the desk. The E7Q desk has four legs instead of two and can provide more stability than two-legged desks.
To switch positions throughout your workday, you can adjust the height of the E7Q desk from 23.8 inches to 49.4 inches using the keypad. Additionally, you can save up to three height presets -- stand, sit, and an extra one to use however you wish.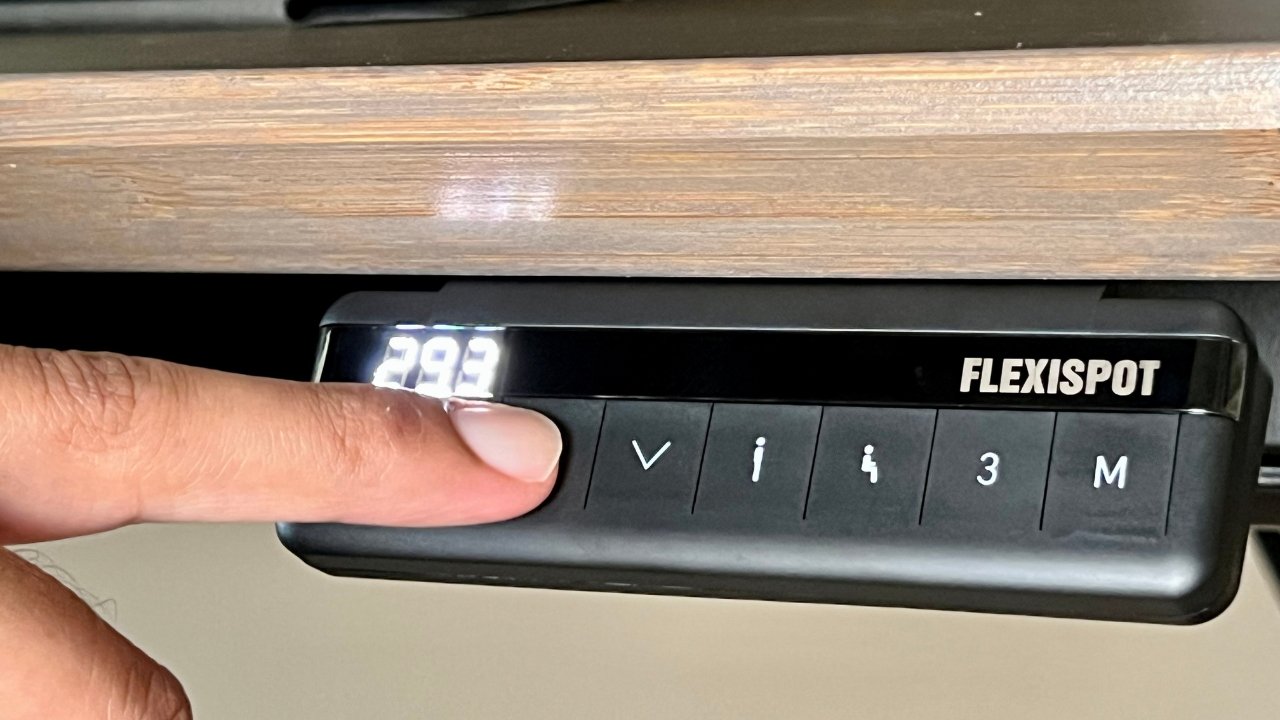 The FlexiSpot E7Q standing desk keypad allows for three height presets
The keypad is compact and generally stays out of the way, and it can be mounted on the left or right edge of the desk near a table leg. If your office chair has armrests, be careful not to damage the keypad by running into it with the armrest.
You can also use the keypad to turn on the anti-collision and set the collision sensitivity.
The anti-collision function is a safety feature that stops the desk from lowering when it detects an object in its path. The E7Q desk will also alert you with a beep if it senses an object in its pathway when the desk is ascending.
According to FlexiSpot, the lift speed of the E7Q desk is 1.5 inches per second, and the noise level is less than 50 decibels. All items on the desk were keenly observed for wobbling during lifting, but everything remained incredibly still as the table rose to new heights.
FlexiSpot E7Q -- customization and assembly
Customization options are plenty with the E7Q desk. When you purchase the frame, you can choose your tabletop material and size in addition to add-ons such as monitor arms and cable-management accessories.
If you have an affinity for woodworking and want to source your desktop material, you can buy the standing desk frame alone to add the wood you choose.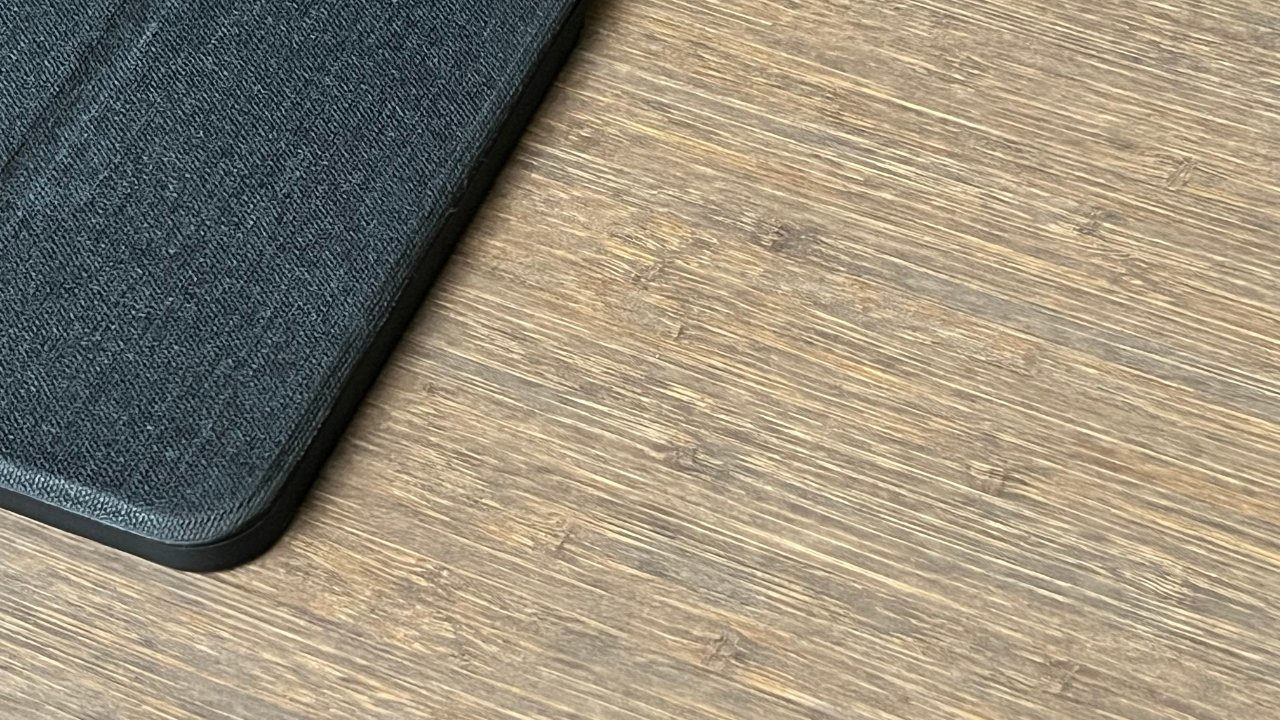 The FlexiSpot E7Q standing desk in dark bamboo
For desktop materials, FlexiSpot lets you choose from chipboard, bamboo, or three kinds of solid wood made in the USA. There are eight looks to choose from if you want the chipboard material, such as graphite or marble.
Desktop sizes vary depending on the material you choose. The dark bamboo material had a smooth surface with a subtle sheen, and the table edge was conducive to mounting a monitor arm for a Huion graphics tablet.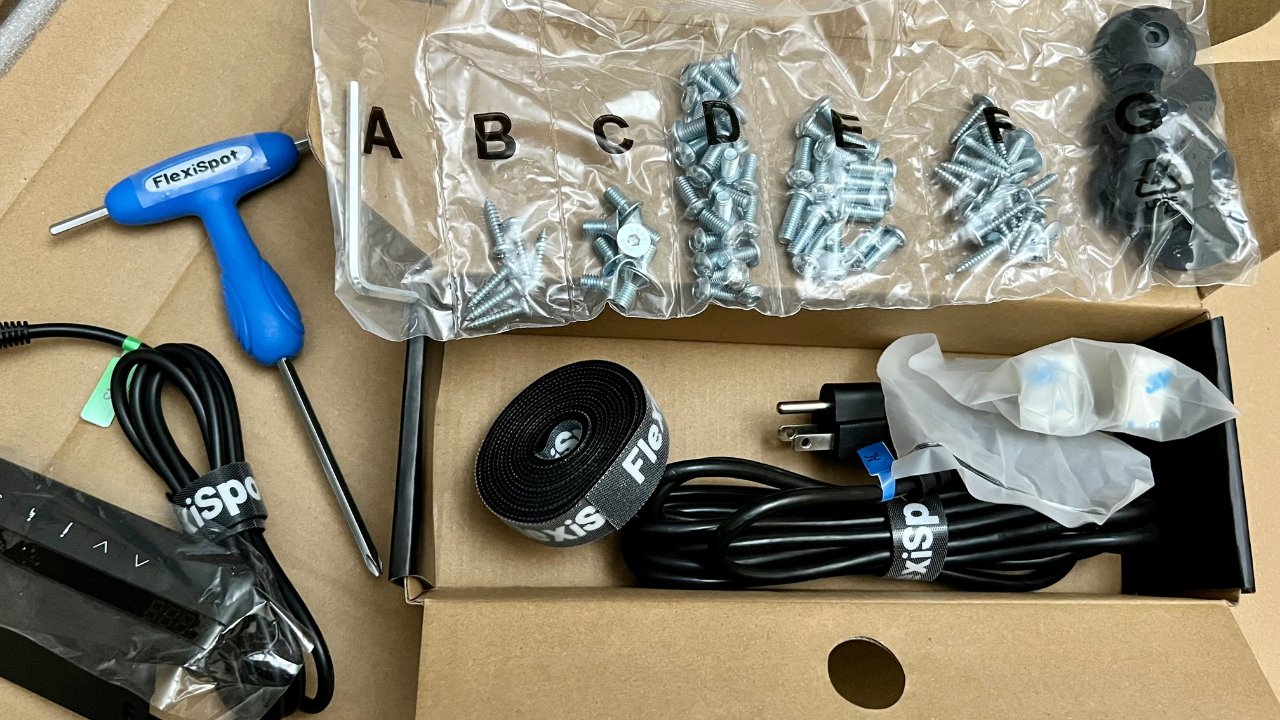 Assembly is required for the FlexiSpot E7Q standing desk
Assembly is required and not for the fainthearted. The instructions were simple enough, but it took two people to assemble the broad tabletop and solid carbon steel legs.
The underside of the tabletop had pre-drilled pilot holes to make things easier. You'll also get a screwdriver and hex key to use. However, a power drill is recommended, especially for attaching the heavy supporting beam to the tabletop.
FlexiSpot E7Q -- usability
Once assembled, the E7Q desk was a joy to use because you can seamlessly switch working positions throughout the day. When your
Apple Watch
reminds you to stand up, press the stand button on the keypad to raise your desk gently but firmly to your preset height, then stand up and resume your work.
It would be a waste of money to buy a standing desk but stay seated at the desk all day. As a bonus incentive to get up and stretch your legs, you can use an anti-fatigue mat to promote blood circulation and comfort.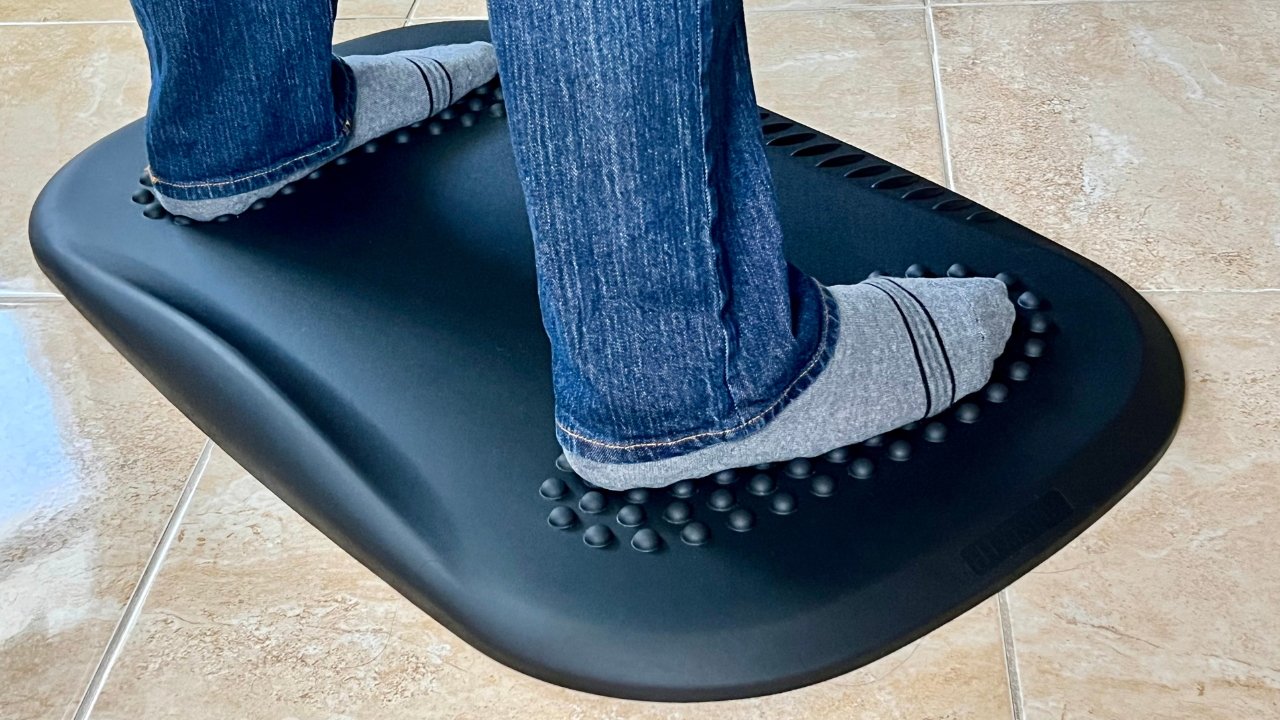 The DM1 anti-fatigue mat can give you extra incentive to work on your feet at your standing desk
FlexiSpot offers two options for cushioned floor mats, such as the DM1 mat. This anti-fatigue mat is almost an inch thick and weighs over 7 pounds.
It has massage points that simulate a foot massage to keep your feet happy throughout your workday.
Despite the lack of storage drawers and the effort it took to assemble, FlexiSpot 's E7Q desk is a work investment worth considering. This gentle giant securely lifts your heavy office equipment with a push of a button, so you can continue working whether you want to sit or stand.
FlexiSpot E7Q -- pros


Best for large and heavy gear -- max tabletop size is 94.5 inches by 35.4 inches, max load capacity is 440 pounds


Sturdy four-legged design


Stable lifting and lowering


Three height presets


Anti-collision feature


FlexiSpot E7Q -- cons


No storage


Assembly required


Rating: 4 out of 5
Where to buy
Shop the
FlexiSpot Odin E7Q desk
directly from their website. Prices start at $1,099.99 for the desk frame and legs, and prices vary depending on the desktop material and size you choose. You will find an array of accessories to customize your workstation - the
DM1 anti-fatigue mat
retails for $74.99.
Read on AppleInsider