New iPhone 15 Pro Max renders show larger camera bump
Posted:
in iPhone
edited April 8
New renders of the
iPhone 15
Pro Max show the model has a slightly larger rear camera bump, as well as offering another look at the solid-state buttons.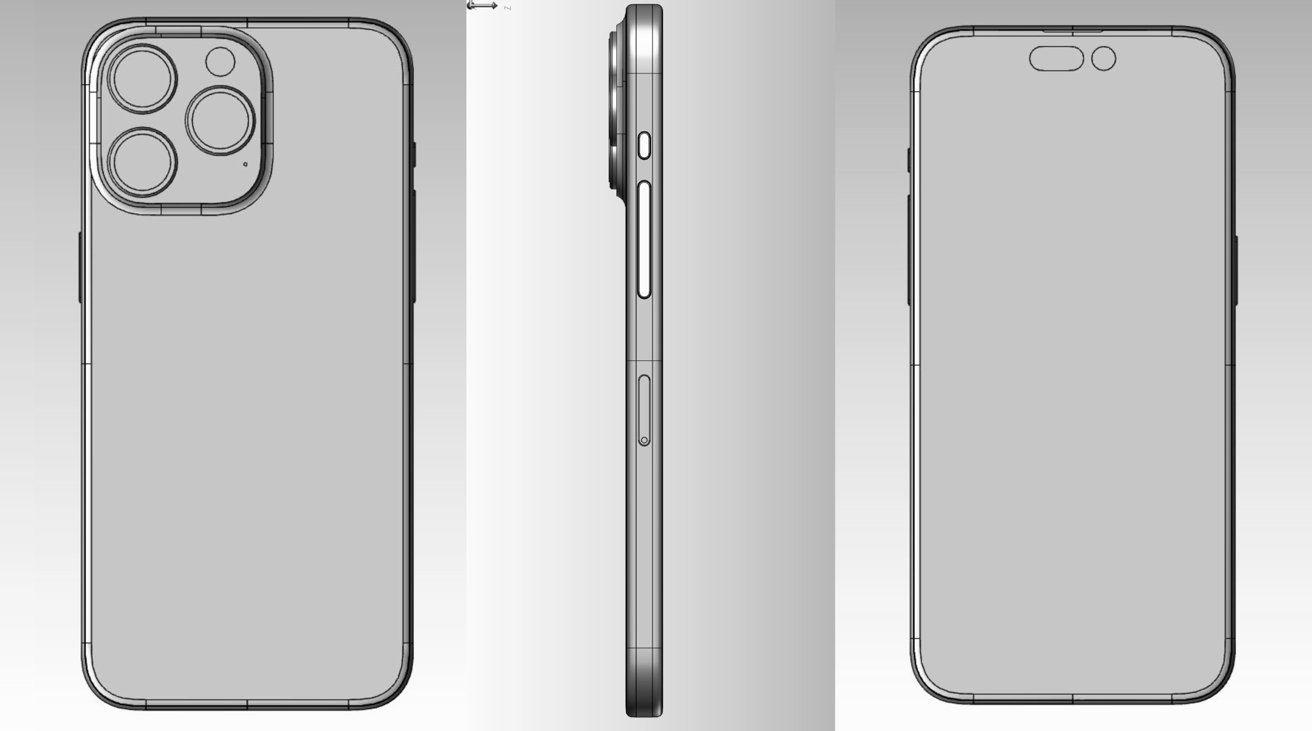 [Twitter/ShrimpApplePro]
Case manufacturers often use leaks to create a CAD drawing of inbound
iPhone
models ahead of an official launch. In one such leak, it seems that there is a belief the camera bump will get bigger for the 2023 releases.
The renders, sourced from an accessory producer's CAD drawing leak by "ShrimpApplePro" and
published
to Twitter on Saturday, offer all of the main views of the iPhone 15 Pro Max. As part of the release, the leaker offers a list of measurements and observations from the CAD itself.
ShrimpApplePro claims the camera bump measures 3.78mm, which is about 5% bigger than the
iPhone 14 Pro
Max's version. Other leakers have put forward leaks in February claiming the bump
could be thinner
.
Excited to share photos of the iPhone 15 Pro Max CAD! This one was source from a case manufacturer. I know others have already shared the 3D model, but I wanted to give you my own w/ a closer look. As promised, the most detailed! pic.twitter.com/FZGBueAgLl
The camera ring diameters are listed as 16.2mm and there's also a 13mm camera lens in the mix, which the leaker says is roughly the same as in 2022.
The rear flash diameter of 6.7mm is smaller than 6.9mm of 2022, with the microphone diameter also down from 1.15mm to 0.75mm. The Dynamic Island is apparently the same size as the previous models.
Shrimp admits that their measurements "may not be exactly the same as the others out there, but I believe its measurements are accurate."
Along with the camera bump, the leaker also discusses "weird objects" sitting on top of the
solid-state volume buttons
. It is thought to be conductive padding that will be fused to phone cases, to enable full gestures or action sensitivity.
There is also a claim the same padding is being included in the iPhone 15 and Plus models, meaning solid-state buttons may be included across the range.
While sometimes fairly accurate, CAD drawings from accessory makers often rely on leaks and rumors for their creation, and may not necessarily be correct data sourced from Apple or the supply chain. There's no guarantee that the information is correct, but it is a good guide of the kind of thing to expect from Apple's fall launch.
Read on AppleInsider