MacBook Pro 14-inch review: M2 Pro model has just gotten more powerful
It's been roughly three months since
AppleInsider
favorably reviewed the M2 Pro-equipped
MacBook Pro 14-inch
. Months later, the shine hasn't yet worn off the powerhouse notebook.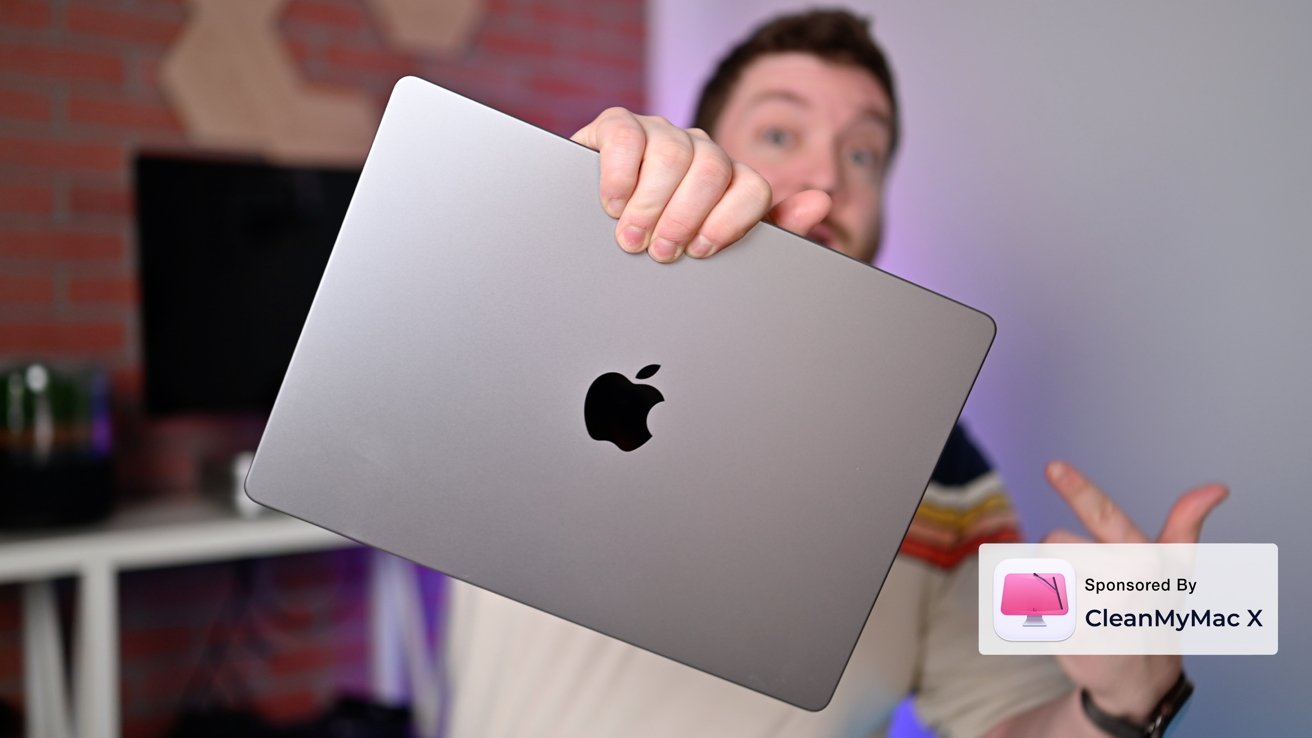 M2 Pro-powered 14-inch MacBook Pro
Back in February,
we looked at
the just-launched
M2 Pro
MacBook Pro 14-inch, which was ultimately a spec bump update from the
M1 Pro and M1 Pro Max
version.
We considered it a "fine" release at the time since it started with a solid base. It had a great design borrowed from its predecessor, great specifications, and -- thanks to M2 Pro -- a massive amount of performance on tap.
A quarter of a year later, our opinions of the portable powerhouse remain largely unchanged.
https://schema.org/
","@type":"VideoObject","name":"M2 Pro 14-Inch MacBook Pro: Honest Long Term Review!","description":"Apple released the M2 Pro-powered MacBook Pro about three months ago. Here's my thoughts after weeks of daily usage.","thumbnailUrl":"
https://i.ytimg.com/vi/pZVHb2z-uPM/sddefault.jpg
","uploadDate":"2023-04-04T16:43:14Z","duration":"PT6M16S","embedUrl":"
"}
MacBook Pro 14-inch: An unchanged exterior
The MacBook Pro 14-inch is a neatly-designed yet performance-heavy notebook, and a lot of that comes from its inherited design. Apple didn't change the outside at all, which was both a blessing and a curse.
Doing so saved Apple from introducing changes for change's sake, which meant less spent on altering manufacturing processes. The design also still feels fresh after only being introduced on the last-gen unit.
Apple could only do so because the design remains exceptional in the crowded notebook market. As a 0.61-inch thick slab of rectangular aluminum, it's unmistakable as one of Apple's top-tier notebook offerings.
That body is married to the excellent 14.2-inch Liquid Retina XDR display, with its high 3,024 by 1,964 resolution being more than enough for most people to work with. That it has a massive million-to-one contrast ratio and up to 1,600 nits of brightness for HDR content are welcomed bonuses, too -- on top of ProMotion.
The ever-present notch hasn't changed anyone's opinions over whether it's a good or a bad thing for the display, as you're still going to love it or hate it after three months of usage. Indeed, you'll probably learn to live with it and be less angry, and more ambivalent about the thing.
Around the edge, the port selection continued Apple's tradition of not going as far as a stereotypical PC notebook in terms of variety. Keeping the selection small was a good idea for the M1 edition, and it's still serviceable here in the M2.
Sure, if you want a few more ports than what's available, you can always go down the route of attaching a dock. But unless you have a burning need to use USB-A or some other more exotic connection, you probably won't need it.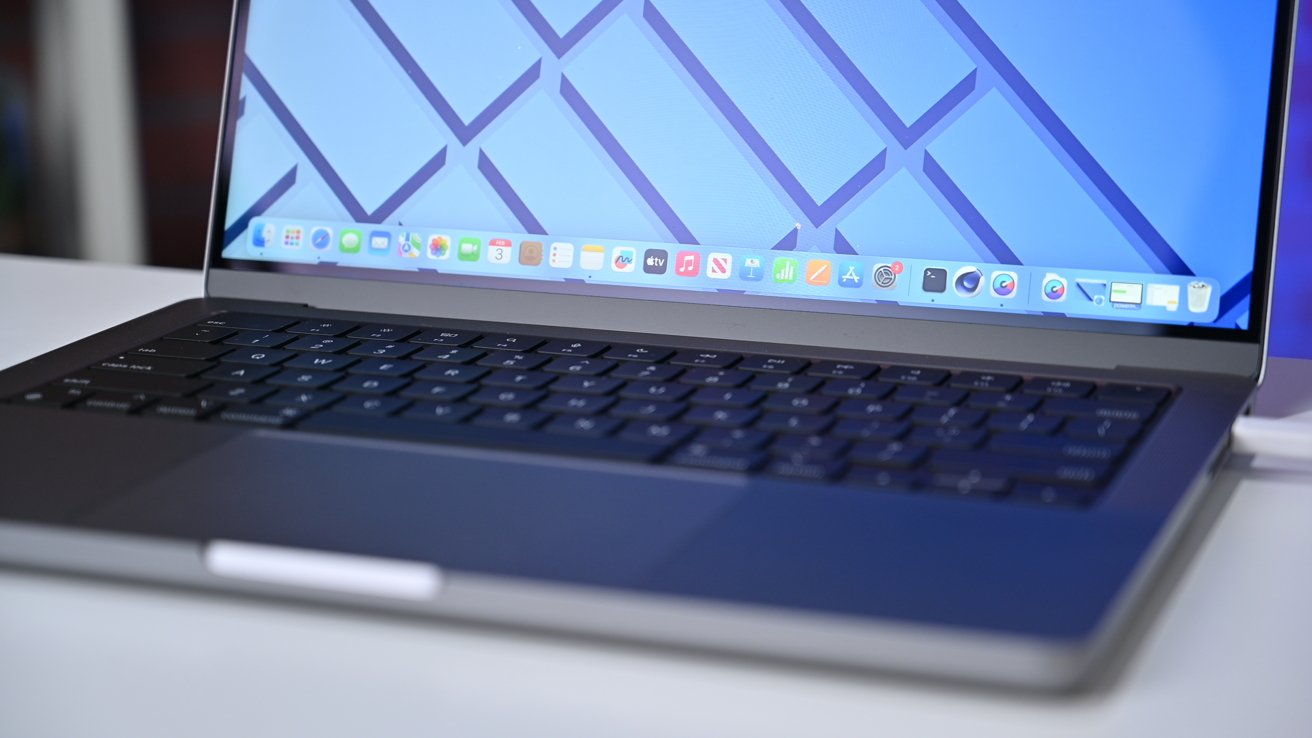 Keyboard on the 2023 14-inch MacBook Pro
The keyboard is, as usual, Apple's fantastic-feeling Magic Keyboard, which still feels great to type on after months of abuse.
Touch ID
lives in the top-right corner, though we still mourn the loss of the
Touch Bar
-- even if it's been a few years.
Apple didn't incorporate any new elements into the MacBook Pro design, though didn't need them. Months of use later, we aren't missing any would-be-nice aspects.
It is an elegantly well-designed notebook, and while flashy additions could've been nice, they aren't necessary. We certainly don't feel like we're missing out here.

MacBook Pro 14-inch: More than enough power
The whole point of the release, if not to change the outside, was to bring a new inside to the world.
M2 Pro and M2 Max offered creators a bit of an upgrade from the previous M1 Pro and M1 Max. Higher
Apple Silicon
performance means they can edit videos or work on other projects faster.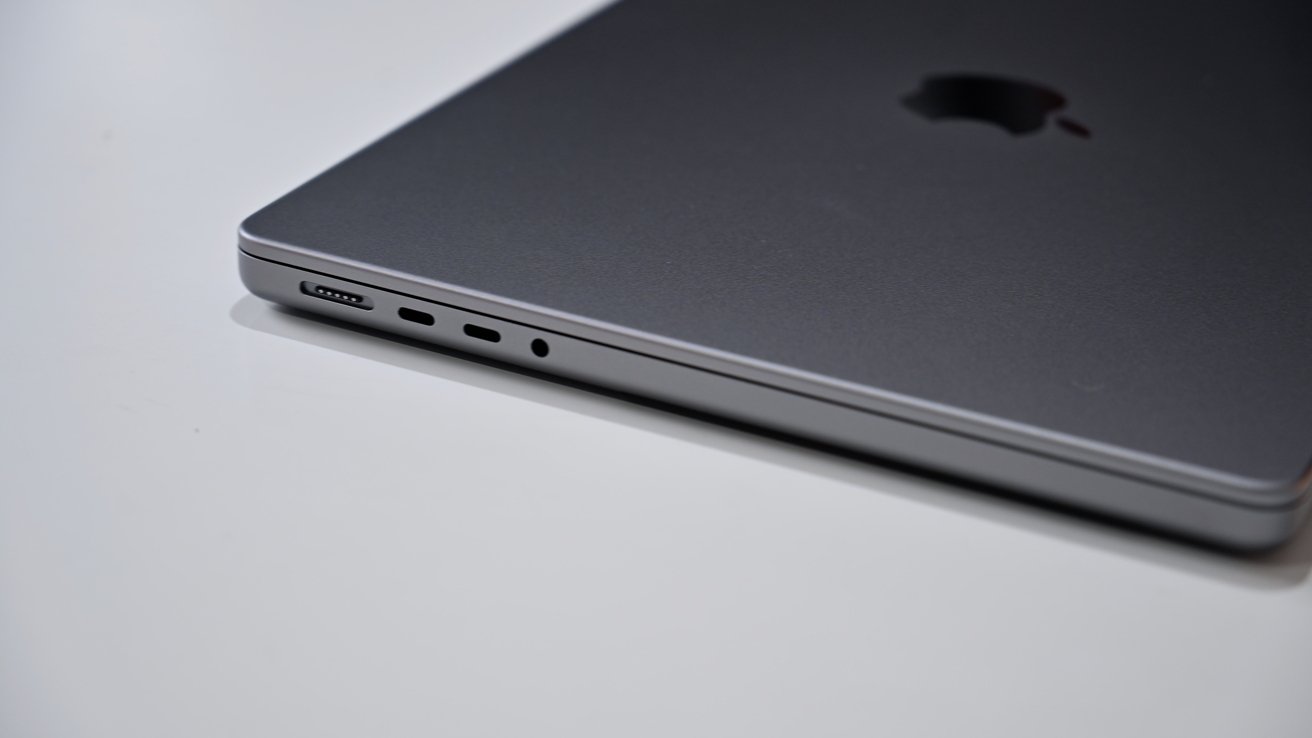 Some of the ports on the MacBook Pro 14-inch
On our M2 Pro, this included a generous memory bandwidth at 200GB/s, along with either a
10-core CPU with a 16-core GPU
or a
12-core CPU and a 19-core GPU
on the M2 Pro side. All benefiting from the usefulness of Unified memory.
That's not to mention the 16-core Neural Engine that's 40% faster than the M1 version. Nor the Media Engine which gains a bit more performance when compared to its M1 counterpart.
These are all great additions and a gradual improvement over the previous version. However, it's just that. Gradual.
If you're hammering the CPU and GPU regularly, then these gains will be most appreciated. Except most people won't be tormenting the chips with tasks of that magnitude all of the time.
Sure, Joe Public may not see the benefits of blistering speed when browsing the Internet on it. But on the rare occasion when they have to wait for Adobe Premiere to export a project, the few seconds could be all the difference they need to justify the upgrade.
Besides, those who need complete and utter insanity when it comes to performance will be buying the M2 Max variants anyway.
(Lack of) memory and SSD slowness
The only real two areas of disappointment would be the limitations of M2 Pro over M2 Max. Chiefly one of the memory options.
Having more memory is generally good -- especially for a system with Universal Memory, as it impacts so many areas. Increasing memory effectively does so for the CPU, GPU, and other areas simultaneously.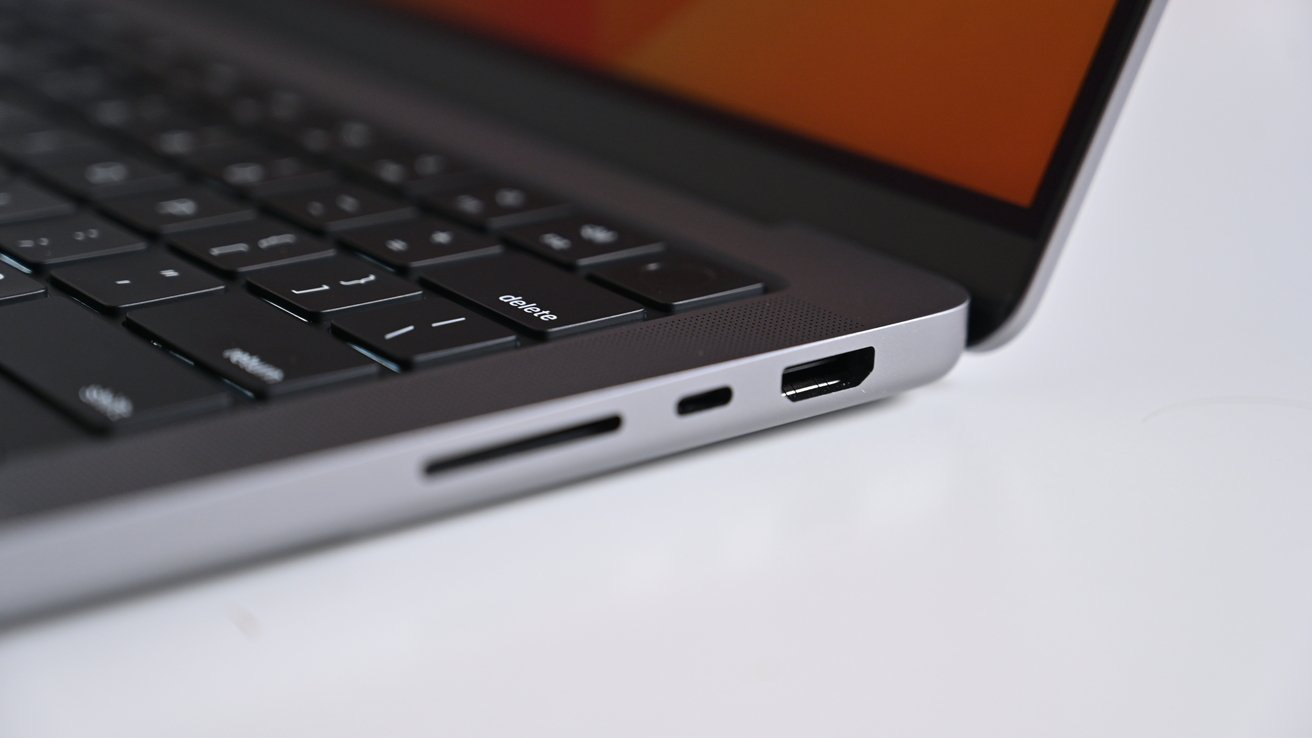 The upgraded HDMI port of the 14-inch MacBook Pro
Starting with 16GB of memory is nice, and the option to go to 32GB is certainly useful, but that's where you're stopped. If you want 64GB or even 96GB, you have no choice but to go for an M2 Max model instead of an M2 Pro.
Again, this is a power user issue, as there can be situations where a massive amount of memory could be useful. But it's not necessarily something that has to go hand-in-hand with the chip performance.
Having had the option to add more memory, going beyond 32GB would be nice, but even so, that's still a lot for the average user to require.
Less forgiving is the SSD speed of the lowest 14-inch MacBook Pro configuration. At the time of the review, it was observed that, by using fewer flash chips, the base specification has a speed issue.
While an M1 Pro with a 512GB SSD could offer read and write speeds in excess of 5,000MB/s, while the same storage configuration in the M2 Pro is below 3,000MB/s.
Again, unless you're doing significant reads and writes to storage, it's not a massive problem. Months down the road, it feels like an odd limitation to have.
We said at the time that, sure, you could reclaim the speed by paying an extra $200 for
1TB of storage
, but you shouldn't have to deal with this if you're shelling out $2,000, to begin with. This point still stands and is probably the biggest argument against going for a base-model configuration.
MacBook Pro 14-inch: Still worthwhile
After a few months of usage, it's fair to describe what Apple did with the M2 Pro MacBook Pro was worthwhile. It had a great base to work from and simply added more performance to the mix.
There are no real negatives to harp on about here since it's a very familiar design that didn't need any changes made to it. That it can chew through tasks quicker too, is nothing to complain about.
The only issues we've encountered in our time with the 2023 MacBook Pro have been software related. There were a few niggles when we went to log into the machine and it just froze.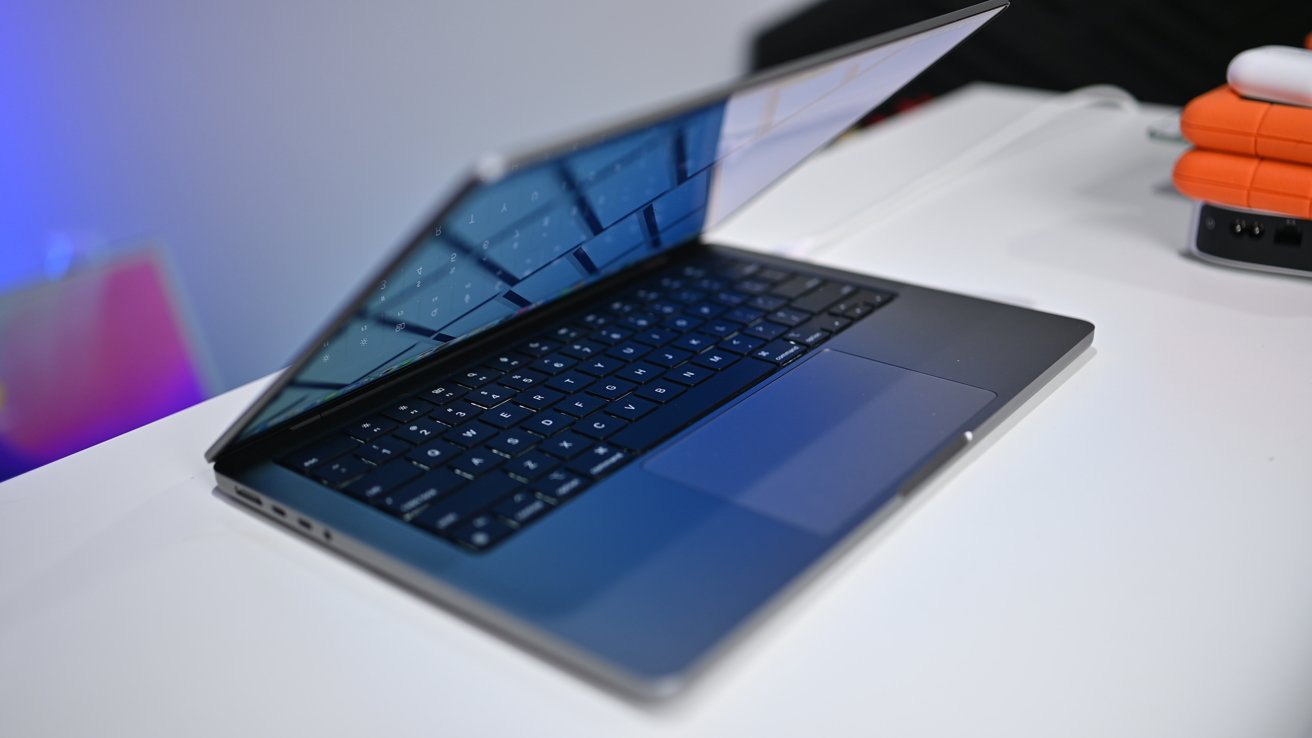 The new 14-inch MacBook Pro with the lid closed
After a few moments, it got its wits about itself and entered the password we'd typed. This is attributed to
macOS Ventura
versus any hardware limitations.
At launch, any
AppleInsider
editorial team member would've said the M2 Pro MacBook Pro was a worthwhile purchase for anyone wanting a MacBook Pro, but not necessarily needing bleeding edge performance.
Getting to know the notebook for a while and using it practically every day doesn't change that viewpoint at all.
Apple made a cracking notebook here. It may not offer as much memory as the
M2 Max variant
, and it may have storage foibles, but other than that it's a great way to get an all-in-one multitasking powerhouse that you can slip into a rucksack.
M2 Pro MacBook Pro 14-inch Pros
Design still feels new and looks great


Good CPU and GPU gains over M1 models


Connectivity future-proofing


Memory maximum has increased for bigger workflows
M2 Pro MacBook Pro 14-inch Cons
FaceTime camera is only adequate


A $2000 machine should have better SSD speeds than this
Rating: 4 out of 5
as reviewed.
Where to buy Apple's 14-inch MacBook Pro at a discount
Every 2023 MacBook Pro 14 configuration
is up to $250 off
with promo code
APINSIDER
at Apple Authorized Reseller Adorama. The same coupon also knocks $60 off AppleCare for the 14-inch laptop.
At press time, the
MacBook Pro deals
range from $100 to $250 off MSRP, so whether you're looking for the lowest price on the configuration in this MacBook Pro 14-inch review or prefer a top-of-the-line model with 96GB memory, the cheapest prices are at your fingertips in our
2023 MacBook Pro 14-inch Price Guide
.
Read on AppleInsider