Pitaka Sunset Moment MagEZ 3 case review: Channelling those summer vibes
The limited edition Pitaka Sunset Moment case for
iPhone 14 Pro
weaves lightweight aramid fiber into a nostalgically retro design that's also very protective.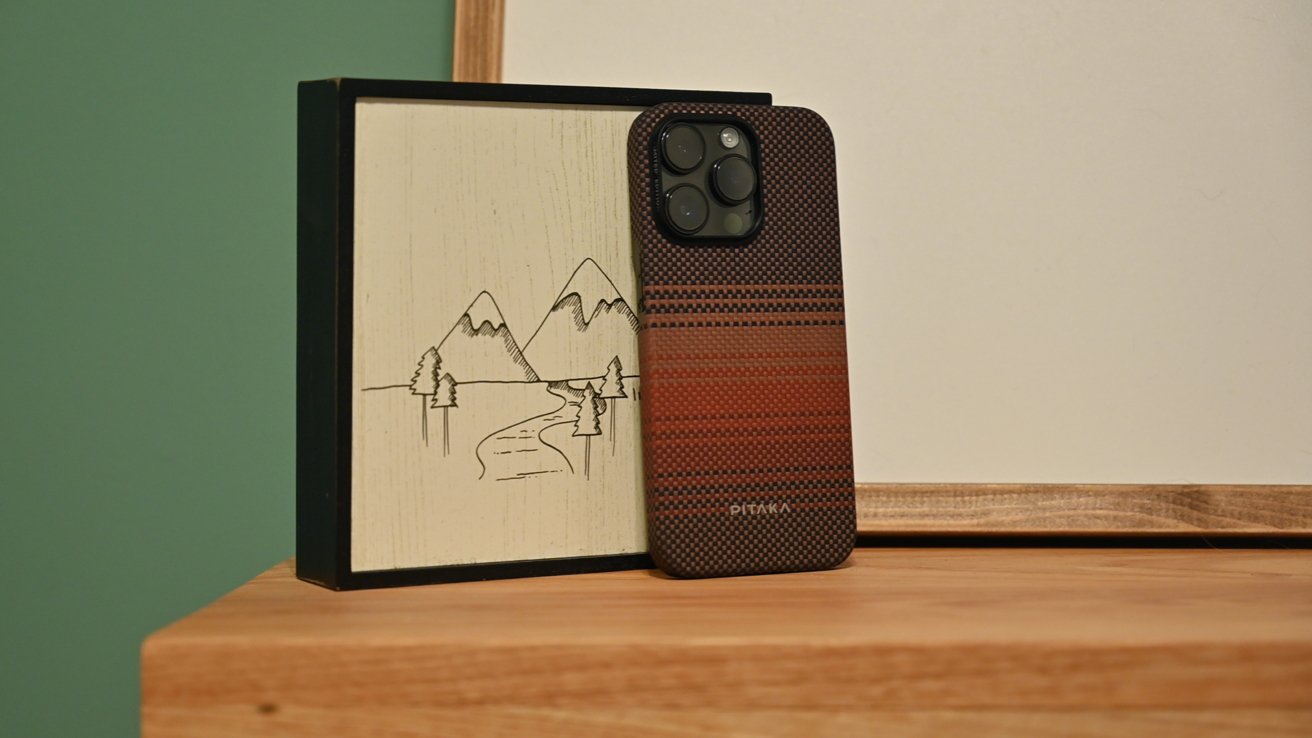 Pitaka Sunset Moment MagEZ 3 case for iPhone 14 Pro
Pitaka has upped its packaging game with the new sunset-inspired case. It arrives in a two-part white case with a slip-on sleeve bearing the Sunset Moment identifier.
It's plastic-free, recyclable, and made from 100 percent recycled materials. We appreciate the thoughtfulness, especially as the case industry has the propensity to be quite wasteful.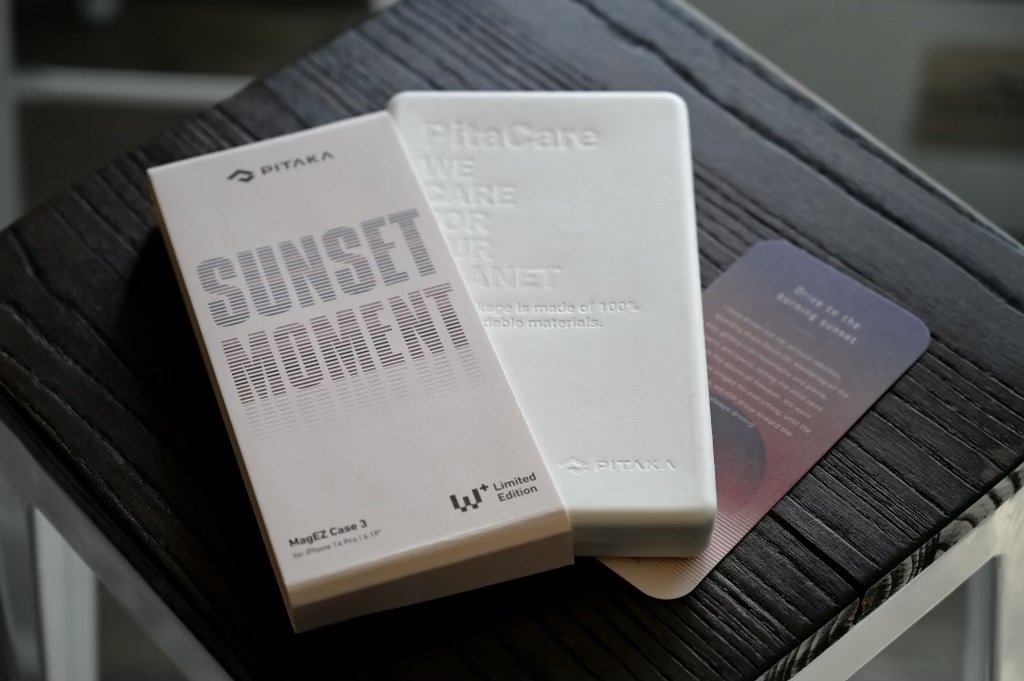 Sunset Moment case packaging
The case is based on Pitaka's MagEZ 3 model but with a limited edition colorway. Both versions use strands of aramid fiber woven together, but the Sunset Moment case overlaps them in such a way as to create stylish pixel art.
Once you remove the case from the packaging, it can snap directly onto your phone. It fits tightly and its rigidity can make it tough to get off.
Pitaka recommends removing it by starting on the left-hand side.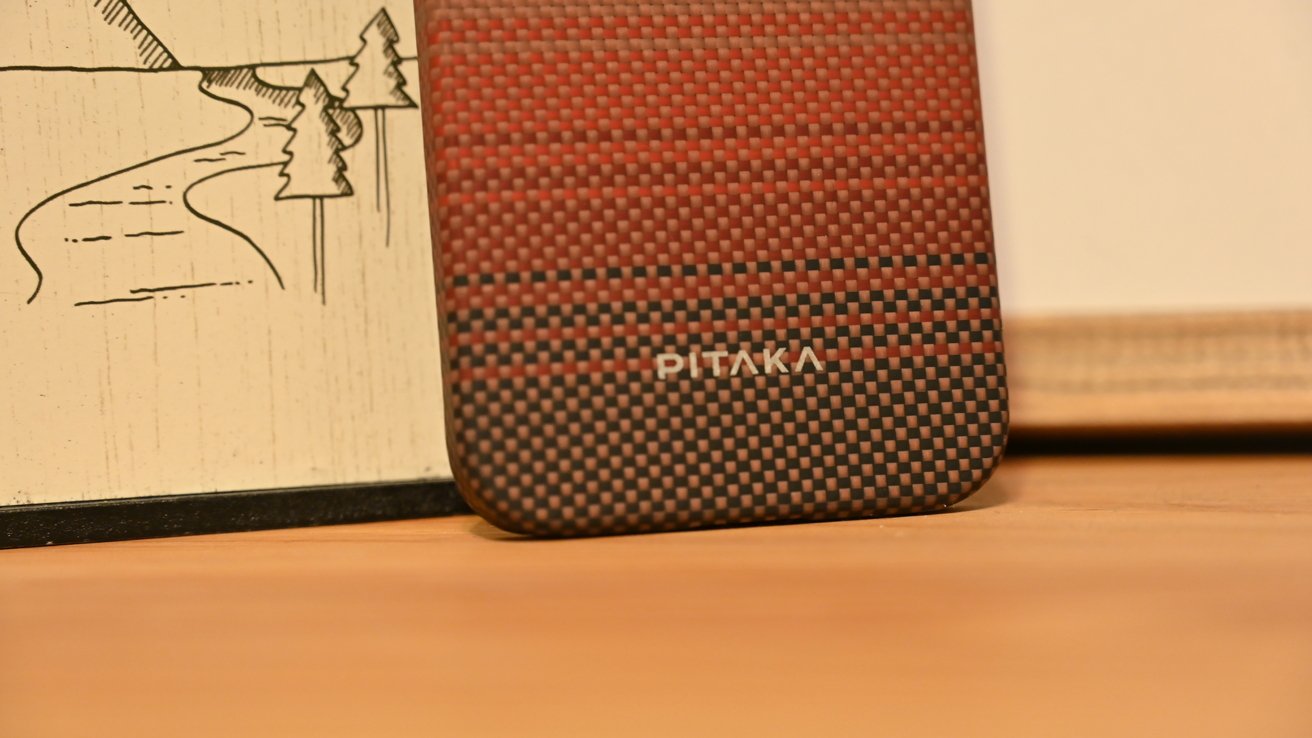 Silver Pitaka logo
The top and bottom of the case appear to be a dark blue weave offset by gold. As you move toward the middle, gold becomes the predominant color before giving way to red.
It instantly reminds us of driving down the highway out west on a long road trip as the sun begins to set. The air is hazy and you've got your favorite music blastic on the radio. We love it.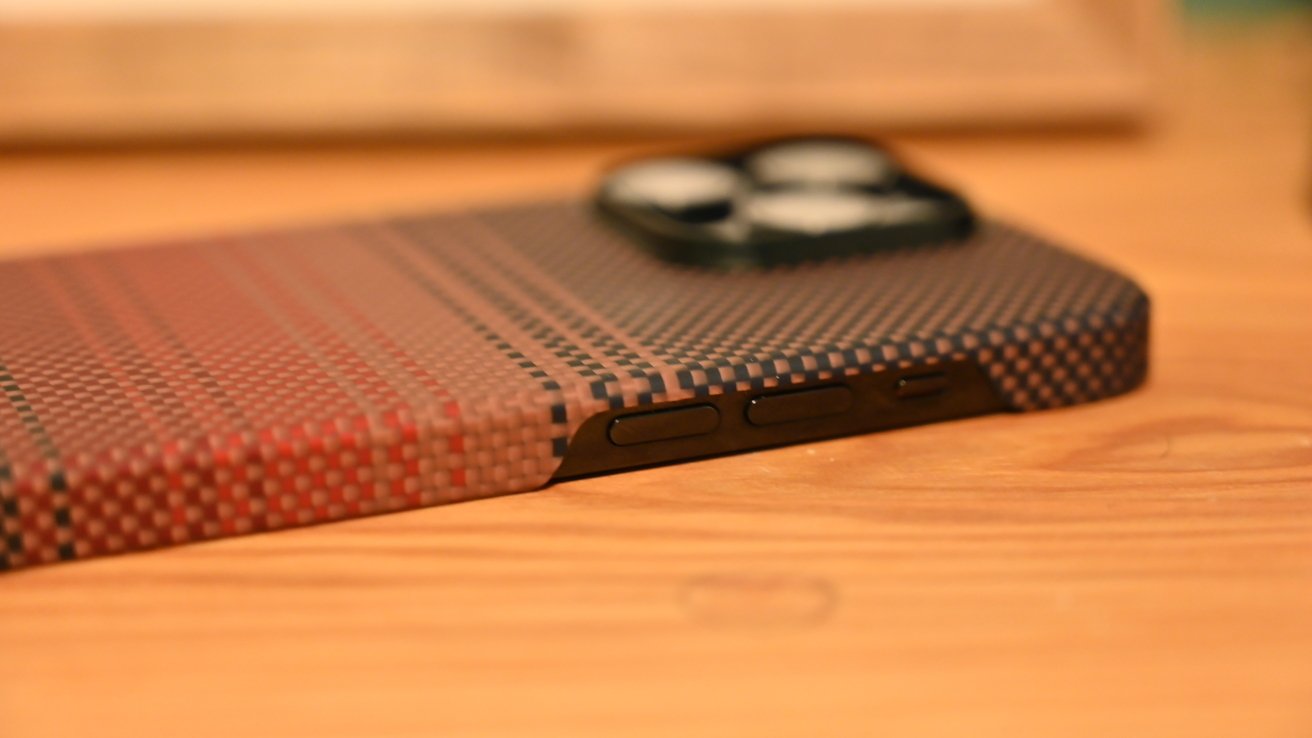 Closeup of the woven fibers
As with Pitaka's other cases, the bottom, buttons, and top are all partially exposed. This doesn't bother us as the intention is for it to be minimalistic -- yet still protective.
One minor annoyance is that the case is just slightly thicker than the buttons. As you blindly slide your fingers along the side of the phone to adjust the volume, it can be difficult to quickly discern which is a button and which is the edge of the case.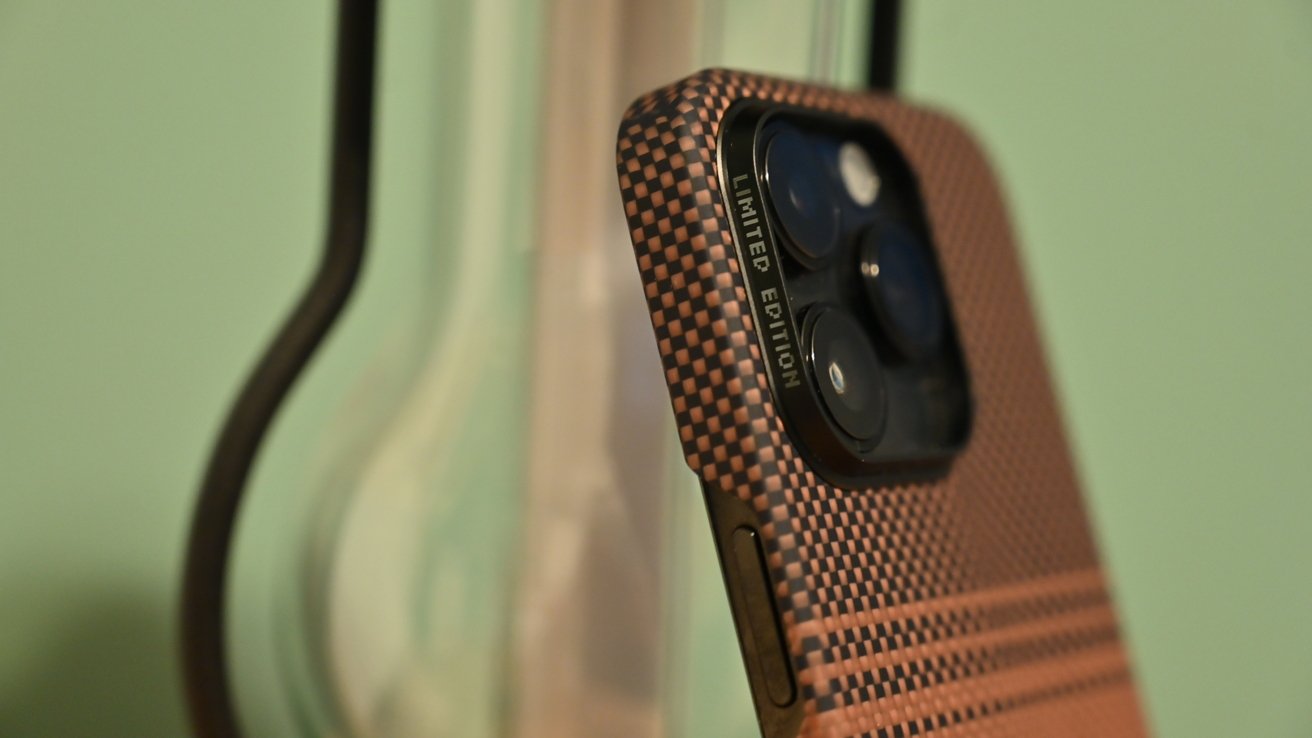 Limited edition designator on the lens cover
Pitaka has other nice detail hidden on the case, such as a unique serial number printed on the raised lens cover to help signify the uniqueness of the limited edition run.
This case also supports
MagSafe
, despite the fact it is so thin. This allows it to work with various MagSafe accessories like chargers, wallets, stands, or grips. Speaking of which...
MagSafe ring
Included with each case is a bonus accessory. It's easy to miss as you unbox your case, but tucked away in the bottom is a handy MagSafe ring grip.
This circular grip connects via MagSafe to the back of your MagSafe-enabled phone, the Pitaka case, or any third-party case with the requisite MagSafe magnets.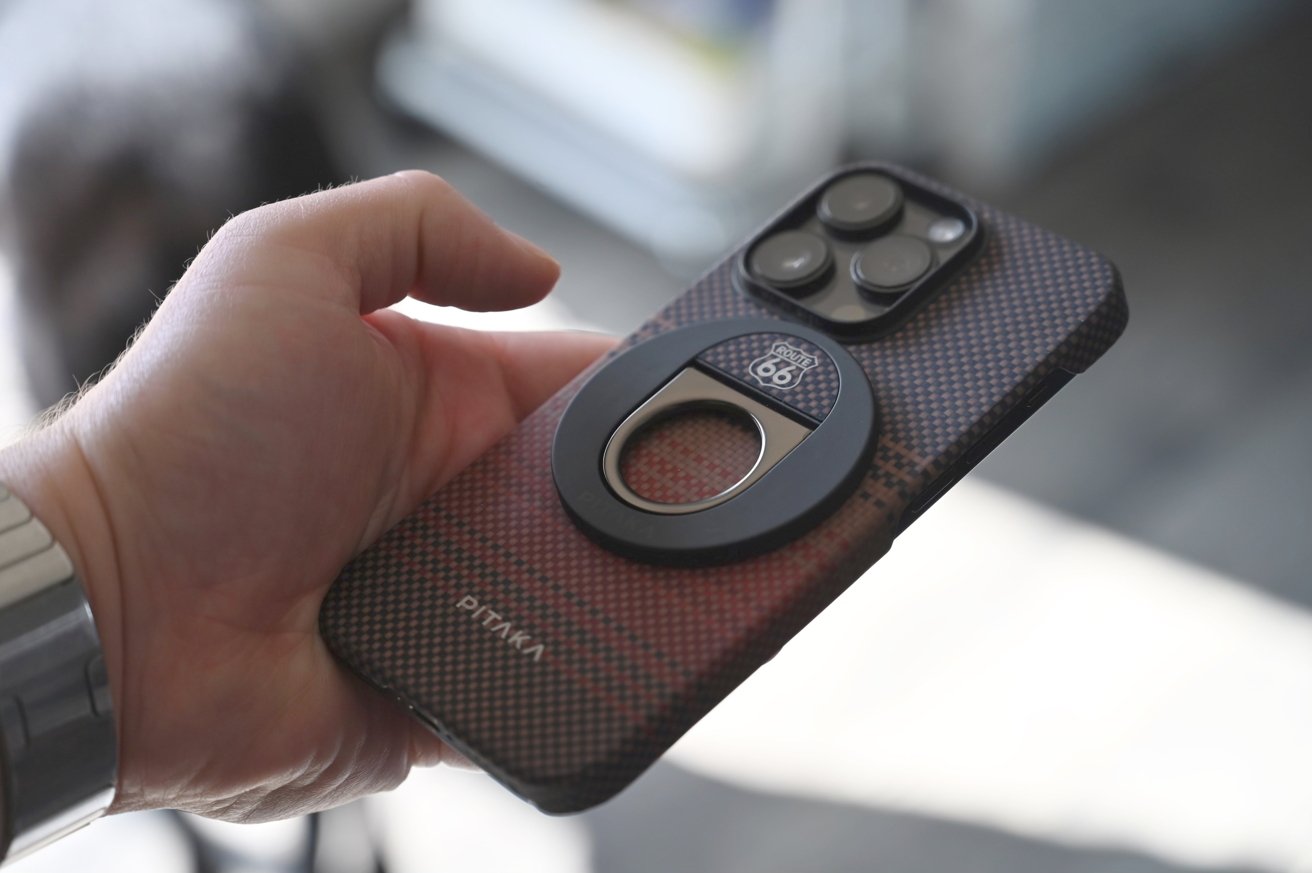 Magnetic ring accessory
It has strong pull strength so it doesn't easily come away from your phone, but the soft-touch back easily twists so you can use it at any angle.
A black-on-black "Pitaka" logo is on the bottom with a Route 66 emblem on the top. The Route 66 graphic sits atop more pixel art aramid fiber that roughly matches its position on the phone.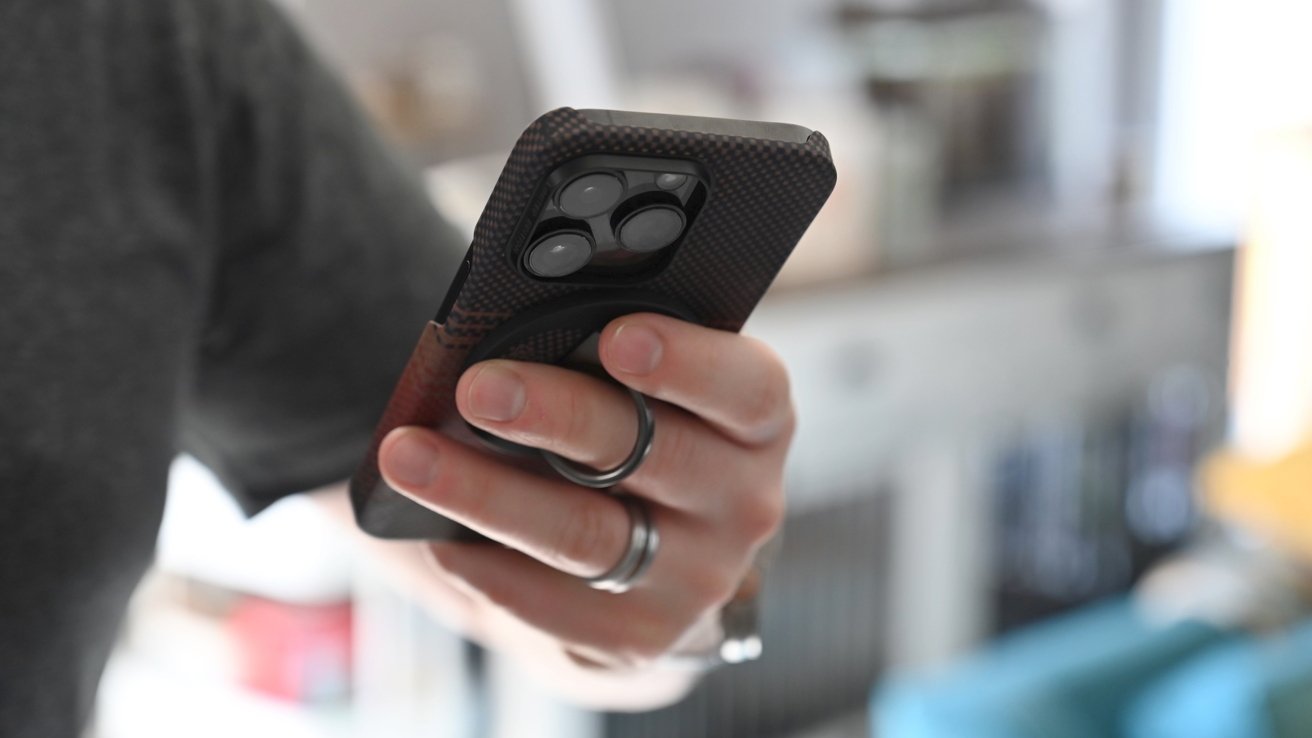 MagSafe ring grip
You can slide your finger through the metal ring that angles out that has a nice dark chrome finish, or you can prop up your phone for watching videos.
We've seen a lot of MagSafe grips from the likes of Popsocket, HANDL, and others, but it was nice to see Pitaka bundle one in the box.
Should you buy the Pitaka Sunset case?
Right now, Pitaka seems to have sold through their initial stock of Sunset cases for the iPhone 14 Pro, but there is always the chance more will become available.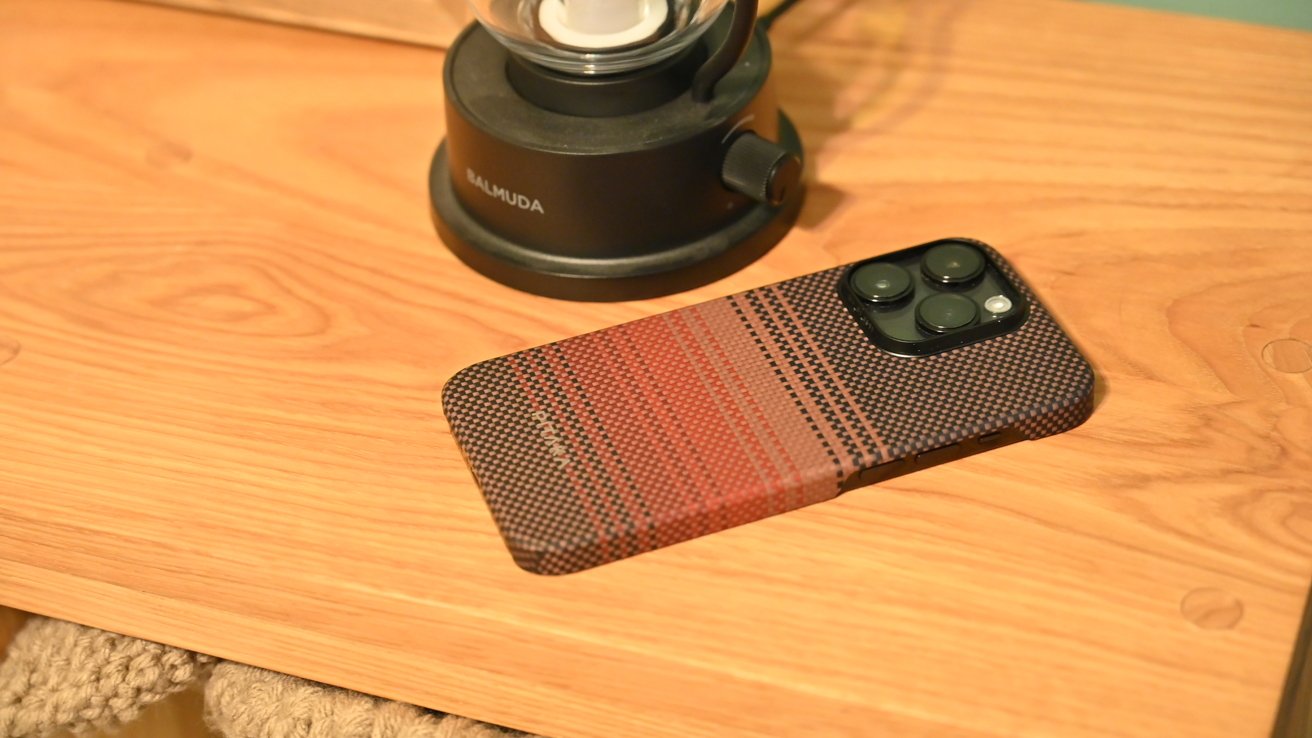 Pitaka Sunset Moment case for iPhone 14 Pro
Fortunately, Pitaka has been going all-in on these clever pixel art fiber cases. They already have their next design out, a red bunny pattern perfect for spring.
We wouldn't be surprised to see additional designs drop from the case maker throughout the year. So far though, this sunset style has been our favorite.
Pitaka Sunset Moment MagEZ 3 -- Pros
Awesome pixel art made with aramid fiber


Ultra thin and minimalistic


Built-in MagSafe magnets


Bonus MagSafe ring grip is great


Sustainable plastic-free packaging


Textured grip finish
Pitaka Sunset Moment MagEZ 3 -- Cons
Buttons can be hard to find


Wish colors popped just slightly more


Limited run
Rating: 4 out of 5
Where to buy
You can pick up the stock MagEZ 3 case
from Pitaka for $59.99
, the
Red Bunny Easter case for $69.99
, or keep an eye on the
Sunset Moment case
to become available again.
Keep tabs on Pitaka's site for future limited edition woven pixel art designs to collect.
Read on AppleInsider