Guliguli Dog Treat Camera Review: Too glitchy to be worth the price
Leaving your pets alone can be nerve-racking. The Guliguli Dog Treat Camera is here to ease that anxiety and give you an easy way to check on your pet -- if it worked well.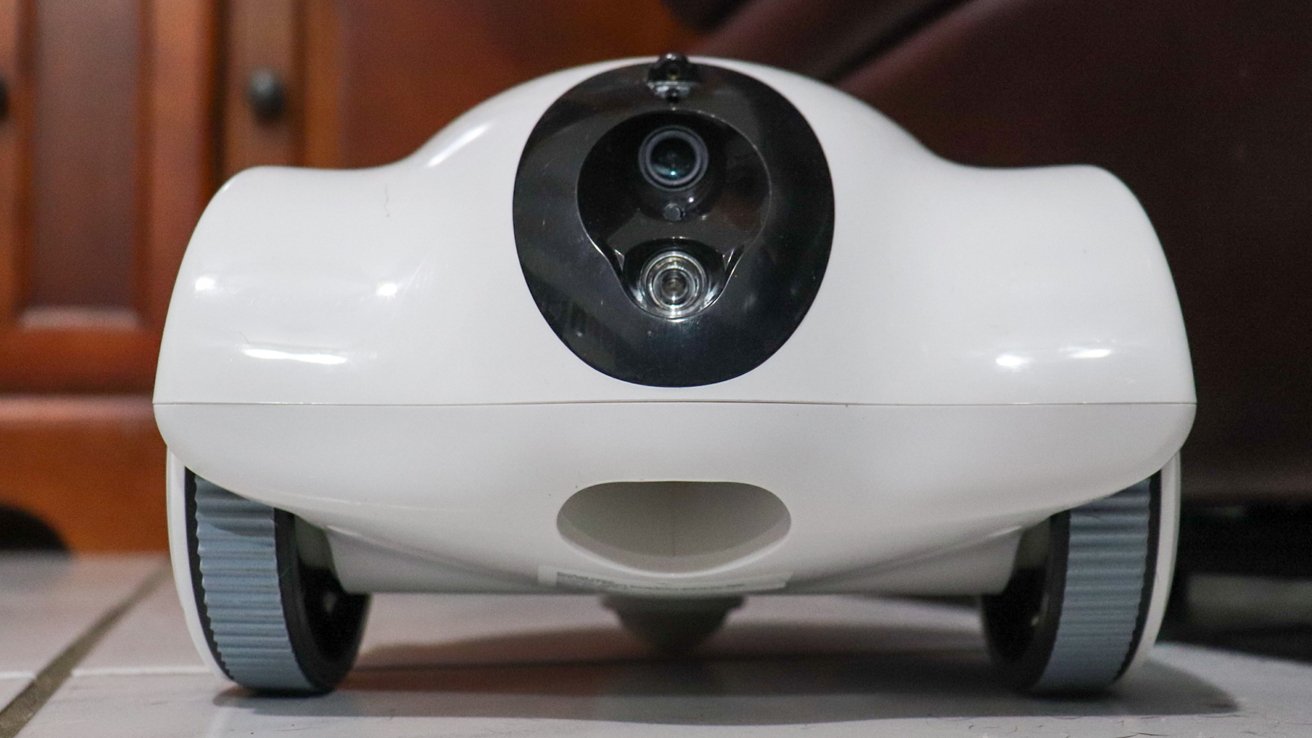 The robot is a camera on wheels. You control it like an RC car, which can be driven to any spot in your home if connected to the Wi-Fi.
You can connect to the robot from work, the grocery store, or anywhere through the app. In addition, you can talk to your pets using the microphone feature, turn on the laser pointer, or give them treats.
Don't expect it to become your dog's new favorite toy. Instead, this is a helpful tool meant to give pet owners peace of mind while they're away from home.
The robot is filled with useful features, but it needs a lot of improvements.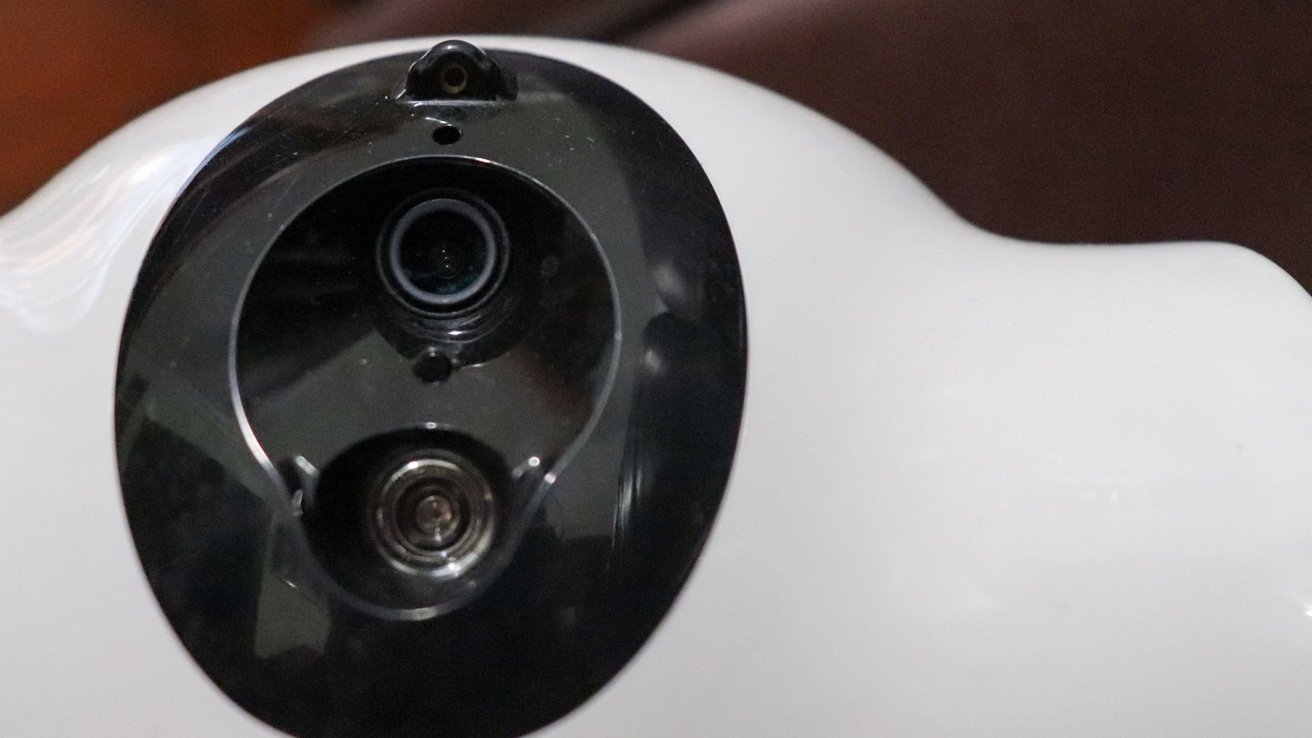 Camera
The Amazon listing for the product claims it has a 1080p HD dog camera, but the photos look like they were taken on a point-and-shoot camera from 2010.
If your pet likes to sit on the couch or rest on a cat tree while you're away, you won't get the best view. The robot's fixed lens gives users a wide shot of the room, so it will still capture your pet if they're in the frame.
The robot has a night vision mode and senses when it's in a dark space or room. For example, if you drive it underneath the couch, it will switch to night vision and give you a clear picture.
You can also snap photos or take videos of your pet through the app. Images are saved on the app, and users can download them onto their phones.
The pictures will have a fisheye-lens effect. You can't zoom in unless you move the robot closer or crop the photo afterward.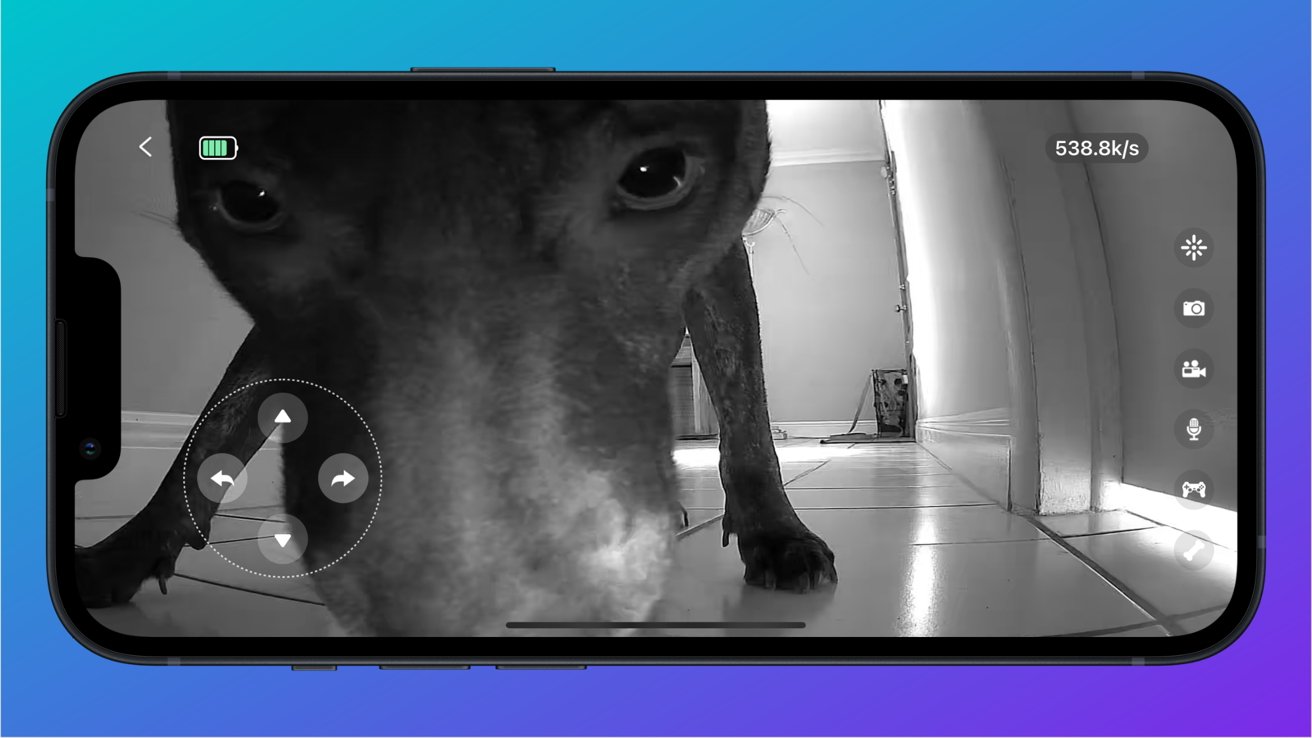 Controlling the robot
The robot is set up like a tricycle. The two big wheels in the middle are used to steer, and a rotating plastic ball at the back keeps it from dragging on the floor.
You can drive it from the app, but the system feels clunky. If you want to turn and aim for a specific spot, slowly inch your bot until you have your target in sight, then drive straight.
It's frustrating and annoying, especially when you want to get somewhere quickly. Making tight turns is difficult, and avoiding furniture and corners is hard.
We crashed our robot into several couches and tables.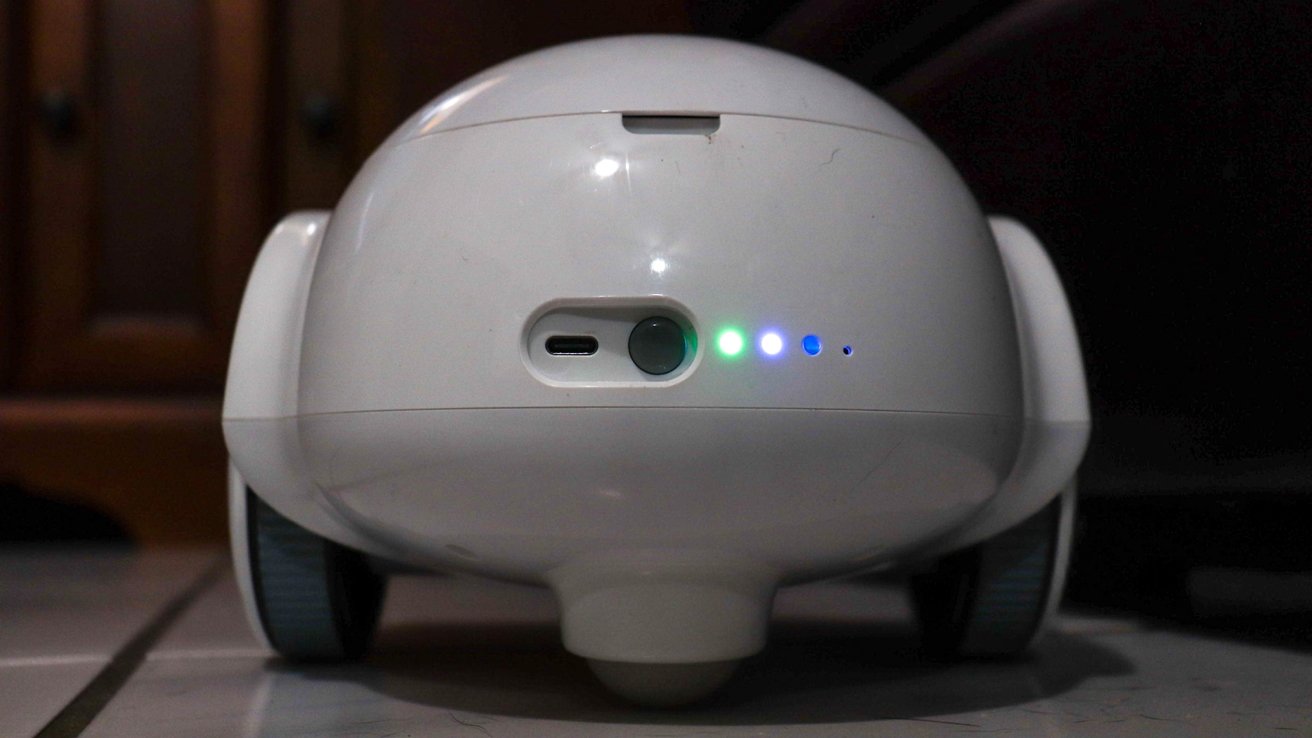 The robot doesn't have any scratches yet, and neither does our furniture. But, this experience made it clear that this isn't as user-friendly as it should be.
If you have tile floors, be warned that anyone in the house will hear the bot driving over the grout. It makes a lot of noise.
Anyone who struggles with technology might have difficulty figuring out how to use the app. Using this app may also be difficult for people missing their hands or fingers.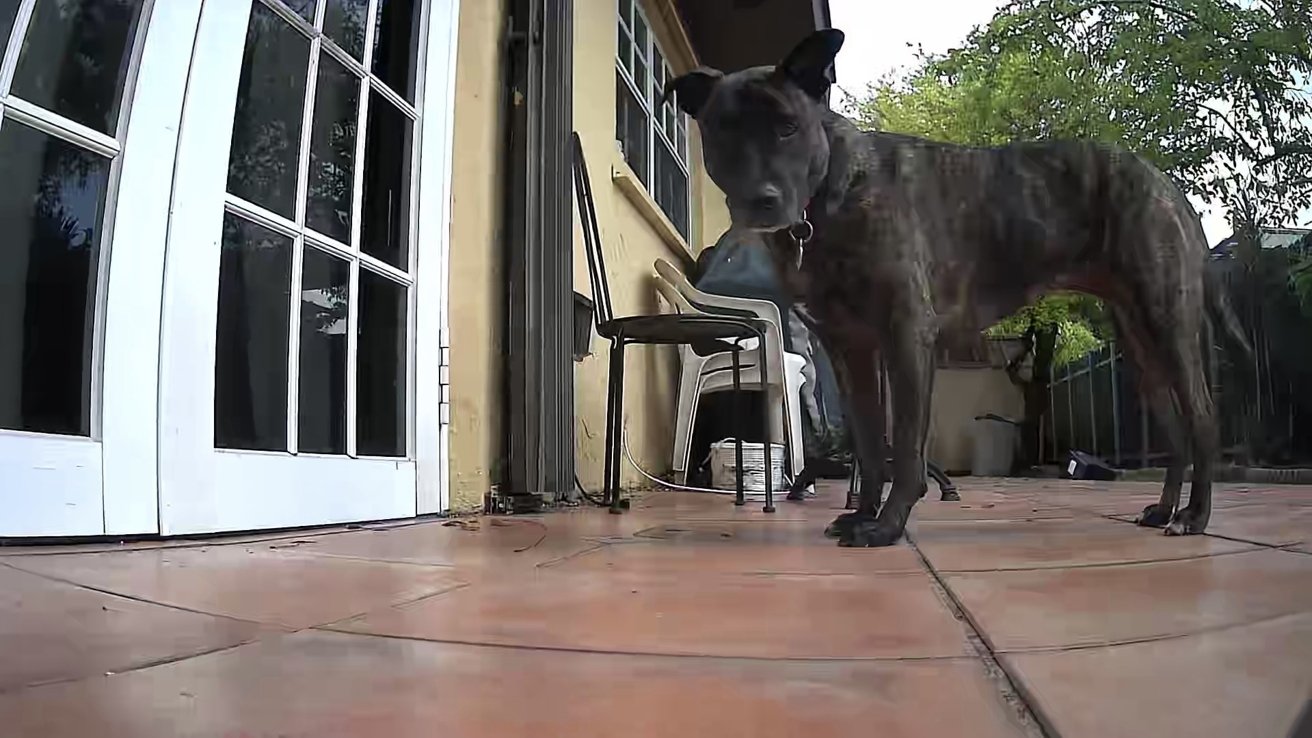 People with disabilities may have a hard time with the robot. This is because the buttons controlling its movement are on the left side of the screen and can't be moved or adjusted to accommodate people's preferences.
It's disappointing that many pet owners couldn't check on their pets because their needs were overlooked.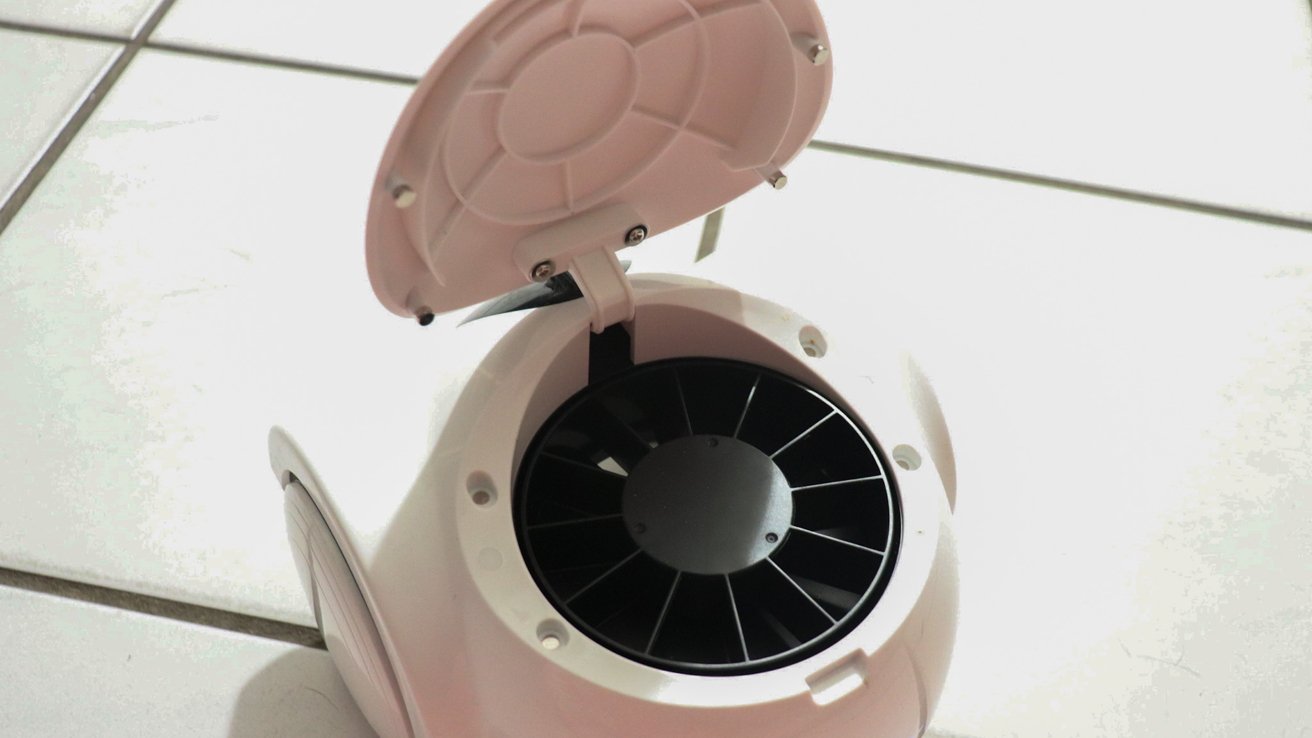 The treat dispenser has 12 slots.
Lagging issues
The app has a microphone feature that allows you to speak to your pets while you're away. You can also listen in on what's happening or your pet's actions.
When we used this feature to speak to our dogs, it only worked about 50% of the time. When it did work, there was a delay of several seconds.
The microphone isn't supposed to turn on while the bot moves, but when it did work, it remained on while we drove the robot around the house.
The robot sometimes lags when you're driving it. On rare occasions, the camera will remain on, but it doesn't move or respond unless you restart the whole app.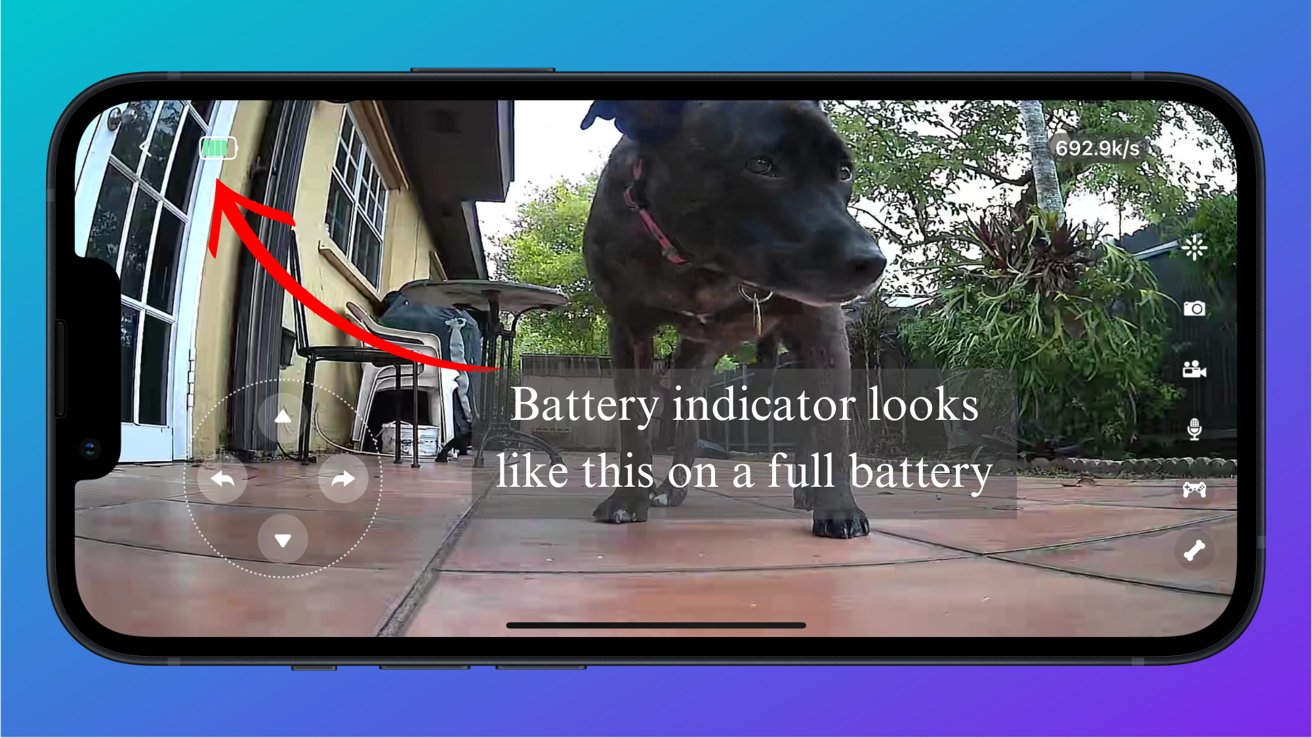 Battery
The best thing about the robot is how long the battery lasts. We charged it over two weeks ago, haven't turned it off, and the app says it still has a full battery.
A USB-C to USB-A charger is included with the robot. We thought it would be more like a docking station similar to what a Roomba uses.
The battery indicator, an outline of a battery with green bars inside, appears in the upper left corner of the app. Unfortunately, although fully charged, space will always be between the green bars and the outline, making it confusing and hard to read.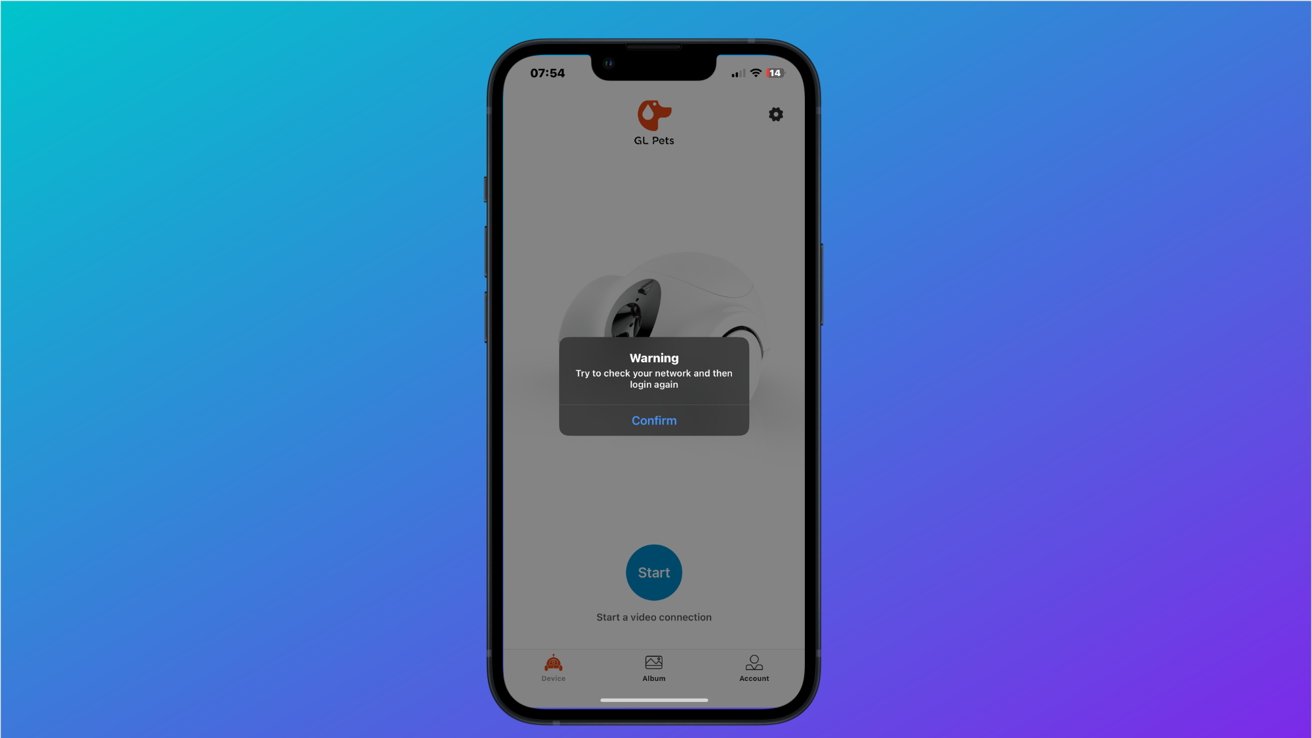 The App
The app,
GL Pets
, requires you to create an account before using it. To download the app, iPhones and iPods require iOS 11.0 or later, and Macs require macOS 11.0 or later. The app uses 21.8 MB of space.
The app is used to connect your robot to Wi-Fi. Once you set up an account, you can set up the Wi-Fi.
The app displays a QR code. Show it to the robot's camera, which will connect to your home's Wi-Fi.
GL Pets constantly glitches and shuts down. At least once daily, it displays the notification pictured above, then logs you out.
When we closed the app after the notification popped up, it didn't log us out. There is no way to determine what causes the app to log you out. Sometimes it happens if you receive a phone call while using the robot. Other times, it happens when you switch to a different app.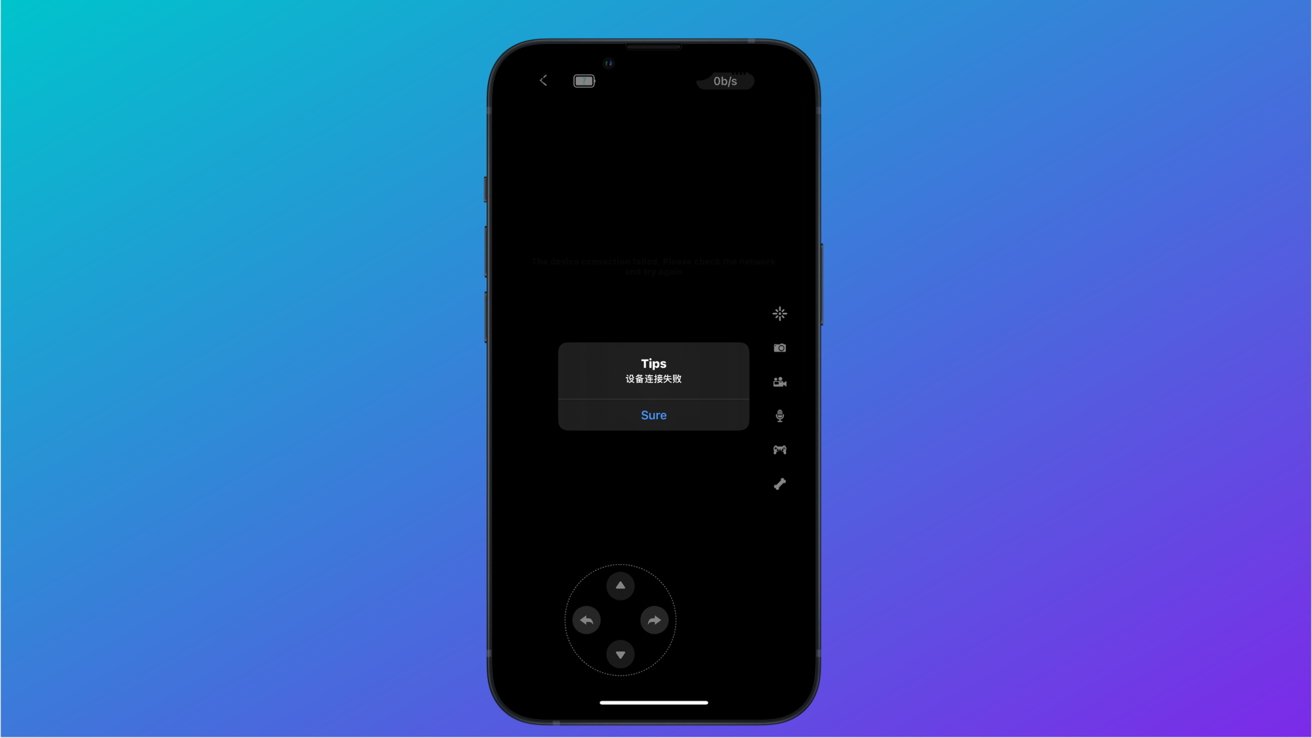 The only notification that isn't in English.
Friends and family can download the app and connect to your robot when you invite them via email. They can also control it.
There is no way of knowing if someone is using your robot at the same time you are. The app doesn't notify you when somebody else is using it.
If you are driving the robot around your house, someone you've connected with can take over and drive it simultaneously. Unless they take over the controls, you will not know someone else is using it.
Duplicates on the market
Other pet robots on Amazon seem almost identical to the listing. The ones we found even claim to use the same app to control the robot.
The bot the company sent us is currently unavailable, but Guliguli has the same robot in a separate listing. The original listing has 70 reviews, and only 50% of them gave the product five stars, while 36% gave it two stars or less.
Youpet's
listing of a similar, if not the same, robot is $10 more expensive than Guliguli's but currently has a coupon for $30 off. The Youpet's product's description states its robot is controlled by Guluguli's app and calls it a "Guliguli dog camera."
We're not exactly sure why this is, but we don't like it. It doesn't give us a great deal of confidence in after-purchase support, either.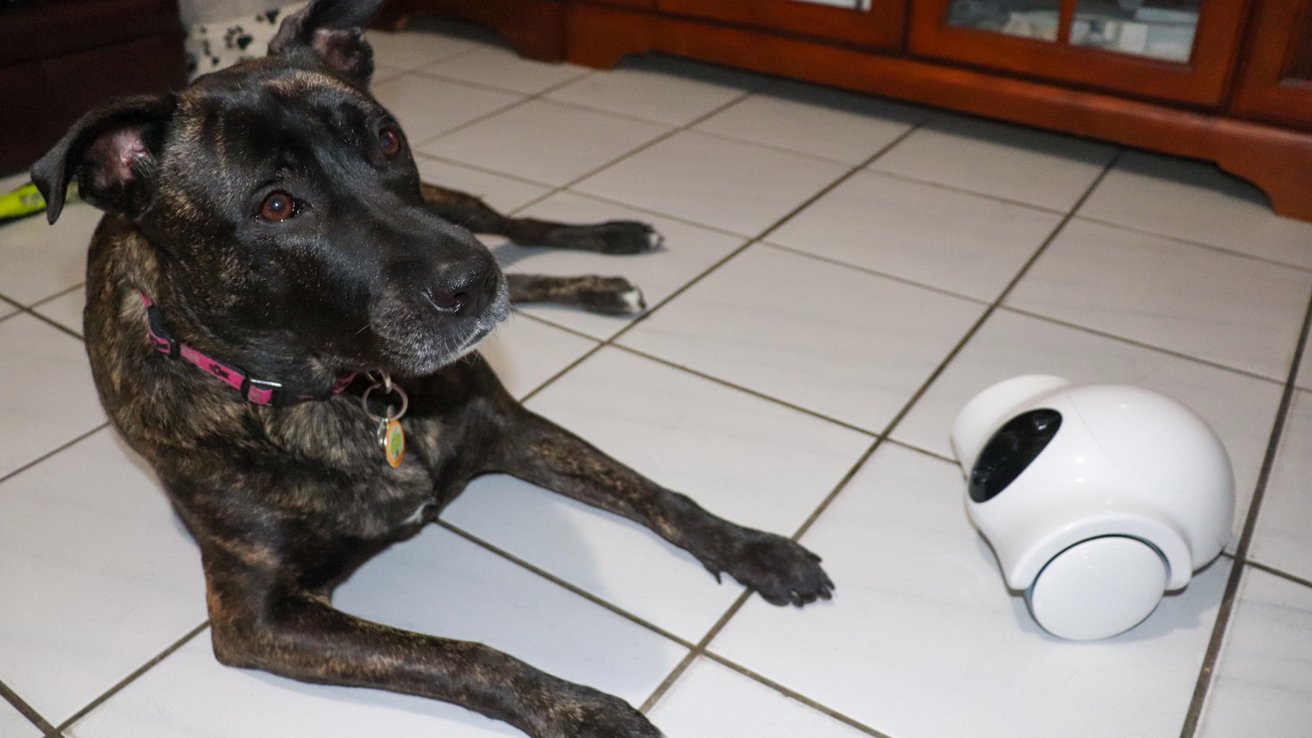 Big dogs, little robot
If your dogs are bigger, rougher, and like to destroy toys, this is not the pet camera for you. It's not worth spending over $150 for an expensive piece of tech your dogs will only break or demolish.
This is better for readers with cats and smaller dogs, like Pomeranians or Chihuahuas.
Our dogs were not enthusiastic about the bot's built-in laser pointer and were only interested in the treats. However, cat owners will get a kick out of it and be able to record the fun using the app's video recording option.
Included in the box was a feathered cat toy that could be attached to the robot with a suction cup, but it didn't stay on the robot. While driving it around with the feathered accessory, it only stayed on for five minutes before popping off. The feathers also fell out of the tip of the toy when we took it out of the box.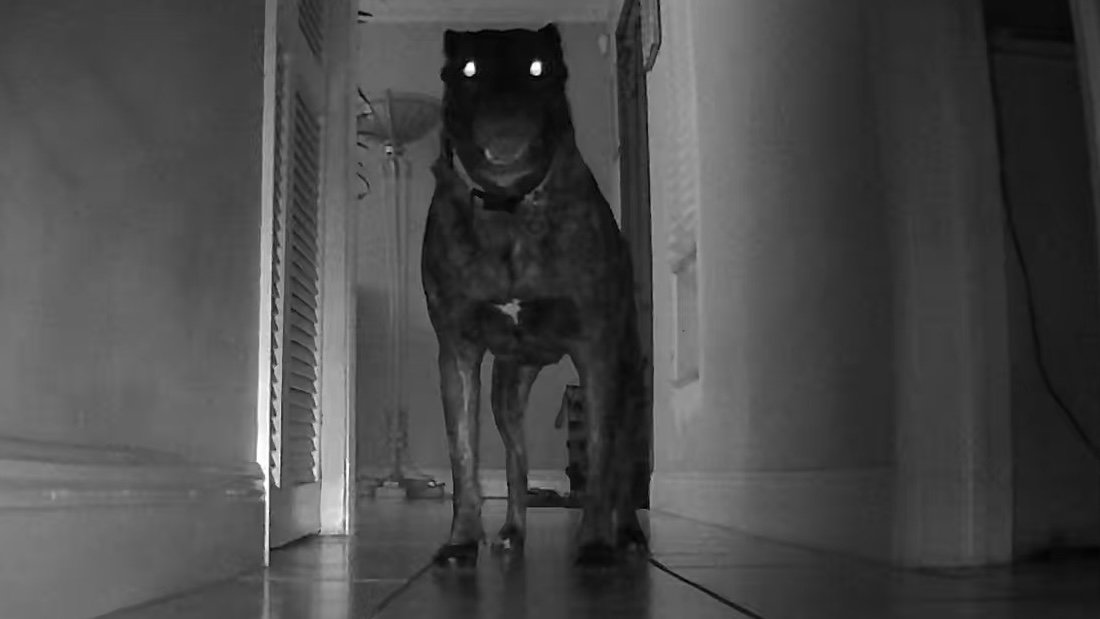 Photo taken while using night vision.
Final thoughts
Having a camera to check on our pets while away would be great. But this product doesn't work for us.
The peace of mind we have knowing we can check on our pups while they're alone is excellent until we remember that the app doesn't notify you when someone else logs in and starts using your camera. It claims to only give people you invite access to the camera, but it's still uncomfortable.
It's easy to be paranoid when there have been several stories of families who have had their baby monitors and cameras with Wi-Fi connections hacked. We don't see what makes this camera any different from those. When our robot isn't being used, we face it against the wall or turn it off entirely because we don't want to risk that happening.
It doesn't take the best photos, so don't buy this and expect to take glamour shots of your dog. Instead, it does what it's meant to do and lets you check in on your dog while you're away.
But, it doesn't do anything well, and we can't recommend it.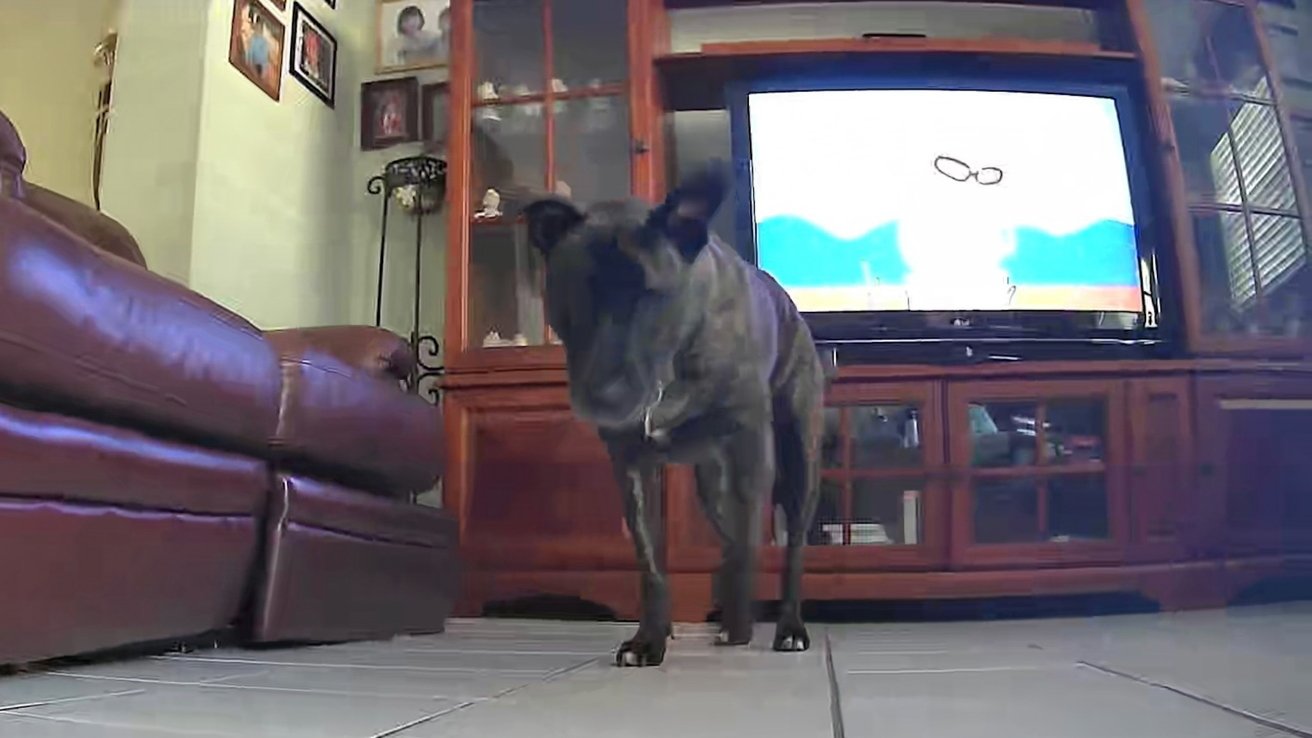 Guliguli Dog Treat Camera -- Pros
Easily check on your pets while away from home


Keep pets entertained while you're gone


Multiple people can be given access to connect to the camera


Can be used from anywhere as long as it's connected to the Wi-Fi


Robot can stay on for over a week without needing a charge
Guliguli Dog Treat Camera -- Cons
App is glitchy and will constantly log you out of your account


App does not notify users when other accounts access their robot


Rougher and bigger dogs might be more likely to break the bot


Controls are not accessible or easy for novice to understand
Rating: 1.5 out of 5
Where to buy the Guliguli Dog Treat Camera
You can purchase the Guliguli from
Amazon
for $159.99.
Read on AppleInsider