Quad Lock MAG Case with tripod selfie stick review: iPhone photos and videos on the go
Record your adventures with the Quad Lock MAG Case and a tripod selfie stick for shooting
iPhone
photos and videos on the go.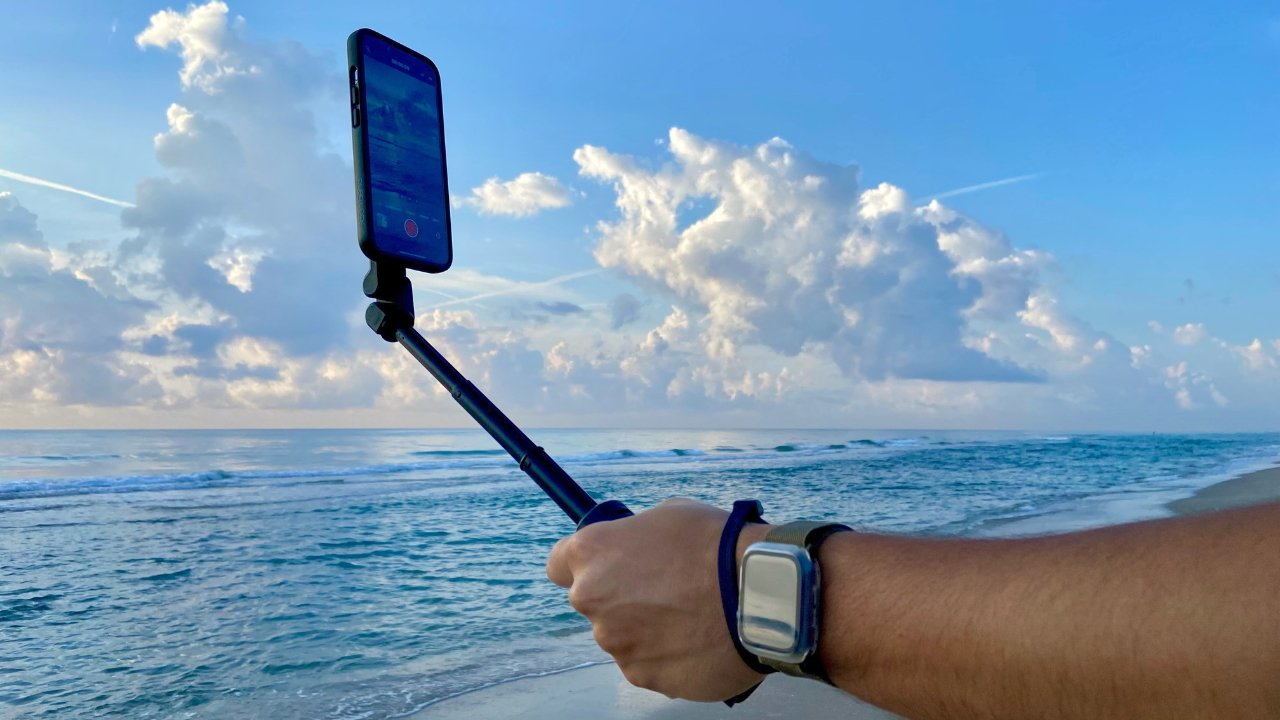 Review: Quad Lock MAG Case with tripod selfie stick
If you love to capture your outdoor escapades with your
iPhone
, the Quad Lock MAG Case and tripod selfie stick can help. Whether riding a motorcycle, hiking, or skating, you can easily attach and detach your iPhone from the tripod selfie stick with a simple twist and lock.
Before committing to a Quad Lock phone case, be aware that it only works with the Quad Lock system. Their accessories use their proprietary mount that is incompatible with non-Quad Lock products.
Something else to consider is that aligning the phone case mount onto their accessories can be tricky for those new to the Quad Lock system. At first, it may take some practice to get it right.
Once you get the hang of it, you may appreciate the simplicity of using the Quad Lock MAG Case and its accessories.
Quad Lock MAG Case
The Quad Lock MAG Case provides a layer of security for your device. It features a protective EVA foam lining that helps to absorb shock and safeguard your phone from impact.
However, the MAG Case is not very grippy. Instead, it sports a matte finish that can be slick due to its smooth surface and may easily slide out of your hand.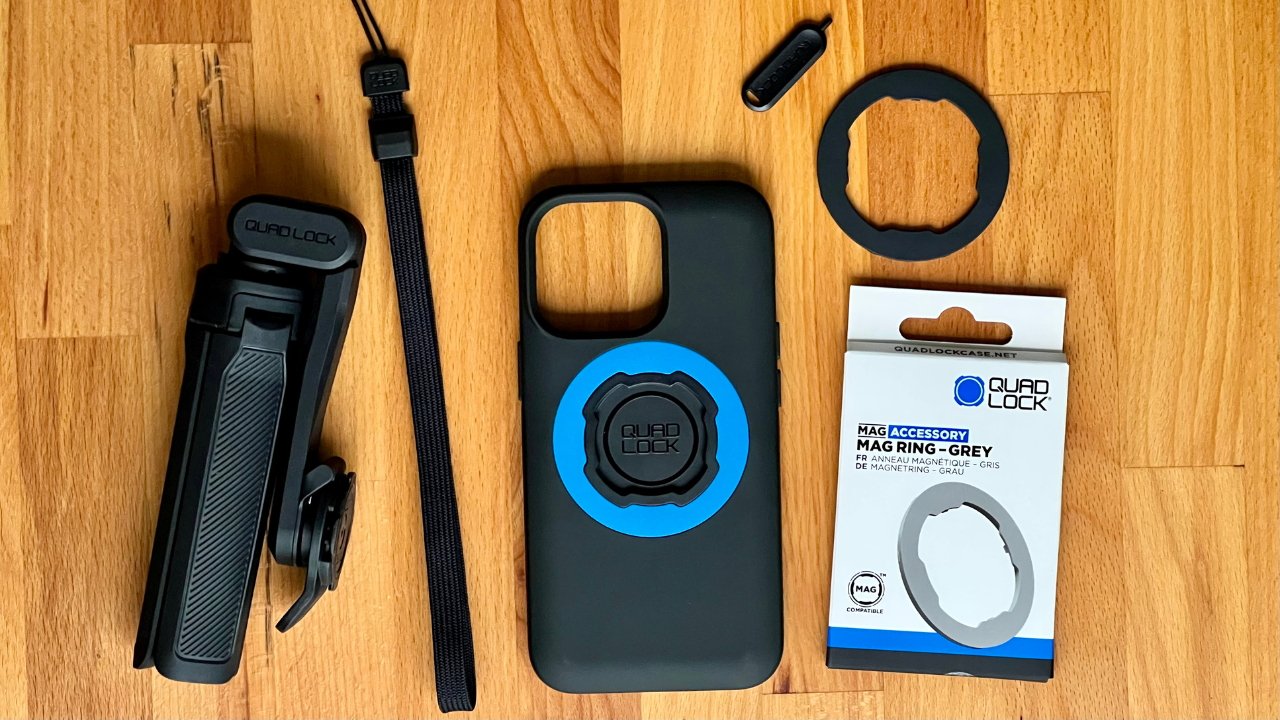 Add accessories for your MAG Case -- tripod selfie stick, lanyard, and MAG Ring, each sold separately
The case is only available in black, but if you want to add a pop of color, you can purchase different colored MAG Rings sold separately.
Besides the added cost, these MAG Rings require installation. You must remove your MAG Case, use the included removal tool to pop off the old MAG Ring, snap on the new MAG Ring, then put the MAG Case back on your phone.
Some may feel that this is a lot of work for not a lot of added style or function. But that was not the only downside of the Quad Lock MAG Case.
The iPhone used for this review already had a screen protector from a different company. When installing the MAG Case on the iPhone, it fit so tightly that it messed up the existing screen protector, which had to be replaced.
If you need a screen protector, you can also get these from Quad Lock. Their screen protectors consist of scratch-resistant tempered glass with an oleophobic coating to help prevent smudges and fingerprints. Installing the screen protector was straightforward as it adhered to the phone screen without bubbles.
Quad Lock tripod selfie stick
Once you have a MAG Case, Quad Lock offers a range of accessories to help you protect and customize your phone, but you have to buy each piece separately.
A popular Quad Lock accessory is their adjustable two-in-one tripod selfie stick. Instead of using a clamp mount to secure your phone onto a selfie stick, you can simply attach it to Quad Lock's mount.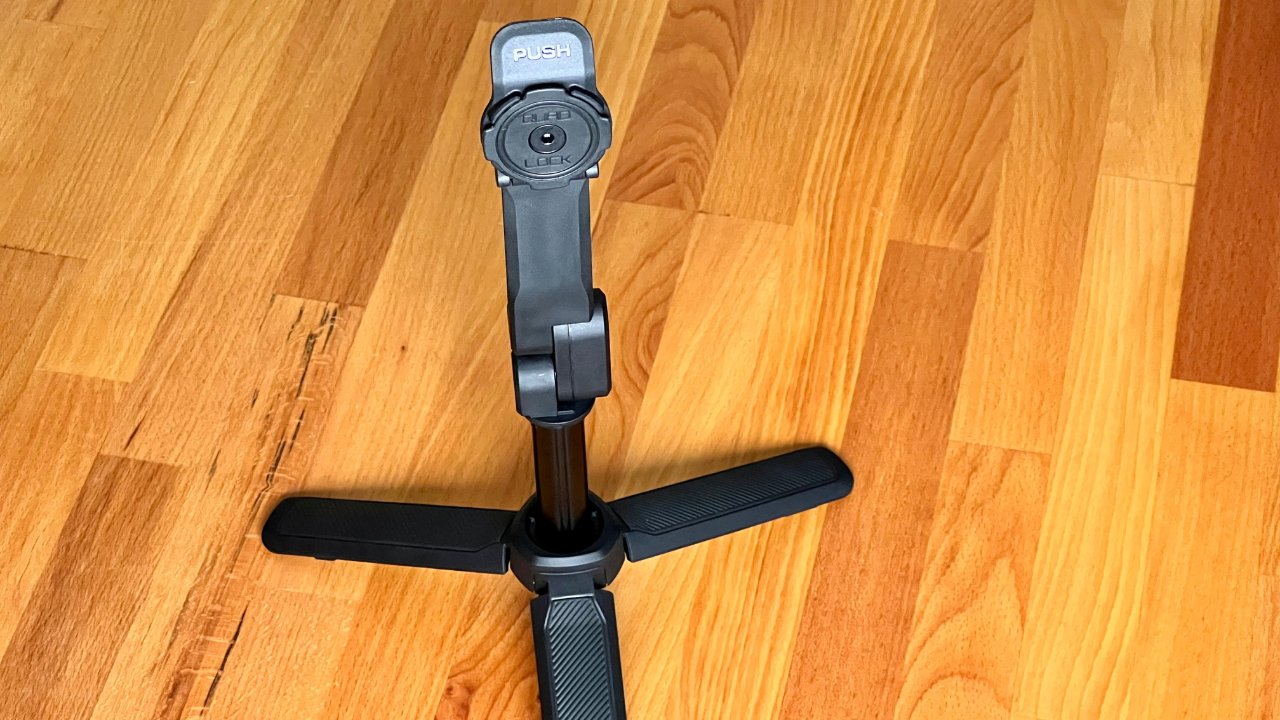 Attach your MAG Case directly to Quad Lock's proprietary mount on the tripod selfie stick
An issue with using a clamp mount on a selfie stick is that it can scratch your phone case or accidentally activate the side buttons. You can avert these issues with the MAG Case.
The tripod selfie stick can extend up to 18 inches and folds down to 5.4 inches, making it versatile and compact to use on the go. It is made with tough glass-filled nylon and black stainless-steel hardware.
However, if you enjoy taking selfies and group photos, think twice before buying this as a selfie stick.
This tripod selfie stick lacks remote control capability, so you still have to set a timer on your phone and hope everyone is ready with their eyes opened when the timer goes off. Of course, you could use your
Apple Watch
as a remote control for your iPhone, but that still requires more work than if it just had a remote control.
Since it lacks a remote control, it may better serve as a tripod than a selfie stick. The tripod hinges are stiff, and the legs are sturdy, providing a stable base for your phone even in windy conditions.
It can help you capture sharp low-light photography and steady time-lapse videos in tripod mode. With its 270-degree hinge articulation, it allows for flexible positioning.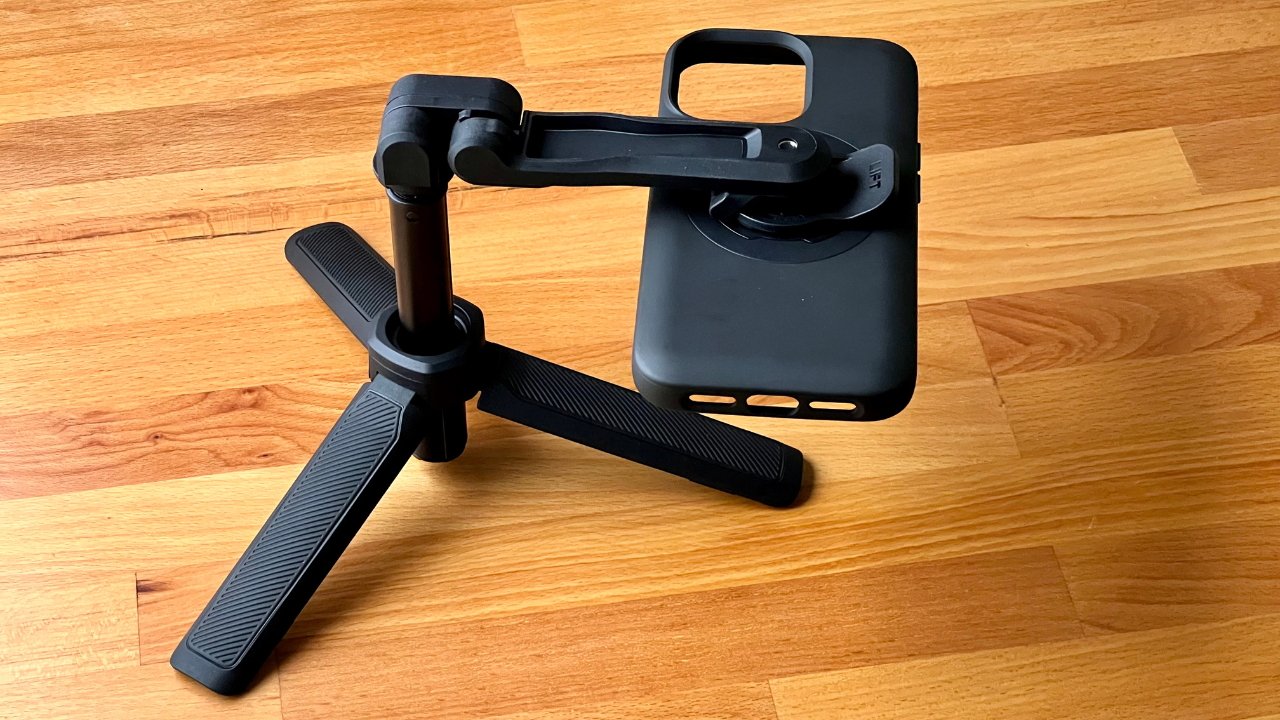 The Quad Lock tripod selfie stick allows for flexible angles
To take a top-down photo or video in tripod mode, you must hold onto the tripod legs to prevent it from toppling because of the iPhone's weight. Also, you would have to adjust the zoom so that the tripod legs are not in the shot.
The tripod legs are grippy, which allows for an improved grasp when shooting photos or videos. Yet, you still have to deal with somewhat shaky video footage because this is not a gimbal.
Another Quad Lock accessory you can purchase is a wrist lanyard. Attach the lanyard to the tripod selfie stick so it does not slip out of your hand. The lanyard can give you peace of mind when using your iPhone in precarious situations.
Quad Lock dual desktop wireless charger
After a battery-draining day of capturing photos and videos, you can effortlessly attach your phone case to yet another Quad Lock accessory -- their dual desktop wireless charger. It allows you to fast charge your phone without fiddling with tangled cables.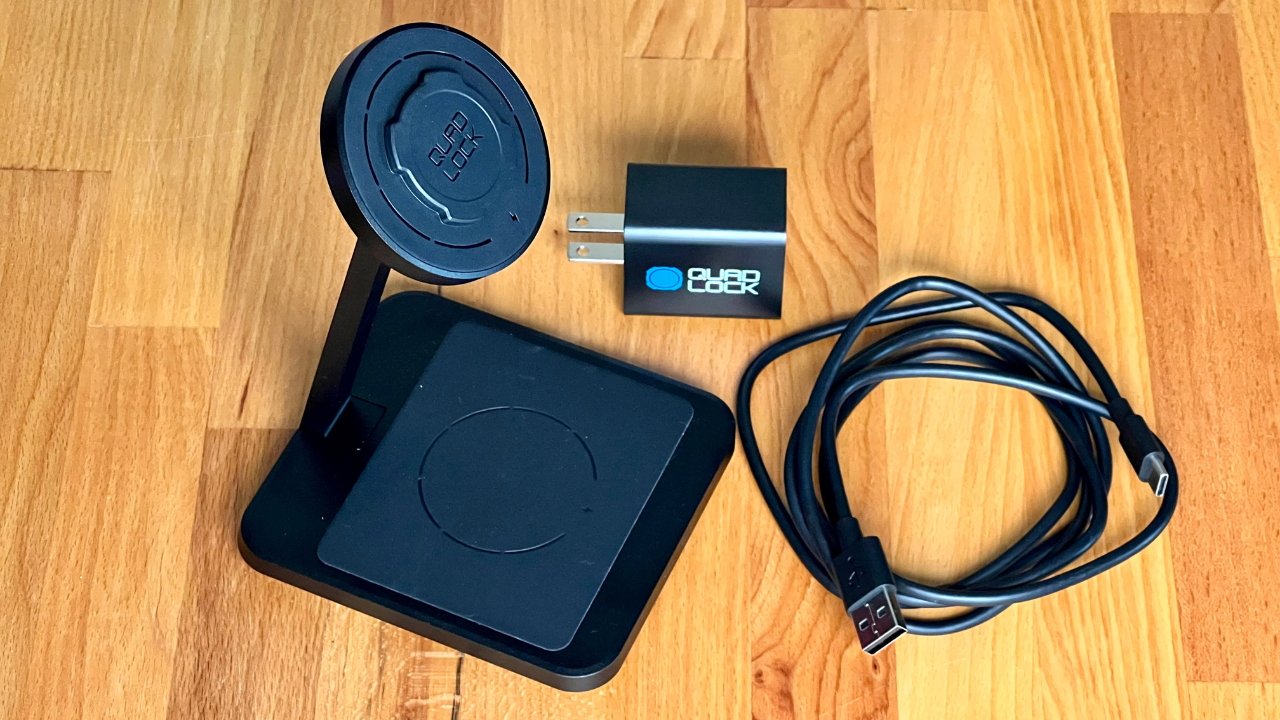 Quad Lock dual wireless charger allows for easy and fast charging with your MAG case
The dual charging station can charge your iPhone and
AirPods
simultaneously, which can help keep your devices ready for action at all times.
While your iPhone is charging, you can mount it in portrait or landscape mode and adjust the angle to keep using it without interruption.
The Quad Lock MAG Case and tripod selfie stick are durable and work well with their other accessories. If you commit to the Quad Lock system, you can expect to use their products seamlessly for years to come -- a concept familiar to Apple users.
Quad Lock MAG Case with tripod selfie stick -- pros


Drop protection


Wireless-charging enabled phone case


Secure phone attachment without a clamp


Sturdy tripod legs


Adjustable length


Quad Lock MAG Case with tripod selfie stick -- cons


Tight phone case; may damage a non-Quad Lock screen protector


Phone case is slick and not grippy


Color MAG Rings cost extra and requires installation


Selfie stick lacks remote control


Rating: 3.5 out of 5
Where to buy the Quad Lock MAG Case
Buy the
Quad Lock MAG Case
from Amazon, with prices starting at $39.99 depending on the phone model. The tripod selfie stick
is $49.99
, and
the lanyard
is $12.99. They have accessories galore - get the
dual wireless charger
for $139.99, the
screen protector
for $14.99, and a
MAG Ring
for $9.99 each.
Read on AppleInsider