Aqara FP2 presence sensor review: The only HomeKit occupancy sensor
Aqara has brought the first occupancy sensor that works with Apple Home to market that can easily trigger automations based on whether or not someone is in the room. Here's how it works and whether or not it is worth the money.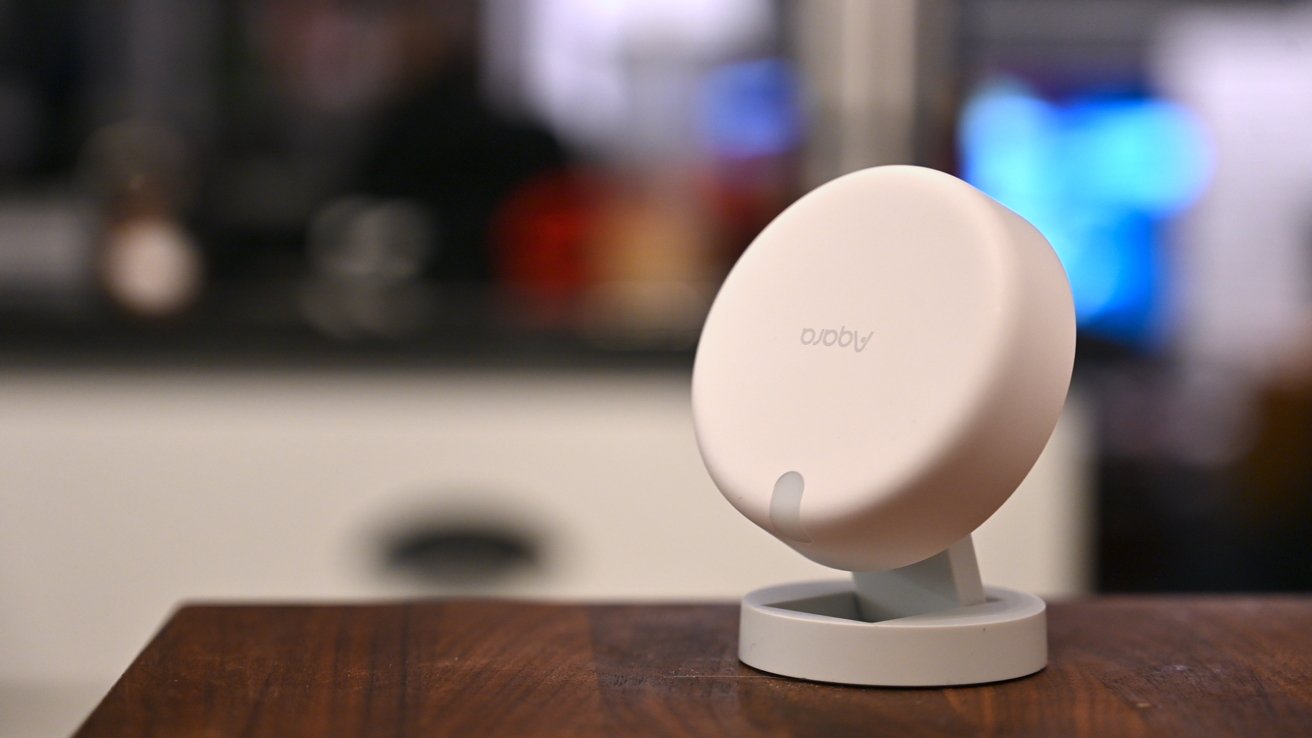 Aqara FP2 occupancy sensor
Smart home automations can be triggered by a variety of circumstances. Time, location, the sun, a door opening, a button getting pressed, or when someone comes into the room.
This is commonly accomplished via motion sensors, but their temperamental sensing makes them unideal for many rooms in the home. Aqara's FP2 sensor aims to fix that.
An interesting design
The Aqara FP2 is very interesting in its design. It has the face of the sensor with an Aqara logo printed on it that sits atop an articulating arm.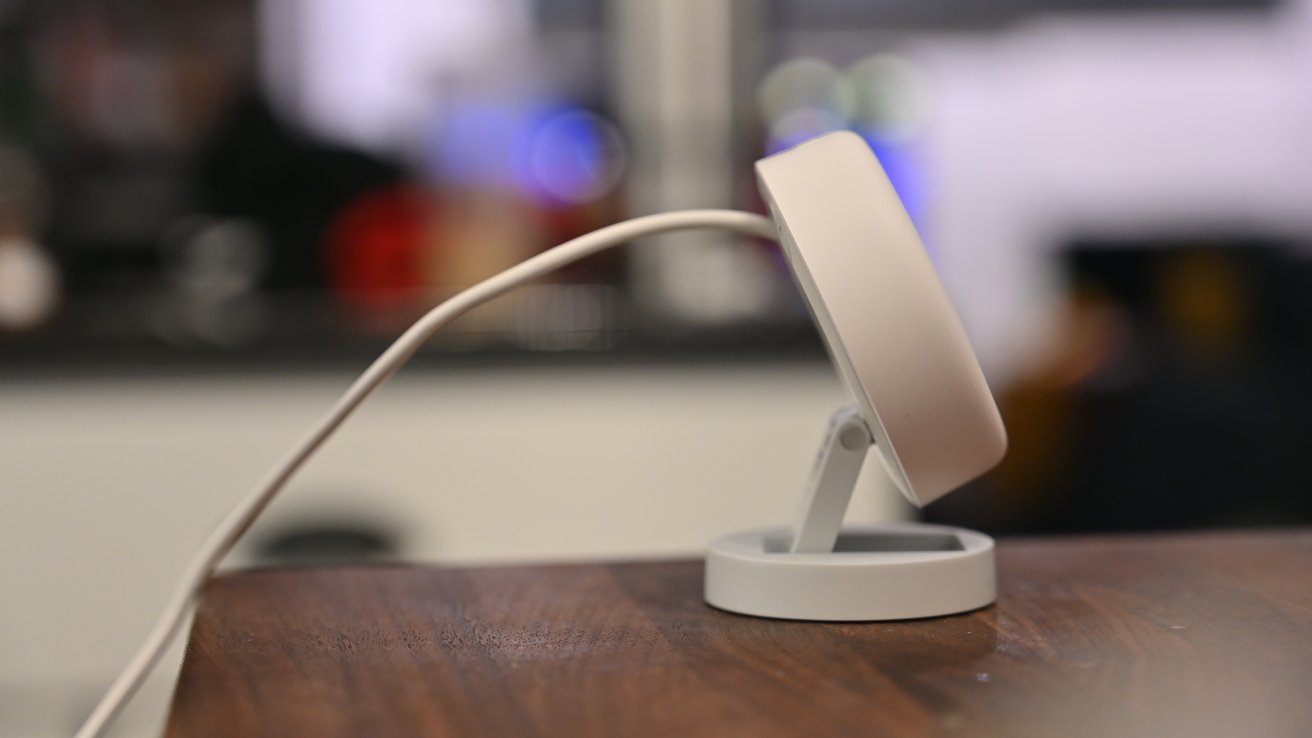 Aqara FP2 from the side
A USB-C cable plugs into the back of the sensor, which routes out of the top -- assuming you place it on a table. The base is magnetic, allowing it to mount to metal surfaces -- like a fridge -- or to the two adhesive metal plates Aqara includes in the box.
Most motion sensors are small, battery-powered square boxes you can place about your home. The design makes it easier to place, but the power requirement is harder to overcome.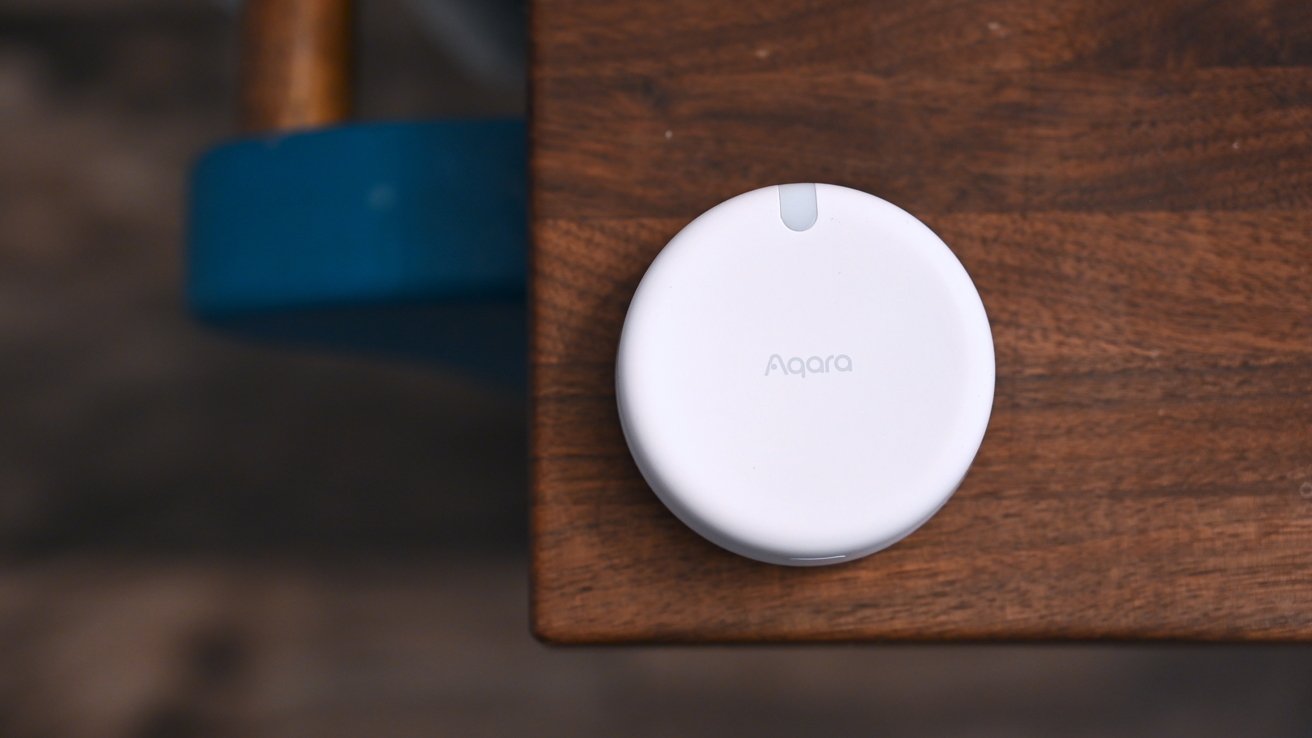 Aqara FP2 is a small circle
Aqara includes a USB-C to USB-A cable in the box, but shame on them for not including a Type-C to Type-C. USB-A devices are becoming legacy devices, so including a Type-A cable in the box is no longer appropriate.
Occupancy versus motion
What's important to nail down is the differentiation between an occupancy sensor and a motion sensor. The latter is commonplace, while the former has been elusive for Apple Home users.
Motion sensors require significant movement to trigger and can get set off by pets, a car driving by a window, or someone in the room. They most frequently use passive infrared radar -- PIR for short -- which isn't very accurate and has other issues.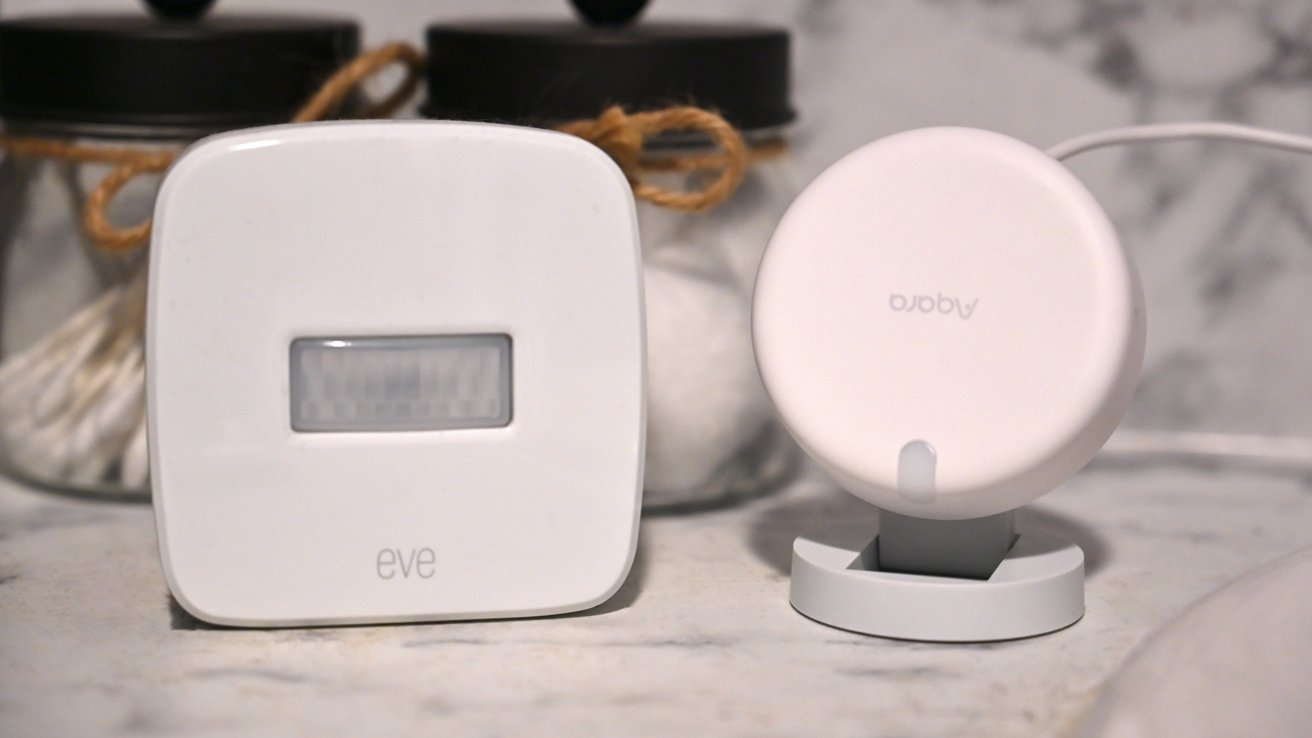 Aqara FP2 versus Eve Motion
One of the common issues is that if you sit still in a room, the motion sensor will no longer know you're there. It doesn't make automations easy.
Enter occupancy sensors. They don't detect motion but use mmWave radar to detect up to five people in the room. It can lead to other features that we'll discuss later.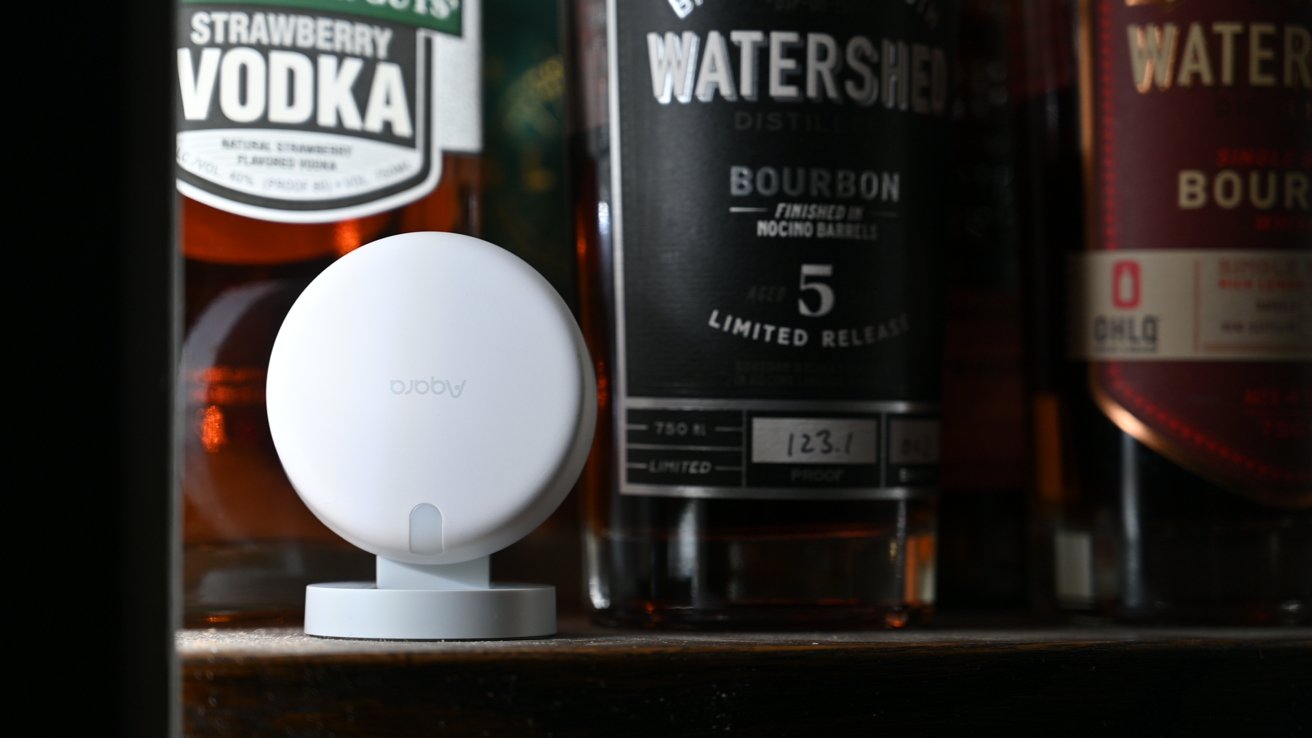 Aqara FP2 on our bar shelf
Between the two, an occupancy sensor is far more preferable, especially if you want a simple automation that turns the lights on when you enter a room and turn off when you leave.
Apple Home control
Unlike some other Aqara accessories, the FP2 does not require the Aqara app though it does benefit from it should you choose to use it. Initially, we just added the FP2 directly to the Home app with the pairing code stuck to the stand.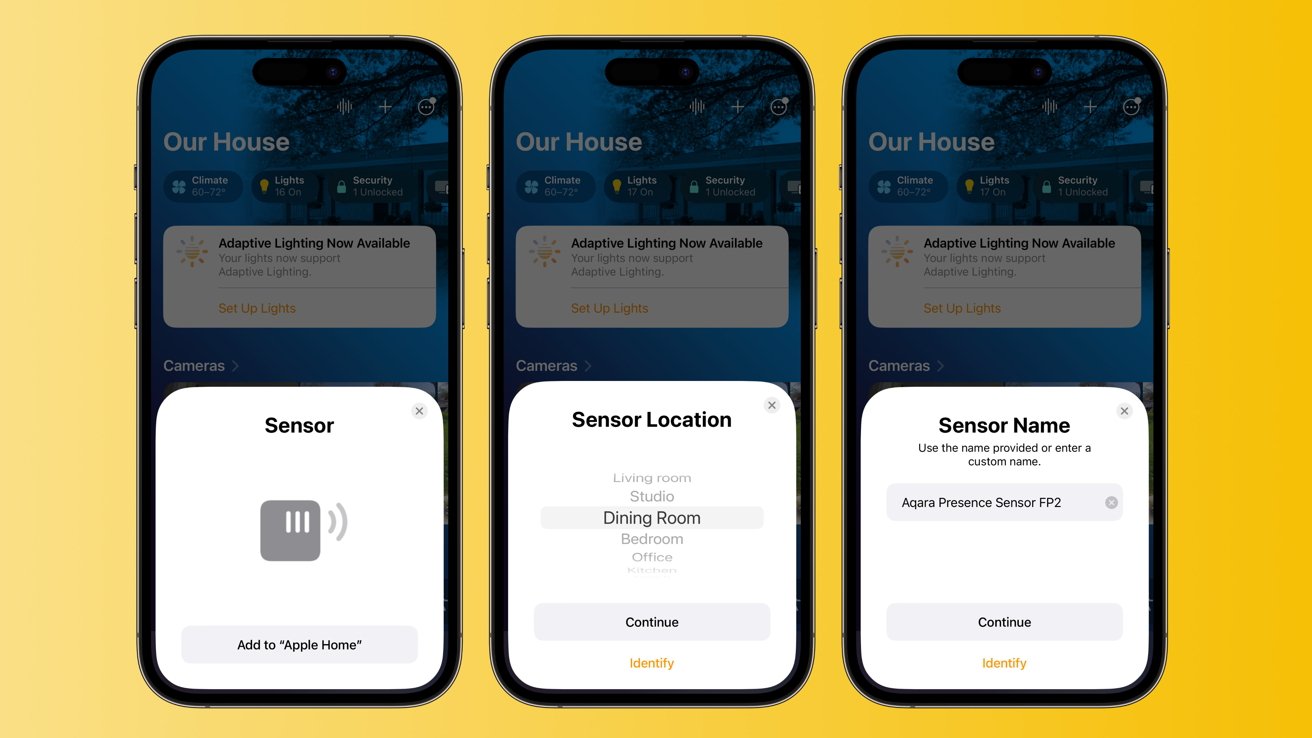 Aqara FP2 setup
The Home app guides you through the setup process as usual. The sensor was quickly identified once we plugged it in and assigned it a room and a name.
Technically, the FP2 has two sensors inside -- a light sensor and the occupancy sensor. You can assign them an individual name or leave them labeled as-is.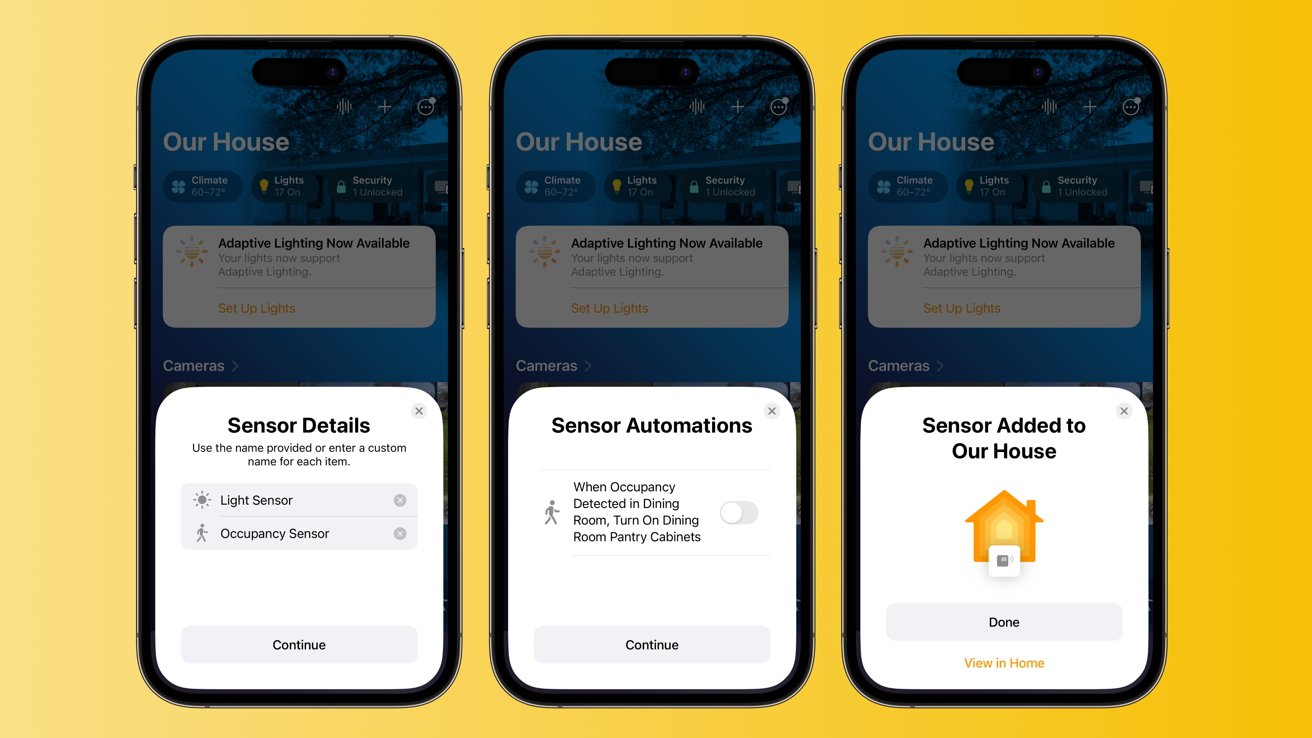 Aqara FP2 continued setup in the Home app
Finally, the Home app provides recommended automations you could use the sensor for based on the devices in the same room. For us, it suggested turning on the lights when occupancy is detected.
Compared to controllable accessories, sensors show at the top of the Home app for the whole home and each room. In our dining room, we can see the brightness in lux plus the occupancy.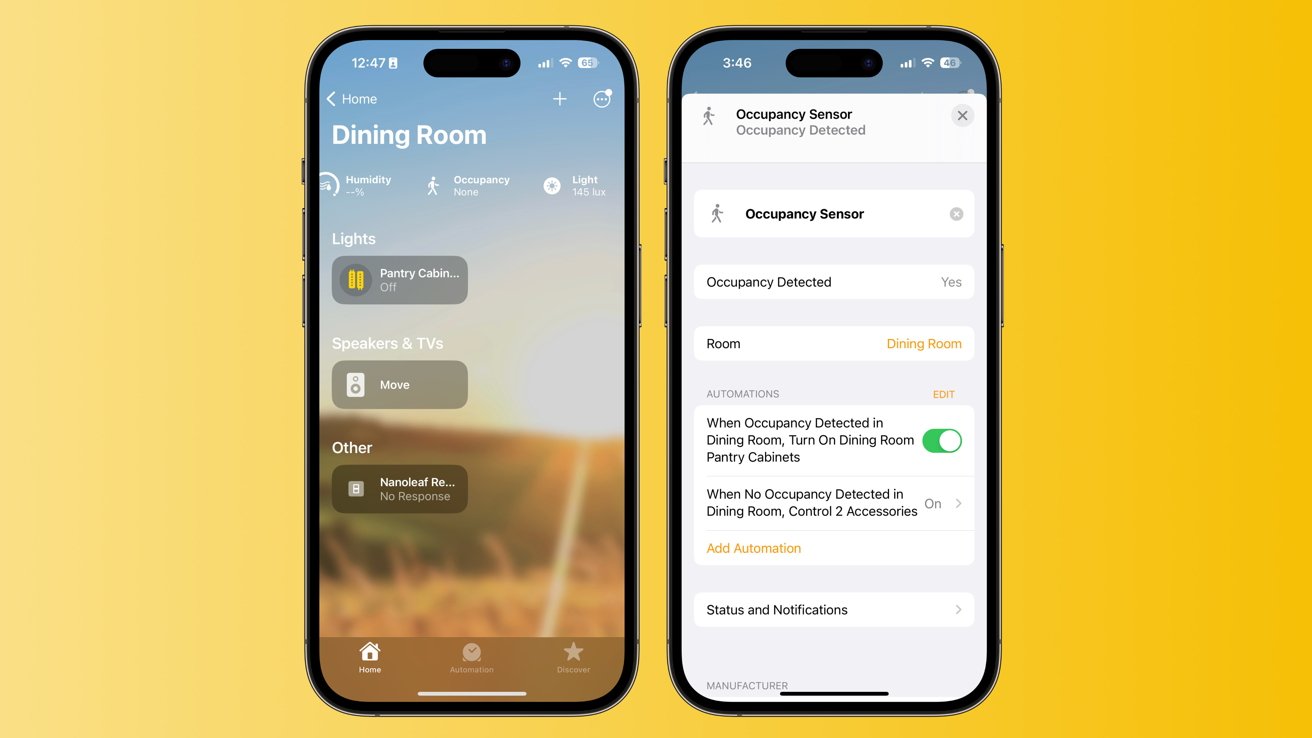 Aqara FP2 in the Home app
Tapping on any of those sensors brings up the full view where you can change the name, change the room, adjust notifications, and create new automation rules.
The most basic automation to create would be to turn on the lights when you enter a room, then off when you leave. You can get more creative by configuring conditional rules to only turn on the lights if it is dark out or turn them on to different brightness levels and color hues based on the time of day.
More Aqara features
Outside of the Home app, you can add the FP2 to the Aqara app. Again, this isn't necessary for bare-bones
HomeKit
control.
If you've already added the device to the Home app, you must bind the accessory to the Aqara app. If you start in the Aqara app, it will add to both from the get-go.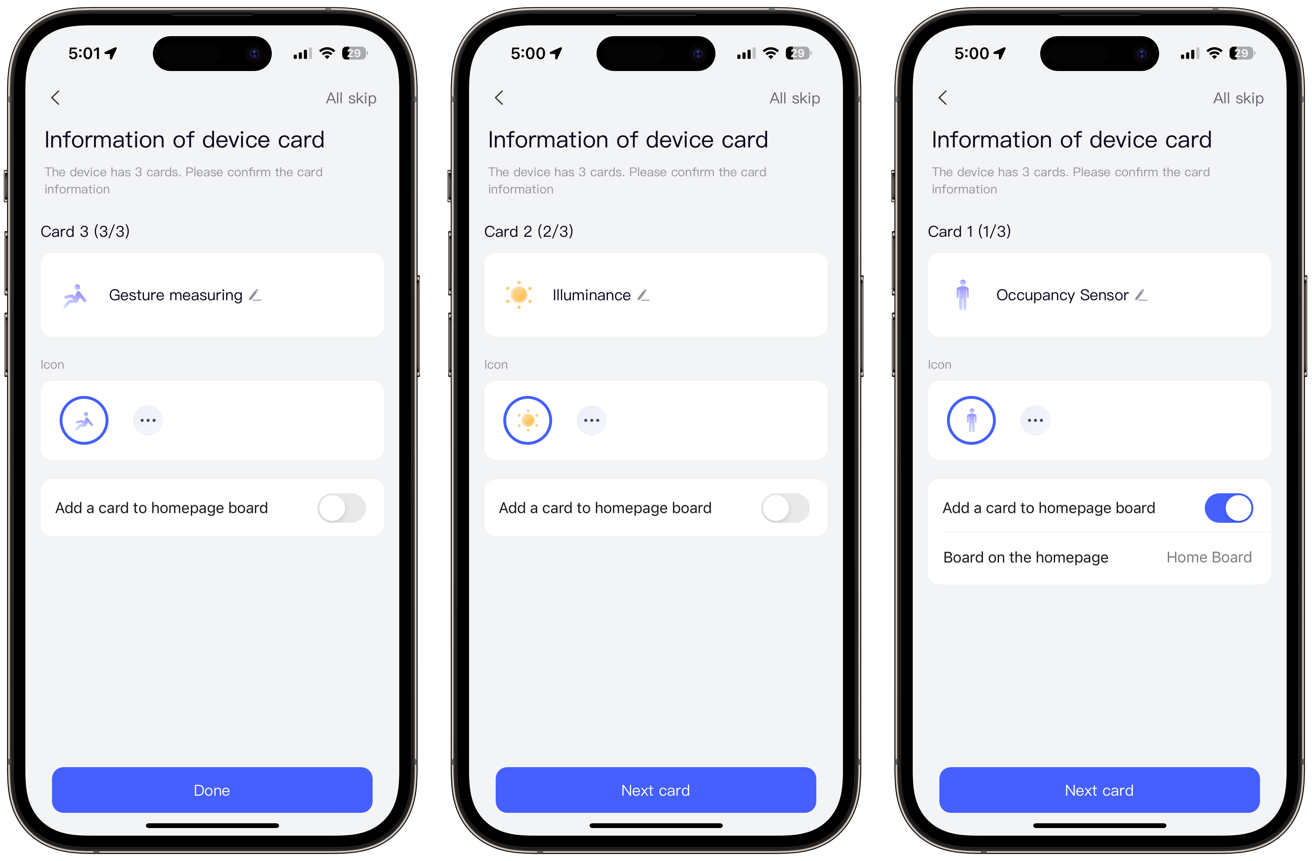 Aqara app shows extra sensors
Aqara shows the device as three different sensors; a light sensor, an occupancy sensor, and a fall detector. The last of which is the most unique.
If the FP2 gets mounted on the ceiling, fall detection can notify you if someone in the room falls. This can be especially useful for those who are looking after elders.
Even with the included magnets, mounting on the ceiling can be difficult. Unless you have ceiling-mounted receptacles, there's no clean way to route a cord up a wall to plug the thing in.
Most users will likely opt to place the sensor on a flat surface like a bookshelf or table, though the higher, the better.
Apple Home's support for motion is fairly limited, but Aqara opens up far more controls. For example, you can create independent motion zones in a single room.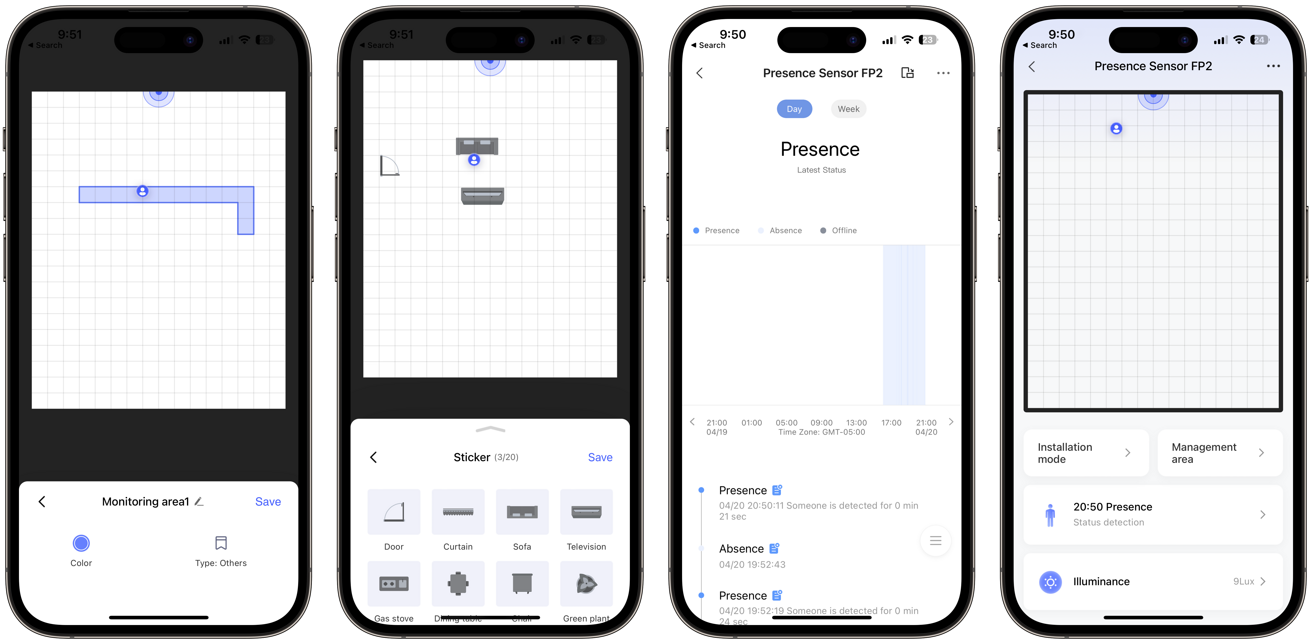 Aqara FP2 features in the Aqara app
To create the motion zones, we'd place ourselves at a certain point in a room and highlight that area on the 2D scan generated by the FP2. You can even add stickers for objects like couches, chairs, etc.
Automations can then be run based on specific motion zone detection. It's effectively the same as having multiple motion sensors in a single room.
The sensor can detect up to five people at once, so you could trigger one scene when someone sits on the couch and a second scene when someone walks in the door, with a third light show trigger when someone walks up to the fish tank.
Bringing presence sensing to Apple Home
Motion sensors can be one of the more useful accessories to a smart home, but they're full of limitations. An occupancy sensor helps to a degree but doesn't wholly solve its setbacks.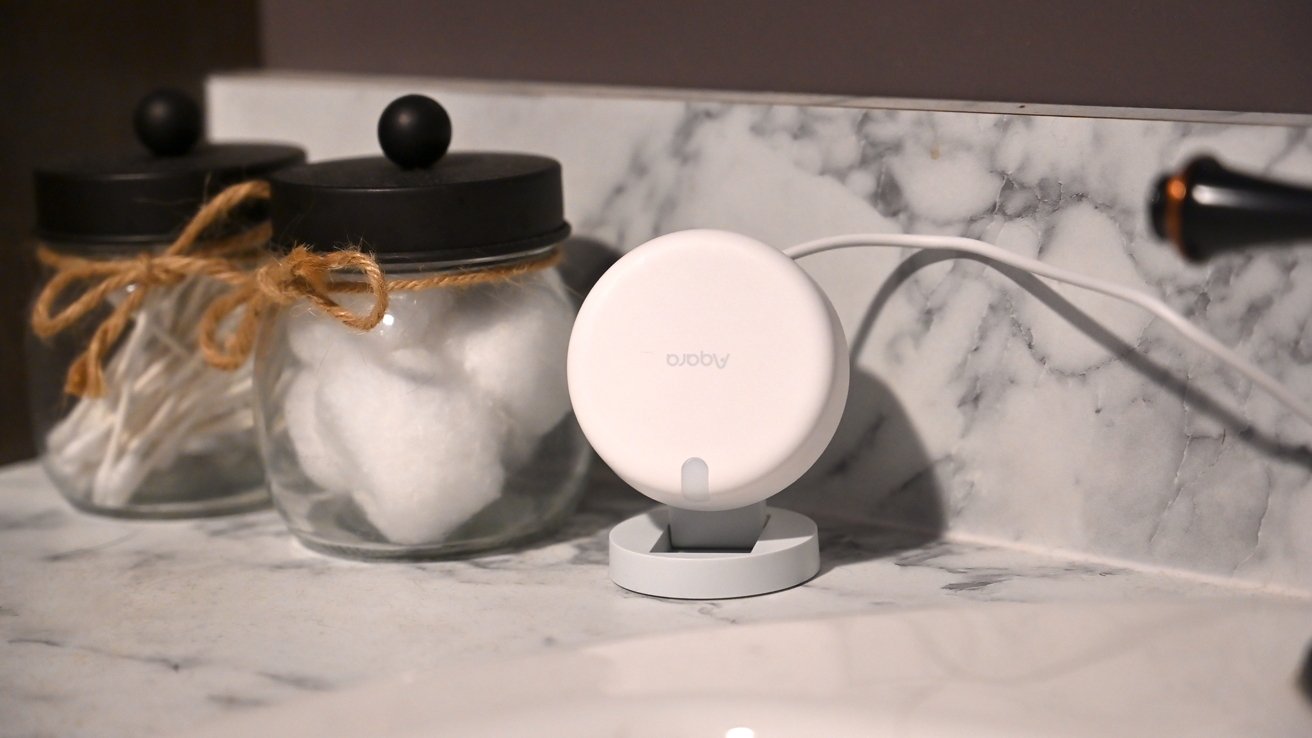 Aqara FP2 is great for turning on bathroom lights
With an occupancy sensor, you can trigger the lights in a room when you walk in and only turn them off when you leave. This is great for common areas, bathrooms, closets, and more.
It also has a verbose feature set that can get incredibly granular and technical for users that want to venture that far down the rabbit hole.
In our testing, the device works well, almost instantaneously detecting motion when we walk into a room and causing our Hue and Nanoleaf lights to turn on immediately. There was usually only a one-second max delay for the lights to trigger, and they always turned off a few moments after we left the room.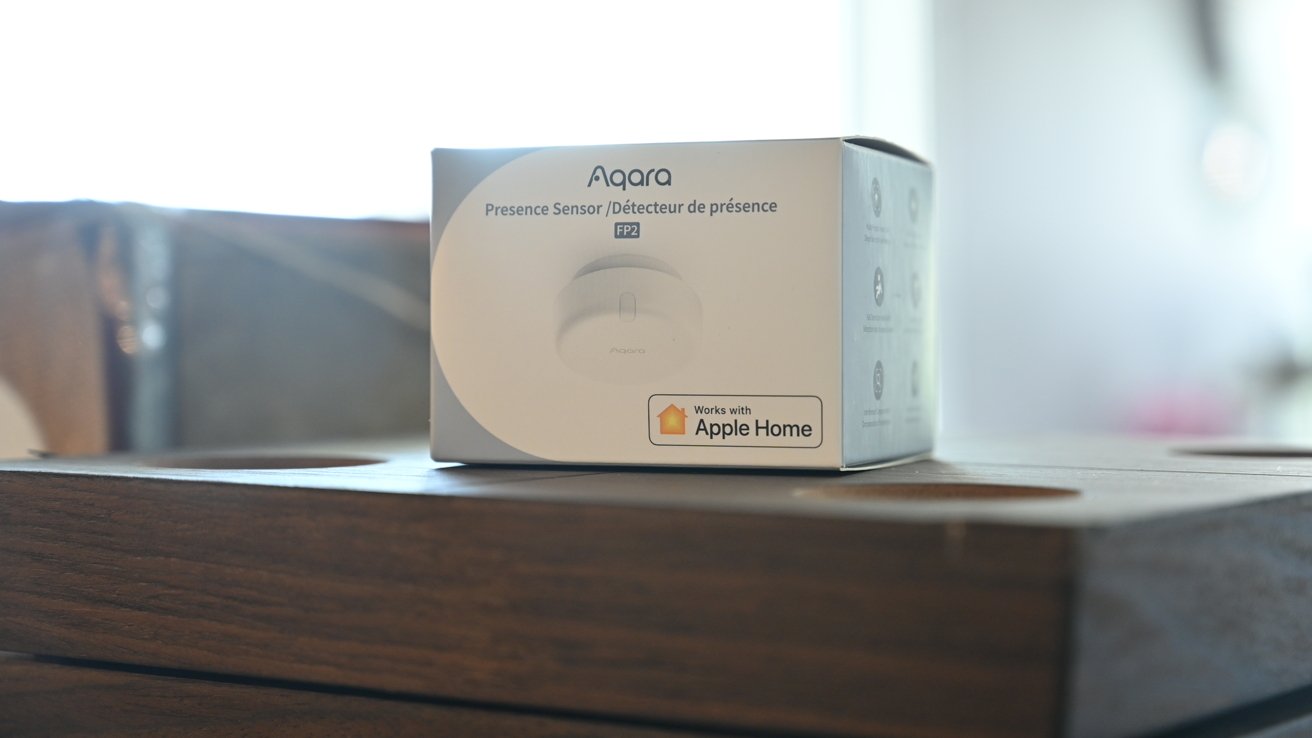 Aqara FP2 box
There's a huge functional difference between an occupancy sensor and a motion sensor, but it isn't nearly as affordable. The high price tag makes it inopportune to outfit every room and closet, but with no competition, you've little alternative.
If you want to make the most of your smart home, you'll have to shell out for it.
Aqara FP2 presence sensor - Pros
Full support for Apple Home


USB-C powered


The first and only occupancy sensor to support Apple Home


A bunch of additional features in the Aqara app


No hub required
Aqara FP2 presence sensor - Cons
Includes USB-C to USB-A cable rather than all Type-C


No power adapter included


Not easy to position
Rating: 4 out of 5
Where to buy the Aqara FP2 presence sensor
Grab the Aqara FP2
on Amazon for $84
.
Read on AppleInsider