Geometric Goods AirTag travel wallet: More stylish than secure
The Geometric Goods AirTag travel wallet can make a timeless gift -- but it lacks a critical security feature.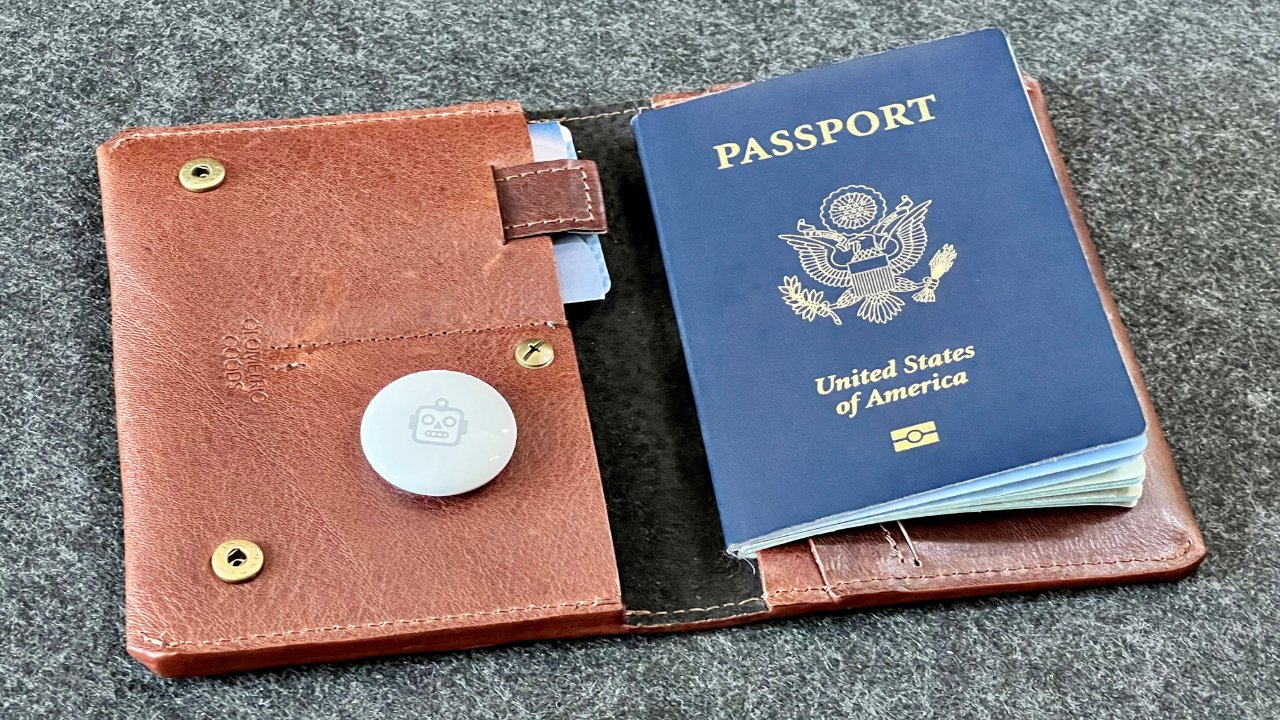 Review: Geometric Goods AirTag travel wallet
For Apple users who travel often, an AirTag wallet can be a handy accessory. Apple's
AirTag
is a small device you can place into the wallet and link with your
iPhone
, and you can use the
Find My
app to track your wallet if you misplace or lose it.
The AirTag travel wallet from Geometric Goods can be practical for travelers who want to keep track of their wallets. It is crafted from genuine leather and can make an elegant gift, but it does not have an essential feature for safety-conscious travelers.
Customizable with a human touch
Geometric Goods is a family-owned business based in Poland that ships worldwide. The wallet in this review arrived in a stately gift box with lovely wrapping paper and a handwritten thank you note.
If you appreciate having a bespoke product with a personal touch, you might find this a refreshing experience in our digital age.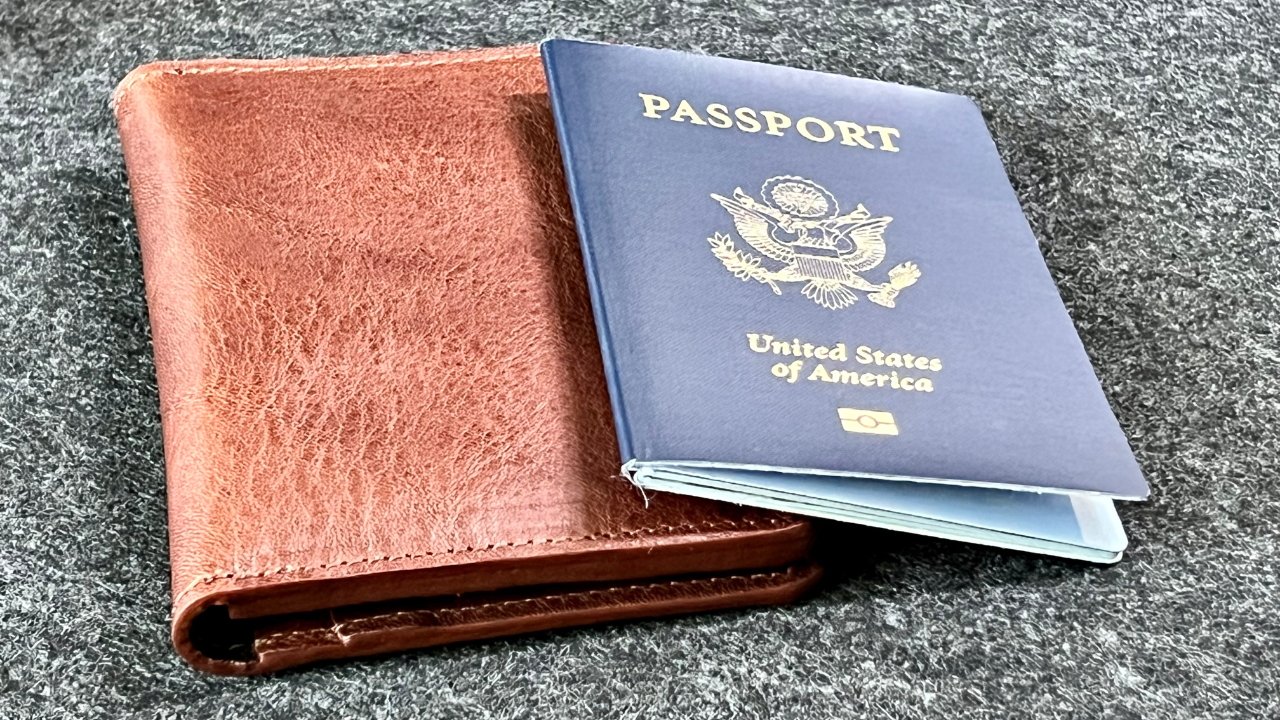 The Geometric Goods AirTag travel wallet is made with genuine leather; shown in mahogany color
The travel wallet used for this review came in a mahogany color with antique brass rivets. According to Geometric Goods, the AirTag travel wallet is made with full-grain leather from the Tuscany region of Italy.
When the wallet was removed from its box, it emitted an unmistakably genuine leather smell, evoking a sense of luxury and quality. The leather was soft and supple to the touch, and it came with a storage bag and extra rivets.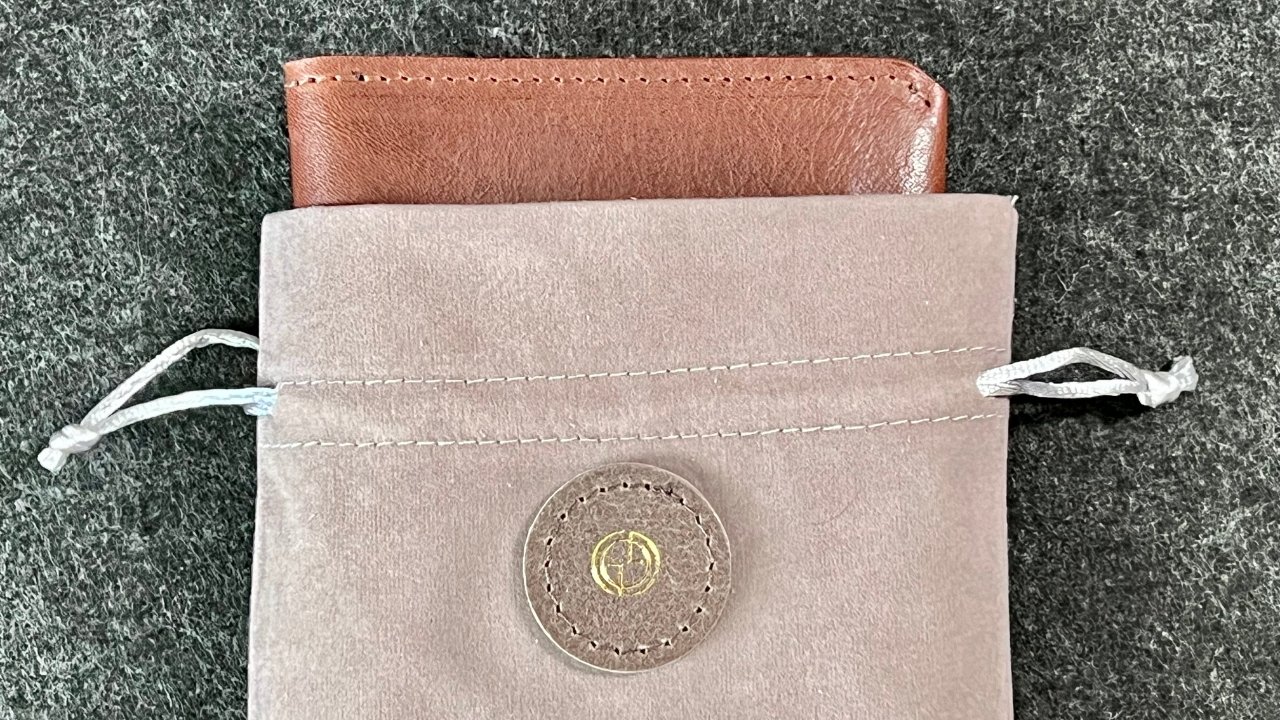 Geometric Goods AirTag travel wallet comes with a storage bag and extra rivets
There are eight colors to choose from, including two black styles, one of which is snake-textured leather. Additionally, there are four brown leathers to choose from. They also have yellow and red leather options for those who enjoy a colorful twist.
Besides a variety of colors, you can also pick the color of the rivets and snap buttons, like black, silver, gold, or antique brass. Beyond that, you can personalize your wallet with up to 4 uppercase letters for more customization. If you have a preference for the location of the engraving, you can include it in a note when placing your order.
AirTag compatibility
The Geometric Goods AirTag travel wallet has a hidden pocket for your AirTag. The AirTag is securely held in its place by a riveted flap that you cannot remove easily.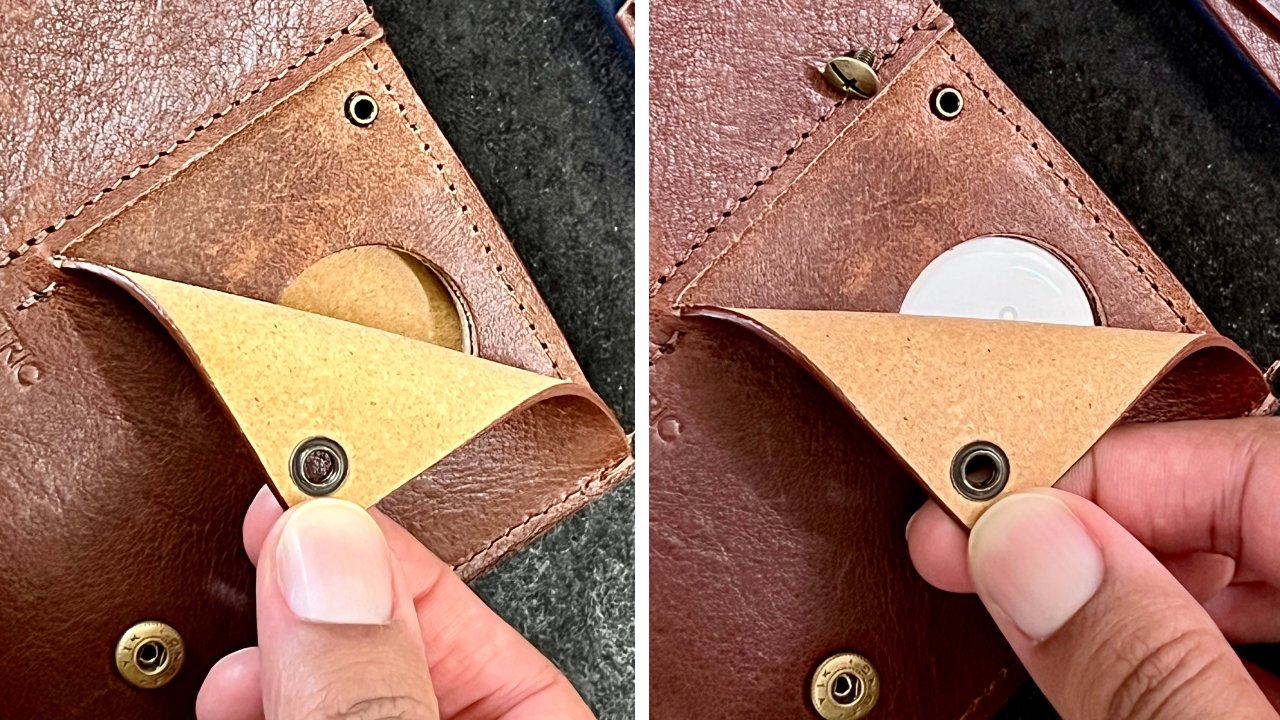 Geometric Goods AirTag travel wallet has a hidden AirTag compartment that secures with a rivet
As a test, the AirTag was inserted into the concealed compartment from a slot on the top of the flap. However, it was problematic to do it this way. Instead, a screwdriver was used to take out the rivet, lift the flap, and then the AirTag was put inside the secret spot.
Once the AirTag is inside the compartment and you secure the rivet, it cannot be taken out without some effort. This design can help prevent the AirTag from falling out of its place if the wallet gets tumbled around in your absence.
Despite having a hidden part for your AirTag, this travel wallet does not prevent theft. Instead, this wallet can help you locate it if you misplaced it in your hotel room or cannot find it in your family's pile of luggage.
Limited functionality
Geometric Goods' AirTag travel wallet has enough space for your documents without being too bulky. It features five pockets for cards, a pocket for your passport, and a slot for cash, and it closes with snap buttons.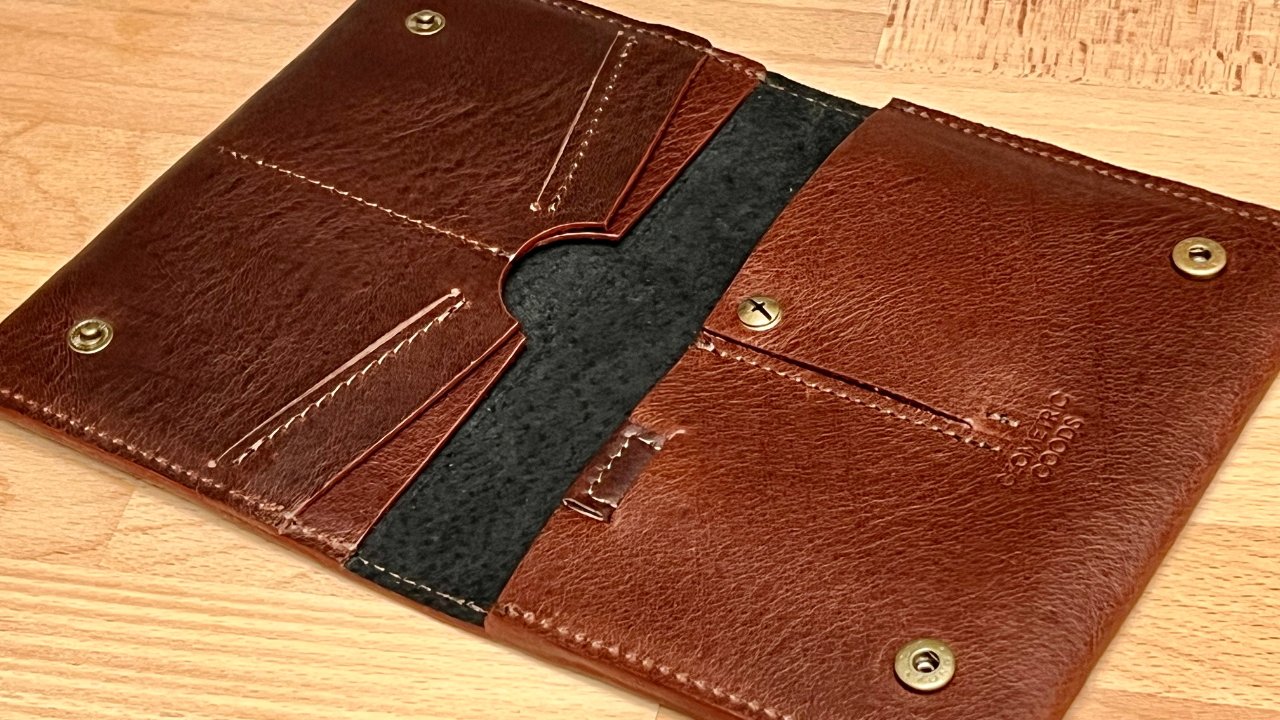 Geometric Goods AirTag travel wallet has a lot of space for cards and a passport
The wallet's dimensions are 5.9 inches by 3.9 inches, making it convenient to carry and store while you travel. Still, this is not a minimal
MagSafe
wallet nor a compact bi-fold wallet since it is large enough to fit your passport.
A downside of this otherwise exquisite AirTag wallet is that it lacks an RFID-blocking feature. The absence of RFID protection can be a grave concern for travelers with sensitive documents in their wallets, such as passports and credit cards.
You can purchase RFID-blocking sleeves elsewhere, insert your documents, and put them in the Geometric Goods wallet as a workaround. For this review, a Global Entry card was put in an RFID-blocking sleeve, then inserted in a card slot, and it fit just fine.
Although this might work for some, you will spend more money and add bulk to your wallet -- not ideal for light travelers.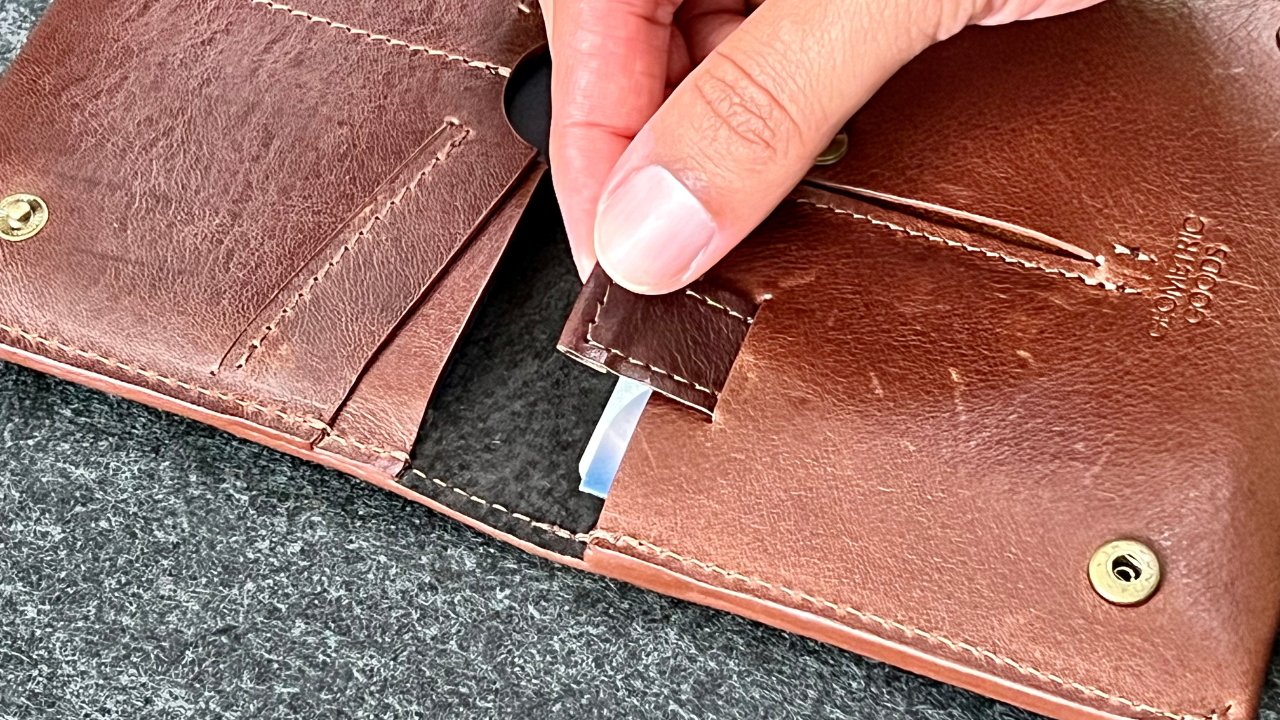 Geometric Goods AirTag travel wallet shown with a card inside an RFID sleeve that can be purchased elsewhere
When
AppleInsider
reached out to Geometric Goods regarding the RFID feature, they expressed they intend to launch wallets with RFID protection in the third quarter of 2023. Time will tell if these will be available on time or at all, but it is a vital feature for travelers who want both tracking and security features in their wallets.
The Geometric Goods AirTag travel wallet is an alluring leather accessory with a refreshingly personal touch. However, since it lacks RFID protection, it could be a dealbreaker for travelers who want to safeguard sensitive information.
Geometric Goods AirTag travel wallet -- pros


AirTag compatible


Genuine leather


Customizable


Can hold a lot of cards


Geometric Goods AirTag travel wallet -- cons
Rating: 3 out of 5
Where to buy the Geometric Goods AirTag travel wallet
You can get the Geometric Goods
AirTag travel wallet
directly from their website for $137.90.
Read on AppleInsider