Mujoy floor lamp review: novel concept, but doesn't feature HomeKit support
The Mujoy floor lamp is a smart RGB lamp that casts a gorgeous glow of diffused ambient lighting, but a lack of HomeKit support is a problem.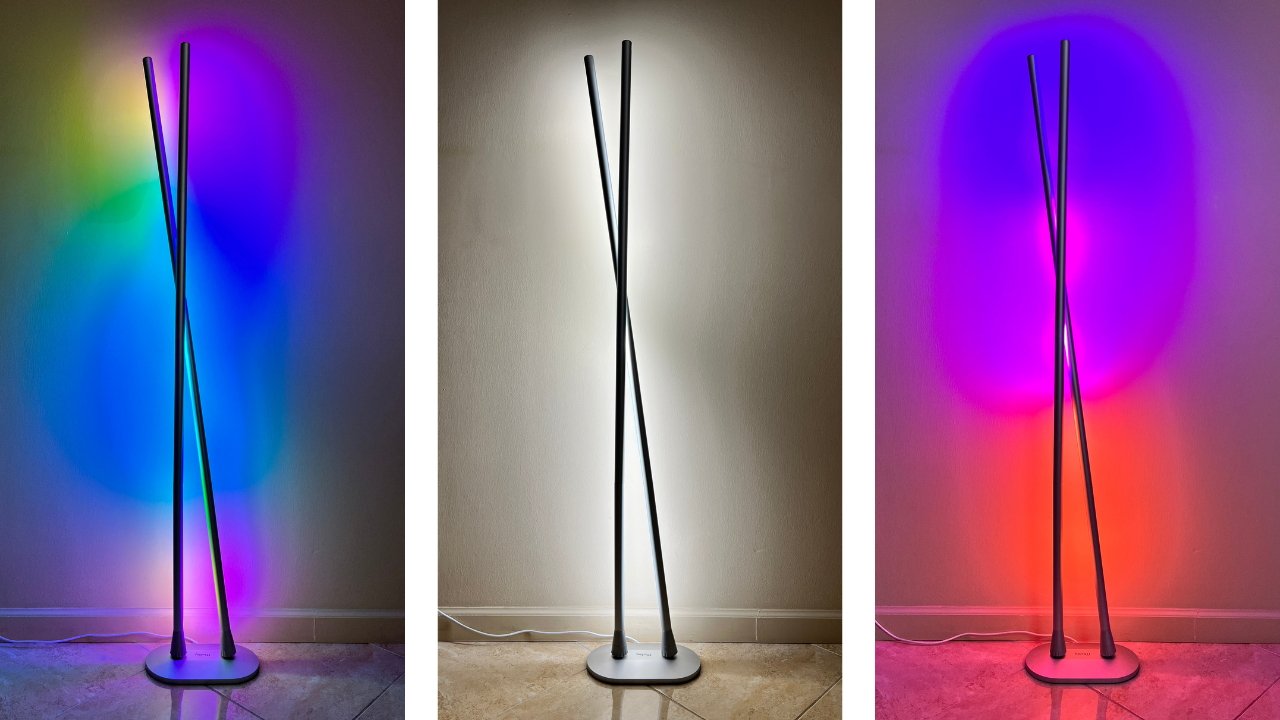 Review: Mujoy floor lamp
The Mujoy floor lamp can help you to brighten up a dark corner, set the mood for a cozy night, or create a colorful atmosphere for a party. You can control it remotely with your
iPhone
and customize lighting scenes to suit your preferences.
Still, this smart LED lamp is not perfect, as it misses a critical feature for users relying on the Apple ecosystem.
Smart and colorful LED lighting
The Mujoy floor lamp emits vibrant LED light and lets you create colorful lighting in your home. However, although it can enhance your decor with dazzling effects, it is not designed to be a bright task lamp, so do not rely on it for that purpose.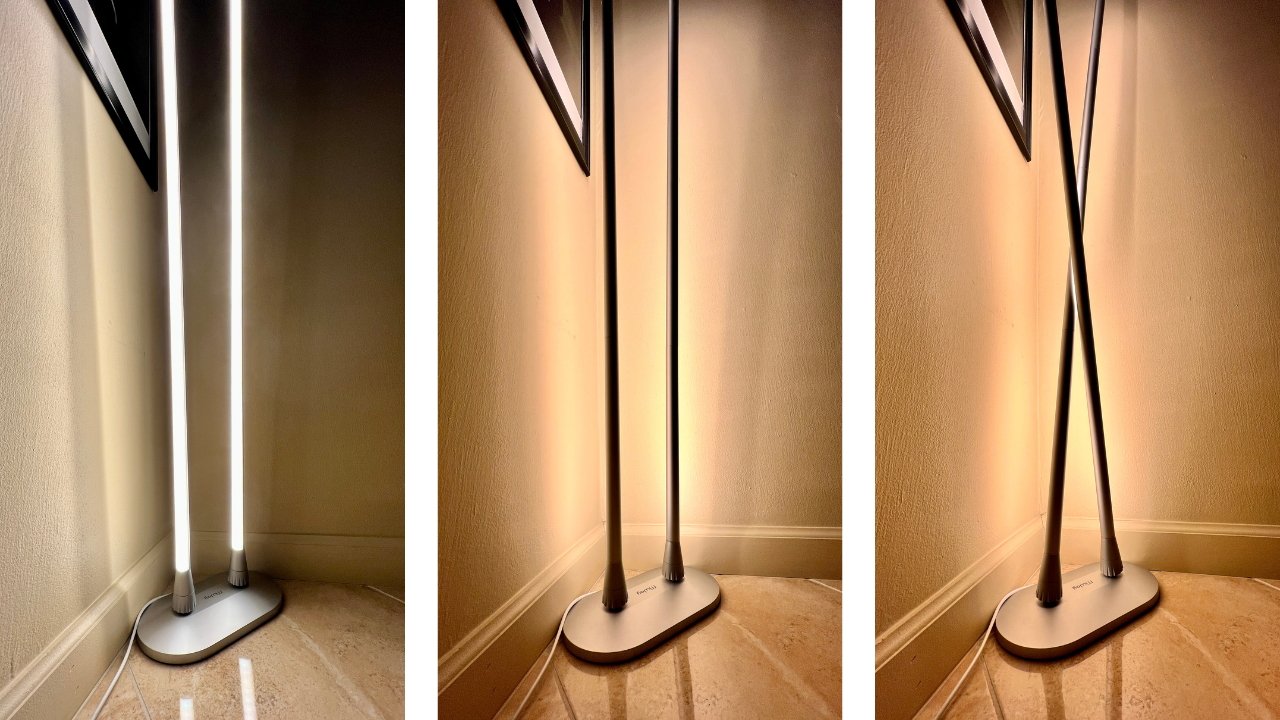 The Mujoy floor lamp has two light bars that can rotate and be positioned at different angles
The lamp is sleek and simple with a frosted aluminum finish. The lamp base is weighted and discreet, and the two slim metal bars can easily blend in with the background when the lamp is off. However, it turns into a brilliant color-changing floor lamp when powered on.
This smart RGB lamp has two light bars that can be angled 15 degrees vertically and twisted 350 degrees horizontally, giving you the flexibility to position them differently.
You can position the light bars straight and parallel to each other or cross them in an X shape. Additionally, you can mix and match up to eight colors on each light bar to create a unique gradient effect.
Besides having a rainbow of colors to suit your mood and style, the Mujoy floor lamp lets you adjust the brightness and temperature of the light from 5 to 100 percent brightness and 2700k to 6500k warm or cool white.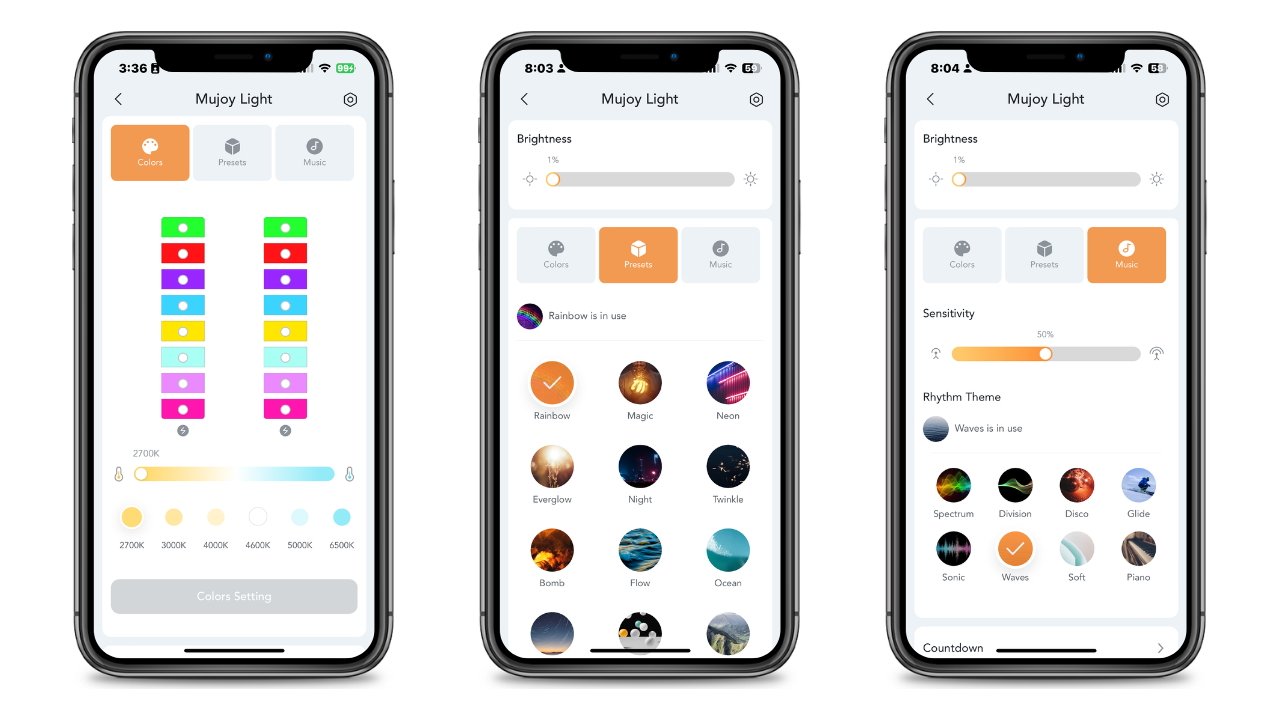 Users have lots of lighting customizations using the Aidot app
Also, you can choose from 20 presets that offer fun and dynamic lighting options for various occasions. So whether you want a relaxing, romantic, or festive atmosphere, there is likely a preset to help you set the mood.
If you want to add music to the mix, the lamp has a built-in microphone that can sync with your tunes. In addition, you can choose from eight music modes that make the lights change color and intensity according to the sound, and you can also adjust the sensitivity level to make the lamp more or less responsive to the beat.
The lamp was tested for its music synchronization feature but did not perform well. The colors changed randomly and did not match the beats of the songs.
Watching the colors move with the music was still entertaining, but don't expect this lamp to dance to the beat.
Setup and app customizations
Setting up the lamp was not too hard, but better instructions would have made it simpler. The directions included with the Mujoy lamp used ambiguous terms to describe the parts.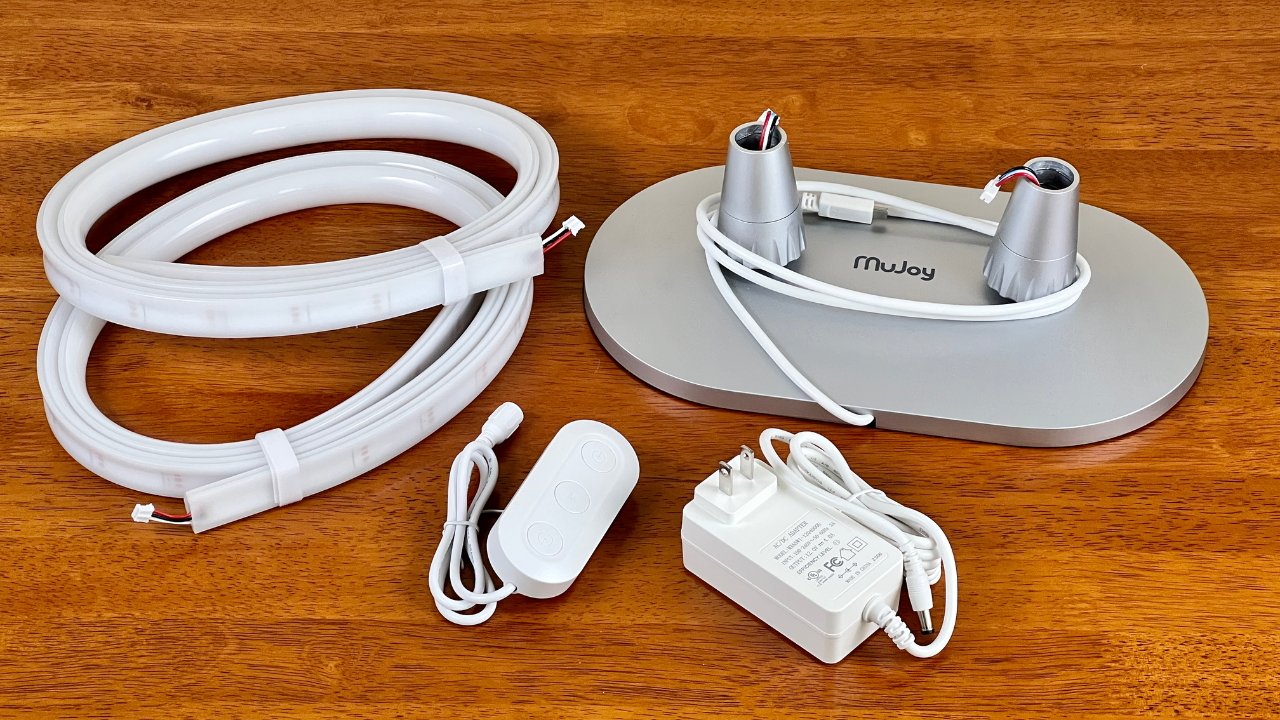 The Mujoy floor lamp's weighted lamp base, power adapter, and two light strips
Thankfully, the instruction manual had a QR code that led to an installation video, which was more helpful than the written directions.
The lamp had four main components -- the base, the power adapter, the two light strips, and the metal bars. The light strips are thick, flexible silicone material that bends and twists easily. The metal bars housed the light strips and had to be connected with screws.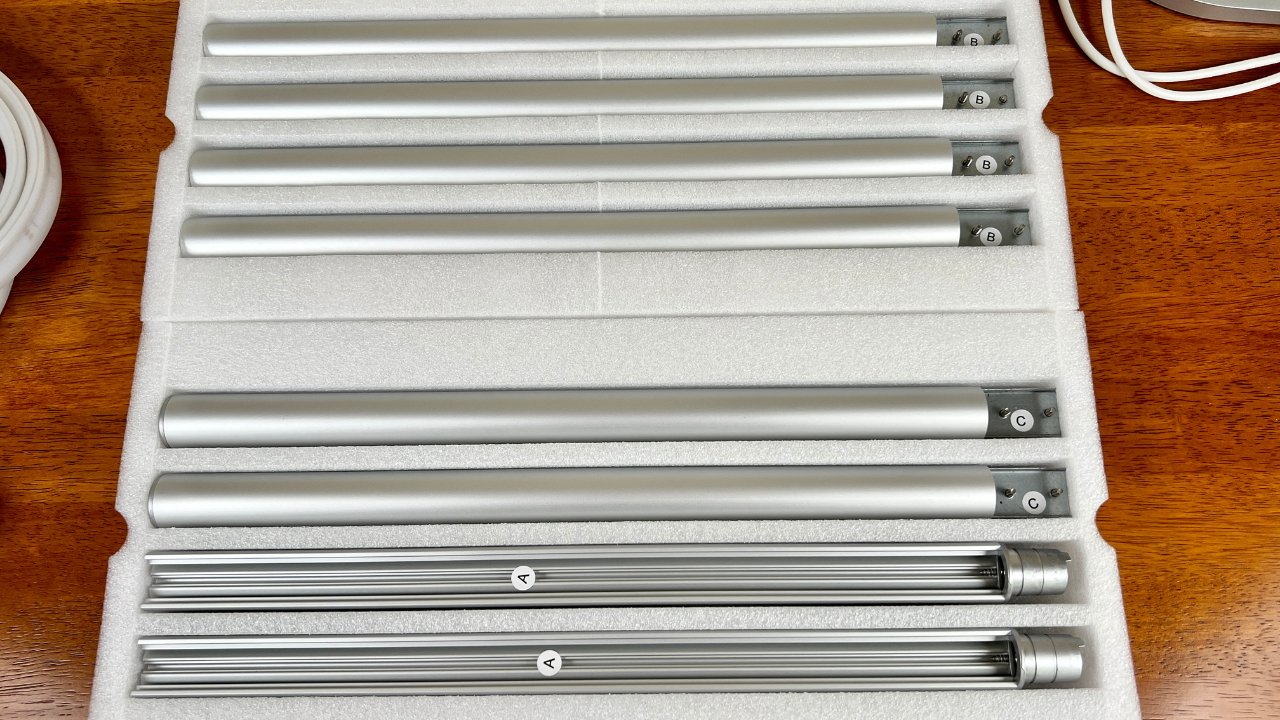 Setup of the Mujoy floor lamp include attaching these metal bars
The screws were already in place on the bars, so they had to be loosened and tightened again to attach them securely. Be careful not to pinch your fingers while connecting the metal bars.
Once the metal bars were assembled and attached to the lamp base, the light strips were inserted into the bars, and the power adapter was plugged in. The lamp was then ready to use.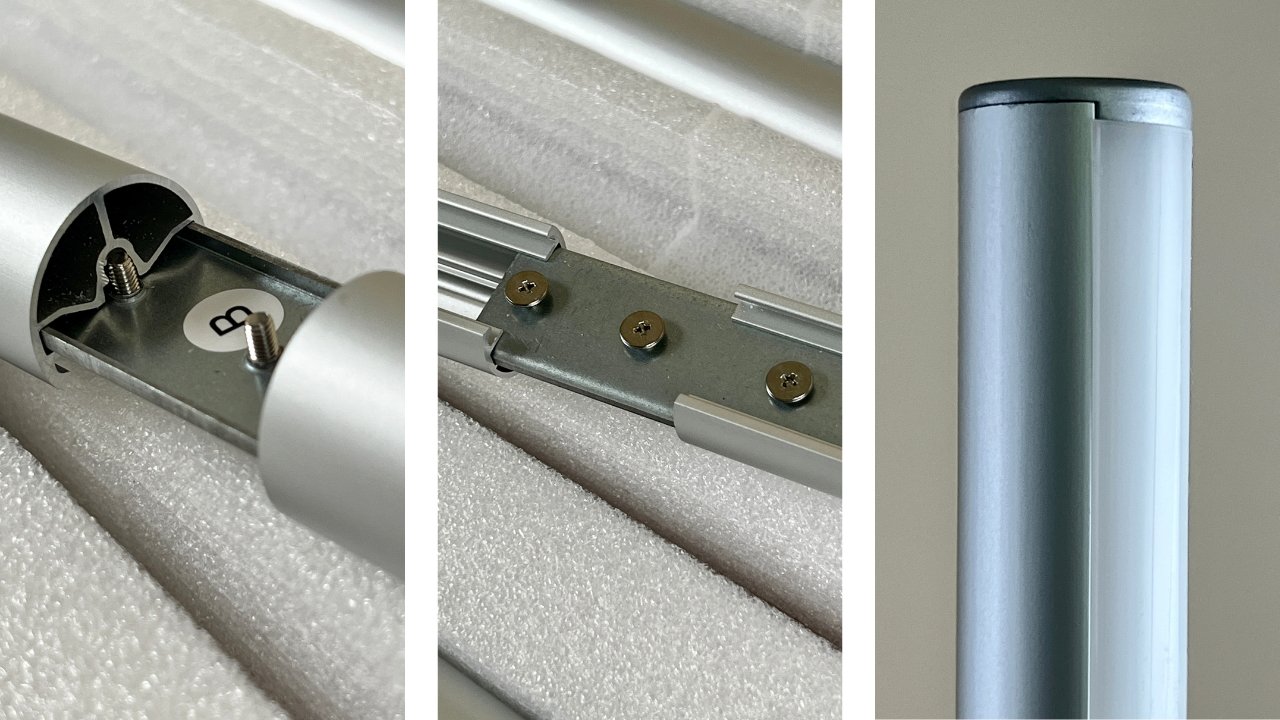 Assembly is required and involves tightening screws to attach metal bars, and connecting two light strips
One of the best features of the lamp is that you can control it with the Aidot app, but finding the app was not very easy.
The app description on the iOS
App Store
did not mention Mujoy as a compatible brand, and the user manual did not prominently display the Aidot logo. The quick start guide had to be examined closely to find the correct app.
After installing the app, you must create an account to log in. Once logged in, you can turn it on or off remotely via Wi-Fi and access the many lighting customizations and routines within the app.
For instance, you can set up scheduled times for the lamp to turn on and off, which worked well during testing.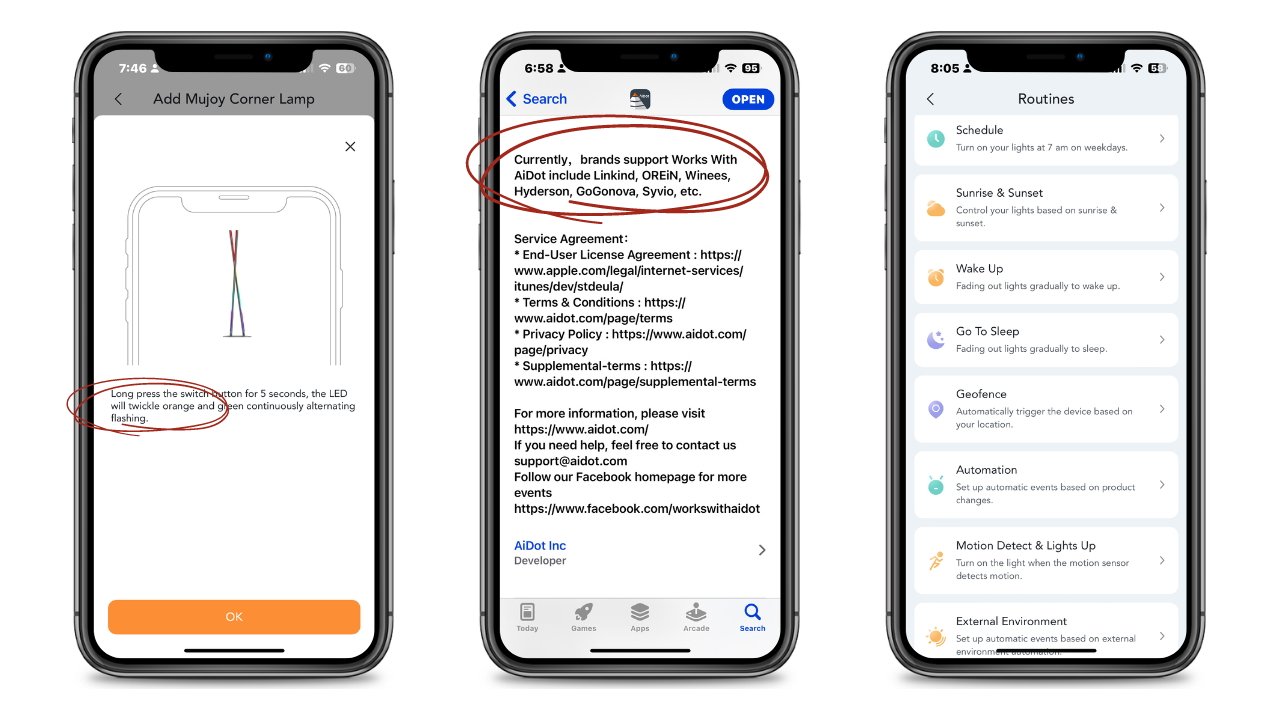 Setup was confusing because of ambiguous words and not listing Mujoy as a supported brand, but it was easy to set up routines
You can control the lamp with the power adapter's three buttons if you prefer not to use the app. These buttons allow you to turn it on or off and switch between limited lighting modes and effects.
Another perk of the Mujoy lamp is that it can work with Amazon Alexa or Google Assistant. However, it does not support Apple
HomeKit
-- a critical drawback for Apple users who want to integrate this lamp into their smart home system.
The Mujoy floor lamp can create attractive ambient lighting for your space. Still, it does not support HomeKit, which could be a dealbreaker for Apple users who need a seamless smart home experience.
Mujoy floor lamp -- Pros
Two light bars, not just one


Customizable colors, effects, and routines


App-enabled for remote control via Wi-Fi


Minimal design blends well with modern homes
Mujoy floor lamp -- Cons
Confusing setup


No HomeKit support


Did not sync to the beat of music
Rating: 2.5 out of 5
Where to buy
The Mujoy floor lamp is now on sale
for $109.99
directly from their website but be sure to use code MS10 for 10% off. If you prefer to shop
on Amazon
, it is on sale now for $99.99.
Read on AppleInsider