Timekettle Fluentalk T1 Translator Device review: Works well, but you already own an iPhon...
The Timekettle Fluentalk T1 Translator Device is a well-built language translator that allows you to convert foreign text by verbalizing or photographing it -- but you own an alternative already.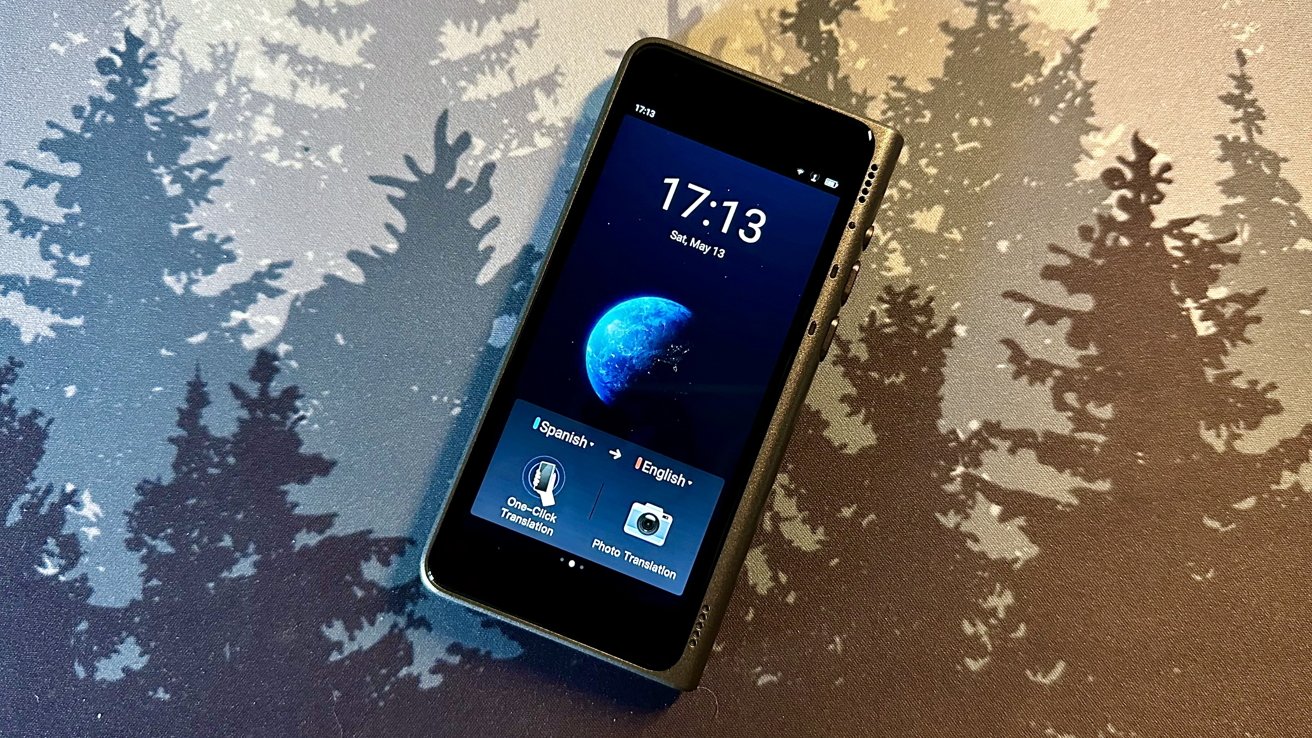 Timekettle Fluentalk T1 Translator Device
One of the most significant barriers people may have while visiting foreign countries is that residents may speak a different language than them. Timekettle hopes to eliminate this barrier with its latest product.
The Timekettle Fluentalk T1 Translator Device is a great translator that can convert text to your preferred language in real time, but it may not be worth the high price tag since you can get an alternative for free on your phone.
Timekettle Fluentalk T1 Translator Device design
The Timekettle Fluentalk T1 Translator Device has a rectangular body that measures 116.8 x 58.6 x 11.2 mm and weighs 115 grams. You would think it was a cellphone by the way it is designed.
The display measures 4 inches and has a resolution of 540x1080. Compared to current devices, that size is tiny -- especially to read off of when looking at a translation.
On the left side of the Fluently T1 is a volume rocker that can increase or decrease the volume when translations are spoken back. Under the rocker is a nano-SIM card slot.
Located on the right side are three buttons that all have different functionalities. The top button powers the device on and off, and the middle blue and lower red buttons are used for Conversation Mode. The blue button is intended for the foreign language you are trying to translate, and the red button is used for your native language.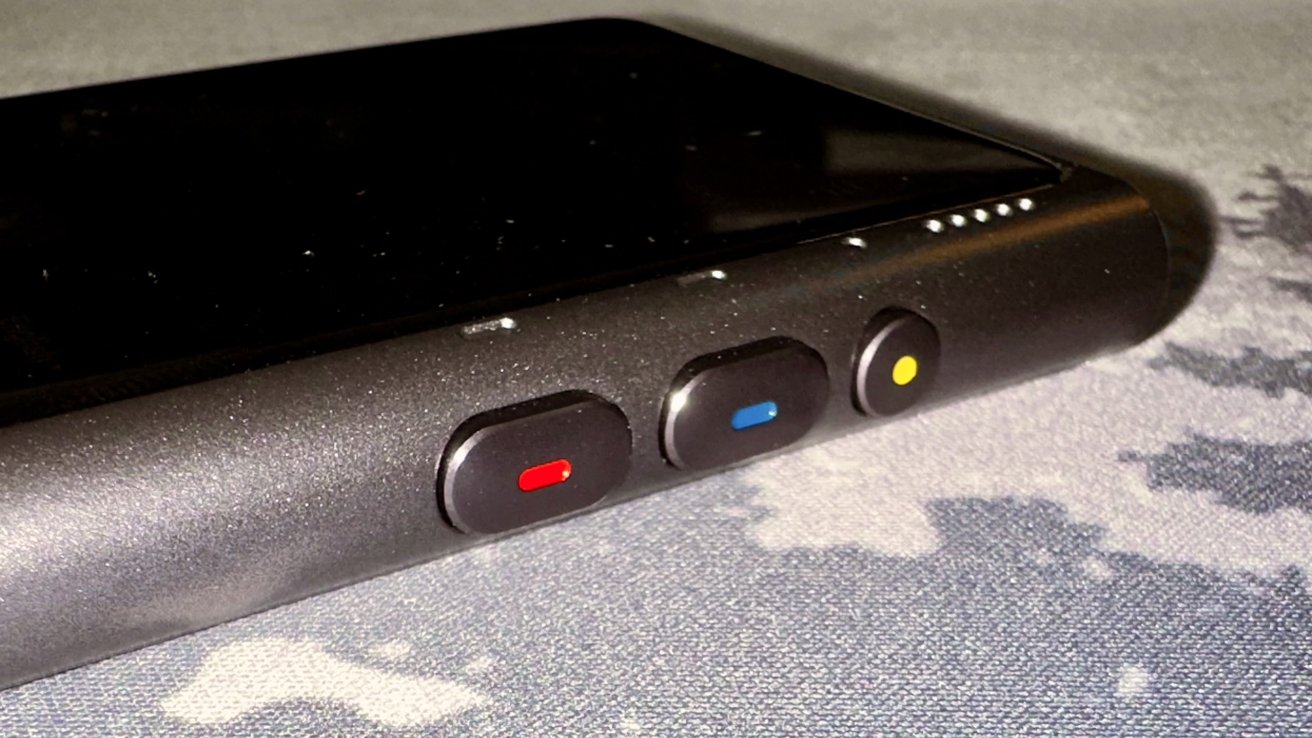 One-Click conversation buttons
On the back of the device is an 8-megapixel camera that can translate text written in a foreign language. The flash under the lens can also double as a standalone flashlight when it is dark.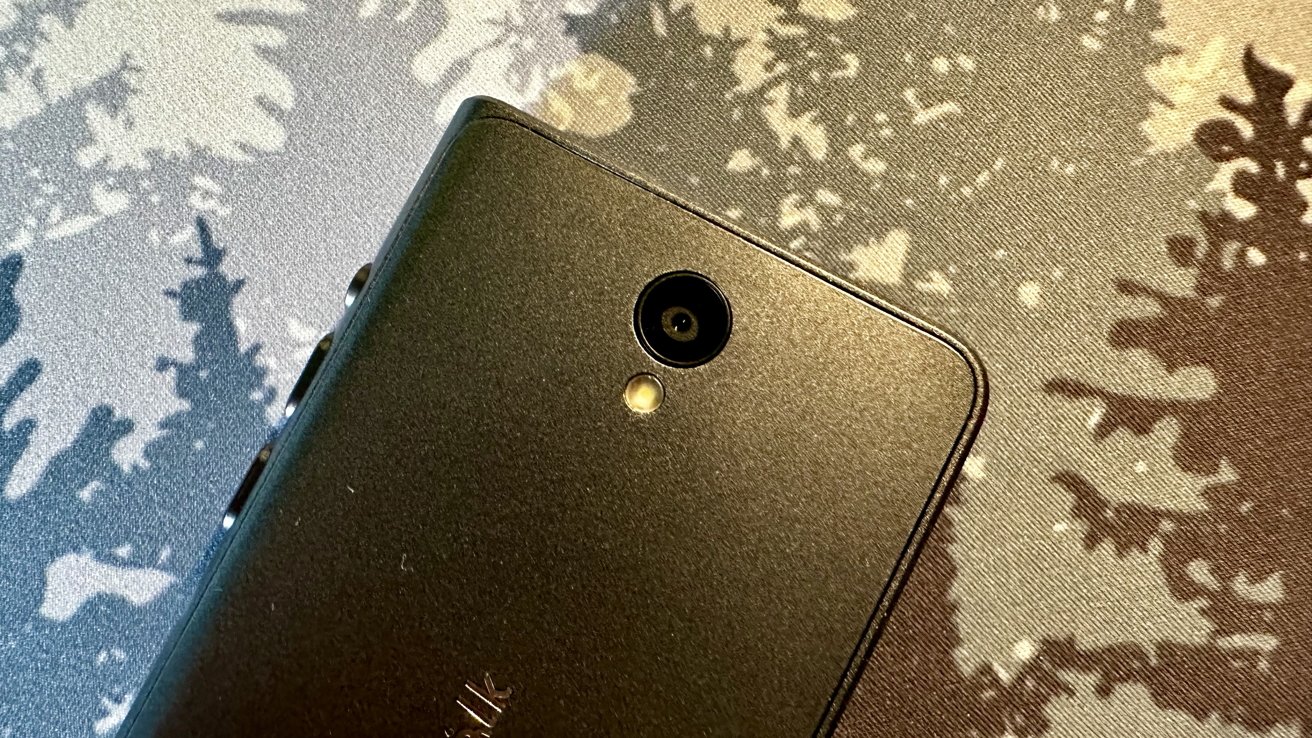 Rear camera and flash
Two microphones are on the top of the device, and one is on the bottom. Also on the bottom is the dual speaker.
USB-C is the main port for charging the Fluentalk T1, which is stated to have a 210-minute charging time. Next to the USB-C port is an insert to connect the included lanyard to the device so you can wear it around your wrist.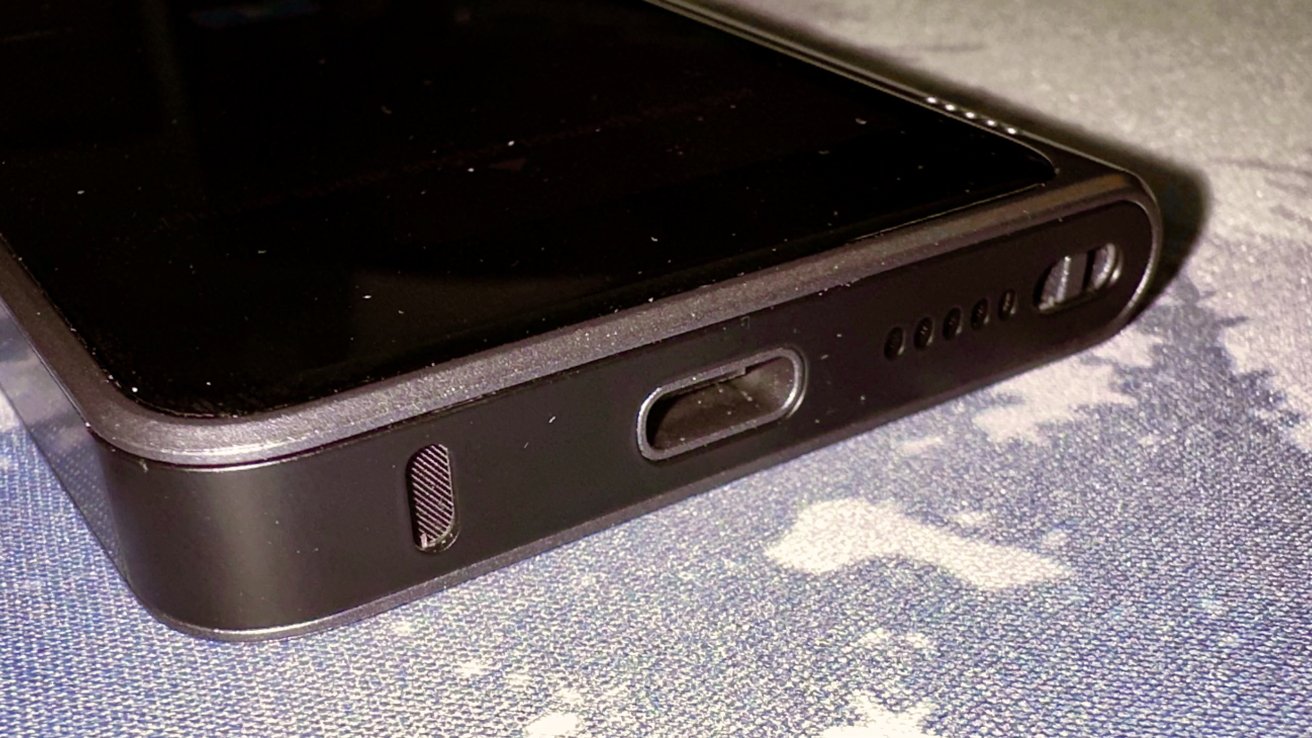 USB-C port and lanyard insert
Built inside is a 1,500mAh battery that can last 3.5 hours of active translation or 96 hours of standby use. Also inside the Fluentalk T1 is a computer-grade Quad-core ARM 14 mm chip with a 2.0 GHz CPU and three gigabytes of RAM.
The device is currently running on Android 10 operating system.
Timekettle Fluentalk T1 Translator Device languages
The Timekettle Fluentalk T1 Translator Device can translate 40 languages and communicate in 93 accents. This is only accessible when online.
When the Fleuntalk T1 is offline, it can only translate eight languages -- which is about an 80% decrease in languages that can be converted.
For image translation, while using the camera, the device can translate 39 languages. The one language it cannot currently translate via the camera is Hindi.
When choosing a language to translate to or from, if there are multiple territories of the language, the device will ask you to clarify which domain you are referencing. This will ensure more accurate translations.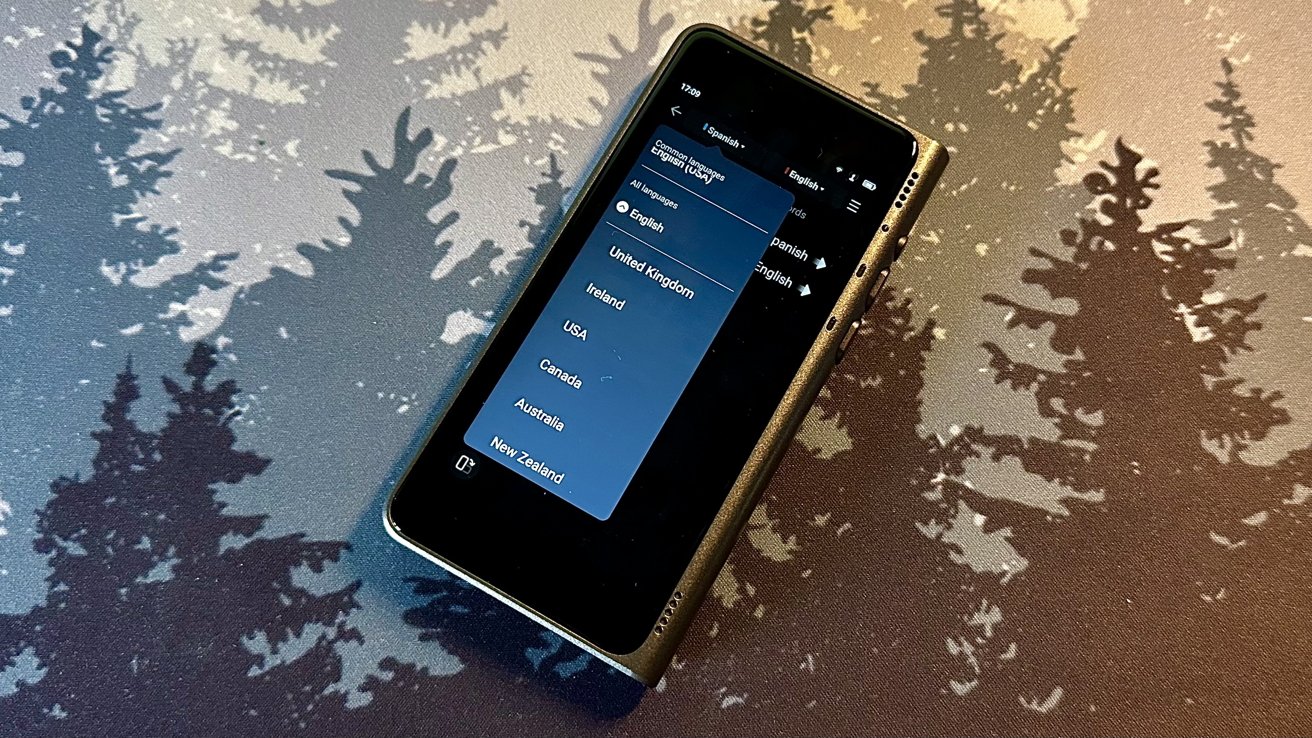 Language variation
A data plan is included for two years free, but afterward, you will have to pay for one to be added to access all 40 languages when not connected to WiFi. The Fluentalk T1 can be connected to 2G, 3G, or 4G LTE plans. The free data plan is accessible in 75 countries and regions.
The Fluentalk T1 has a maximum 95% translation accuracy record and can translate in roughly .25 seconds.
Timekettle Fluentalk T1 Translator Device functionality
If it is through conversations, lectures, or image capturing, the Timekettle Fluentalk T1 Translator Device can translate verbal or textual language in multiple ways.
There are three pages within the device, and swiping to the last one will bring you to the different translation methods you can use.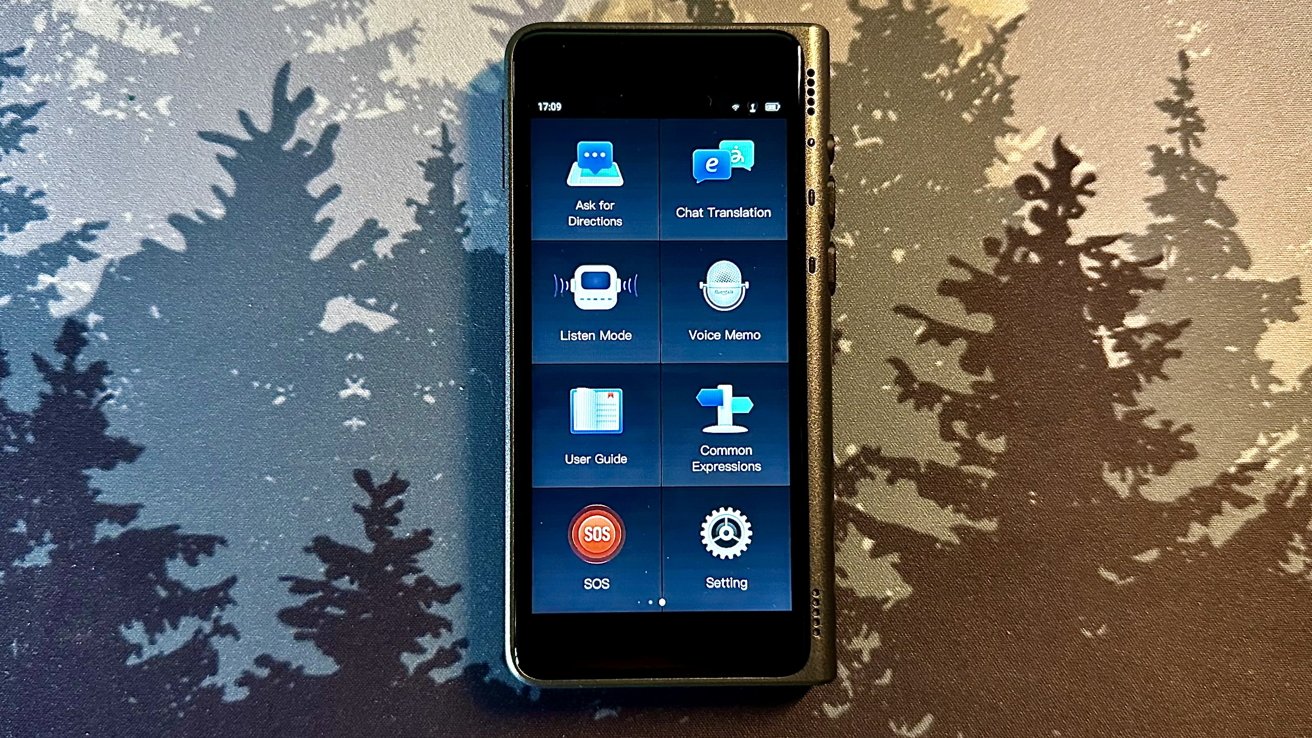 Translation methods menu
Chat Translation allows you to converse with someone who speaks a different language than you. The Fluentalk T1 will indicate which side of the device should be pointed to whom so it can appropriately translate what's being said.
To start, you tap the Play button in the middle of the screen and begin the conversation. Once the person talking is done, the device will take a second to translate it and then speak the translation in the programmed language and accent.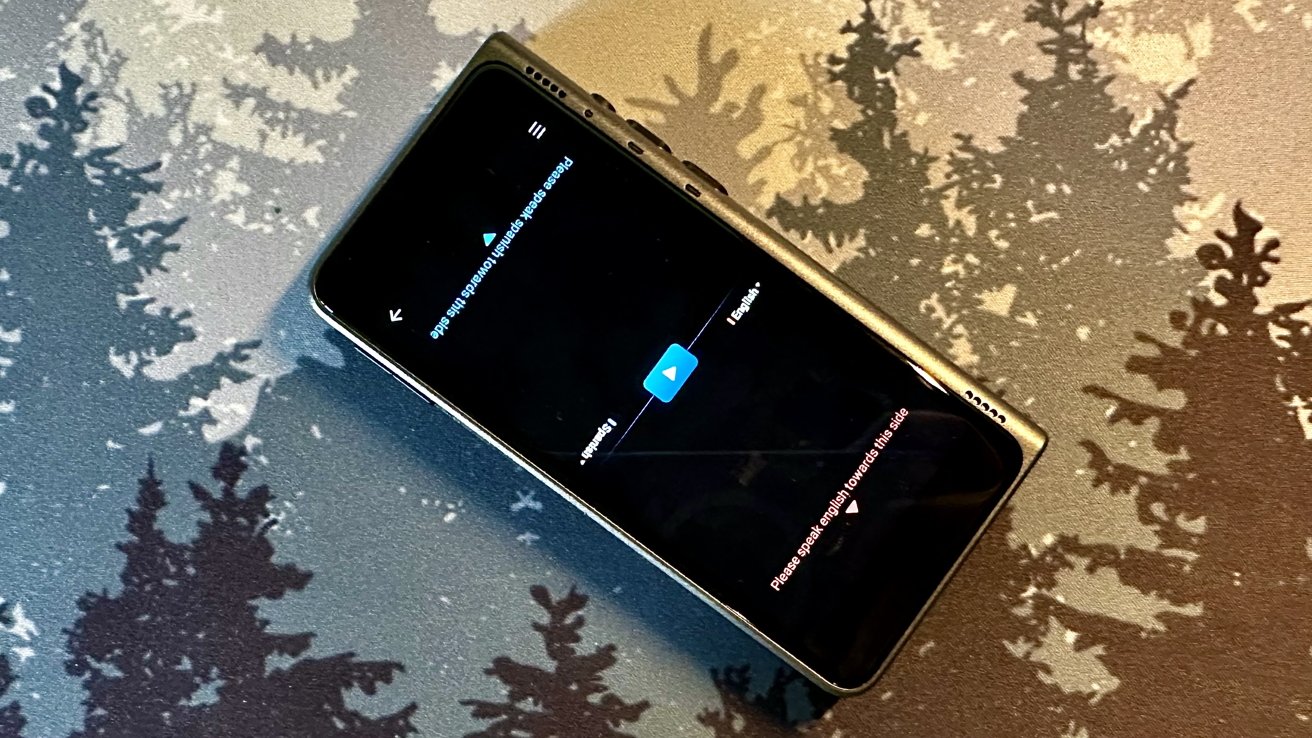 Conversation Mode
A color-matching light to the text on-screen brightens up when either person speaks. Tapping the Pause button in the middle of the screen will end the conversation.
You can change which language you want to speak or what language the other person is saying, and tapping on the three lines on the upper right will bring you into different customization settings. Within that menu, you can change how fast you want each language to be translated and if you want the text to be spoken or not after being translated.
Pressing on the side buttons -- the red or blue one -- will also take you into One-Click Translation, which works essentially like Chat Translation. This allows you to hold one of the buttons on the side, speak the programmed language, and the Fluentalk T1 will translate it in real time and speak out the translation. You can access this feature from the Home Screen as well.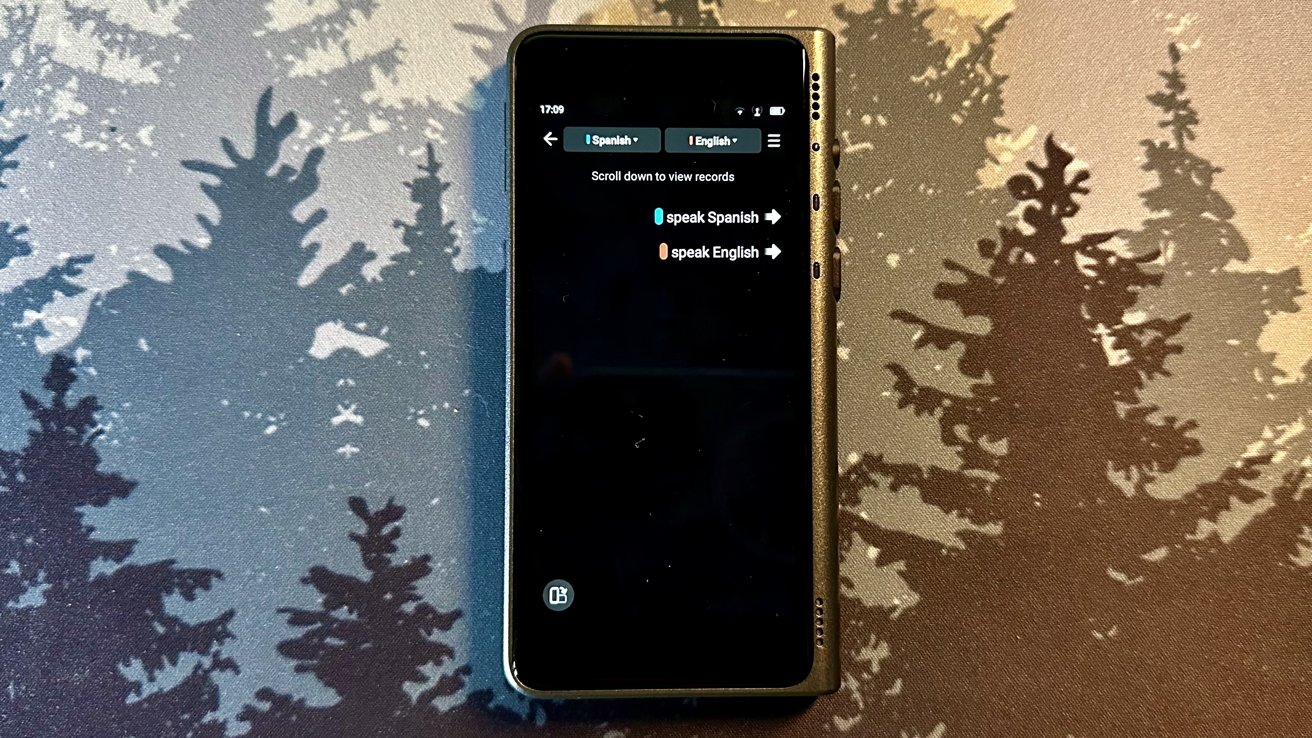 One-Click Translation mode
Listen Mode lets you read what is spoken in a foreign language and get the translation in real-time. This is good for lectures or lyrical pieces utilizing a language you may not understand.
You can switch which languages you want to translate from and to from the top of the screen, and you can scroll up to see past translations that were made in case you missed anything. Holding down on a translation will bring up the keyboard and allow you to fix any errors.
Using the camera to translate signs and text is as easy as taking a typical picture. You indicate which language the text is written in, point the camera at the text you want to be translated, and then snap the photo. The device will analyze the picture and translate any text for you.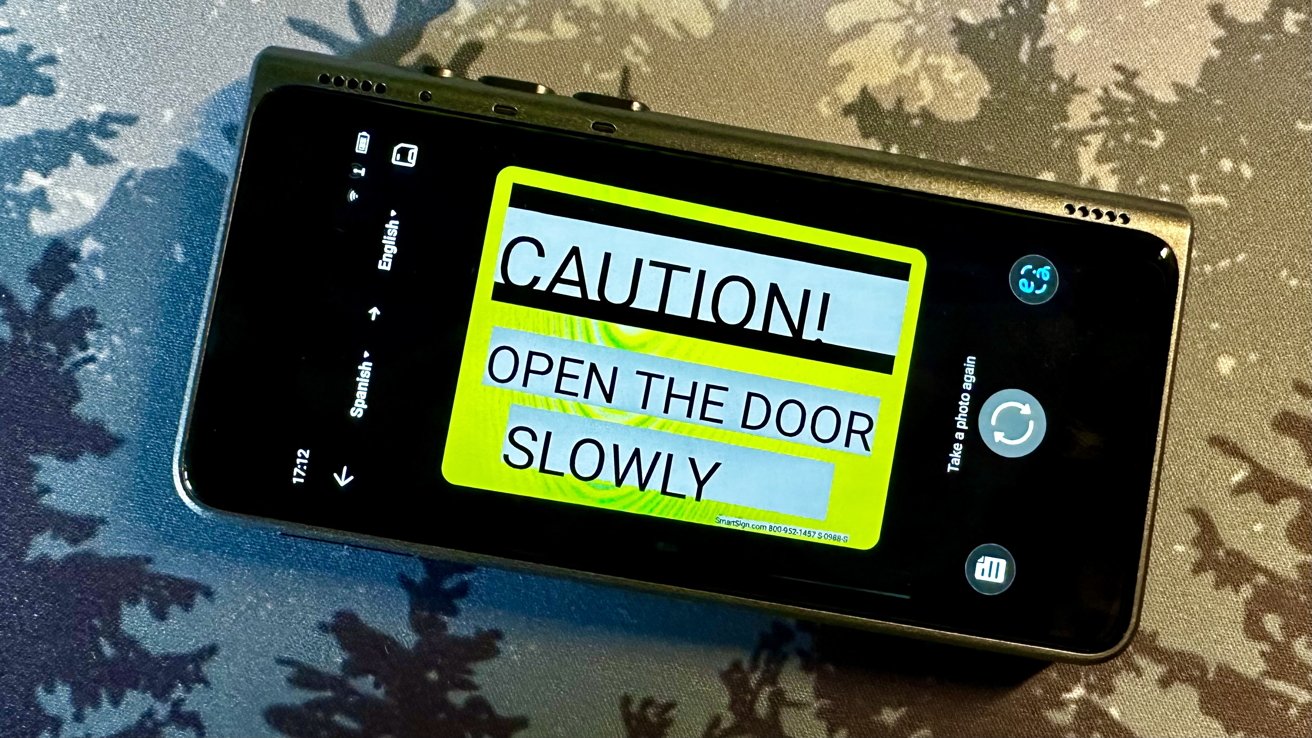 Photo translation
The camera does not automatically translate in real-time, so you must take a photo whenever you want to translate text. A photo library in the lower left of the screen lets you see past photos taken and get their translations from there.
The flash of the back also allows you to take a picture for translation when it is dark out or there is not enough light.
Other minor features from the final menu page allow you to ask for directions easily, record voice memos to play back later, and easily access common expressions relating to traffic, hospitals, or restaurants -- to name a few.=
A widget on the first page of the three menus offers a glance at different territory clocks and the time difference from where you are. Under it is a currency-converter that converts foreign currency from other countries.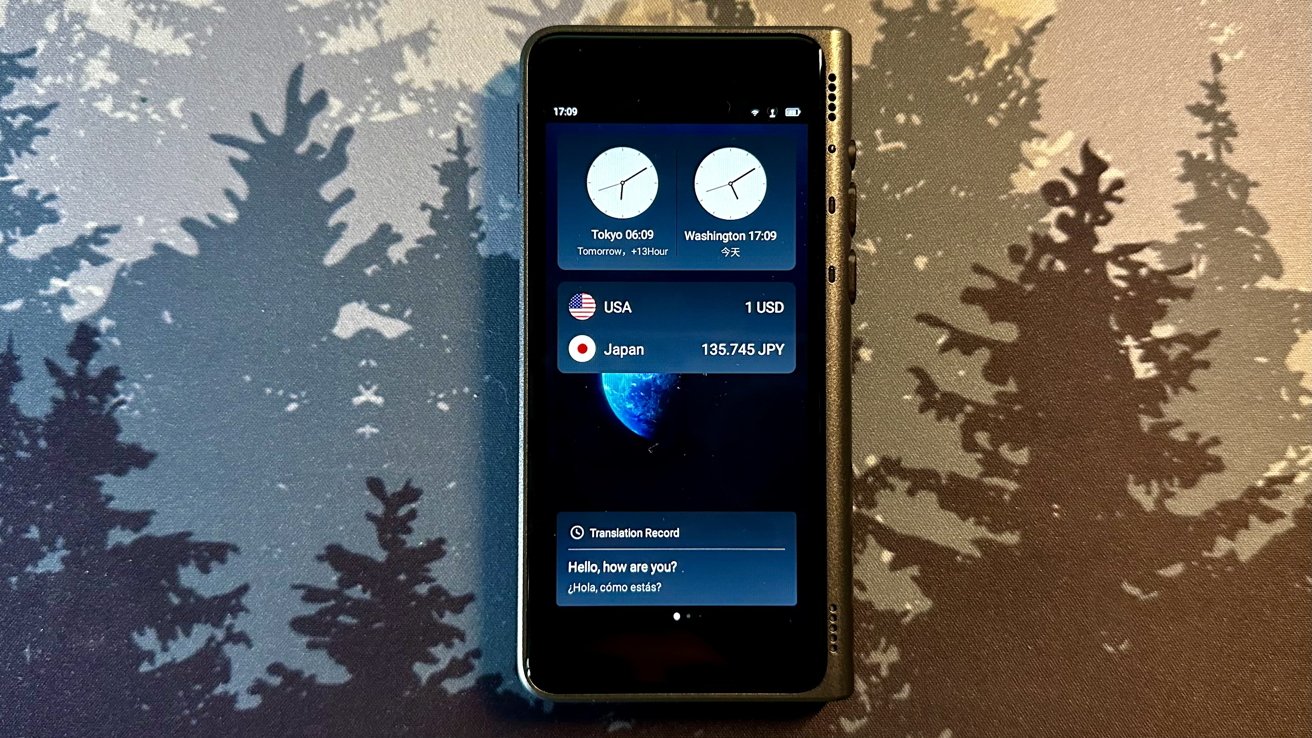 World clocks and currency conversions
Another menu also supplies all the phone numbers of emergency services in different countries. This is very useful when you are in another country and need immediate help.
Swiping down from the top will give you quick access to basic settings, such as WiFi, mobile data, Airplane Mode, Bluetooth, and the flashlight.
Swiping through the menus is responsive but could be more fluid. In addition, there is a slight delay when going from page to page.
There is also no home button, so you must navigate through the back arrows typically found on the upper left of the screen.
Translate the way you want to
The Timekettle Fluentalk T1 Translator Device is a great portable device that allows you to get different translations from various avenues.
The interface is simplistic and easy to understand, and the device informs you on what each button does so you clearly understand how to use them. Everything is right at your fingertips; you do not need to go through multiple menus to adjust the essential settings.
Translations are fast and fluid, and the Fluentalk T1 speaks them clearly and consistently, making each participant understand what it's saying. Of course, you can also speed up or slow down the speaking speed.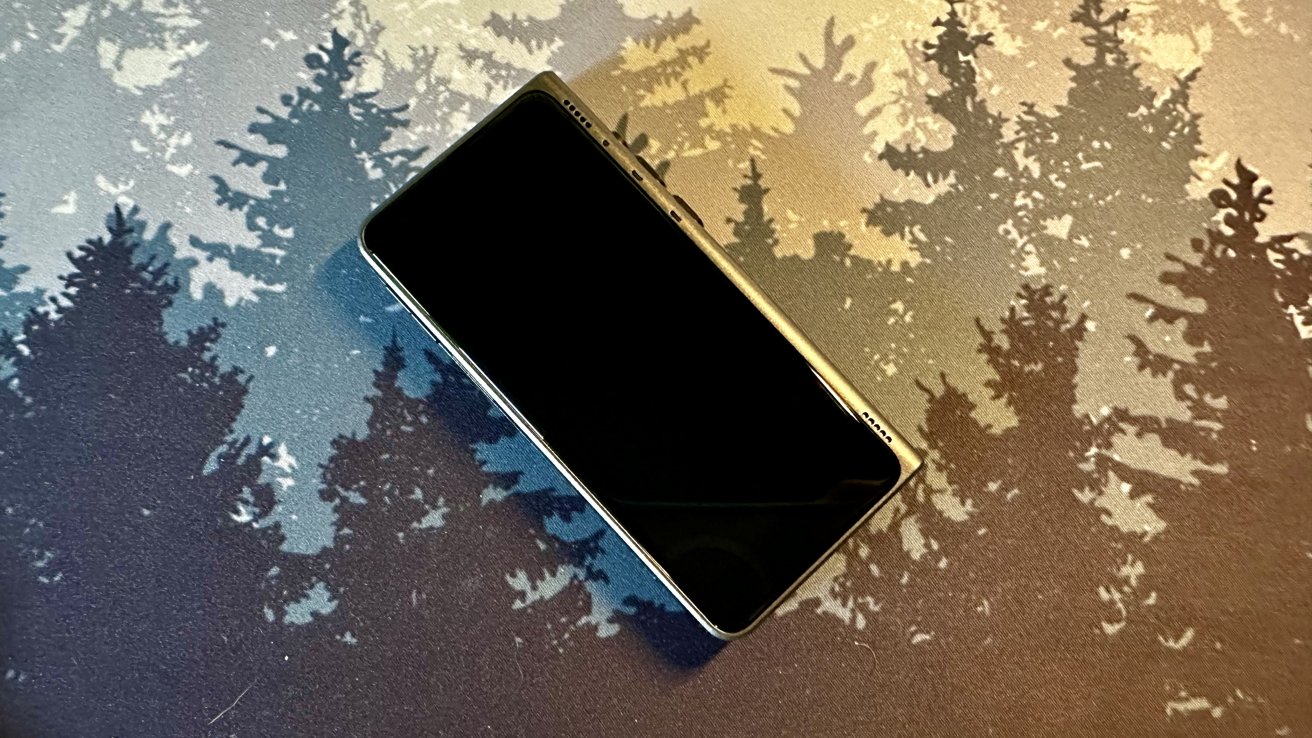 Timekettle Fluentalk T1 Translator Device
The main downside is that it may be only partially necessary to most people. It translates well, but the free apps you can install on your phone also do.
For nearly $300, there are more affordable translators than this one, especially since your
iPhone
already has a translator pre-installed.
It is likely that this device will be used infrequently and won't be taken around since it'll be one more thing to carry, so it cannot be wholeheartedly recommended for the price and necessary factor it is set to.
If you need an excellent translator, want a separate device to do the job, and are okay with the price, then the Fluentalk T1 may be for you. If you want a device to translate speech and text, stick to the free app on your phone.
Timekettle Fluentalk T1 Translator Device - Pros


Multiple ways to translate


Fast translations


Real-time translations


Multiple languages to translate to and from


Portable
Timekettle Fluentalk T1 Translator Device - Cons


High price


No real-time photo translation


It cuts a majority of languages to translate offline


Need to pay a cellular plan after two years


Mostly unnecessary, if you own an iPhone
Rating: 2.5 out of 5
Where to purchase the Timekettle Fluentalk T1 Translator Device
You can purchase the Timekettle Fluentalk T1 Translator Device from their
website for $299.99
. It is also available
on Amazon for $299.99
.
Read on AppleInsider