Lillipad desk review: A sit-stand desk that fits under your bed
Lillipad's electric sit-stand desks stand out by not requiring any assembly and folding up like an ironing board for storage -- which makes it perfect for temporary desk setups.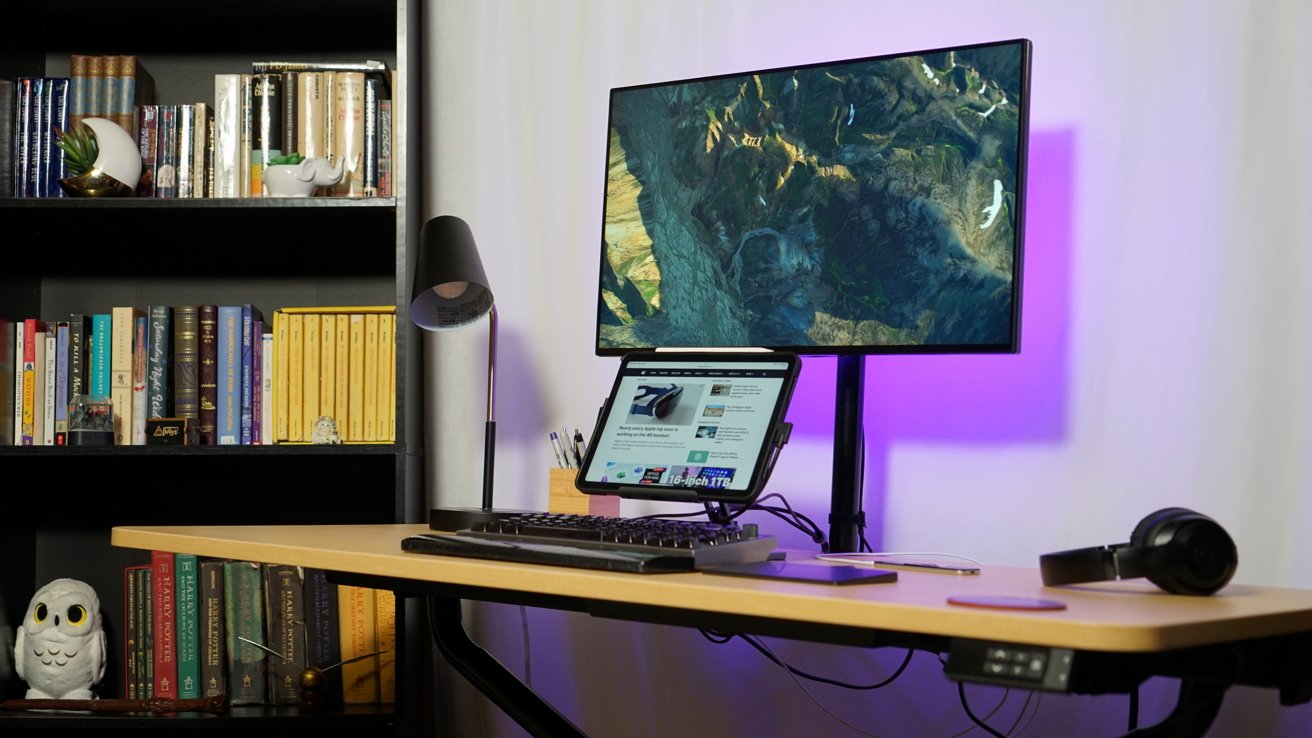 Lillipad is a sit-stand desk that can fold up
Sit-stand desks have become increasingly popular in the post-COVID, work-from-home world. However, those types of desks tend to be major commitments that take up significant space in your home.
Lillipad hopes to solve this with an all-in-one sit, stand, and store solution. The company's desks can fold up into a portable, storable slab not entirely dissimilar from an ironing board or card table.
This is a desk built with temporary use and storage in mind. If those are your priorities in a desk, Lillipad was made for you.
Lillipad desk design and assembly
We reviewed the 48-inch desk with a maple top. Lillipad included a single monitor arm, but a dual monitor arm is also available.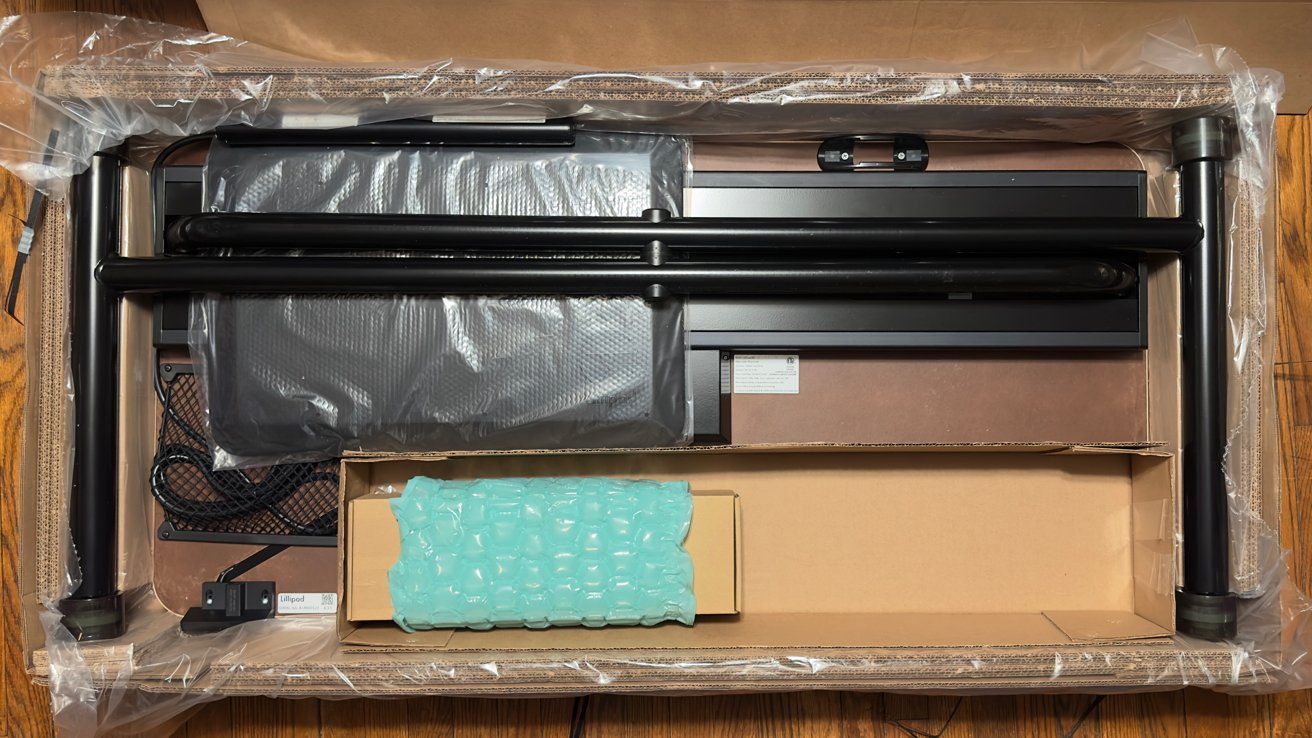 No assembly required
There isn't any need to assemble the Lillipad desk since it comes ready to go out of the box. Attaching and removing the monitor arm is easy, but cable management might prove time-consuming.
The tabletop is flat with a 52-inch by 25-inch area. The legs of the desk are attached in an "X" formation, similar to an ironing board, with two foot tubes jutting out either side at the floor.
The desk weighs 78 pounds and is easy to maneuver thanks to the wheels attached to the foot tubes. The tabletop is rated for up to 75 pounds of load.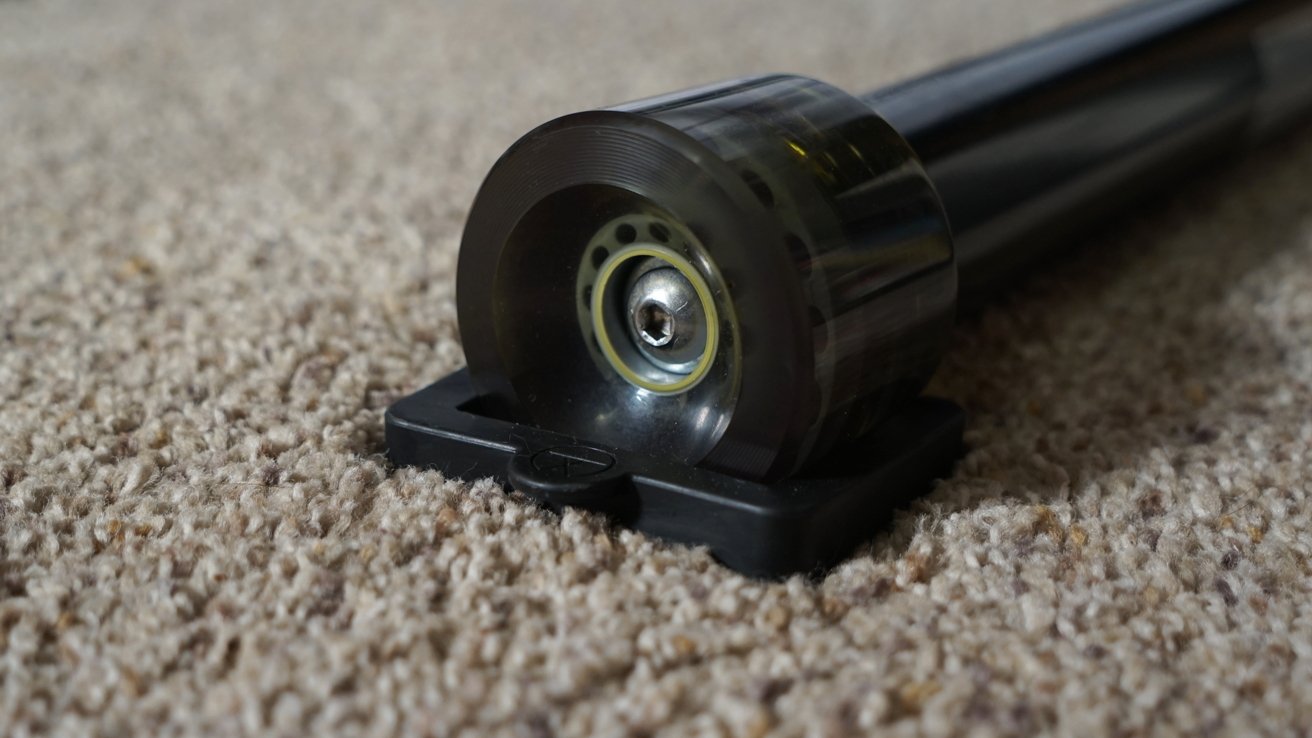 The desk won't move when in use thanks to an included wheel brace
This sit-stand desk goes up to 48 inches high and shrinks to 6 inches for storage. We could easily fit it under our bed or standing in a closet.
The lowest operating height is 27 inches. We used the desk at 30 inches sitting and 40 inches standing.
The desk has an integrated surge protector with three grounded outlets, a USB-A port, and a USB-C port. The height controller has two additional USB-A ports on the side for easy access.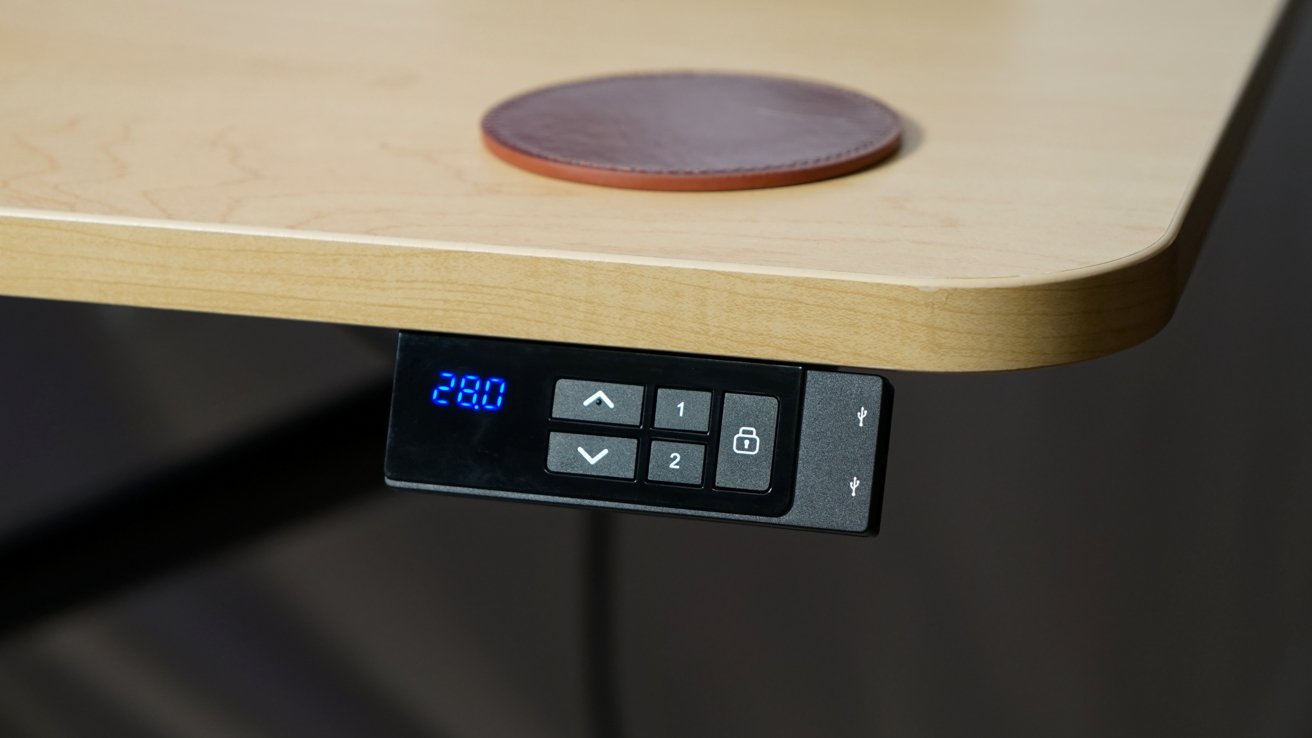 Two USB-A ports are in the height controller
Lillipad is available with 42-inch and 48-inch tabletop options. The available finishes include oak, maple, black, and white.
The desk is well-designed and minimal on its own, but it gets messy quickly as you add power-hungry products. There is barely any cable management for Lillipad, likely due to its temporary nature, but that isn't ideal.
A net stores the desk's power cable when not in use, but we've repurposed that to hold our monitor's power supply.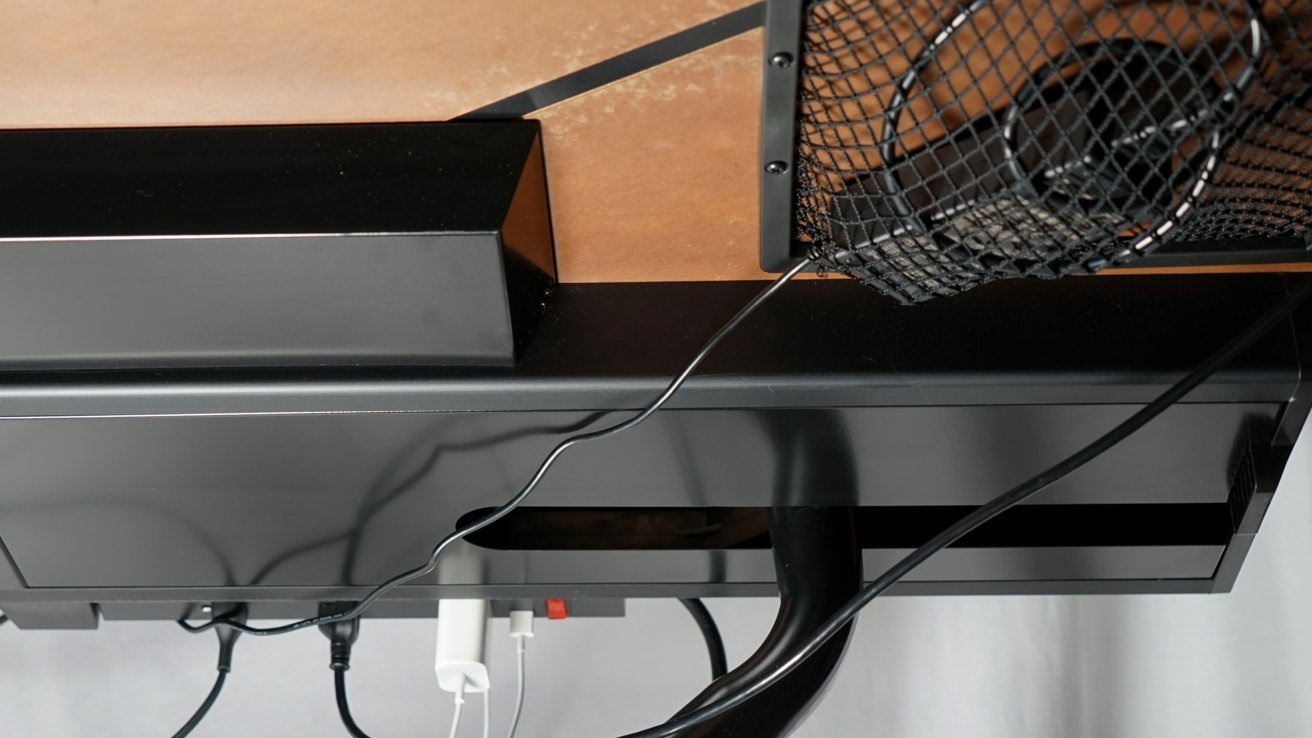 Netting in the bottom of the desk provides some storage for cables or power supplies
The rear of the desk has a single cable guide on the left side, opposite the power strip. If you've got the ideal set of cables that are the right length, this might work, but we weren't able to take advantage of it.
Also, note that as the desk raises and lowers, the "X" legs move through slots in the desk's base. Be incredibly careful running cables underneath the desk, or they could get pulled or pinched by the moving legs.
Using the Lillipad desk
Pop the Lillipad desk out of your storage location, raise it to sitting height, and you're ready to go. Plug in whatever devices you're using, and it'll be time to get to work.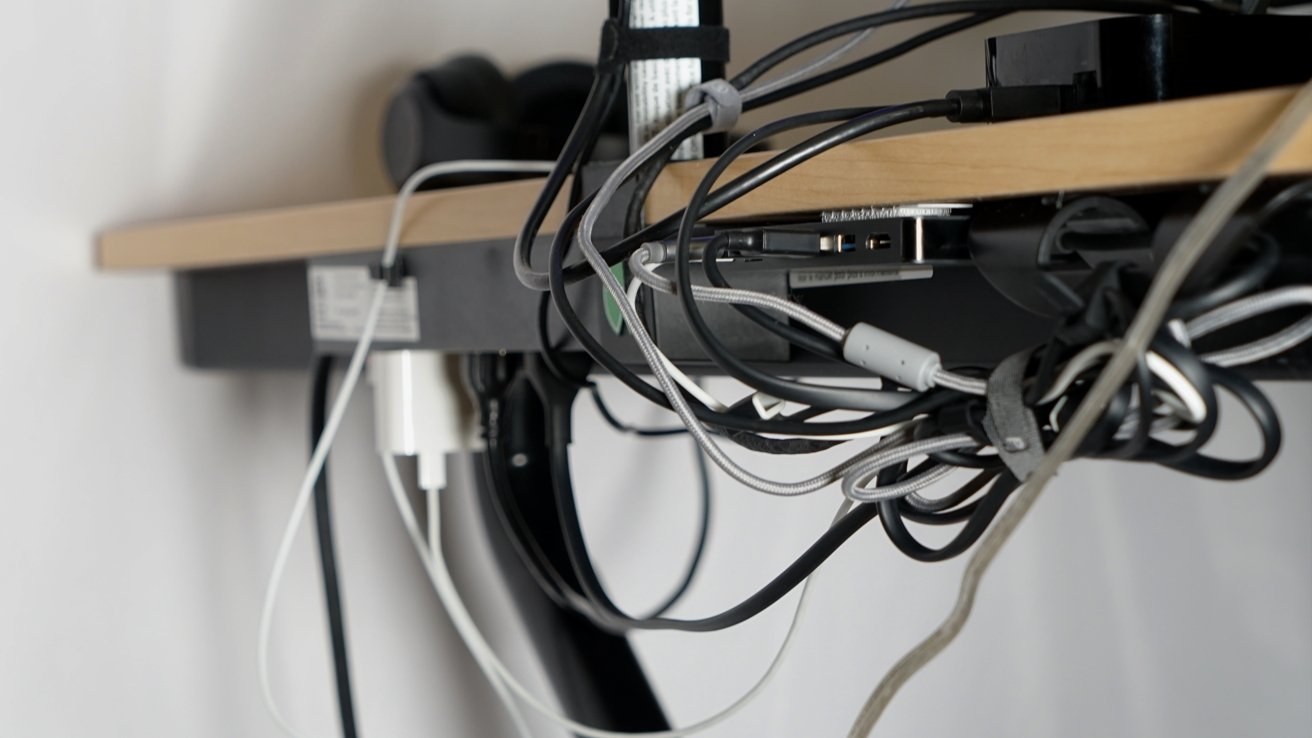 Cable management is a full-manual process with Lillipad
If we were designing the perfect Lillipad, it would include cable runways on the underside of the desk for permanent cable routing. This way, we could just remove our monitor, keyboard, laptop, etc., and put away the desk with all the cables still there, ready for next time.
Sure, that would mean needing a second set of cables for your products, but if you're in the market for a $1,500 folding desk on wheels, that's likely not an issue.
How to raise, lower, and store the Lillipad desk
Raising and lowering the Lillipad is a little more involved than other sit-stand desks we've encountered. Press and hold the lock button to enable movement, then press and hold the up or down arrow to raise or lower the height.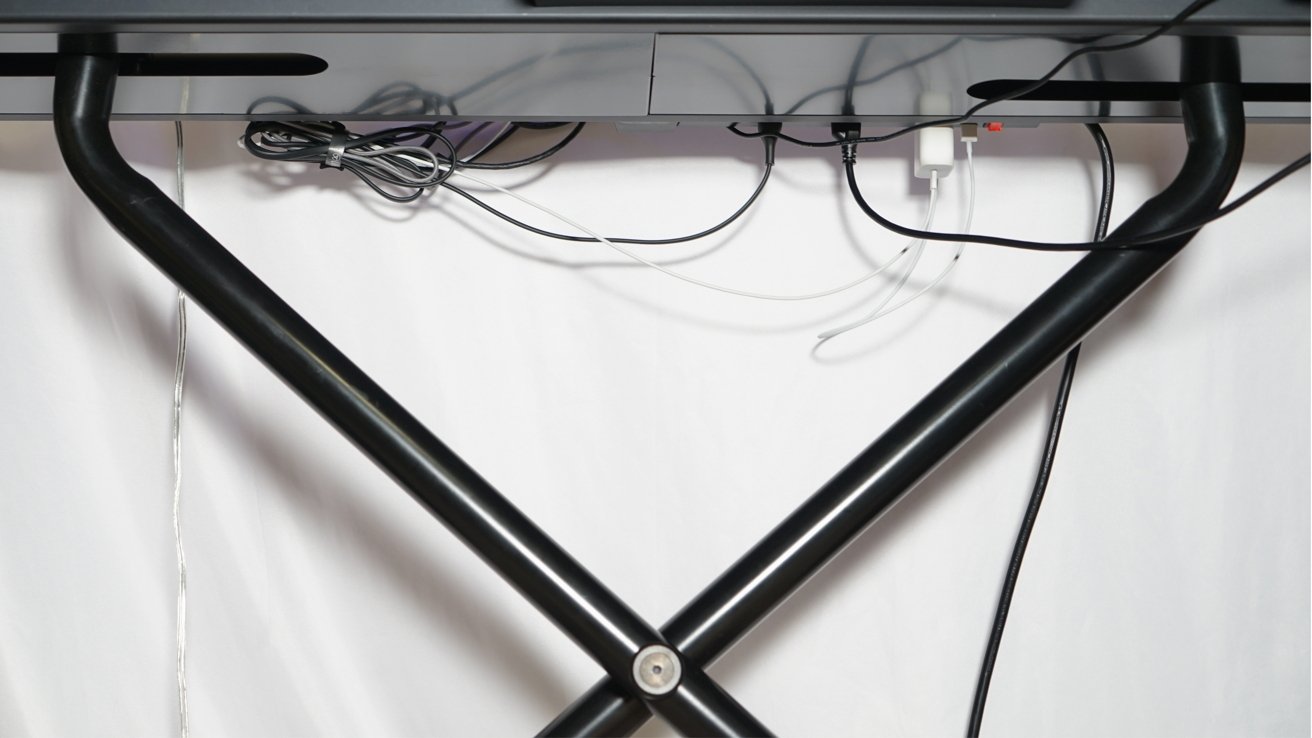 Those holes are used for the legs to travel through when changing height
To go below 27 inches for storage, the lock button has to be pressed three times and then held while pressing the down button. All products should be removed from the desk and unplugged when doing this.
Lillipad has two memory buttons can be programmed. Pressing the memory button doesn't automatically take the desk to that height. Instead, the user holds them, and the desk keeps moving until it reaches a predefined height.
Since the desk is on wheels, raising and lowering the desk might require some user input to keep the desk from rolling the wrong way. The included wheel brace worked fine, but it does make the desk move left or right as it raises or lowers.
We stored the desk against a wall in our den between two bookshelves. There were several inches on either side, so it felt like a good spot.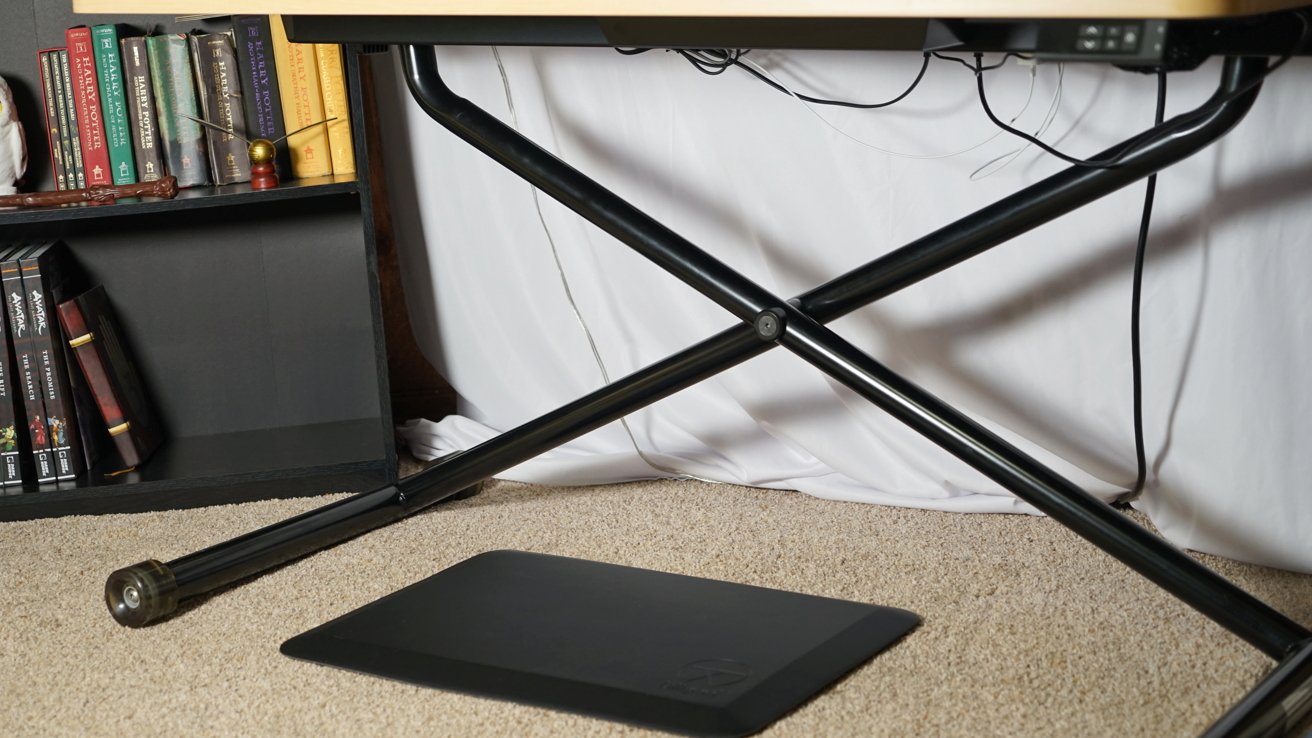 Ensure there is enough space for the desk to raise and lower
However, when we started raising the desk, the wheel lock kept the right foot tube stationary while the left foot tube rolled to the right. That pushed the tabletop to the right and impacted the right bookshelf.
Since this product is on wheels, and because of the leg's "X" formation, this desk isn't going straight up and down. It's more of a diagonal movement if one set of wheels is locked.
So, in our case, we had to raise while pushing the desk over to ensure it stayed centered between the shelves. That's just the nature of the desk, not necessarily a detriment.
Lillipad as a desk
Once everything is set up and you're at the working height, Lillipad becomes a piece of background furniture, for the most part. Since the legs are connected to the desk at the back, all of the desk's support is at the back.
That means you'll feel the desk give if you rest your arms on the desk, press down to draw, or lean over the desk. It's not a lot of give, and it doesn't feel fragile or unsafe, but it's there.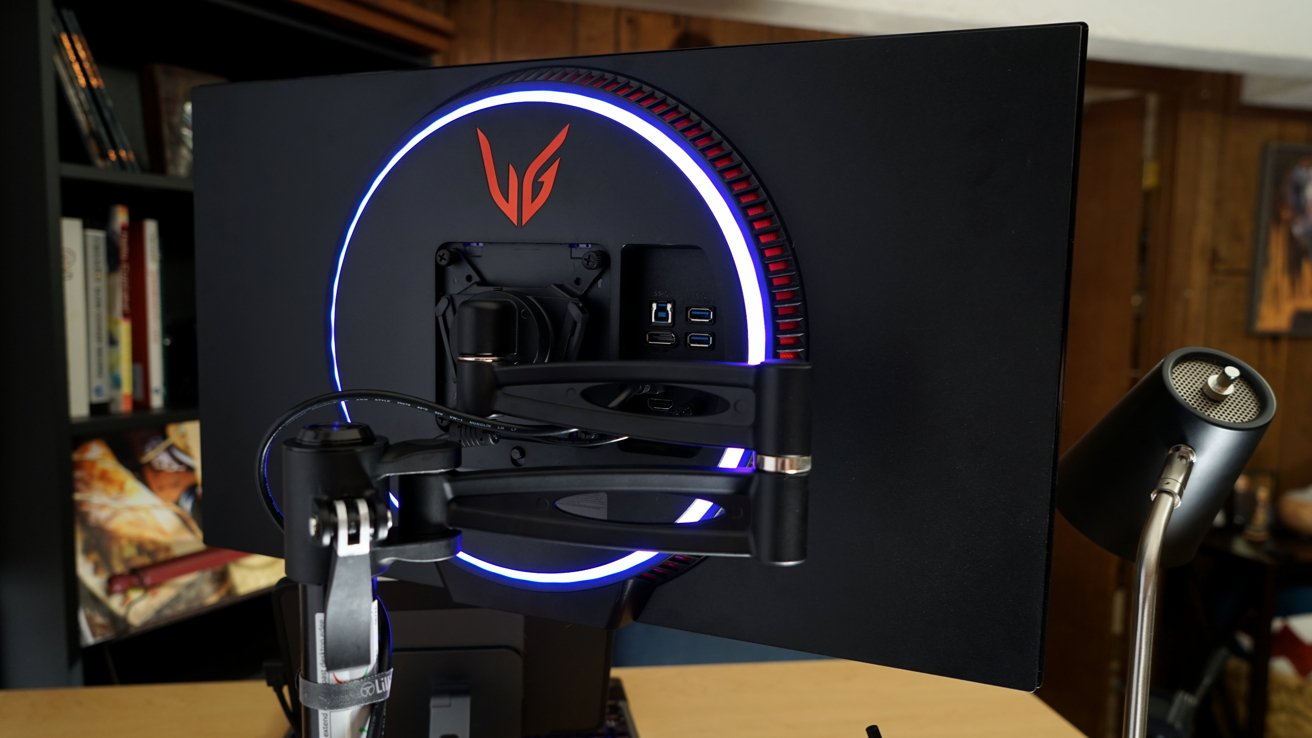 The monitor arm is easy to set up and is VESA compatible
The monitor arm is versatile and offers plenty of positioning options with little to no effort. Just ensure your cables are long enough to go from monitor to device.
The desk has an integrated power strip with three outlets. That's great if you need only to plug in three products.
With our
iPad
hub, monitor, and
Apple TV
, we quickly ran out of outlets on the desk. The lamp you see pictured runs to the wall outlet.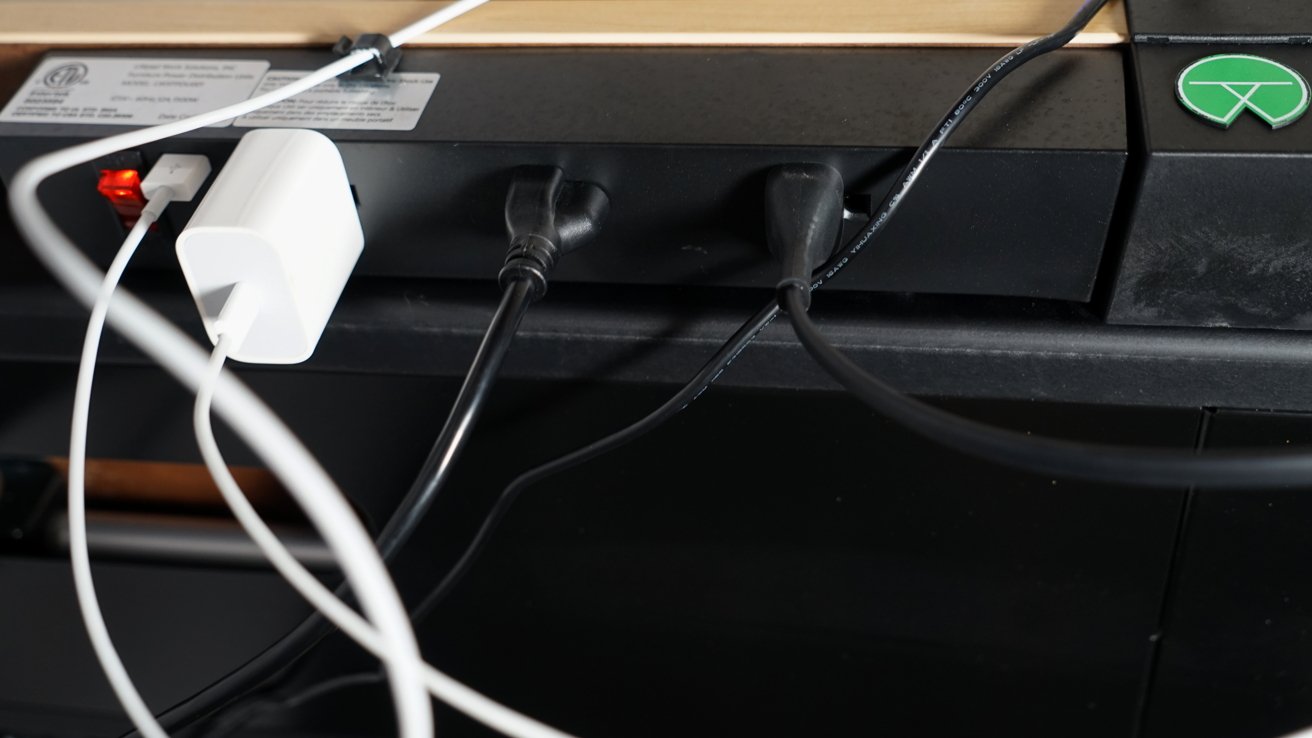 The power strip has only three outlets
We like that there are three USB-A and USB-C ports available. However, they are not very powerful ports.
The USB-A ports consistently delivered about 2W to our connected
iPhone
according to a connected multimeter. The USB-C port delivered 6W to the iPad.
Those ratings are so low we can't recommend using them for more than a USB-powered desk fan or charging a
Siri Remote
.
Temporary desk, permanent price
This product isn't for everyone, especially those seeking more permanent solutions. The primary selling point of the Lillipad desk is its ability to fold up for storage.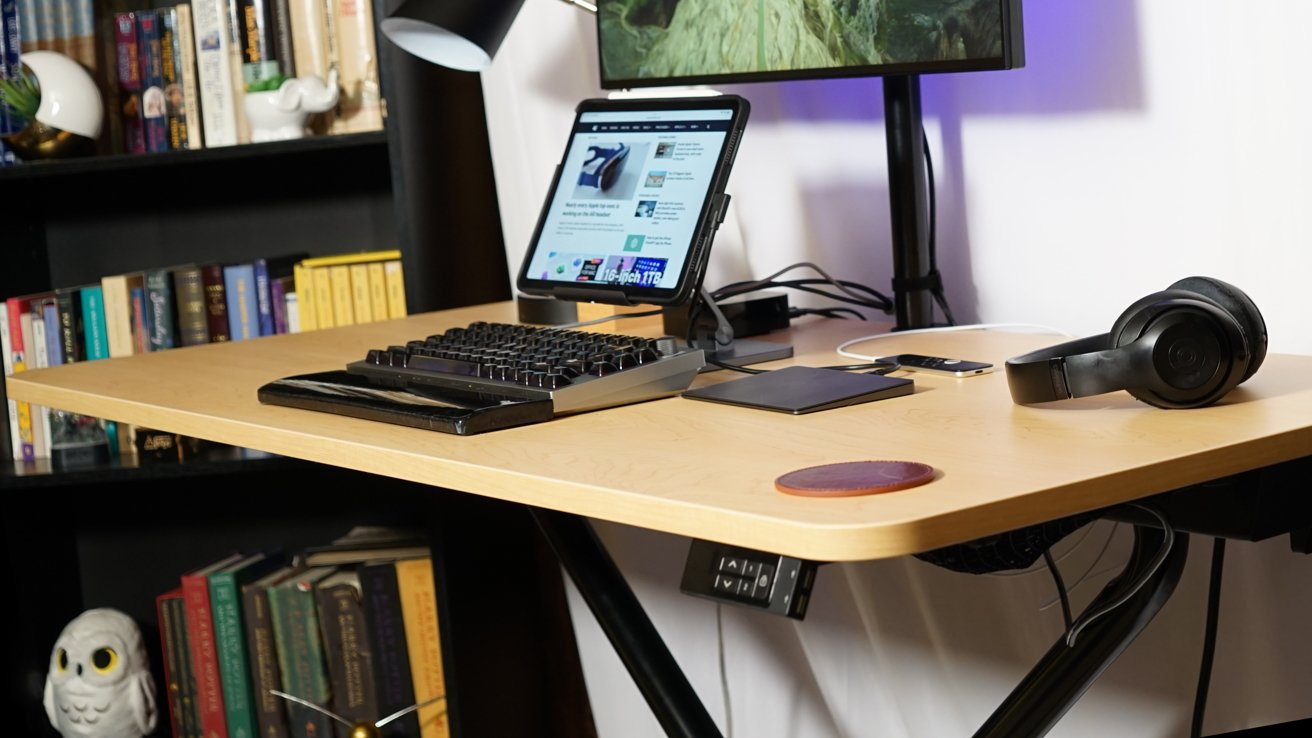 Lillipad makes an excellent sit-stand desk that can be stored away
Sure, you could purchase a Lillipad and use it as a permanently installed desk, but you could invest in a more sturdy solution for this price. We believe this product excels when users can take advantage of its mobile, storable nature.
For example, if you're living in a small apartment with roommates, there likely isn't space for a permanent office -- especially if you're remote only a few days a week. With Lillipad, you're minutes away from a fully functional desk setup that only takes up space when needed.
Lillipad desk pros


No assembly


Folds for storage


Simple setup


Integrated power strip


Lillipad desk cons


Raising and lowering the desk requires more effort than other sit-stand desks, more horizontal space


Power strip has only 3 outlets. USB ports are underpowered


Nearly zero cable management built into the desk


Rating: 4 out of 5
This desk would be nearly perfect if Lillipad provided better cable management solutions beyond cable ties. Throw in a power strip with more outlets and more powerful USB ports, and this would be a 5 out of 5 product.
The compromises are less important for those in the market for a desk that can be folded and placed in a closet. This is an excellent, if expensive, option for those looking for temporary home office setups.
Where to buy the Lillipad sit-stand desk
The Lillipad 48 inch model
is $1,499 on the Lillipad website
. A Memorial Day sale takes $250 off all Lillipad workstations plus free shipping through May 31.
The single monitor arm
is $99
, the dual monitor arm
is $149
, and a standing mat
is $59
.
Read on AppleInsider