iPad 10 and iPad 9 versus Google Pixel Tablet -- compared
Google's new Pixel Tablet is its best attempt to promote large-format Android experience yet, but it still has to take on the well-loved
iPad
in the market. Here's how the two sets of specs compare.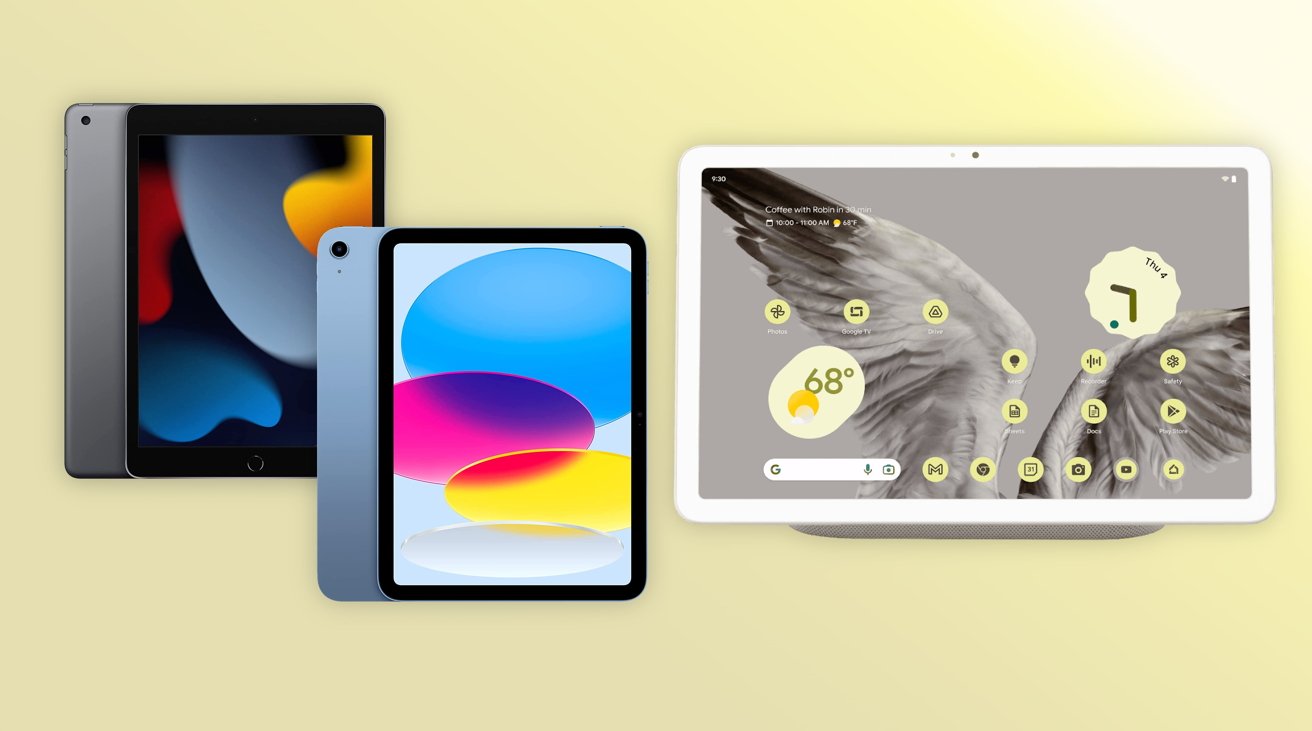 From left: iPad 9, iPad 10, Google Pixel Tablet
During Google IO, the search giant introduced a number of devices, including a new tablet. Specifically, one called the
Pixel Tablet
.
While Google last had massive tablet success with the
Nexus 7
in 2012, it hasn't had as much critical acclaim since then. Google's last real attempt was the
Pixel Slate
in 2018, but that was quickly discontinued and Google seemingly gave up on the tablet market entirely.
Enter May 2023, and the company decided that enough time has passed to make it worth another try.
Though Google seeks to shake off the ghosts of tablets past with its new offering, it also has to contend with Apple and its tablets. Given the Pixel's reasonably low-cost pricing, that puts it in competition with Apple's value end of the range, namely the ninth-generation iPad and the tenth-generation iPad.
Specifications
Specifications
Google Pixel Tablet
2021 iPad (9th Gen)
2022 iPad (10th Gen)
Price (starting)
$499
Buy at Amazon
$329.00
Check prices
$449.00
Check prices
Storage
128GB,
256GB
64GB,
256GB
64GB,
256GB

Screen size (inches)
10.95
10.2
10.9
Screen resolution (pixels)
2560 x 1600 at 276 ppi
2160 x 1620 at 264 ppi
Retina
2360 x 1640 at 264 ppi
Liquid Retina
Screen brightness (nits)
500
500
500
Dimensions (inches)
10.2 x 6.7 x 0.3
9.8 x 6.8 x 0.29
9.79 x 7.07 x 0.28
Weight (pounds)
1.086
1.07
1.05
Battery (hours)
Up to 12
Up to 10
Up to 10
Processor
Google Tensor G2,
Titan M2 security coprocessor
A13 Bionic
A14 Bionic
Rear camera
8MP
8MP Wide
12MP Wide
Front camera
8MP
12MP Ultra Wide
Center Stage
Landscape 12MP Ultra Wide
Center Stage
Speakers
Quad speakers
Two speaker
Landscape two speaker
Microphones
3 with noise suppression
2
2
Video recording
1080p at 30fps (front and rear)
1080p at 25 or 30 fps (rear)
1080p at 25 fps, 30 fps, or 60 fps (front)
4K at 24, 25, 30, or 60 fps (rear)
1080p at 25, 30, or 60 fps (rear)
1080p at 25 fps, 30 fps, or 60 fps (front)
Connectivity
Wi-Fi 6,
Bluetooth,
Ultra-Wideband
Wi-Fi 5,
4G LTE,
Bluetooth 4.2
Wi-Fi 6,
5G,
Bluetooth 5.2
Ports
USB-C 3.2 Gen 1,
4-pin accessory connector
Lightning,
Smart Connector
USB-C,
Smart Connector
Biometric
Power-button fingerprint sensor
Touch ID
Touch ID
Stylus support
USI 2.0 stylus pen support
First generation Apple Pencil
First generation Apple Pencil
Colors
Porcelain,
Hazel,
Rose
Silver,
Space Gray
Blue,
Pink,
Yellow,
Silver
Google Pixel Tablet vs iPad 9 and iPad 10 - Physical features
The Gen 9 iPad is Apple's older tablet style, with thicker bezels on each end, a front-mounted
Touch ID
and Home button, and an enclosure with curved edges and corners.
Gen 10 shifted closer to the
iPad Pro
aesthetic, with flatter sides, even more rounded corners, and a thinner bezel on all sides. It also shifted the Touch ID up to the top button, and away from the front of the display.
The Pixel Tablet is seemingly a blend of the two, in a way. It borrows the same appearance of the iPad 10 for the front, with a thin outer bezel, but its enclosure is more rounded, closer to the iPad 9.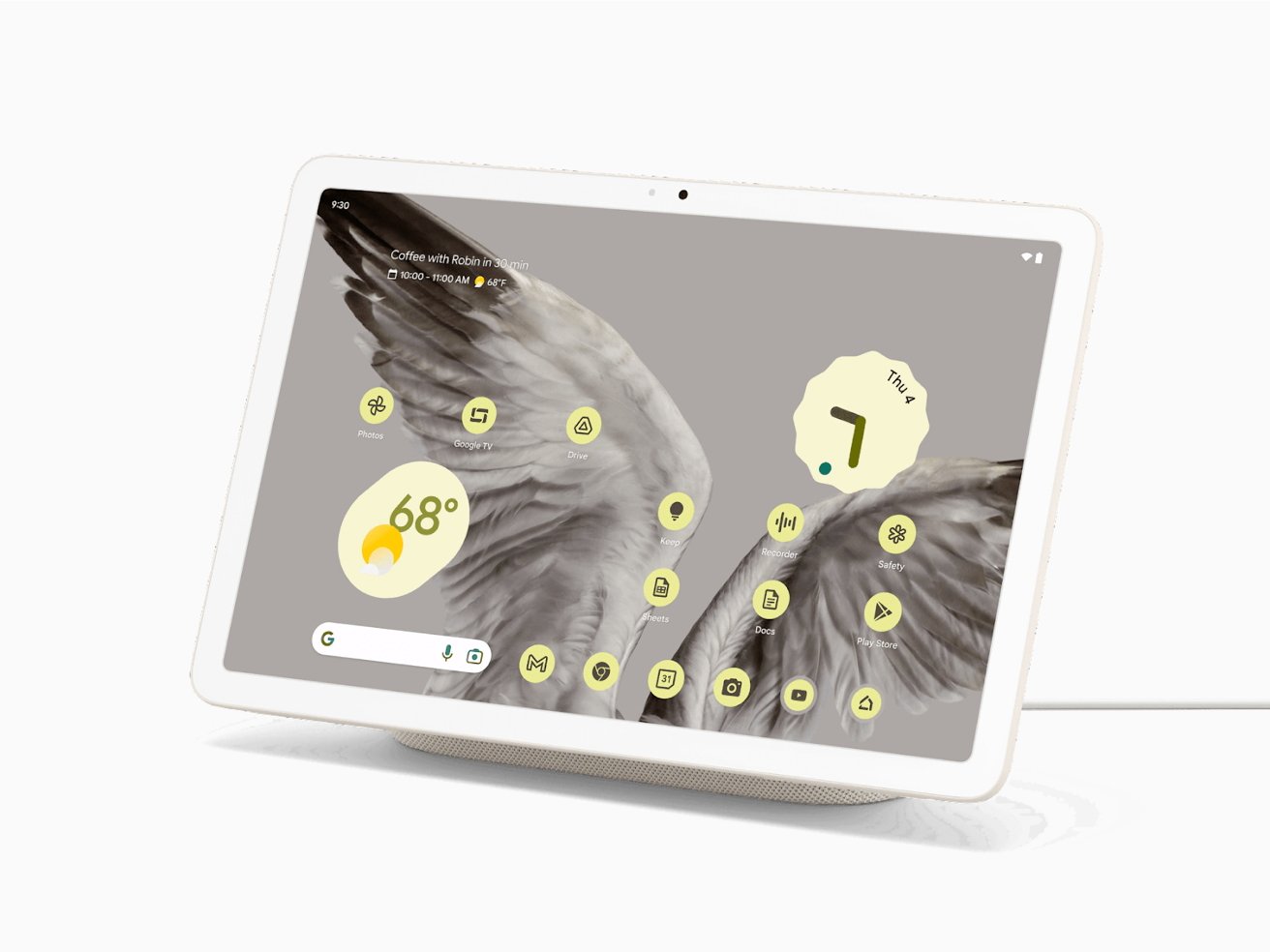 Google's Pixel Tablet shares some visual attributes with the iPad 10
Around the back, all tablets adopt the same sort of camera-in-the-corner motif, though while Apple goes for the top-right corner when in landscape orientation, Google goes for the top left.
There's minor variation when it comes to weight, as the Pixel Tablet is heaviest at 1.086 pounds, followed by the ninth-gen iPad at 1.07, then the 10th-gen at 1.05 pounds.
Google Pixel Tablet vs iPad 9 and iPad 10 - Display
Of the three tablets, the Pixel Tablet's LCD display is marginally the largest at 10.95 inches, pipping the iPad 10 at 10.9 inches, followed by the 10.2-inch ninth-gen.
Google also opts for the highest resolution at 2,560 by 1,600, against 2,360 by 1,640 and 2,160 by 1,620 for the tenth and ninth-gen iPads respectively. While the iPads have pixel densities of 264 pixels per inch apiece, Google takes the lead with 276ppi.
The brightness of the respective screens is also similar, with all reported at 500 nits.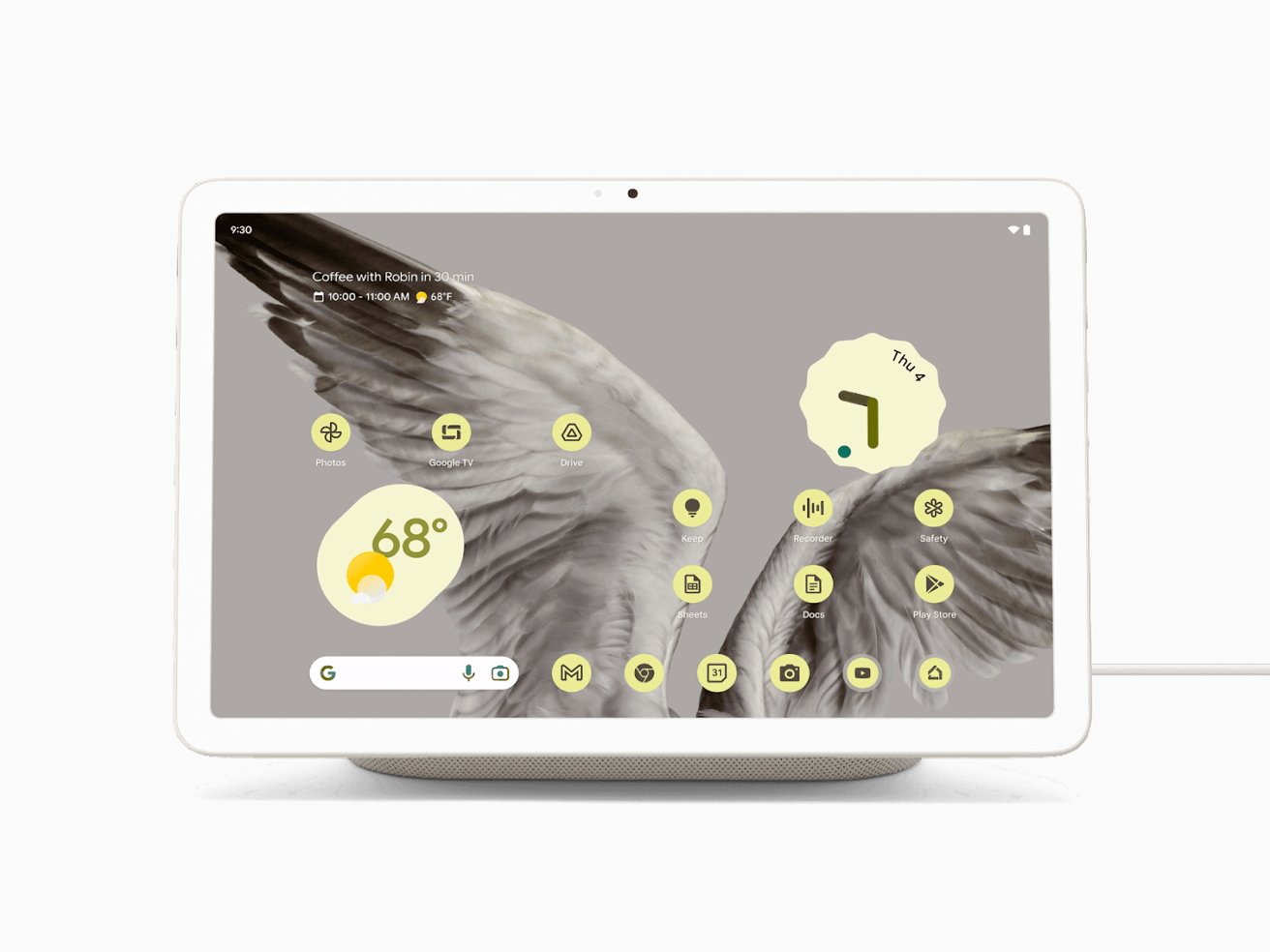 The Google Pixel Tablet has a better display resolution than the iPad 9 and iPad 10.
There's similar equality with the use of an oleophobic coating on the iPads, and a "smudge-resistant" one on the Pixel Tablet.
There's stylus support across the board, with the iPads able to work with the first-generation
Apple Pencil
, sold separately for $99. Google's display supports USI 2.0 stylus pens, though it doesn't specifically sell one itself.
If this were a comparison against the iPad Pro models, the Pixel Tablet would have much tougher competition. Here, it's fairly comparable.
Google Pixel Tablet vs iPad 9 and iPad 10 - Processing and Performance
The ninth-gen iPad uses the A13 Bionic chip, with a 6-core CPU, a 4-core GPU, and an 8-core Neural Engine. The tenth-gen uses its successor, the A14 Bionic, which also has a 6-core CPU, 4-core GPU, and a 16-core Neural Engine.
Google's Tensor G2, a self-designed chip, is at the heart of the Pixel Tablet. It uses an eight-core CPU with two performance cores, two medium, and four small efficiency cores.
There are also machine learning cores that include a custom Google TPU, as well as the Titan M2 security chip. This all adds up to a chip capable of handling computational photography and on-device processing of queries.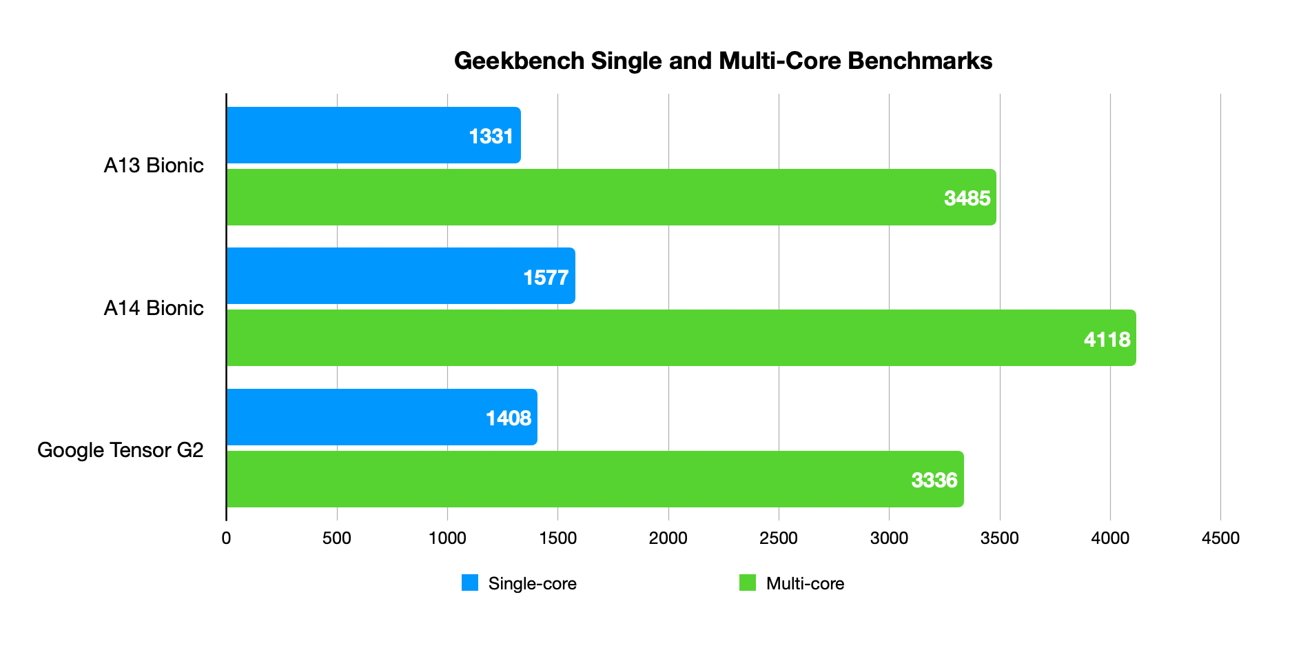 A Geekbench results chart
In Geekbench benchmarks, the iPad 9 and 10 scored 1,331 and 1,577 respectively in the single-core tests, and between 3,485 and 4,118 for multi-core tests.
For the Tensor G2 benchmark equivalent, we have to turn to the Google Pixel 7 Pro's results. In that instance, there's a single-core result of 1,408, and a multi-core of 3,336.
This theoretically puts the Pixel Tablet on par with the iPad 9's A13 Bionic. This is still a respectable score, just not quite the same as the iPad 10.
Bear in mind that a benchmark is not necessarily the same as real-world performance. Also, remember that the Pixel Tablet runs Android, which will obviously run applications differently to iOS, and have different resource requirements that could affect a benchmark result.
Google Pixel Tablet vs iPad 9 and iPad 10 - Cameras
On the back of the 2021 iPad is an 8-megapixel Wide camera that has an f/2.4 aperture, a 5x digital zoom, and HDR capabilities. The 2022 model goes further in being a 12MP Wide camera with an f/1.8 aperture, Smart HDR 3, and the same 5x digital zoom.
The Pixel Tablet has an 8MP rear camera with an f/2.0 aperture, an 84-degree field of view, and a long list of computational photography features. This includes Magic Eraser, Photo Unblur, long exposures, panoramas, Night Sight, Top Shot, and Live HDR+.
Naturally, Apple has been including computational photography features in its own products, so you could say there are a lot of comparabilities here.
The front camera for the Pixel Tablet is effectively the same as the back. It is an 8MP sensor with an f/2.0 aperture, an 84-degree field of view, and fixed focus.
Apple's front cameras are both 12MP Ultra Wide versions, with an f/2.4 aperture, 2x digital zoom, HDR support, and Apple's Center Stage feature. The difference is that the iPad 10 positions its front camera so it is best suited for use in a landscape orientation rather than portrait, just like Google's positioning.
On the video side, the Pixel Tablet can record video at 1080p 30fps, and sports features like video stabilization, Live HDR, and Auto Timelapse. Apple's cameras can all deal with 1080p video at up to 30fps, except the rear of the iPad 10 can also do 4K video at up to 60fps.
Apple also includes slo-mo support at up to 720p 120fps on the iPad 9, and 1080p 240fps on the iPad 10.
Google Pixel Tablet vs iPad 9 and iPad 10 - Connectivity
For physical connectivity, the three tablets are fairly similar, with the exception of the iPad 9. It uses Lightning for its port, while the iPad 10 and Pixel Tablet have USB-C connections.
All also have an accessory connection system, which Apple refers to as a Smart Connector, while Google has a "4-pin accessory connector."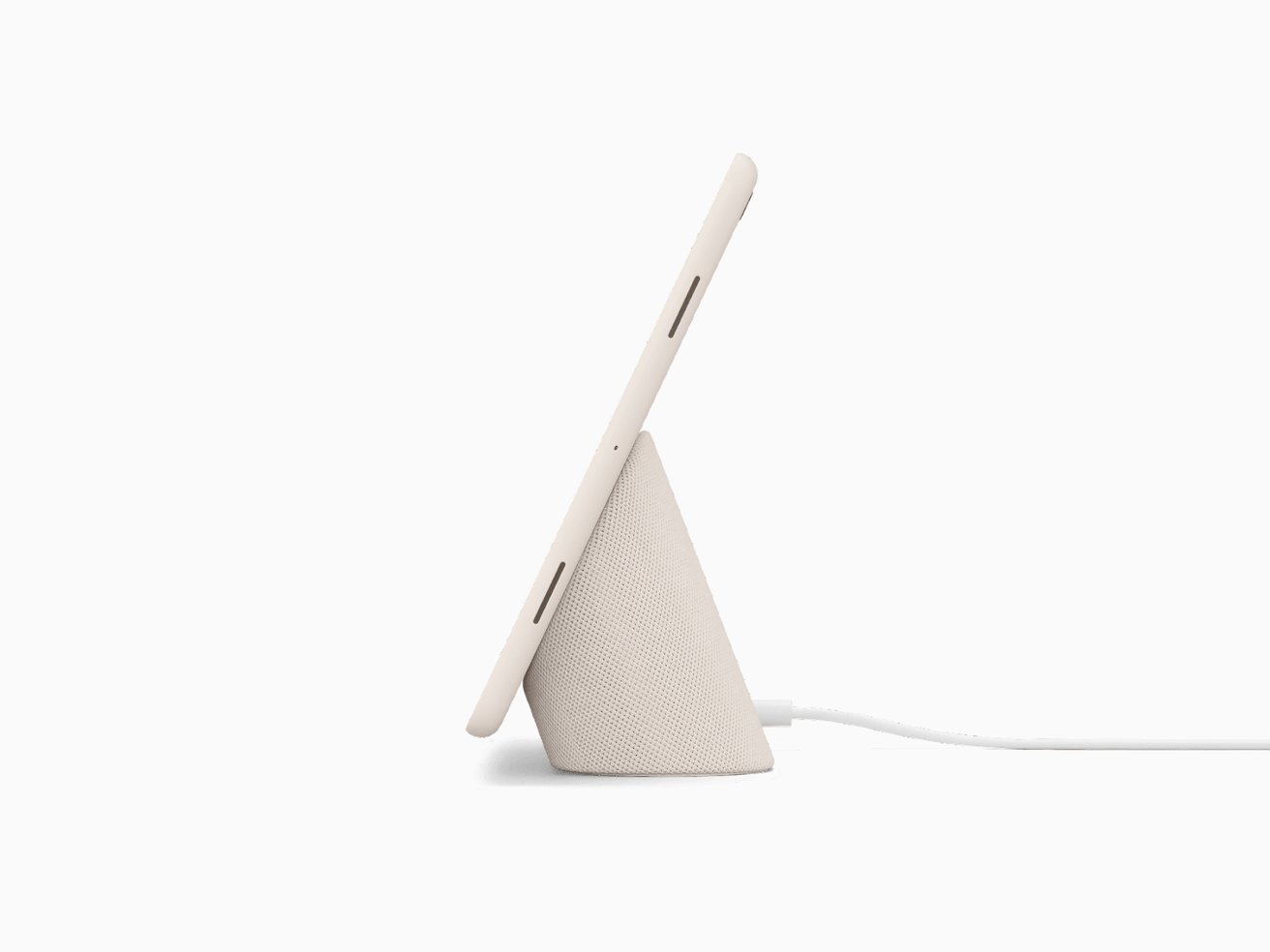 Google's dock attaches using an accessory connector, similar to the iPad's incarnation.
Wireless connectivity consists of Wi-Fi 6 and Bluetooth 5.2 on the Pixel Tablet, along with Ultra-Wideband for accurate rangefinding.
The iPad 10 similarly supports Wi-Fi 6 and Bluetooth, but not Ultra-Wideband. Neither does the iPad 9, but it also downgrades Wi-Fi to 802.11ac and Bluetooth to 4.2.
Where Apple wins is that it does offer optional cellular connectivity to 4G mobile networks for the iPad 9, and up to 5G Sub-6GHz on the iPad 10. Google, at least at launch, isn't going down the cellular route.
Google Pixel Tablet vs iPad 9 and iPad 10 - Audio and Biometrics
Apple employs a stereo speaker system on both iPad models, as well as two microphones for picking up audio.
On the Pixel Tablet, Google opts for a "quad speaker audio system," reminiscent of the iPad Pro's version. It also uses three microphones for calls and Google Assistant summoning, with added noise suppression processing.
For biometric security, all three rely on fingerprint recognition, with slight variations.
The iPad 9 uses the Home button on the front to hold its Touch ID sensor. For the iPad 10, Touch ID was moved to the top of the device, on the power button.
Google went down the latter route, with Fingerprint Unlock located on the power button.
Google Pixel Tablet vs iPad 9 and iPad 10 - Power and the Dock
According to Apple, both iPad models offer a ten-hour battery life when used to surf the web on Wi-Fi, or you're watching video, with it dipping down to 9 hours if you're web-surfing on cellular.
Google claims the 27-watt-hour battery in the Pixel Tablet can last for up to 12 hours of video streaming.
Given there's always going to be some variability in battery life claims and that a side-by-side comparison isn't yet available, let's say that the battery life in either case will easily last a person for a day of typical usage.
Where things differ is that Google adds an extra Charging Speaker Dock to proceedings. Rather than as an additional accessory, Google includes a dock as part of the tablet package.
While there's undoubtedly port-based charging over USB-C, like the iPad 10 and unlike the Lightning-based iPad 9, you can instead use the dock to provide power to the Pixel Tablet.
Attaching magnetically, it does use the accessory contacts for power and data. There's no wireless charging in use here with the Pixel Dock.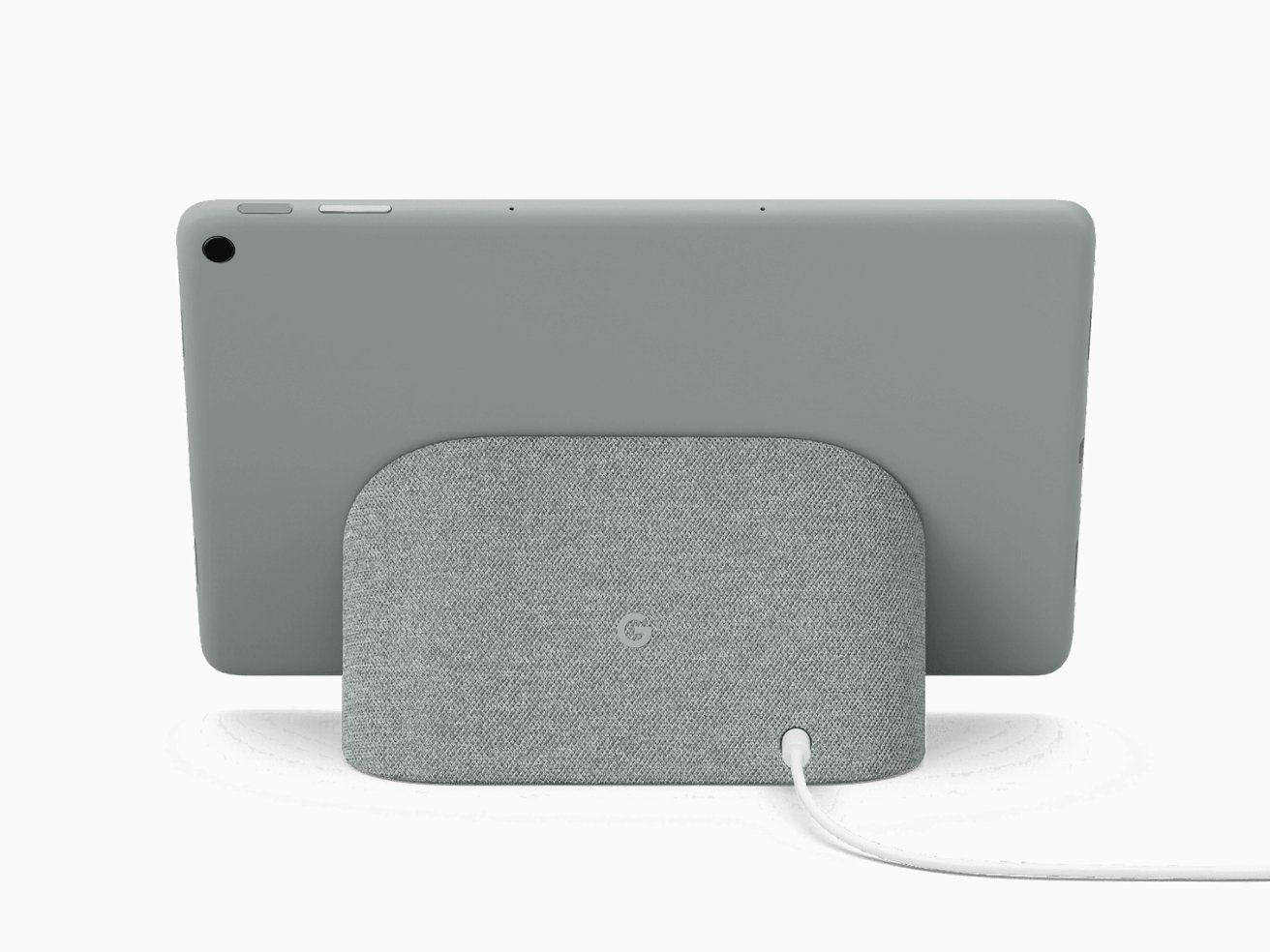 That dock provides more audio power, as well as the electrical variety.
As well as providing a dedicated home for the Pixel Tablet when not in use and regaining power, the Charging Speaker Dock offers another feature. As the name implies it's also a speaker, upgrading the sound of the Pixel Tablet with four times the bass.
When attached to the dock, the Pixel Tablet enters a "Hub Mode," making it more amenable to smart home applications.
As a byproduct, this does practically turn the Pixel Tablet and dock into something approaching a smart speaker or the Google Nest Hub range. This can be useful for those who looked at the Nest Hub but couldn't pull the trigger because a tablet seems like a better idea.
The Charging Speaker Dock could be seen as an unnecessary add-on that may not necessarily be bought as a separate accessory. Being included in the package may be seen as similarly unwanted by some who just want a tablet, but others may find it to be an unexpectedly useful addition.
Google Pixel Tablet vs iPad 9 and iPad 10 - Storage and Pricing
Google sells the Pixel Tablet in two storage capacities: $499 for the 128GB model, $599 for 256GB. It's offered in three colors: Porcelain, Hazel, and Rose.
The iPad 9, in Space Gray or Silver, starts at $329 for the 64GB capacity, rising to $479 for the 256GB version. Adding cellular on top brings the prices to $459 and $609, respectively.
With the iPad 10, you're paying $449 for the 64GB capacity, $599 for the 256GB. Again, cellular is an add-on, bringing the costs up to $599 for the 64GB, $749 for the 256GB.
Apple also sells the iPad 10 in more colors: Blue, Pink, Yellow, and Silver.
A return to form of sorts
What Google has produced in the Pixel Tablet could be considered a fairly good Android slate device. One that has a fair few iPad-like cues to it, but not in a copycat style.
On paper, the specifications are also fairly decent when it comes to tablets in general, with it having a larger and higher-resolution display than Apple, better speakers, and more microphones on hand.
You could consider it close to the iPad 10, especially in styling and display size. But then there are bits that head more in the direction of the iPad 9, like the 8MP rear camera and the video recording capabilities.
That the Tensor G2 is closer to the A13 Bionic than the A14 Bionic is disappointing, but it will at least be more than usable for day-to-day computing needs.
The dock is also an interesting add-in, and it remains to be seen whether it's a wise move or an unwanted extra that pushes the cost of the tablet up. It's already more expensive than a tenth-gen iPad, and removing the dock from the equation could've brought it in line, or lower.
It's fair to say that Google has created, on paper, the best advertisement it could possibly do for the current Android landscape. To woo customers with the Android that Google intended it to be instead of the customized versions used by Samsung and other major producers.
It's not quite an iPad, but it's still a great example of what an Android tablet can be.
Where to buy
The Google Pixel Tablet can be acquired from
Google's online store
or
from Amazon for $499
.
The iPad 9th Generation and iPad 10th Generation can be bought from numerous retailers, with the
best iPad deals
in our
iPad Price Guide
.
Read on AppleInsider