Skullcandy Crusher ANC 2 review: Banging headphones but not for everyone
Skullcandy's original Crusher ANC wireless headphones dialed up skull-rattling bass and this new model continues that same tradition, but with more comfort, sophistication, and added features.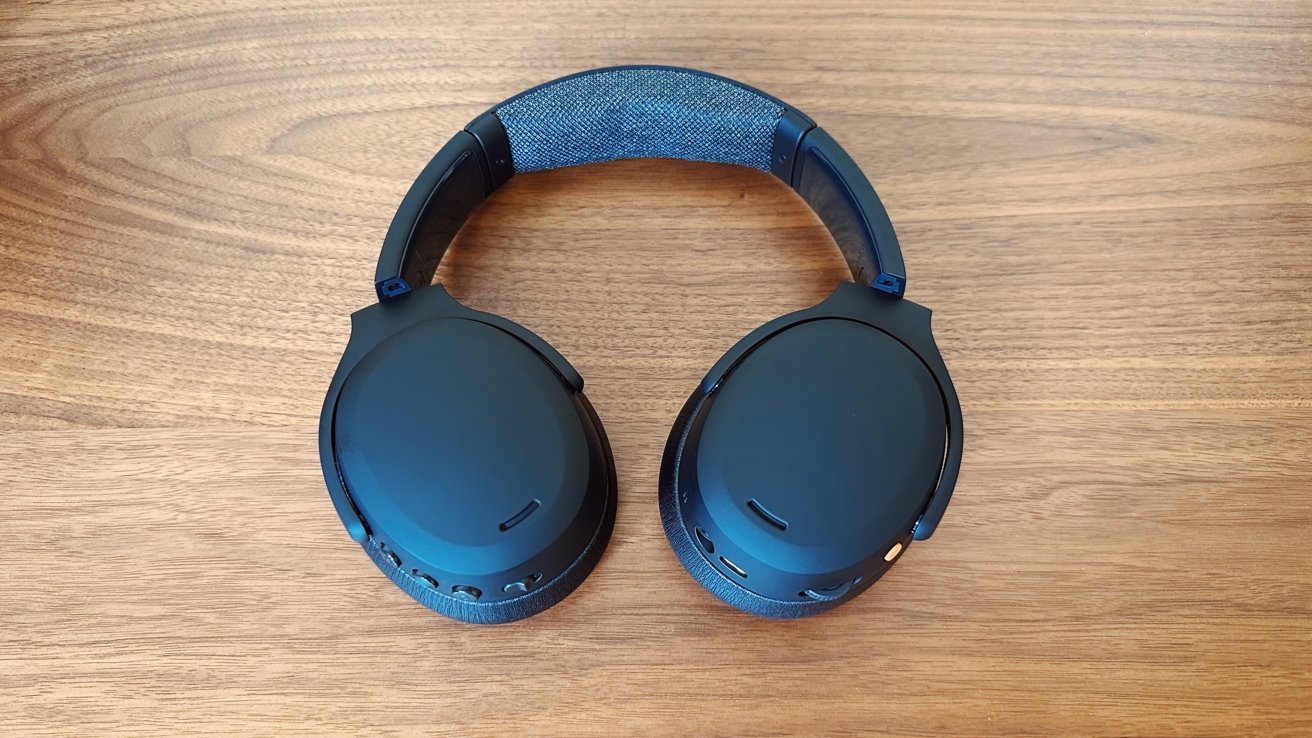 Skullcandy Crusher ANC 2
These Crusher ANC 2 headphones remind us of that Beastie Boys lyric, "I like my sugar with coffee and cream," in that they skew the equation to be more about liking the vibrations of low-end bass with a touch of music added in.
Skullcandy refers to its Crusher effect as sensory bass, which seemed accurate. Despite an adjustable jog wheel to raise and lower the pounding bass effect we're going to say to these headphones aren't for everyone.
Anyone on the search for general-purpose wireless ANC headphones has plenty of options. If, however, you do want to be moved by your music, these new Crusher headphones are certainly worth considering.
The sound of Skullcandy Crusher V2 headphones
Without the wild sensory bass accenting low-end frequencies on the music you're listening to, the Crusher ANC 2 headphones could disappear into a void of dozens of other wireless headphones on the market.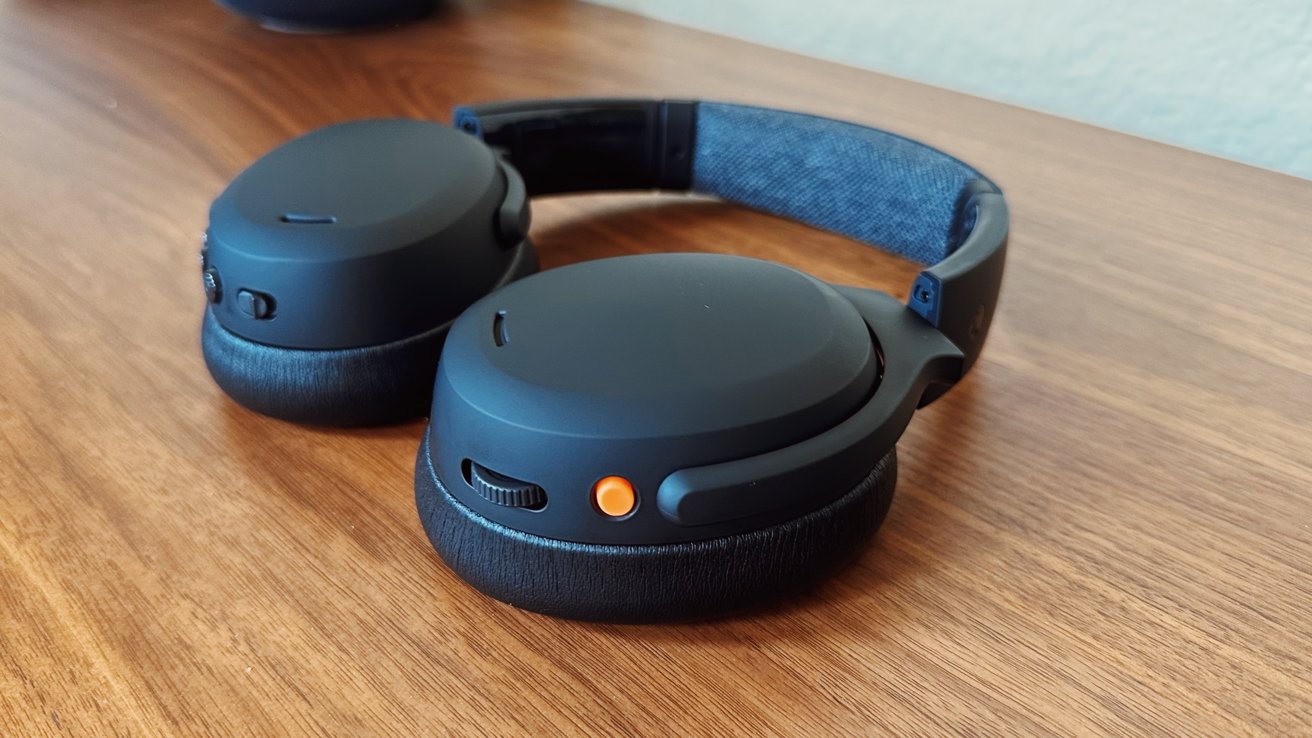 Crusher wheel can be spun or pressed add sensory bass
This unique aspect defines the headphones in name and feature set, so it's only reasonable we focus on that first.
A wheel on the left ear cup and be rolled up or down to adjust the bass effect. It did what it was supposed to when we tried it, but it could be hard to pinpoint a specific amount of the effect.
Luckily, the wheel can also be pushed to jump to pre-set intervals like 20%, 50%, and 80%. We generally found ourselves using this method more than spinning the wheel because a voice would announce the amount of the Crusher effect when using the presets.
You can use the voice commands to request more or less Crusher, but this didn't identify what level it was at either.
We usually found ourselves listening at either the two lower 20% and 50% levels, depending on the specific song that was playing.
Turning the Crusher effect up to 100% was wild on most songs -- and usually too intense for us. At 100% the effect swallowed a lot of the mid-range frequencies, though vocals often managed to poke out of the low-end ground swell.
It was definitely hard to ignore the head-shaking effect when it was turned up to 100%. Even if the Crusher effect didn't consume all of the frequency ranges, it garnered most of the attention and could be distracting.
On the flip side, with the effect turned all the way down to 0%, the headphones still had a big and boastful enough sound. Bass still felt full while the mids were much more present and clear.
If you find yourself boosting and fiddling with EQ settings more often than not, these headphones will suit you well.
They provide a direct physical control to allow you to inject life into any song. Objectively, not every song should be put through the Crusher effect, but you can do it.
Skullcandy Crusher ANC 2 features
Beyond the sensory bass effect, Skullcandy has jammed quite a few features into the Crusher ANC 2 headphones.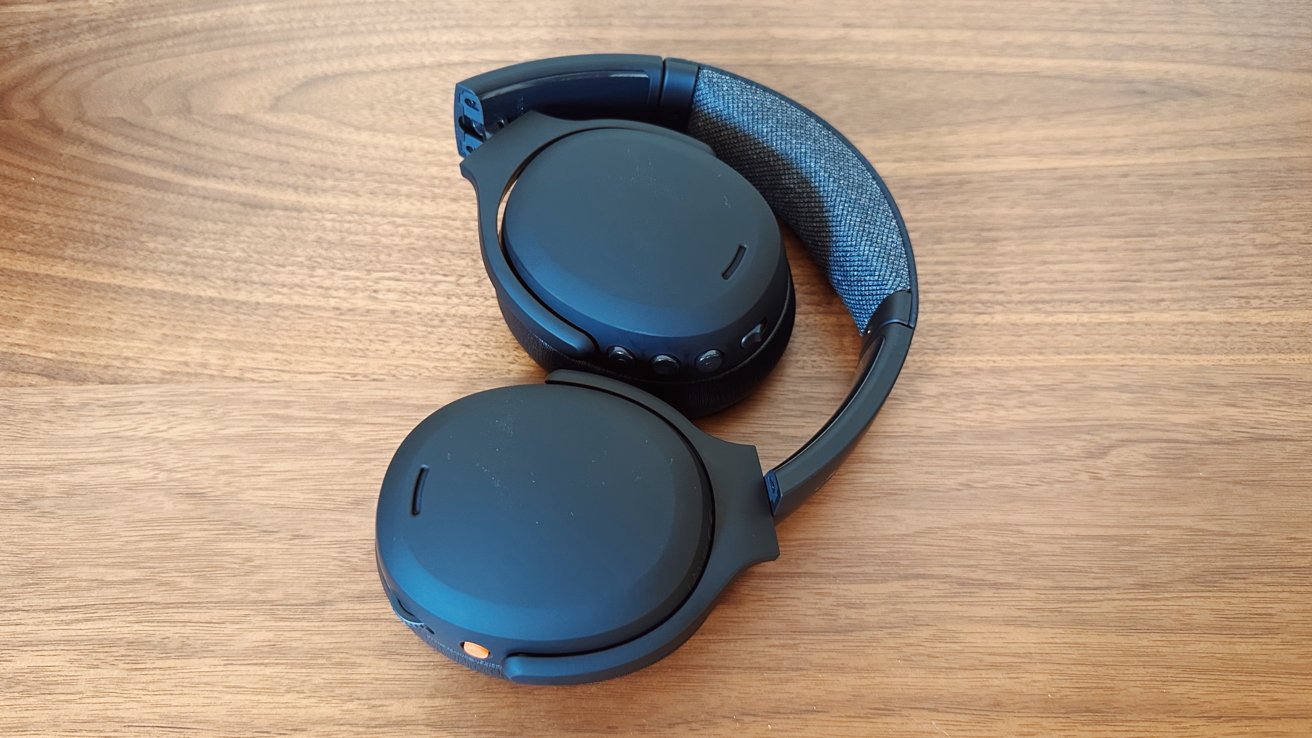 Crusher ANC 2 headphones fold and twist slightly for their carrying case
They have ANC and awareness modes, along with physical buttons for media controls and volume. They also get 50 hours of battery life, support for Multipoint Pairing, and voice control commands.
Instead of Find My, Skullcandy uses Tile technology to locate lost headphones. The personal audio accessories use Bluetooth 5.2 and have 40mm drivers.
The Skullcandy Crusher ANC 2 weighs 332g (11.7 ounces), compared to Sony WH-1000XM5's 249g (8.8 ounces) or AirPods Max's 385g (13.6 ounces) mass.
The headphones didn't feel heavy or overly weighty when worn and felt much lighter over several hours than AirPods Max did.
Buttons can be configured for different functions, including Spotify Tap and taking a photo. Feeling for the pause button, sandwiched between two other buttons was challenging initially, but slowly we learned to feel for the concave exterior one.
You also had to manually pause music a lot too, as the headphones don't support ear detection to stop audio when removing the headphones.
Due to the way voice commands work on an iPhone, every time we turned on the headphones and they connected to our iPhone, iOS would serve a popup asking us to allow Skull-iQ access to communicate with the headphones.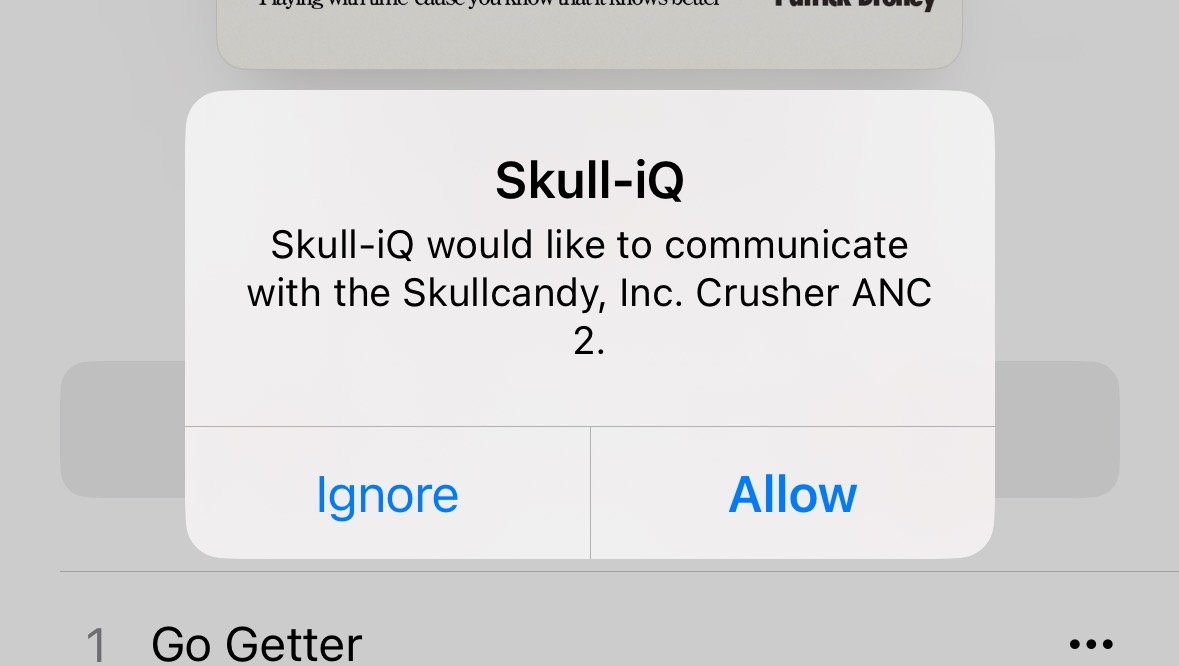 Constant notification when Crusher ANC 2 connected to an iPhone
The popup was annoying. Also annoying was saying, "Hey Skullcandy" out in public.
The actual voice commands worked fine, but overall, the trigger word and remembering its commands were a big "nope" from us.
Should you buy the Skullcandy Crusher V2?
Bose headphones often get criticized for having a distinct sound profile that boosts certain aspects. Still, a lot of people like how their music sounds in Bose's headphones.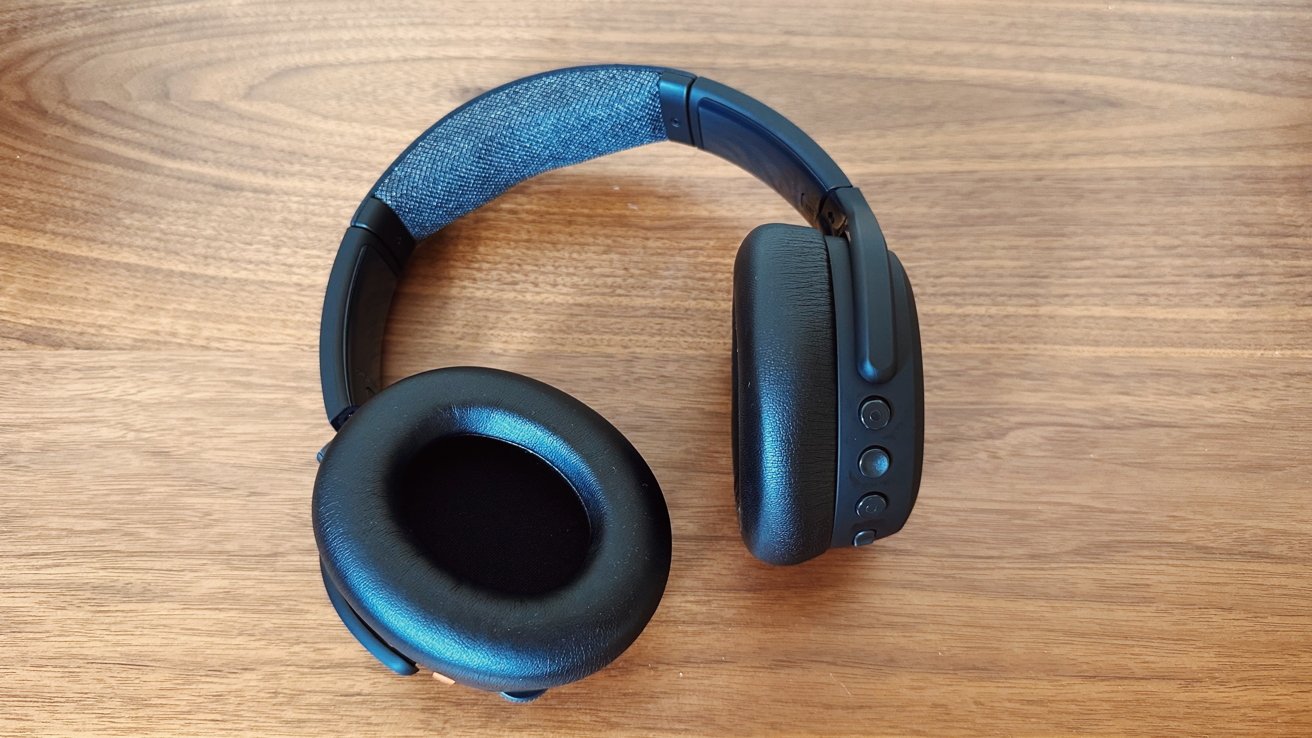 Padding on the ear cups and headband was comfortable
Similarly, the Skullcandy Crusher ANC 2 headphones are not about reproducing music as neutrally as possible. They're about letting people add a healthy dose of whimsy to the music they listen to.
The buying decision here is pretty straightforward. If you simply want to feel your music, using Crusher ANC 2 headphones is the closest thing to injecting the beat directly into your veins.
They perform well across the board and have features to satisfy all kinds of listeners.
The $229.99 price is reasonable for the product, but if you won't use the Crusher sensory bass, there's no need to spend extra on these over other less expensive wireless ANC headphones.
Skullcandy Crusher ANC 2 -- pros
Respectable ANC and Stay Aware performance


Comfortable padding around the headphones


Improved sleeker design
Skullcandy Crusher ANC 2 -- cons
Constant iOS notification when connected was annoying


No ear dection for auto-pause
Rating: 3.5 out of 5
Where to buy the Skullcandy Crusher ANC 2
The Crusher ANC 2 are available for purchase at
Skullcandy
for $229.99.
Read on AppleInsider