Crime blotter: Guilty verdict in North Carolina iPhone fraud trial
In the latest Apple Crime Blotter, a court employee is convicted of illegally wiping iPad, a MacBook theft leads to a chase, and a robber steals Apple Watch along with an ATM.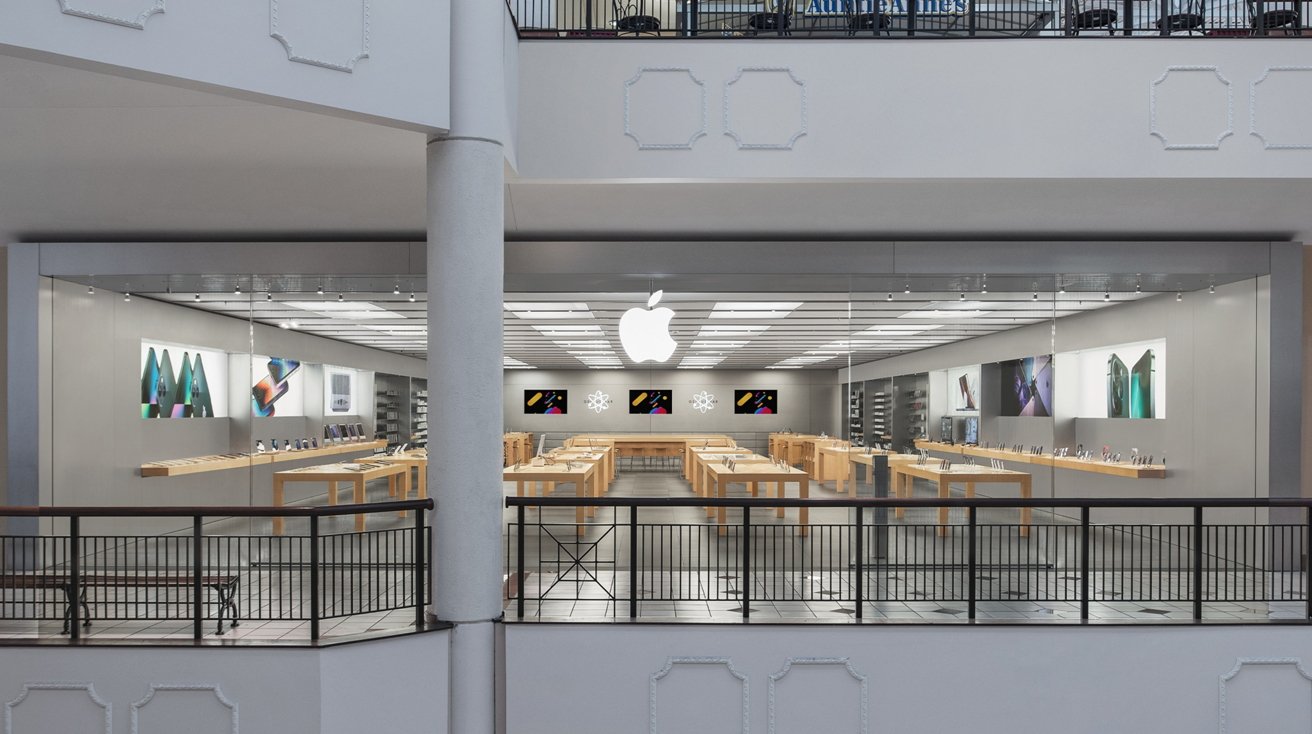 The Apple Store at Willow Grove Mall in Pennsylvania
The latest in an occasional
AppleInsider
series, looking at the world of Apple-related crime.
North Carolina man convicted in a scheme involving stolen iPhones
A man who owned several cell phone stores in the Charlotte area has been convicted on federal charges involving selling thousands of stolen iPhones.
According to the U.S. Attorney's Office for the Western District of North Carolina, Rami Mahmod Mhana has been
found guilty
of conspiracy, international transportation of stolen goods, and money laundering.
The jury found that Mhana, over a more than two-year period, had purchased thousands of iPhones and other devices that were stolen, and then shipped them overseas, mostly to Hong Kong and the United Arab Emirates. The devices had been obtained from "boosters" who stole them, and knew that Mhana's stores would welcome the stolen goods.
U.K. woman gets prison for scamming elderly victims, using cards for Apple Store purchases
A 24-year-old woman in Britain has been sentenced to more than two years in prison for possession of criminal property, fraud, and theft after she pled guilty to a series of thefts from elderly people around the country. The woman traveled to different locations, often posing as a courier, and claimed cash and credit cards from victims.
Per
North Yorkshire Police
, the woman used the stolen cards for Apple Store purchases on multiple occasions.
Former court employee pleads guilty to computer fraud after remotely wiping iPad
Also in North Carolina, a man who formerly worked for the United States Bankruptcy Court has pled guilty to
one felony count
of computer fraud.
According to the U.S. Attorney's office for the Middle District of North Carolina, the man resigned from his position following an investigation into his conduct. But after that, he logged on to the court's network, accessed another employee's passwords, and remotely wiped an iPad.
He faces at least ten years in prison.
Man sought who police say stole 22 iPhones
Police in Ohio are searching
for a man
who they say committed an armed robbery of 22 iPhones from an AT&T store in early May.
NBC 4i
reports the masked man pulled a handgun, demanded iPhones, and was taken to the back of the store, where he stuffed 22 iPhones in a backpack.
Men arrested for fraudulent MacBook Pro theft after chase
Two men from Atlanta were arrested at the start of May for using a
stolen credit card
to buy a MacBook Pro at the Best Buy in Peachtree City, Ga. According to
Fox 5 Atlanta
, one of the two men was "flashing a large amount of cash," and store employees recognized him from past incidents in which he had gone on shopping sprees with stolen credit cards.
Police were called when that particular purchase was also made with a fraudulent card. The men fled in a speeding car and police used stop sticks, which punctured all four of the car's tires.
The suspects then fled on foot but were apprehended later that day.
The man who purchased the MacBook was charged with identity fraud and obstructing law enforcement, and police said he had several outstanding warrants in different jurisdictions.
Robber stole an ATM, plus cash and an Apple Watch from a Queens deli
An armed robber entered a deli in the New York borough of Queens in early May, pulled a gun, and came away with an automatic teller machine, as well as an Apple Watch and $1,000 in cash.
The New York Post
writes the
robbery took place
at 5 a.m., at the 75 Deli and Grocery in the Woodhaven section of Queens. The thief was seen escaping in a waiting white pickup truck.
Police seeking a man who used stolen credit card to buy iPhone
Police in Upper Moreland, Pa., are looking for a man who they say stole a credit card from a park and used it to buy an iPhone at the Apple Store at Willow Grove Mall.
According to
Patch
, police say the credit card was stolen out of an unlocked car at Masons Mill Park.
The theft
took place
at the same Apple Store where, in early May, a man accused of stealing from the store fell while trying to escape to a lower level of the mall.
Phone seized from councilman in New Jersey
A city councilman in Paterson, N.J., who is already facing election fraud charges, had a
phone seized
from him in May.
NorthJersey.com
reports Councilman Michael Jackson said in a council meeting that representatives of the Attorney General's office had arrived to seize his phone.
"They can have that phone, the next phone, the iPhone, the Bat Phone, the iPad; whatever it is they're looking to confiscate, they're more than welcome to it," Jackson said, per the news report.
Stolen AirPods lead to drug charges for Georgia man
Police in Hull, Ga., followed the GPS on a stolen set of AirPods, successfully finding them at the home of a 31-year-old man. While searching the man's pockets, they found "a tube with a white substance in it," which led to
drug charges
.
According to
Madison Journal Today
, the man was charged with crossing state/county guard lines with weapons, intoxicants, and drugs without consent, and two counts of possession of a Schedule II Controlled Substance. There was no mention of charges for the theft of the AirPods or a stolen purse that was also found at the man's home.
School district employee charged after child sex abuse material found on iPad
A man who worked as an office aide for the Mifflinburg Area School District in Pennsylvania
has been arrested
on child pornography charges after police received a tip that he had downloaded child sex abuse material.
NorthCentralPA.com
says the illicit images and videos were found on the man's laptop, leading to four felony charges each of child pornography and disseminating photos/film of child sex acts.
The school district, in a statement to the media outlet, assured members of the community that the man "is no longer in, nor has access to our schools, and it does not appear that any illegal conduct occurred while in our schools."
Read on AppleInsider