Logitech K380 keyboard for Mac review: Fun colors, great feel, and inexpensive
The Logitech K380 has been around since 2015, but only in the last few years has the company bestowed us with a lovely
Mac
-specific version. We put it to the test.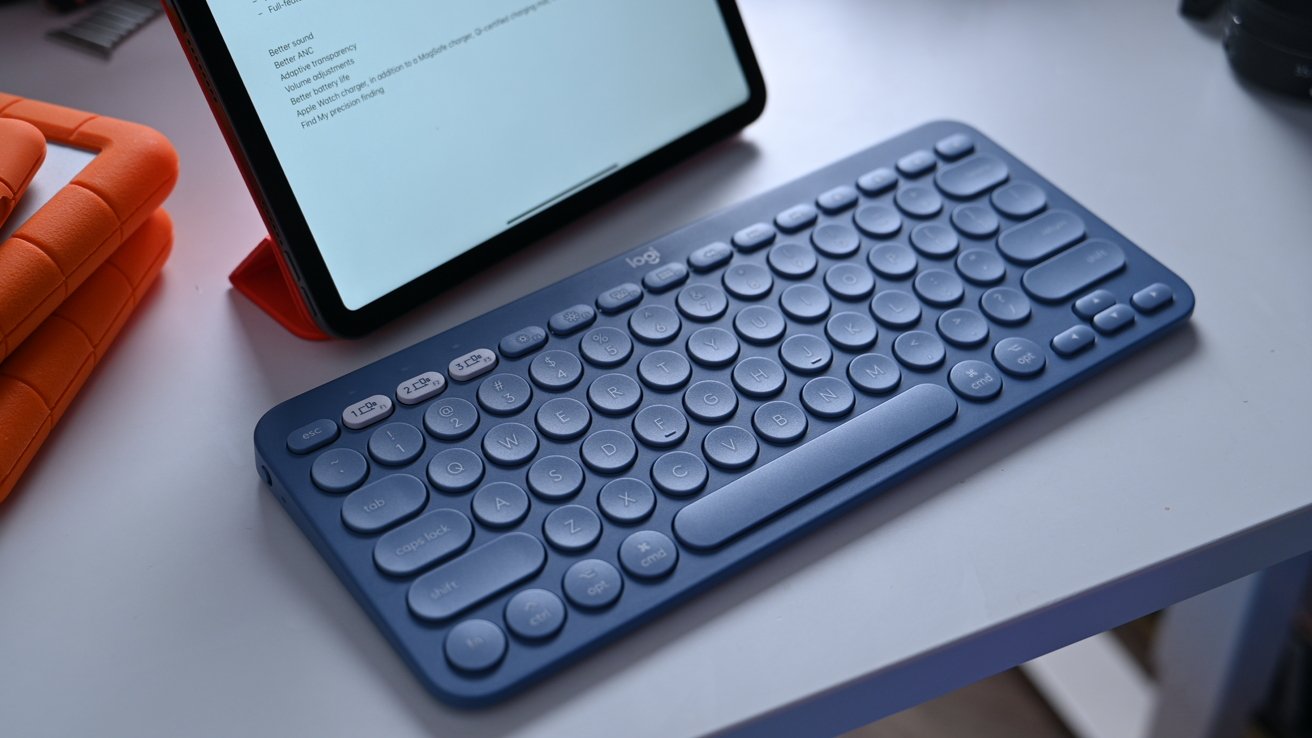 Using the Logitech k380 with iPad mini
The Logitech K380 Bluetooth keyboard for Mac is available in Rose, Off-white, and Blueberry. While all the colors look great, we chose the latter for our desk.
The Logitech K380 hasn't changed much since its original release. It's a small keyboard that fits easily on your desk but could also be tossed in your bag to take with you.
When compared to the Apple
Magic Keyboard
, Logitech's is slightly more bulbous, but not by much. On our Blueberry-colored keyboard, the body is darker against lighter keycaps on top and white Bluetooth buttons.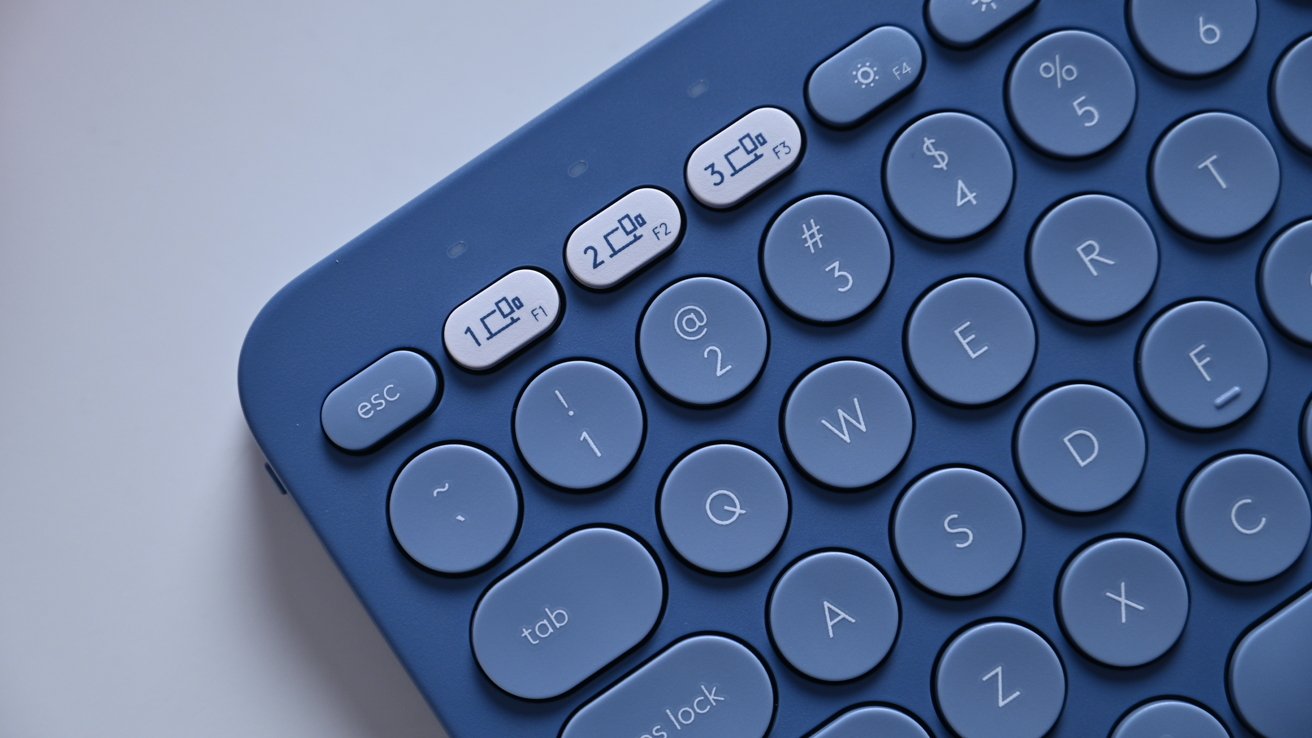 Multi-device connection buttons on the Logitech K380
Those Bluetooth buttons, located on the top left, allow you to move between your host devices. You can connect up to three devices and jump between them using the built-in shortcuts.
We set ours up for our Mac while on our desk but then connected to our
iPad
while writing at home and even our
iPhone
when going through a laborious email session.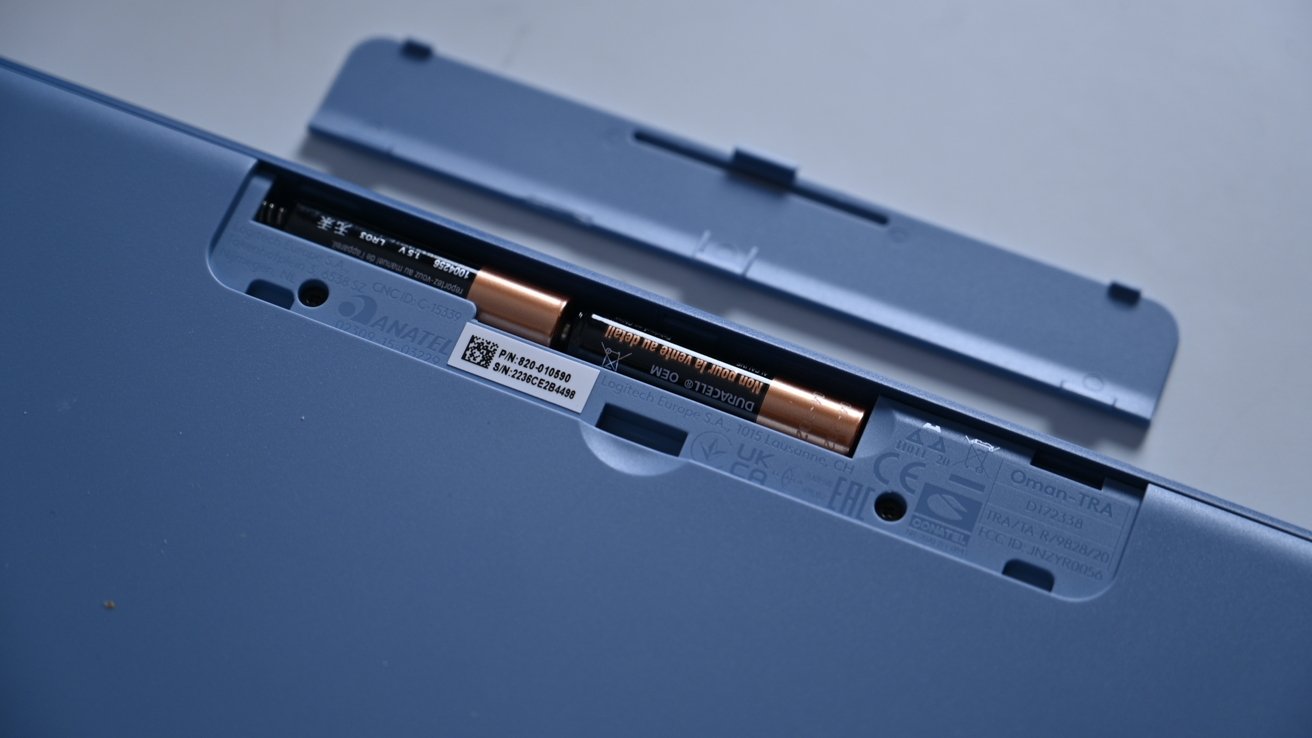 The K380 runs on two AAA batteries
The keyboard is powered by two replaceable AAA batteries located on the back. Logitech says they should last roughly two years when typing eight hours a day, five days a week. We haven't had ours that long, but a cursory look around online says customers have experienced that level of battery life or better.
This keyboard lacks a dedicated number pad, though there is an inverted T set of arrow keys in the lower-left corner.
Unfortunately, this keyboard has no backlight, but at this price point, we're content.
Logitech K380 - A tactile typing experience
The K380 hits just the right balance for Mac users, providing a more tactile key feel than Apple's keyboards but not as loud and clacky as a fully mechanical keyboard.
Logitech uses iconically round keycaps that sit a millimeter or two above the body of the keyboard. The round keys technically provide less surface area for typing. We found our efficiency and accuracy were still on par compared to our Apple keyboard.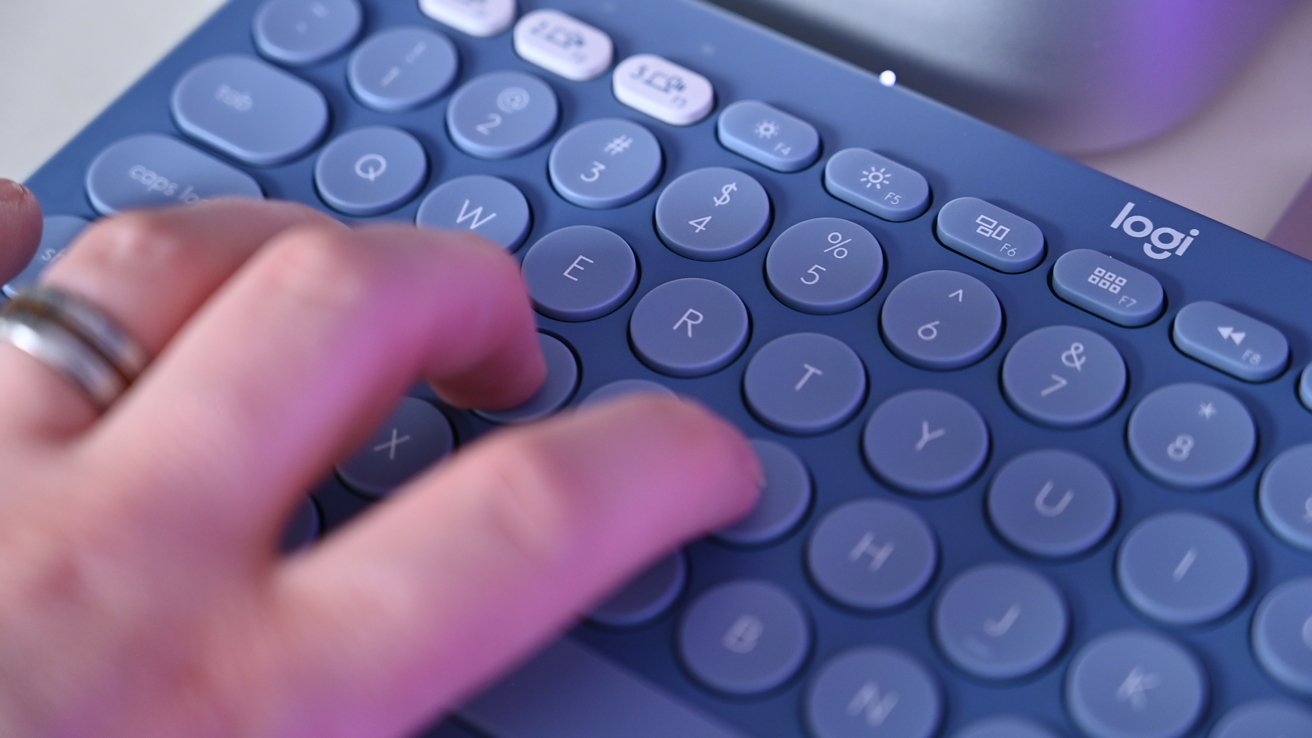 Typing on the K380 keyboard for Mac
Each key has a solid poppy click as it gets pressed, providing that much-needed feedback. Keys bounce back quickly, and we have no issues speeding along as we type, nor do our fingers trip over the raised caps.
The keyboard is on the quiet side, which is probably best when in a shared office environment. Apple's Magic Keyboards are just a touch louder.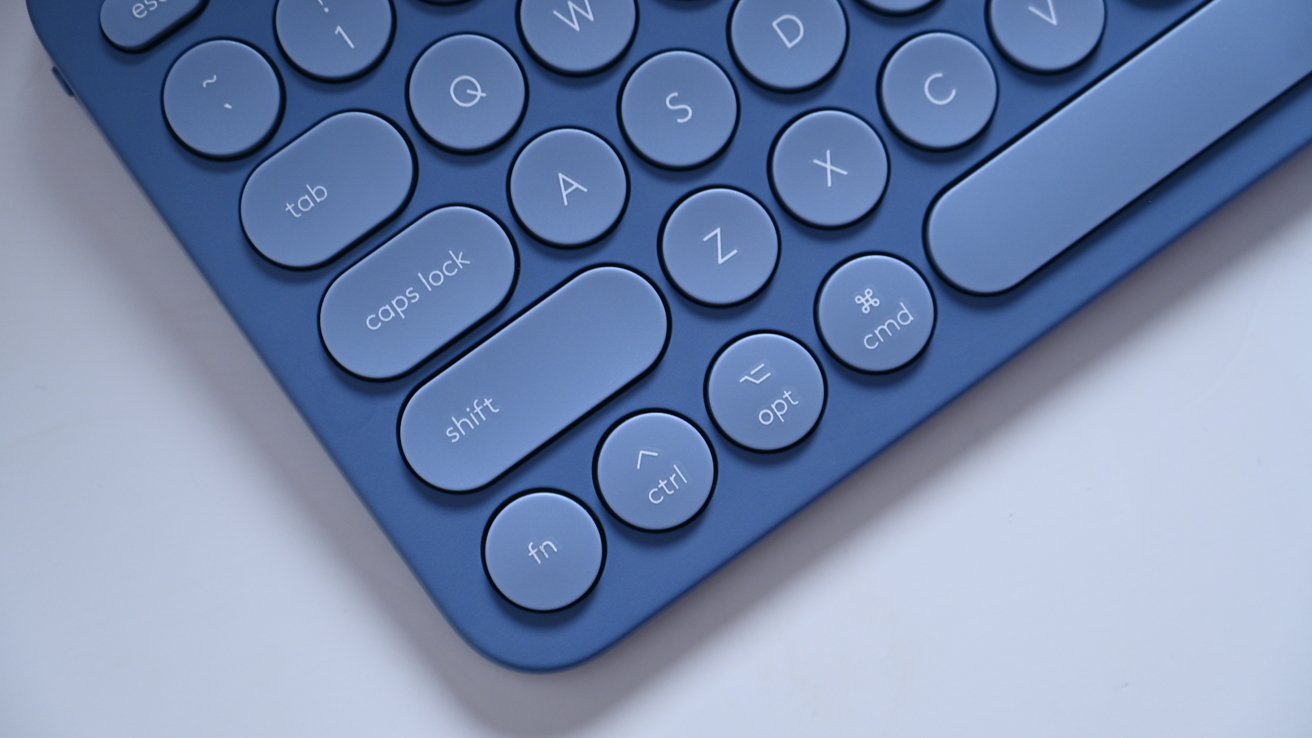 Mac-specific keys on the K380 keyboard
You'll find Apple-specific keys, as this is a Mac-specific version of this keyboard. You have the expected command, option, control keys, and the correct function keys.
Should you buy the Logitech K380 keyboard for Mac?
Frankly, there are a few keyboards we'd recommend over the K380 for Mac users. It's almost perfect in its fun, colorful design with responsive keys and impressive battery life.
Unless you're a big fan of mechanical keyboards or need a dedicated number pad, this keyboard is where it's at. It's also durable and easily held up to use by kids and adults.
It just checks all the boxes. Of course, some may argue for a rechargeable version, but with this excellent battery life, charging regularly would be much more annoying than swapping the batteries biannually.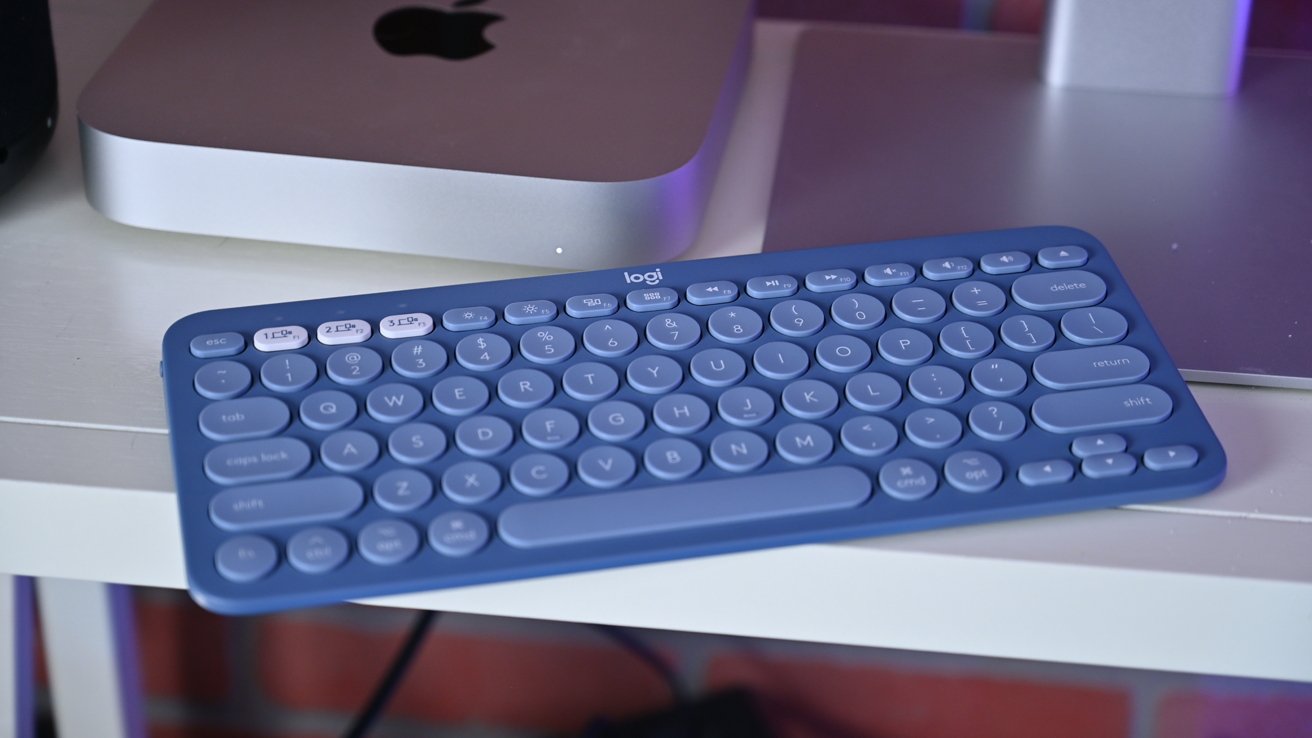 Pairing the Logitech K380 with our Mac mini
This keyboard has been a mainstay for PC users and has quickly jumped to our top recommendation list for Mac users. Of course, Logitech creates a lot of great keyboards, but at roughly $30, this one is hard to beat.
Logitech K380 - Pros
Affordable


AAA batteries last two years with daily use


Fun colors


Multi-device connectivity


Mac-specific layout


Great typing feel
Logitech K380 - Cons
Not backlit or rechargable
Rating: 5 out of 5
Where to buy the Logitech K380
You can find the Logitech K380 keyboard for Mac
on Amazon starting at $29.99
in all three colorways.
Read on AppleInsider