App Store developers surpass $1 trillion milestone from sales in 2022
Apple developers have achieved unprecedented financial success through the
App Store
in its fifteen-year existence, surpassing a remarkable milestone of earning over one trillion in 2022.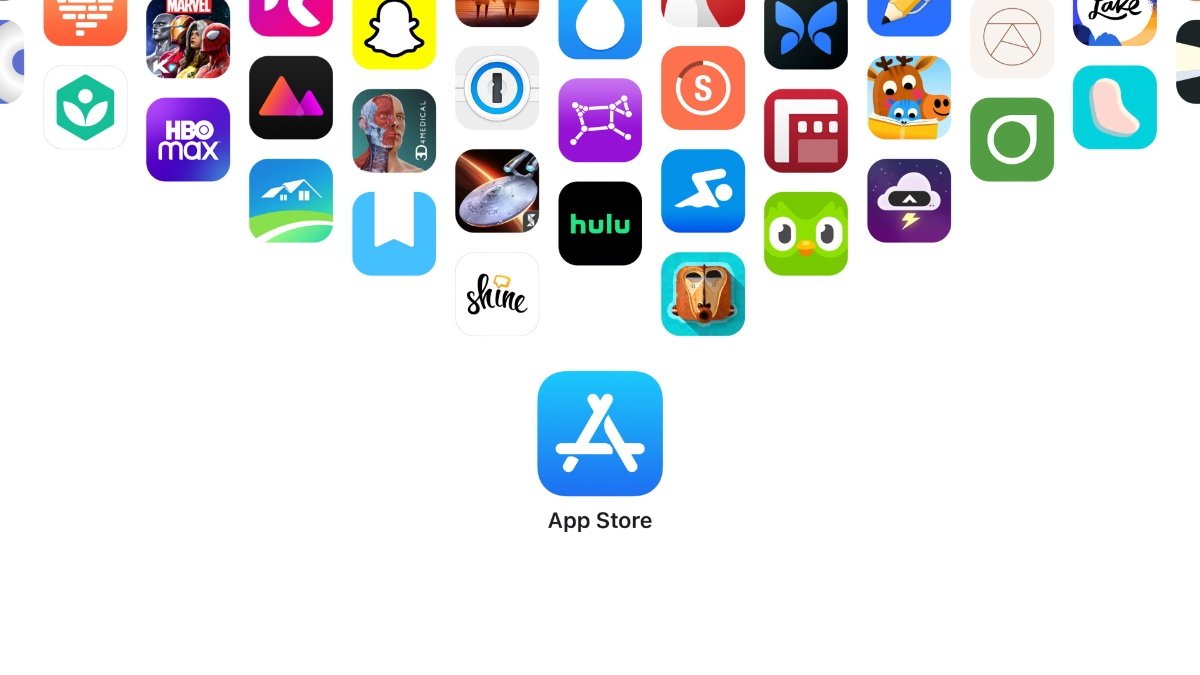 App Store developers generated $1.1 trillion in 2022
The most
recent research
conducted by economists at Analysis Group provides valuable insights into the growth of Apple's App Store ecosystem. Moreover, the findings shed light on the evolution of this app marketplace over the years.
In 2022, the App Store ecosystem
witnessed
an achievement as developers collectively generated $1.1 trillion in billings and sales. Additionally, over 90% of the billings and sales were solely earned by developers without any commission being paid to Apple.
App Store developers generated substantial revenue in various categories in 2022. Approximately $910 billion was derived from selling physical goods and services, $109 billion from in-app advertising, and an additional $104 billion from digital goods and services.
Between 2019 and 2022, there were notable increases in developer billings and sales. Specifically, there was a 27% growth from 2019 to 2020, followed by another 27% growth from 2020 to 2021.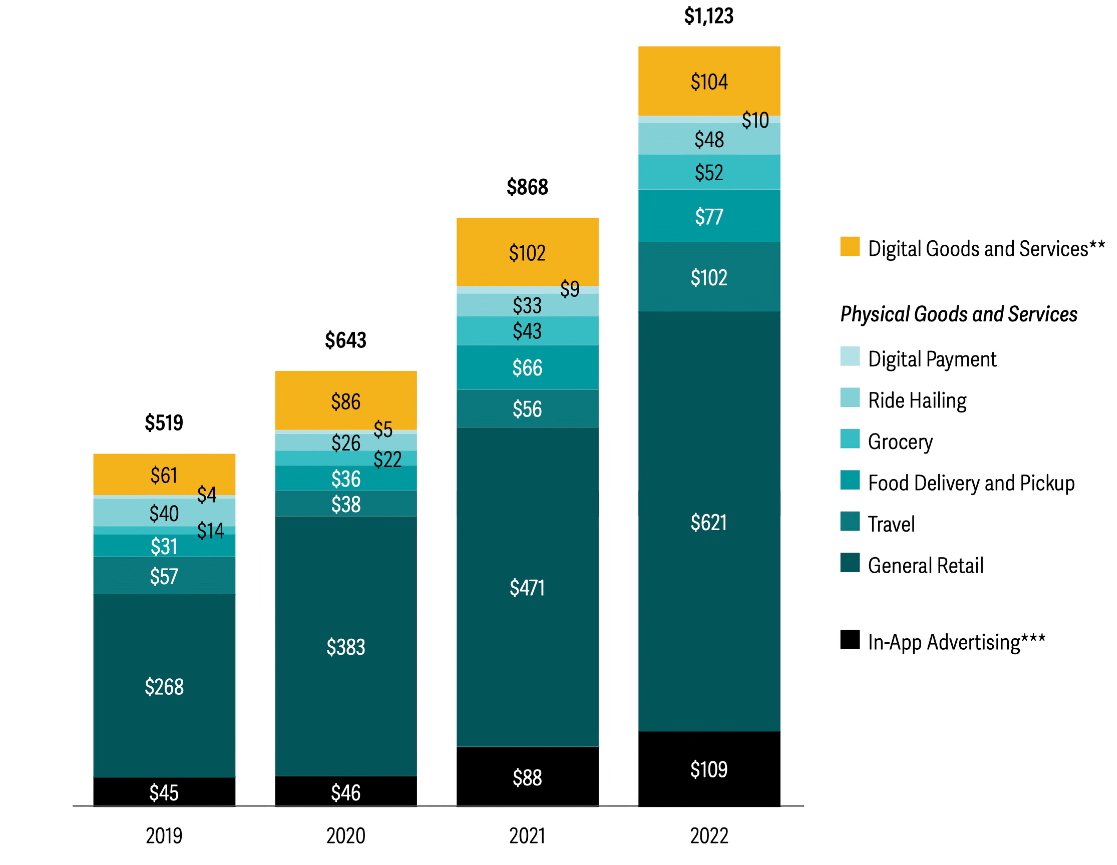 Estimated billings and sales facilitated by the App Store ecosystem by app category, 2019-2022
The growth rate further rose to 29% from 2021 to 2022. As a result, small developers experienced remarkable success on the App Store, surpassing more prominent developers by achieving an impressive 71% increase in earnings between 2020 and 2022.
There has been a significant surge in billings and sales for U.S. developers, exceeding 80% growth since 2019. Similarly, European developers witnessed an above-average increase of 116% in their billings and sales since 2019.
The analysts view these growth rates as positive indicators, reflecting a thriving marketplace characterized by dynamism, innovation, and healthy competition.
App categories
The research revealed that the billings and sales of developers, enabled by the App Store, experienced growth in a diverse range of categories. For example, as lockdown measures eased in various regions during the Covid-19 pandemic, specific app categories, such as travel and ride-hailing, experienced a substantial resurgence in demand.
Notably, sales made through iOS travel apps witnessed an impressive 84% increase from 2021 to 2022, while ride-hailing app sales saw a notable 45% rise in the same timeframe.
Food and grocery sales app categories have also demonstrated remarkable growth, emerging as some of the fastest-growing sectors. Since 2019, sales from iOS app-based food delivery and pickup services have more than doubled, while grocery sales have tripled.
Furthermore, enterprise apps have gained significant popularity among companies worldwide in recent years. According to Analysis Group's estimate of billings and sales, enterprise apps stood out as one of the rapidly expanding categories for digital goods and services in 2022.
The app-based entertainment category experienced the highest growth in digital goods and services, driven by notable trends like the creator economy and the rise of supporting apps in this field.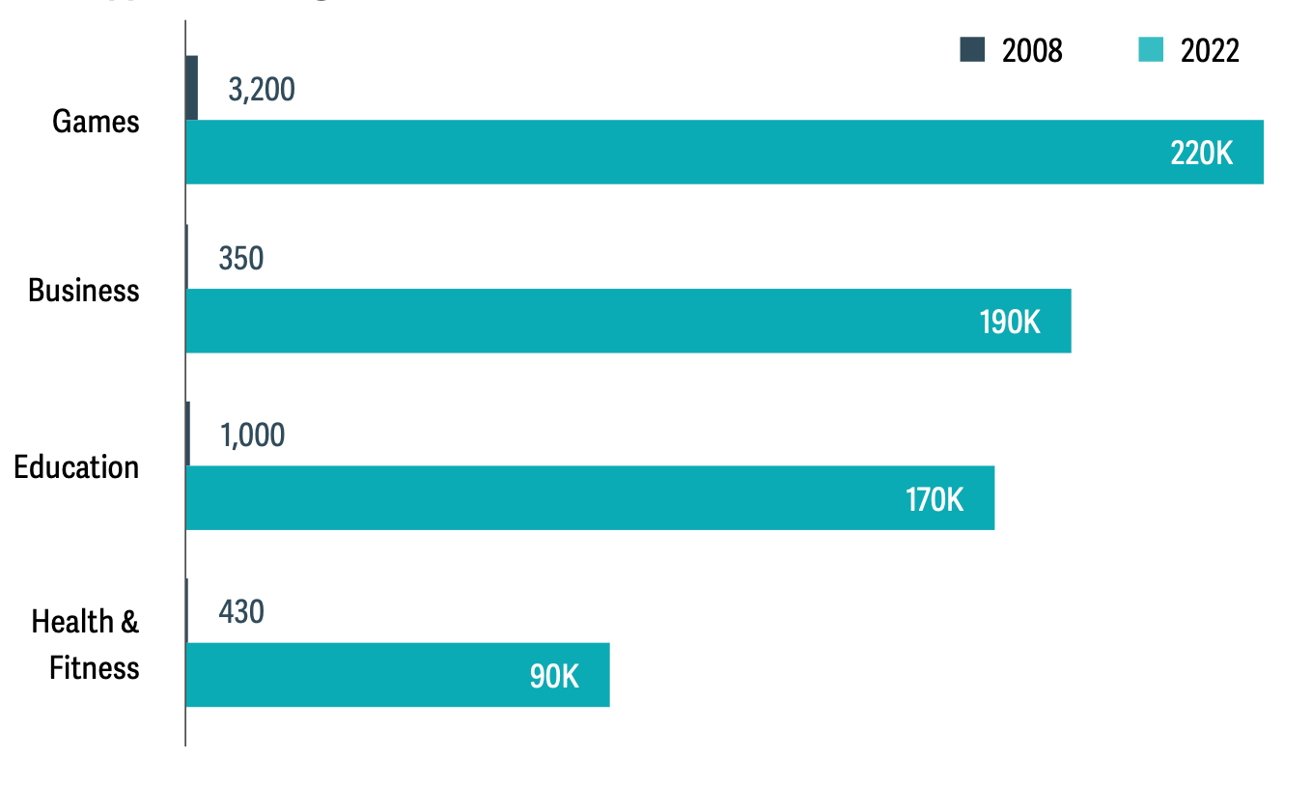 Number of iOS apps at the end of 2008 and 2022 in specific App Store categories
In total, iOS developers have accumulated earnings exceeding $320 billion on the App Store between 2008 and 2022. The study conducted by Analysis Group revealed that iOS users had downloaded apps more than 370 billion times during the same period.
The App Store boasts an extensive selection of nearly 1.8 million apps, approximately 123 times more than the range of apps available at the end of 2008.
"We've never been more hopeful about -- or more inspired by -- the incredible community of developers around the world," said
Tim Cook
, Apple's CEO. "As this report shows, the App Store is a vibrant, innovative marketplace where opportunity thrives, and we're as committed as ever to investing in developers' success and the app economy's future."
Read on AppleInsider