Apple India's record-breaking sales revealed thanks to unprecedented leak
Apple never shares sales figures for individual retail stores, but two industry executives revealed that the new Apple stores in India have achieved record-breaking monthly sales -- exceeding other retailers in the country.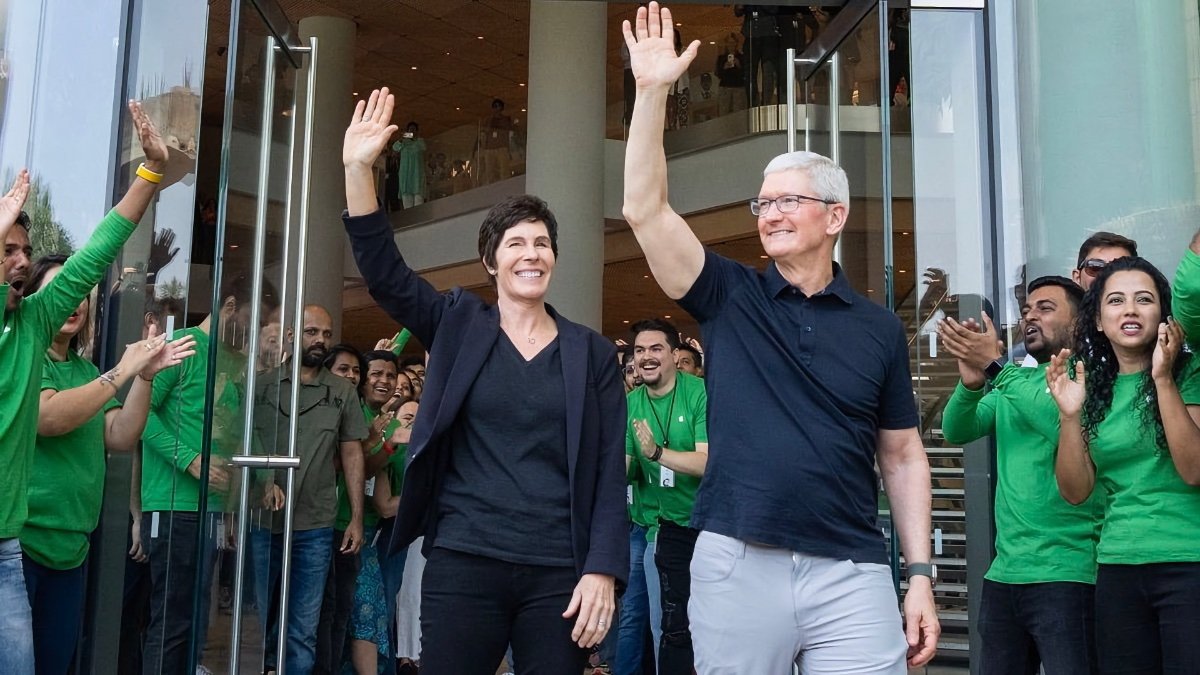 Deirdre O'Brien and Tim Cook at Apple BKC
Apple opened
its first
retail store in India on April 18, followed by
a store
in New Delhi just two days later. Their success has already propelled the company to the top.
According to two industry executives, Apple's initial two proprietary stores in India have recorded monthly sales exceeding 22-25 crore each, which is approximately $2 million to $3 million. This figure is more than twice the highest revenue that an electronics store in the country typically achieves outside the Diwali festival period.
The executives said that the Apple store located in Mumbai's Jio World Drive at Bandra Kurla Complex has achieved a position in the top 10 stores owned by Apple. The inaugural day of Apple BKC recorded sales worth more than ten crore (about $1 million), surpassing the monthly earnings of several prominent local electronics stores by 2-3 crore (roughly $240,000 to $360,000.)
Additionally, the revenue per square foot is more significant for the second store at Select Citywalk Mall in Saket, New Delhi. Apple Saket spans over 10,000 square feet, less than half the size of Apple BKC's 22,000 square feet.
However, their revenues are nearly equal, and both stores attracted more than 6,000 visitors on their opening day.
"The two company-owned Apple Stores in India are setting new benchmarks in terms of absolute and per-square feet revenue," said one of the executives. "This is due to the fact that the average selling price (ASP) of Apple products is much higher, which leads to higher revenue, and (since) footfall is still high, with both stores remaining crowded on any given day.
The sales have far exceeded Apple's own internal estimates."
IDC India, a market researcher, reported that the average selling price (ASP) of iPhones in India during the calendar year 2022 was approximately $935-$990 when purchased offline and $890 online. With the recent launch of two Apple-owned stores in India, the overall ASP of iPhones is expected to surpass $950 and reach $1,000 or more for offline sales, according to Navkendar Singh, Associate Vice President at IDC India.
"ASP increase will be partly because the company launched its owned stores in the two largest markets for Apple, New Delhi, and Mumbai, (that) makeup about a quarter of iPhone sales for the company," Singh said. "Apple stores will not give too many discounts and offers. Hence, we expect overall iPhone ASP to go up marginally in 2023."
The management of Apple's retail stores in India is overseen directly by the regional headquarters in London, with no direct involvement from the local India sales team. Nonetheless, the sales from these stores will be recorded under Apple India Pvt Ltd since the rental agreements for the two malls are signed by this entity.
The Saket store in New Delhi operates on a fixed rental basis, whereas the BKC store in Mumbai has a revenue-sharing component of slightly over 2%, as per executives' statements.
Read on AppleInsider