Azio Tera 75 Mechanical Keyboard review: incredibly solid, incredibly heavy
Azio's Tera 75 mechanical keyboard is sure to turn heads with its unique design -- but topping the scales at 3.5 pounds, this is one keyboard you'll want to leave on your desk.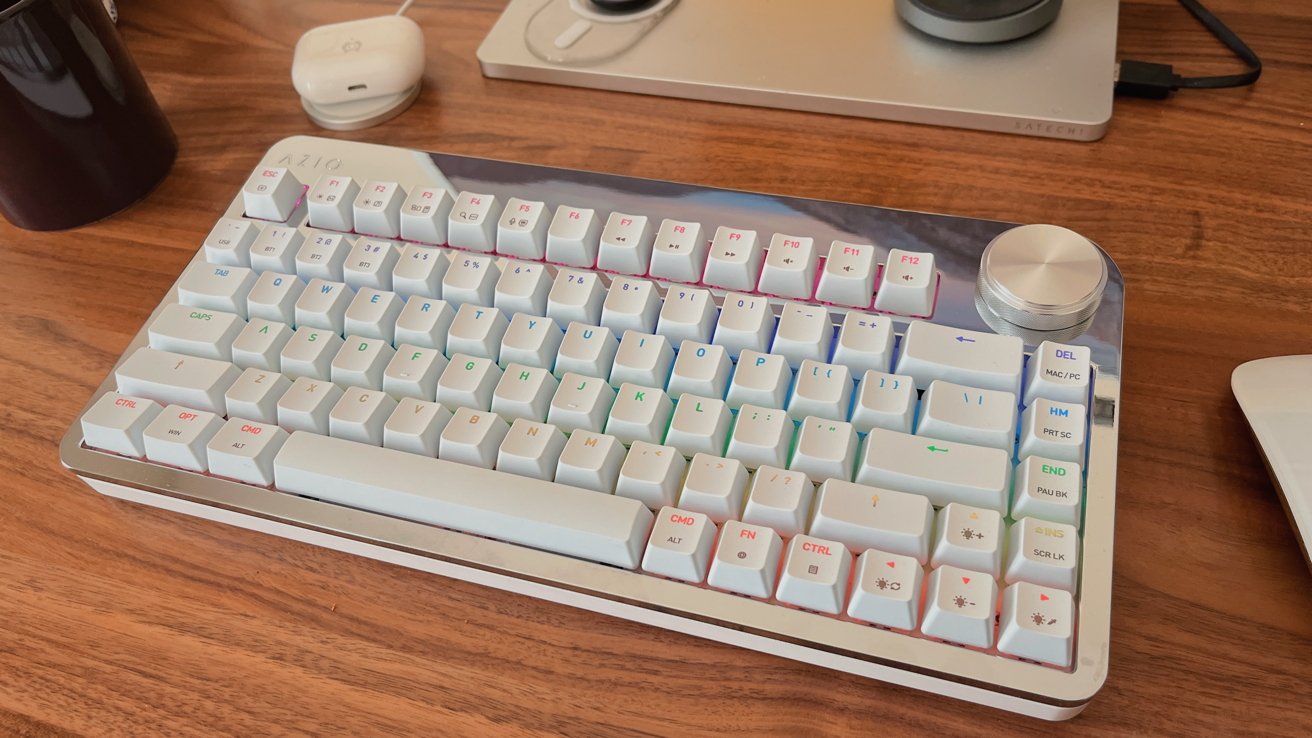 Azio Tera 75 Mechanical Keyboard
Mechanical keyboards are having a moment right now, and if you've tried one, it's easy to know why. Firstly, the tactile feedback of each keypress provides a superior typing experience, enhancing both speed and accuracy.
Additionally, the durability of mechanical switches offers a sense of reliability, ensuring that the keyboard will endure heavy usage without compromising performance. This is especially important for heavy users, such as those with desk jobs or anyone who loves extended gaming sessions.
That's why we're excited to check out the newest offering from Azio, the Tera 75 mechanical keyboard.
Azio Tera 75 -- Design
The Azio Tera 75 keyboard combines a sleek design with enough features to make it ideal for a wide range of users. The simple, modern design complements any desk setup, making it an excellent choice for work and play.
One of the standout features of the Tera 75 is its removable faceplate options, allowing for additional customization. It comes in colorways abyss, moonlight, and mortar -- or black, white/silver, and gray in layman's terms. Moreover, the availability of additional faceplate options, such as multi-chrome, black aluminum, and Damascus steel, adds even more customization possibilities.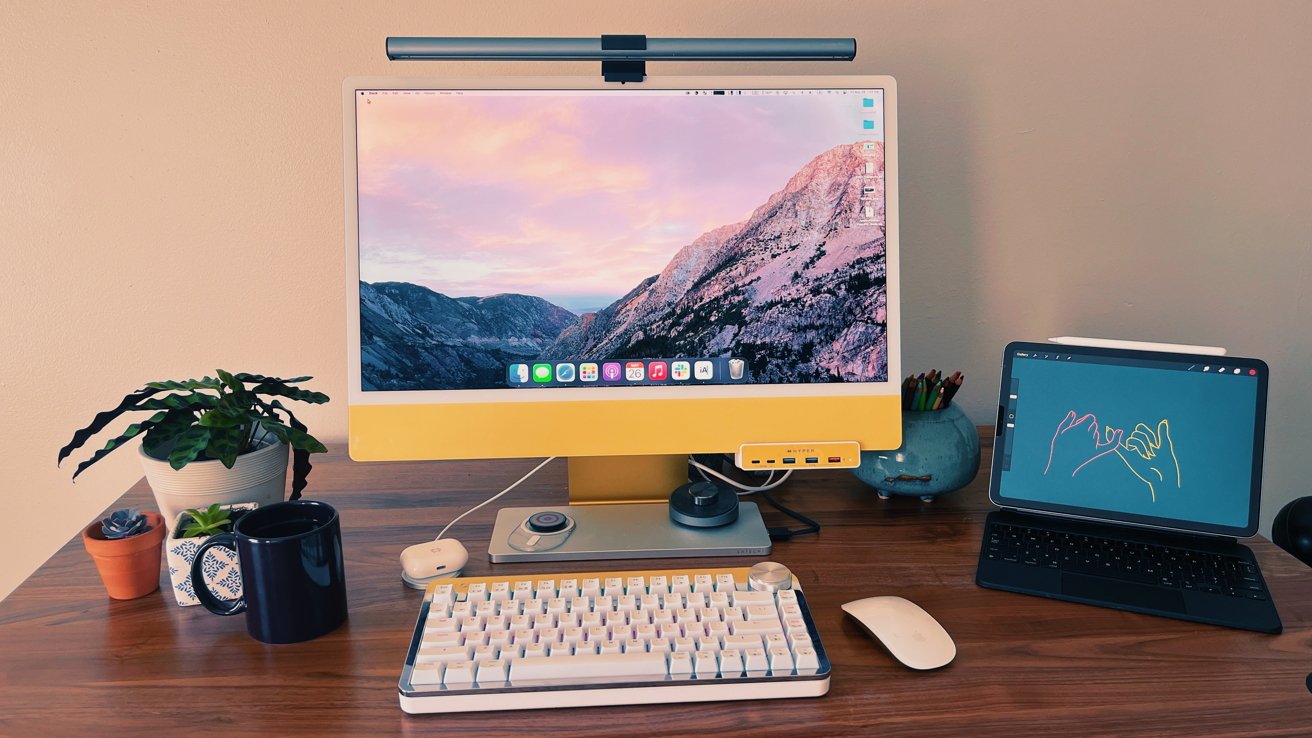 The Tera 75 is unique without being overly flashy
The 75% layout of the Tera 75 strikes a balance between compactness and functionality, featuring 81 keys that provide a comfortable typing experience while optimizing desk space.
While smaller than most full-layout keyboards, the Tera 75 is hardly what we'd call portable. With a weight of 3.5 lbs, we don't feel like this is a keyboard you stuff into a bag as you head out the door. However, it feels incredibly sturdy and seems like it would last quite a long time with proper care.
If you enjoy RGB lighting options, The Tera 75 doesn't compromise on that front. It features nine RGB colors and 19 preset lighting modes.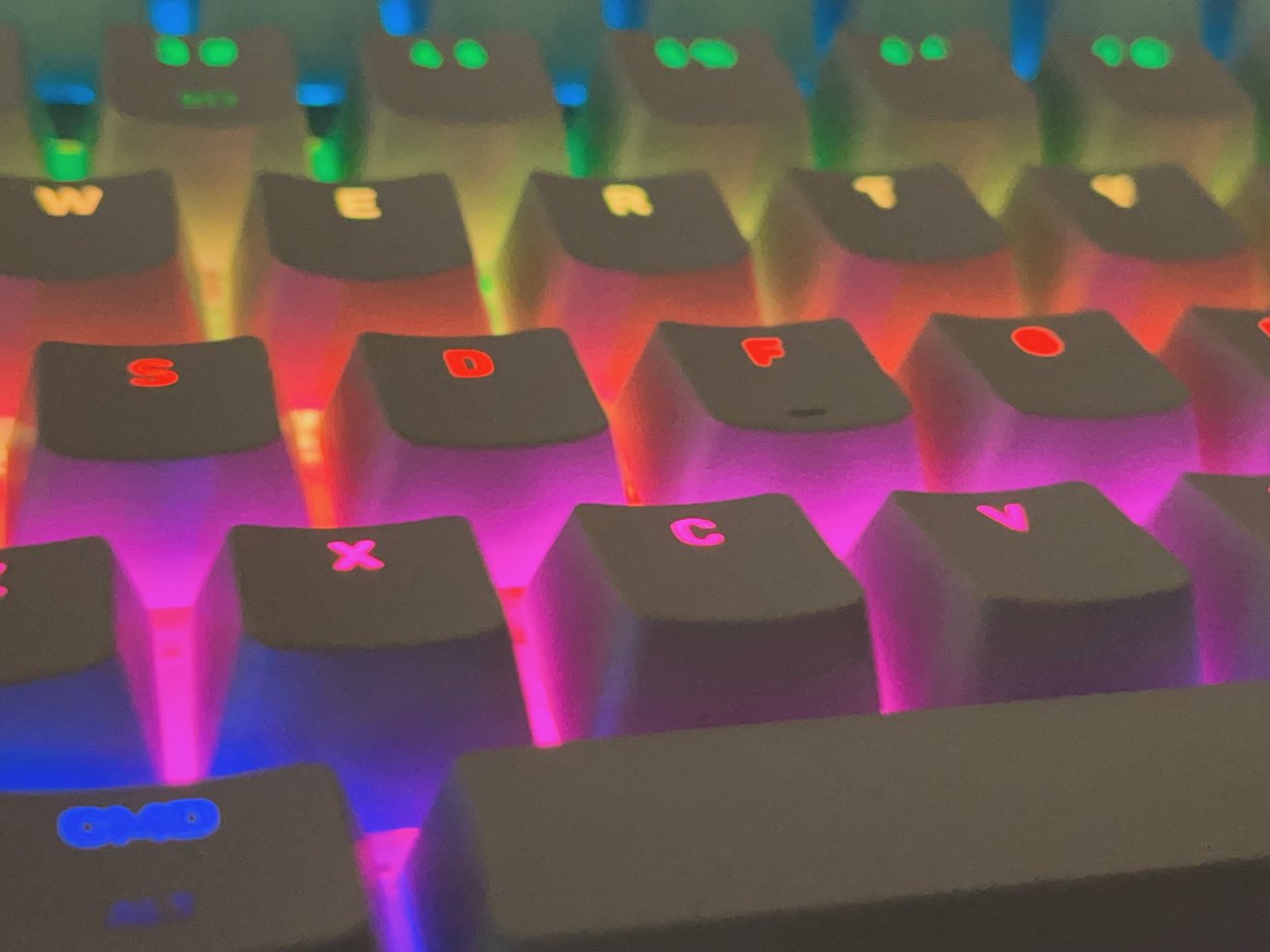 What we appreciated the most was that the keyboard doesn't feature a "gamer" feel. Instead, its sleek and modern design fits well in any space, and the RGB lighting can be turned on or off depending on your mood.
The control knob is another convenient addition, enabling users to easily adjust the volume or change LED functions. We absolutely love the knob, as it has a wonderful tactile feel to it.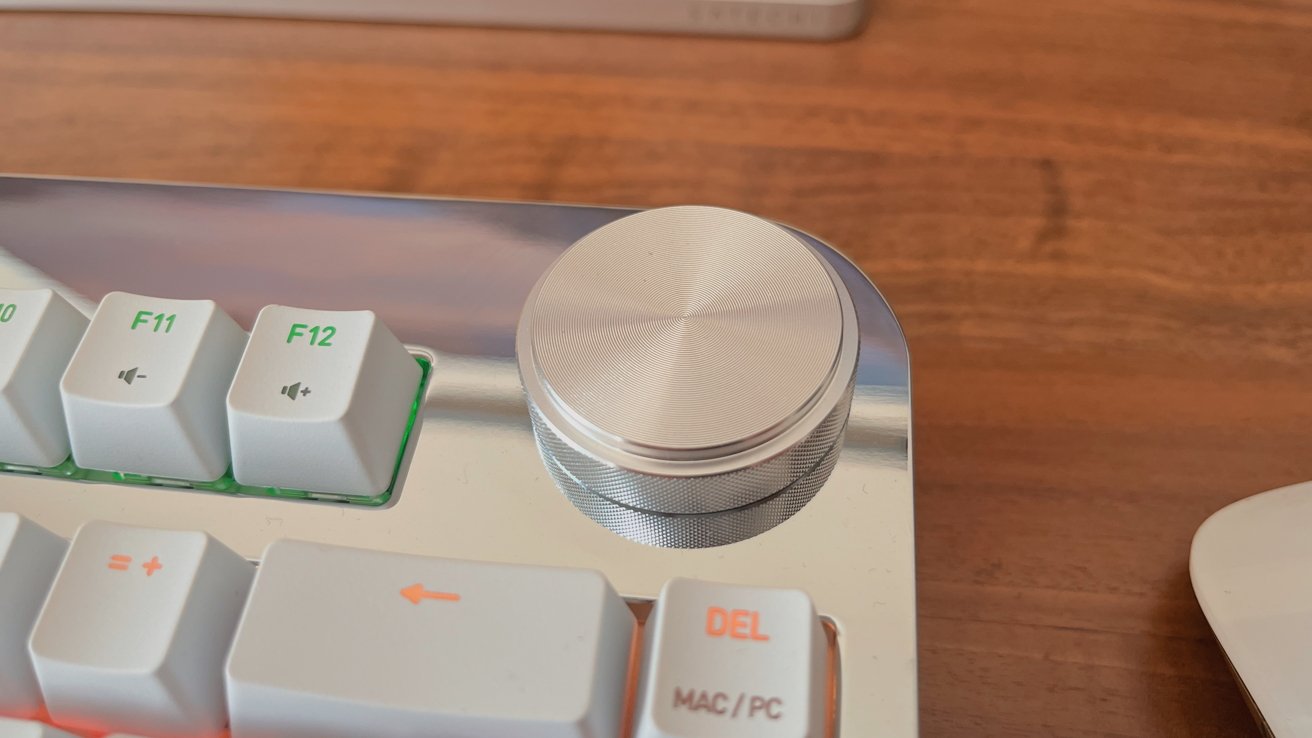 The multifunctional knob
The Tera 75 offers Bluetooth 5.0 and USB-C options for connecting to your computer or favorite devices. This allows simultaneous connection to up to three devices -- you pair it with your
iPhone
, iPad, and
Mac
and swap between the three on the fly.
A 4000mAh rechargeable Li-ion battery ensures long-lasting usage, minimizing the need for frequent recharging. It can be recharged via the included USB-C cable.
Like any good mechanical keyboard, the Tera 75 boasts hot-swappable switches, available in Gateron G Pro Blue, Pro Brown, Pro Yellow, or Pro Red variants.
This feature allows users to customize their typing experience without soldering, making it a convenient option for enthusiasts experimenting with different switch types.
Azio Tera 75 -- Performance
For testing purposes, we received the Moonlight colorway, which features a chrome faceplate and white keys. Our keyboard came with Gateron Pro G Brown switches, which are classified as tactile switches.
When it came time to use the Tera 75, we were pleased with how well it performed. We enjoyed the feedback of the G Pro Brown switches, which were tactile enough to provide good feedback, but not os tactile that they drew unnecessary attention to us while typing.
The G Pro Brown has an actuation force of 55 grams, a pre-travel of 2 millimeters, and a travel distance of 4 millimeters. They aren't clicky, like Gateron G Pro Blue switches, but they're not silent.
However, the Tera 75's sound dampers add a thoughtful touch by reducing noise, ensuring a quieter typing experience that won't disturb family, friends, or colleagues. We've used louder tactile switches in the past, and we think this keyboard would be fine for office or home use.
One thing we will note is that this is an especially "tall" keyboard. Therefore, if you're going to be using it for a decent length of time, you may want to invest in a wrist rest, as it can give you wrist fatigue otherwise. A wrist rest could alleviate that problem entirely, though.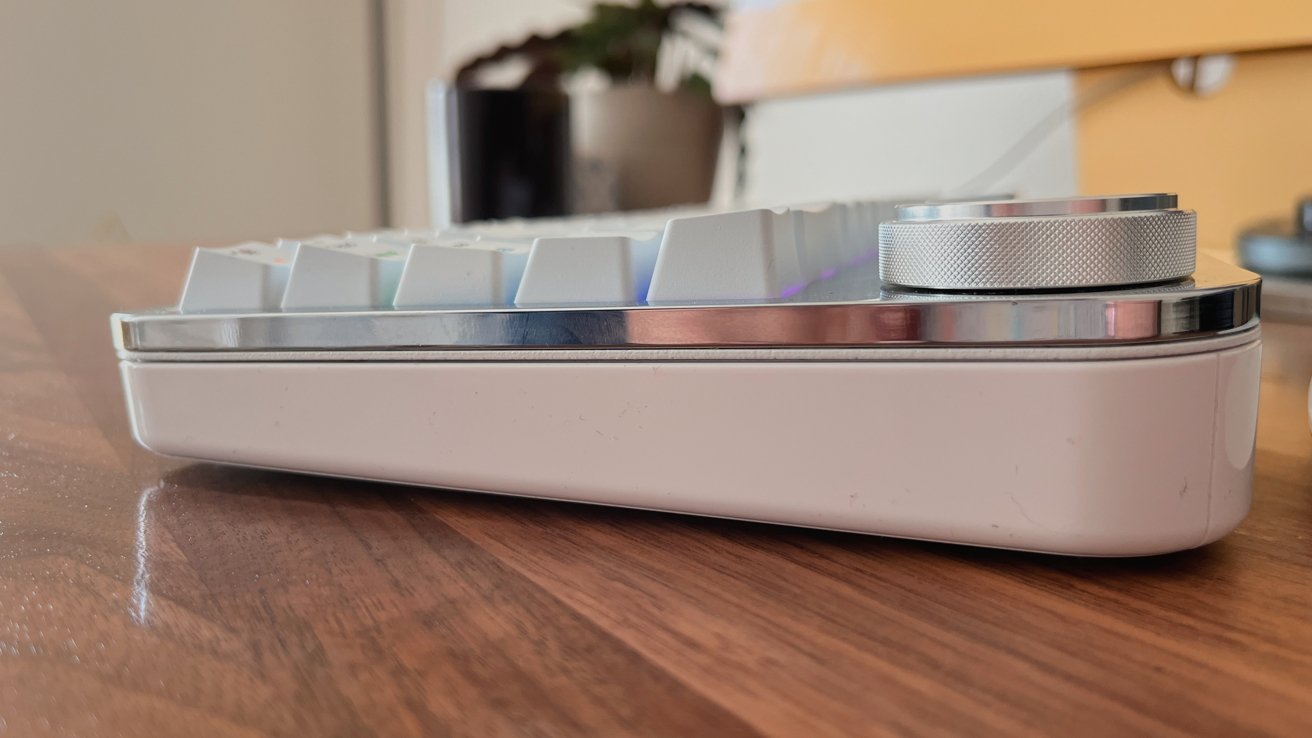 The high profile could cause increased wrist strain
While we haven't been able to test it, we have some minor concerns about the keycaps. Because they feature a white matte finish, we're a bit worried that they could stain with repeated use-- just a word of warning to any artists, parents, or people who eat at their desks.
Who the Azio Tera 75 is for
The Azio Tera 75 keyboard offers a stylish, minimalist design with additional customization options. It's well-designed, with features such as the removable faceplate, hot-swappable switches, and sound dampers, making for an excellent typing experience
If you're seeking a keyboard that effortlessly blends functionality and style, the Azio Tera 75 is certainly worth considering.
Tera 75 Mechanical Keyboard -- pros
Stylish design


Wide range of customization options


Sound dampers help to eliminate excessive noise


Switches feel good to type on


Switches are hot swappable
Tera 75 Mechanical Keyboard -- cons
Keyboard sits higher up, may require the use of a wrist rest at additional cost


Certain colorways could stain with prolonged use


Heavy weight makes it less portable
Rating: 4 out of 5
Where to buy the Azio Tera 75
Currently, Azio's Tera 75 is available to
preorder on Kickstarter
starting at $140, with additional add-ons available for purchase.
AppleInsider's stance on crowdfunding projects:
As always, crowdfunded projects are back-at-your-own-risk. Losing money is a real risk of such platforms. While backers can potentially get products before anyone else and other perks as well, sometimes crowdfunding efforts fail, and refunds aren't guaranteed.
Read on AppleInsider