Eve Flare review: Thread makes for a more responsive smart light
The new Eve Flare smart light looks a lot like the original one, except crucially, it can now connect via Thread and will soon be updated to support Matter.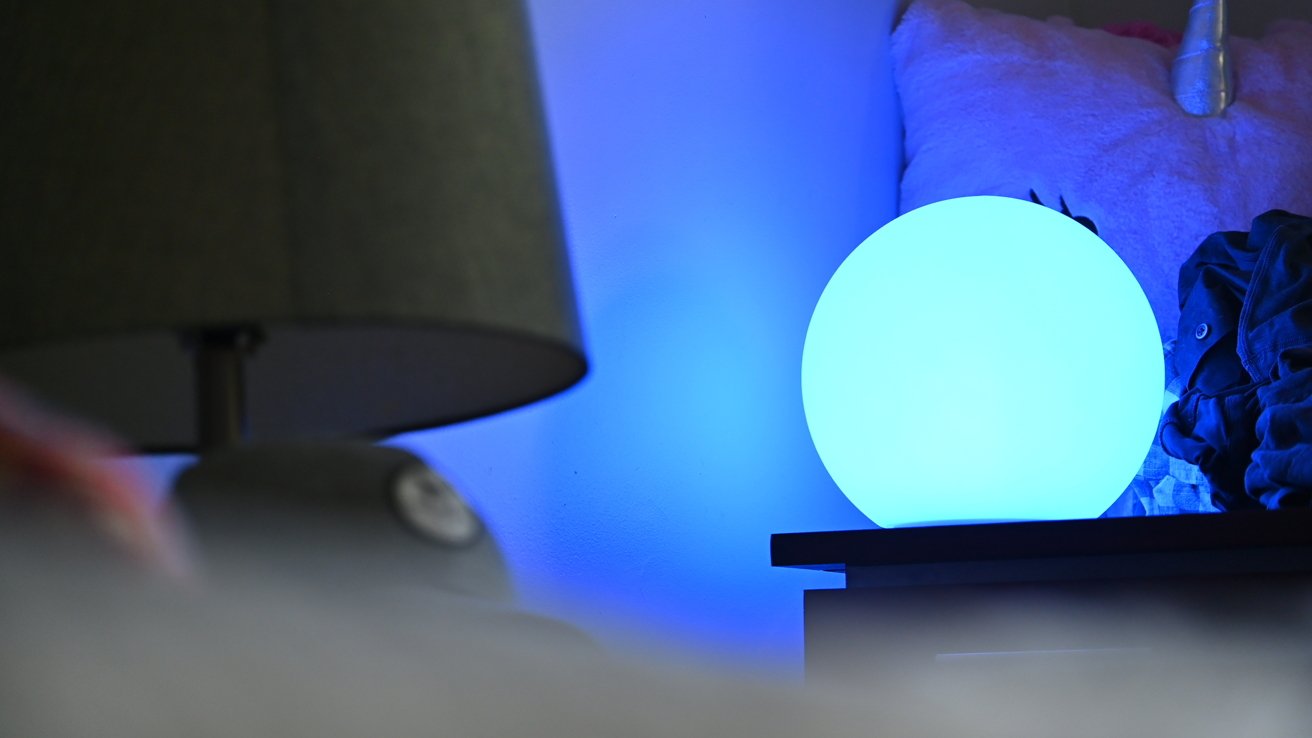 Eve Flare now has Thread
Eve Flare is one of our favorite smart lights. It's a large, opaque, basketball-sized globe to put atop your dresser, nightstand, or shelf.
Like all of Eve's products, it is certified to work with Apple Home, so you can control it from the Home app or via
Siri
. If you have other Apple Home accessories, they can be tied together.
You can create a scene that turns on your headboard light and the Eve Flare when you walk into your bedroom during the afternoon. Or set the Flare to turn on when your morning alarm goes off.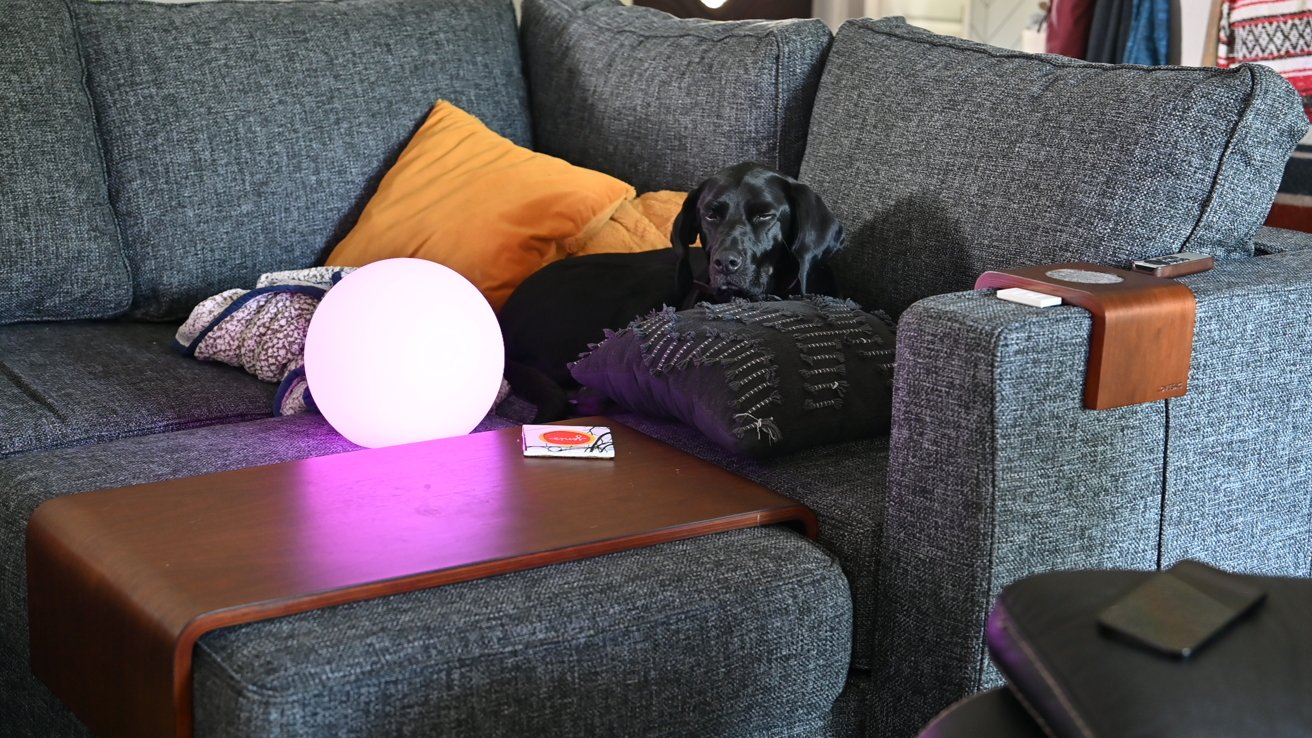 Eve Thread is portable, so we use it on our couch for movie night
It supports multiple temperatures of white and millions of different colors that can be chosen from the Eve app or Home app.
With
HomeKit
support, you have tons of options to automate and illuminate your home.
Eve Flare - the same unique design
In the second-generation Eve Flare, the design hasn't changed. It's the same size and shape and offers all the same features as before.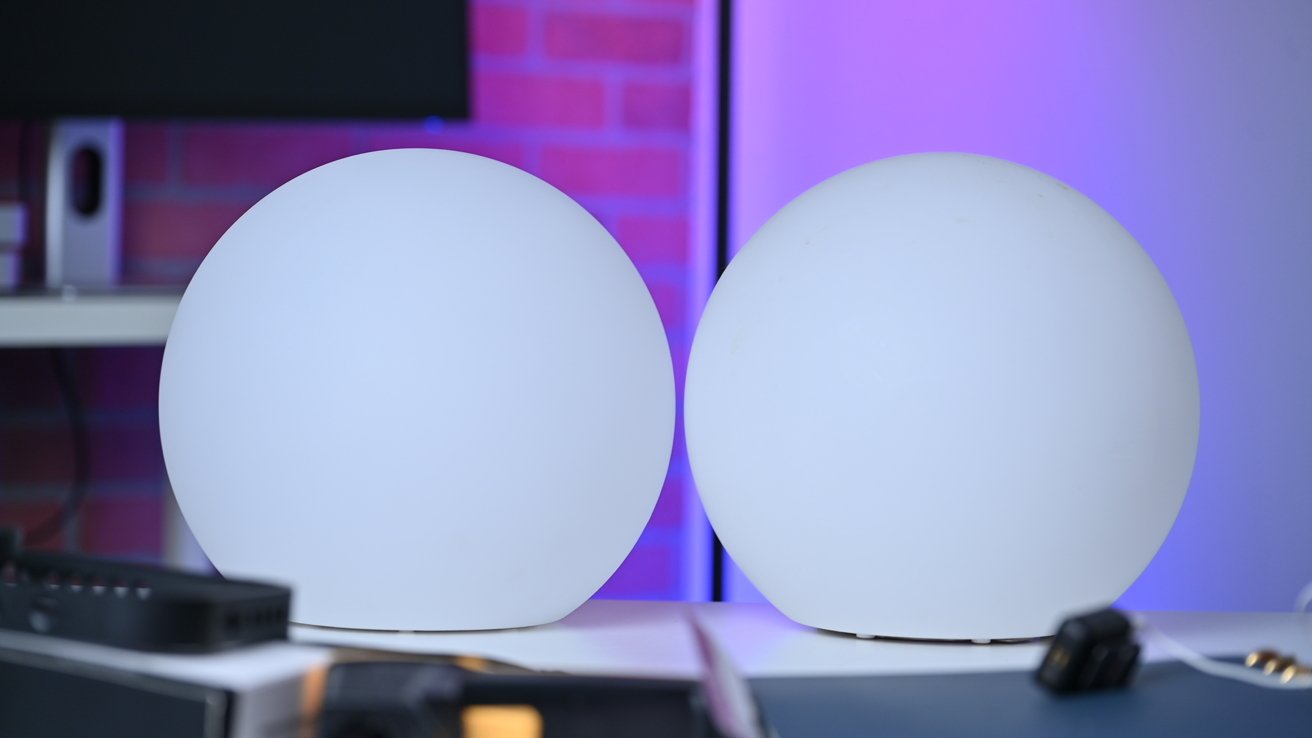 First versus second generation Eve Flare
The light sits on top of a plastic wireless charging pad that uses standard pogo pins to power up the battery. The light can be lifted and carried around the home, bringing its light wherever you go.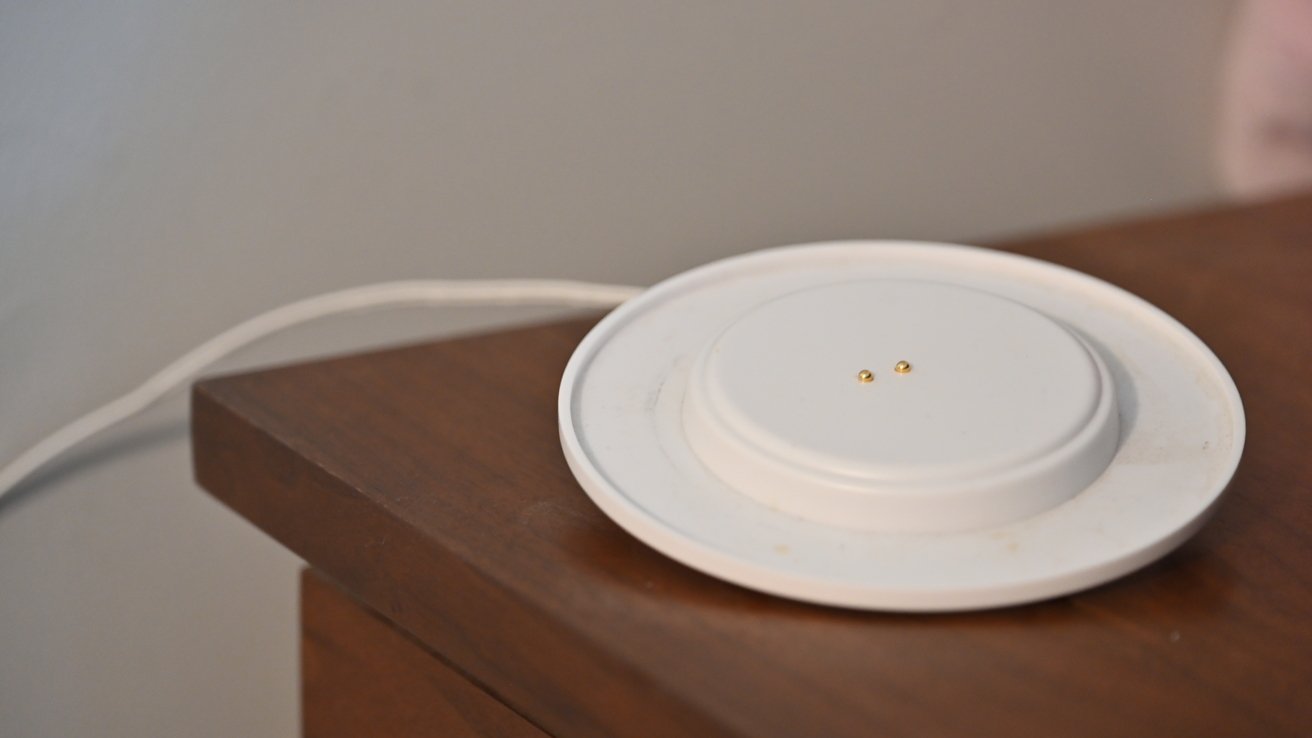 Eve Flare charging base
After living with the last generation charging pad for years, we wish Eve would've upgraded this new model with a more weighted base. It's so light it has the propensity to slide off your counter when the light isn't there.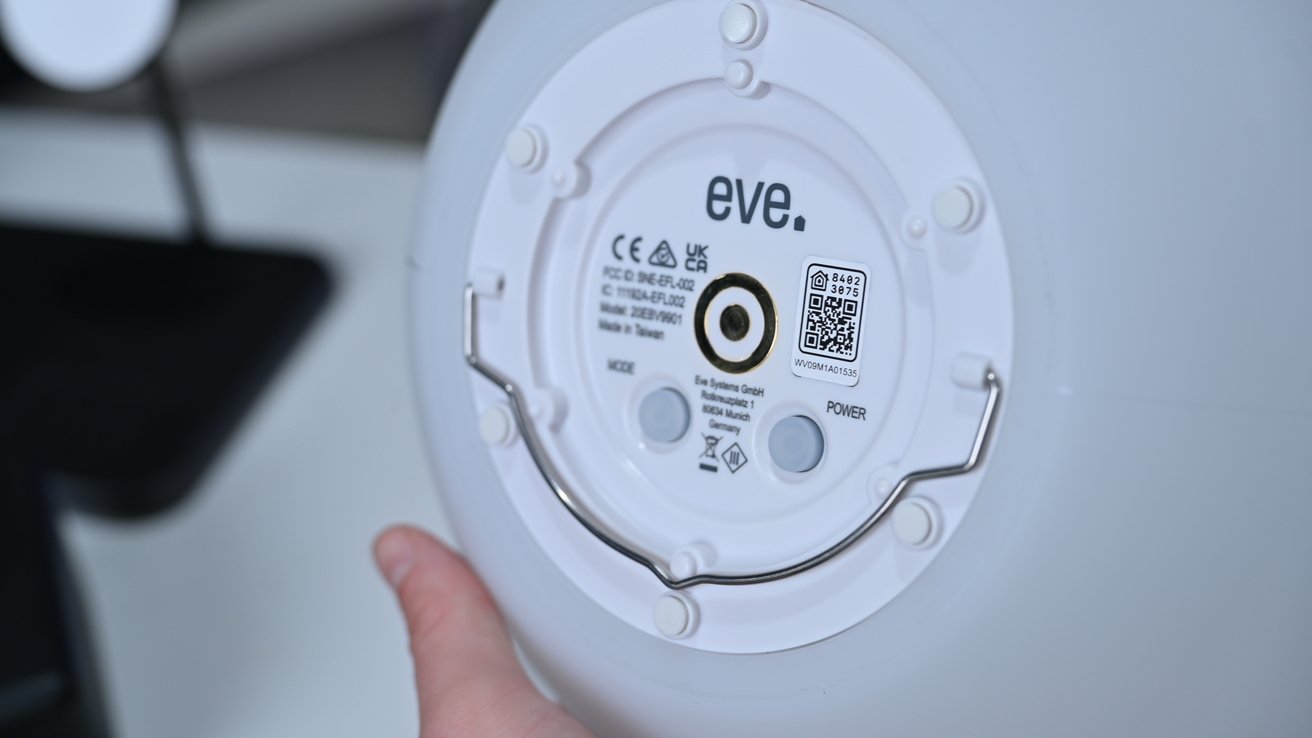 Eve Flare buttons
There is a small button on the bottom of the Flare to wake the light and a second mode button to cycle through your favorite colors. It also has a thin metal handle to carry or hang the lamp.
The Flare is also an indoor-outdoor light, featuring IP65 water resistance to withstand splashes or light rain and a 6-hour battery life.
Eve Flare - thread connectivity
What has gotten an upgrade is how the Flare connects. The first model used Bluetooth, which, by and large, was a slow way of controlling the light.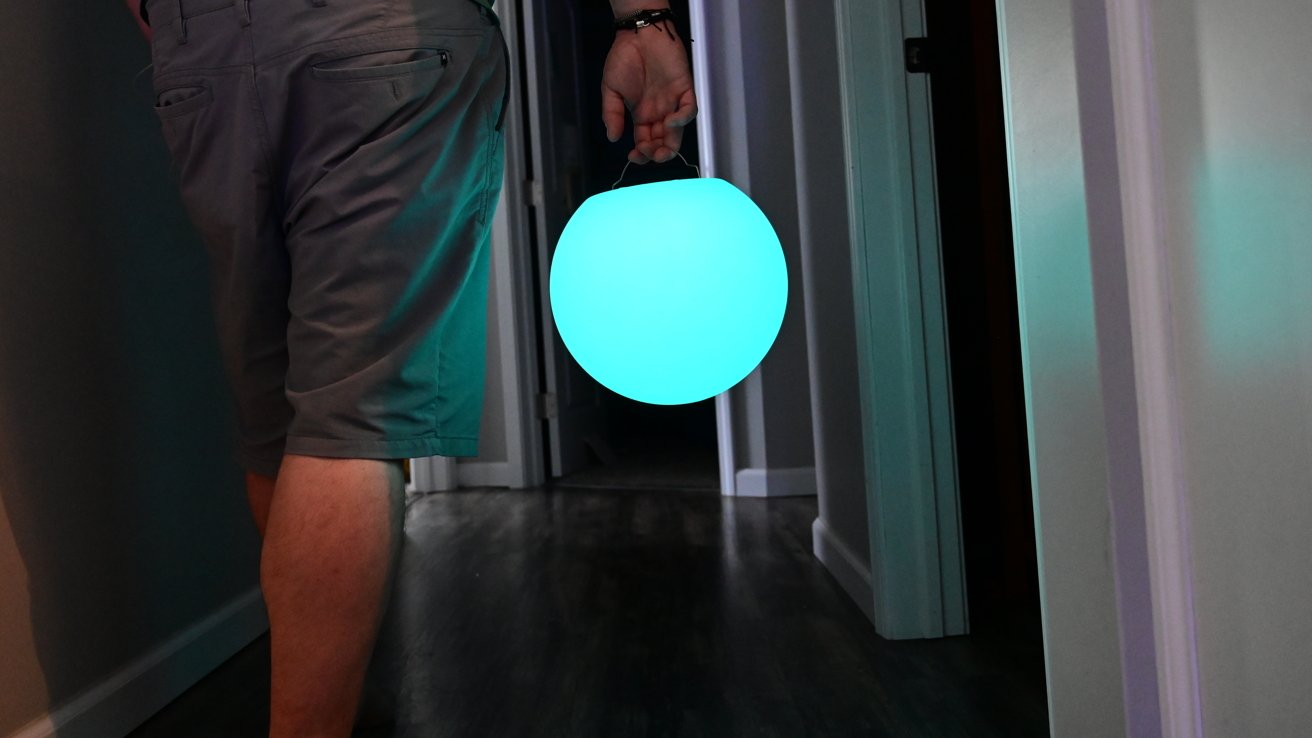 Carrying the Eve Flare
Especially out of a sleep state, the original Eve Flare took in excess of 30 seconds at times to connect and respond to a request. Thread
mostly
fixes this issue.
Thread is an emerging connectivity standard, boasting benefits over both Wi-Fi and Bluetooth. It is incredibly battery efficient but even faster than Wi-Fi.
With multiple Thread devices, it will create a mesh network over your home which can extend the network beyond your Wi-Fi range and is self-healing if a device should go offline.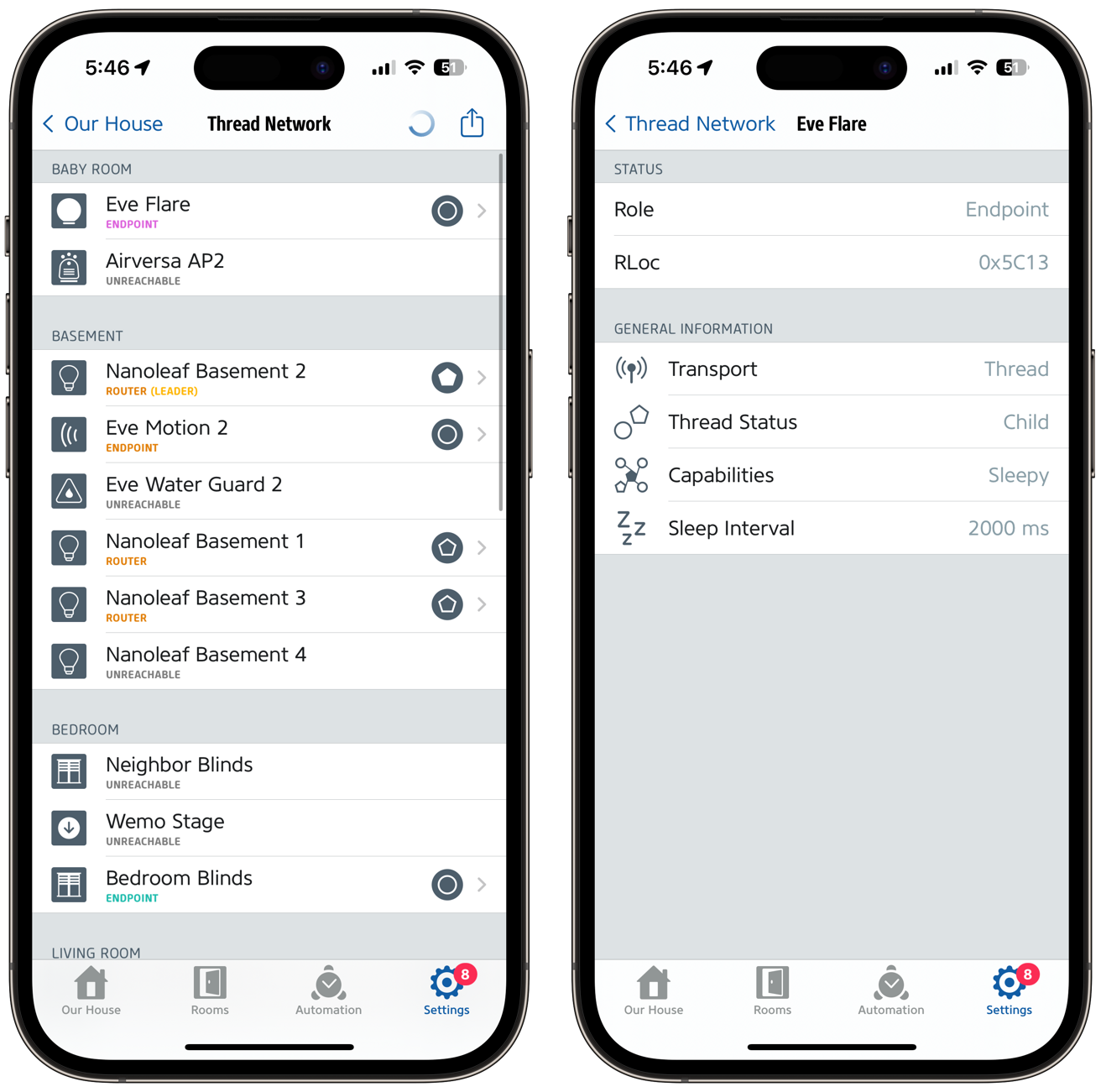 Viewing our Thread network in the Eve app
In our testing, the new Eve Flare was much improved when we asked Siri to turn the light on or off. It happened almost instantly and was a solid upgrade in performance.
When we moved it around our home, it seemed like it needed to find its place on our Thread network and would occasionally lag, but once it connected, it was back to its zippy performance.
Who the Eve Flare is for
The upgraded Eve Flare is an improvement. You can't argue with the new speed and responsiveness.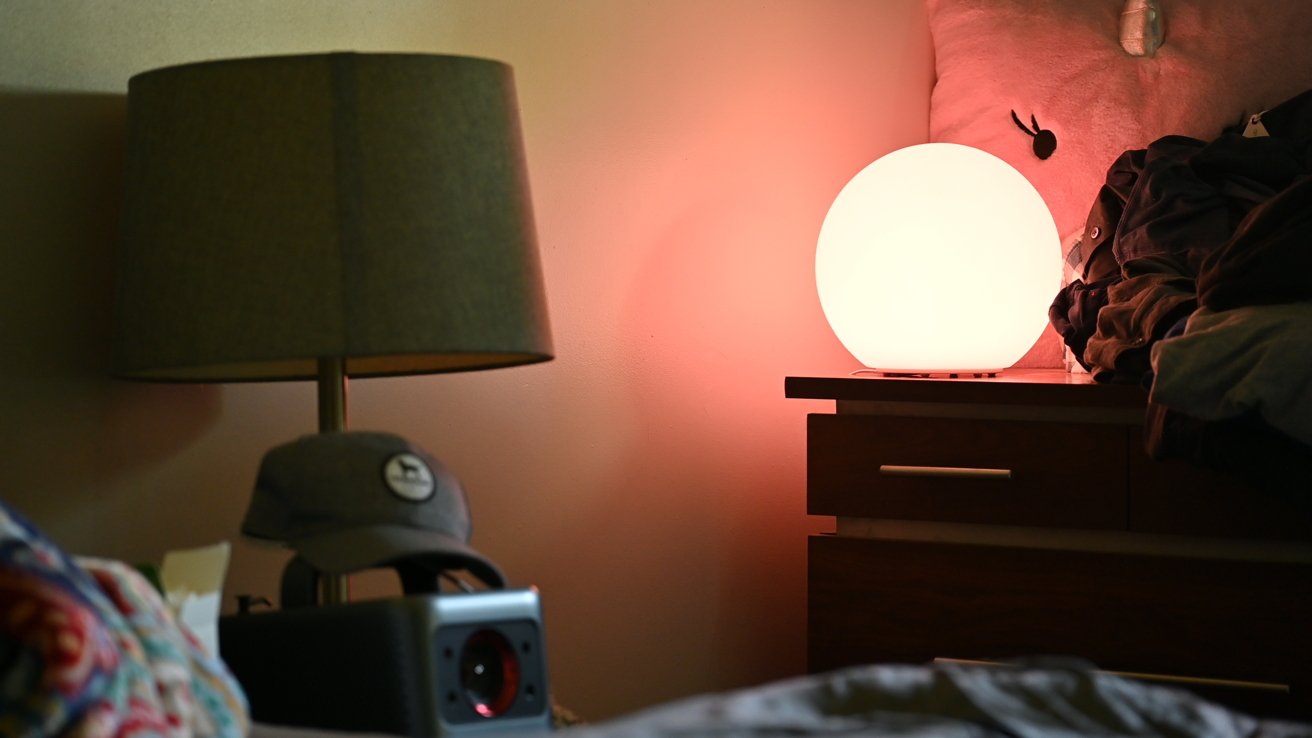 Eve Flare in our bedroom
At the same time, it feels like a boring upgrade. If you have the original, we wouldn't necessarily recommend replacing it with the new one.
We'd have liked to see a better-charging base, an increase in brightness, or a boost to battery life.
If you're in the market for a portable smart light, though, the Eve Flare is well-positioned. Almost no other HomeKit-enabled lights exist that run on battery power and can go outdoors.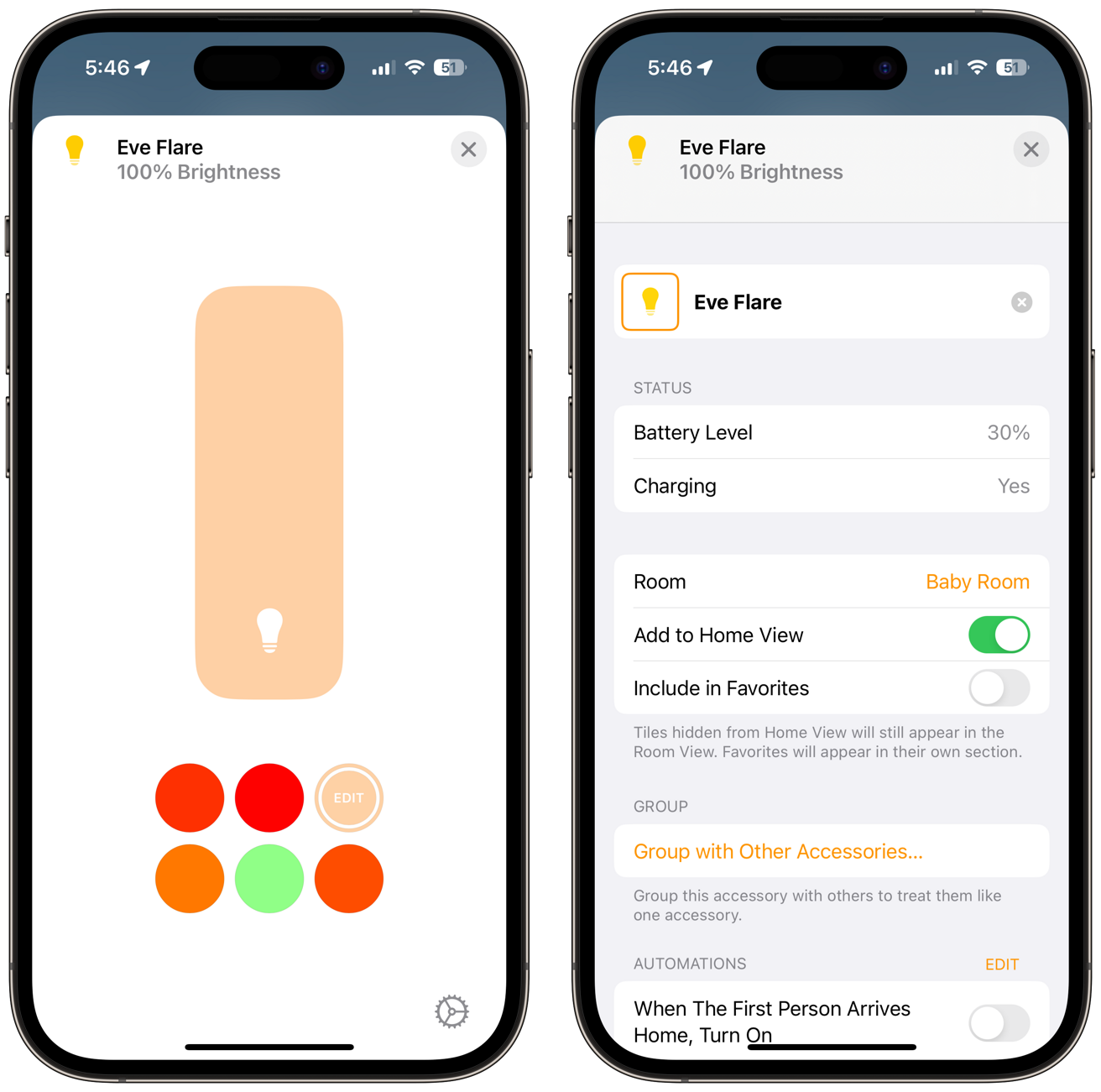 Eve Flare control in the Home app
Matter support is coming too. In a future firmware update, the Eve Flare will adopt Matter to make it compatible with other smart home platforms like Amazon Alexa and Google Home.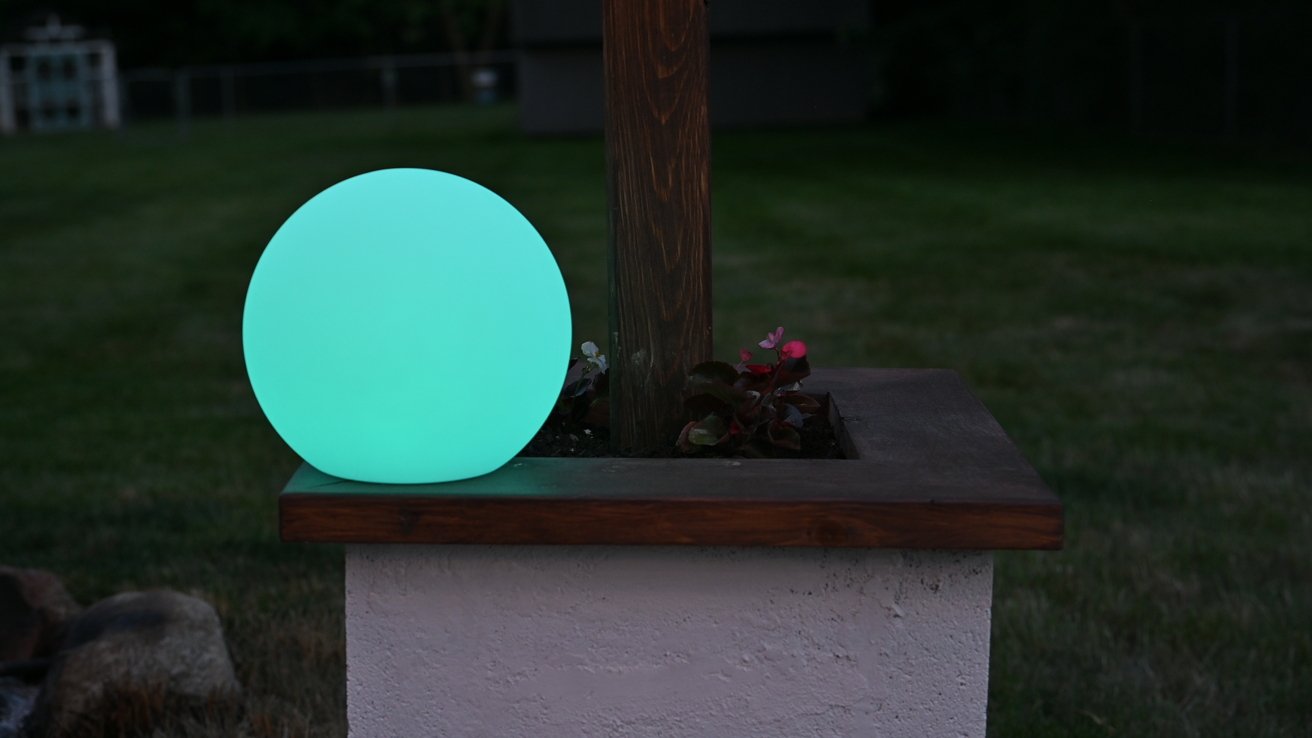 Using the Eve Flare outside
This is a unique smart light that got a much-needed upgrade, even if it was slightly underwhelming for long-time fans.
2023 Eve Flare -- Pros
Unique globe shape


IP65 water resistance


Millions of colors


Apple Home support


New model with Thread networking


Matter upgrade coming soon
2023 Eve Flare -- Cons
No other changes from original model
Rating: 4 out of 5
Where to buy the 2023 Eve Flare
Buy the new Eve Flare with Bluetooth and Thread
on Amazon for $99
.
Read on AppleInsider