Rollo wireless label printer review: Thermal, AirPrint-enabled postage printing
To wireless Rollo printer is the must-have gadget for anyone who frequently ships products -- whether just to friends and family or operating a small business.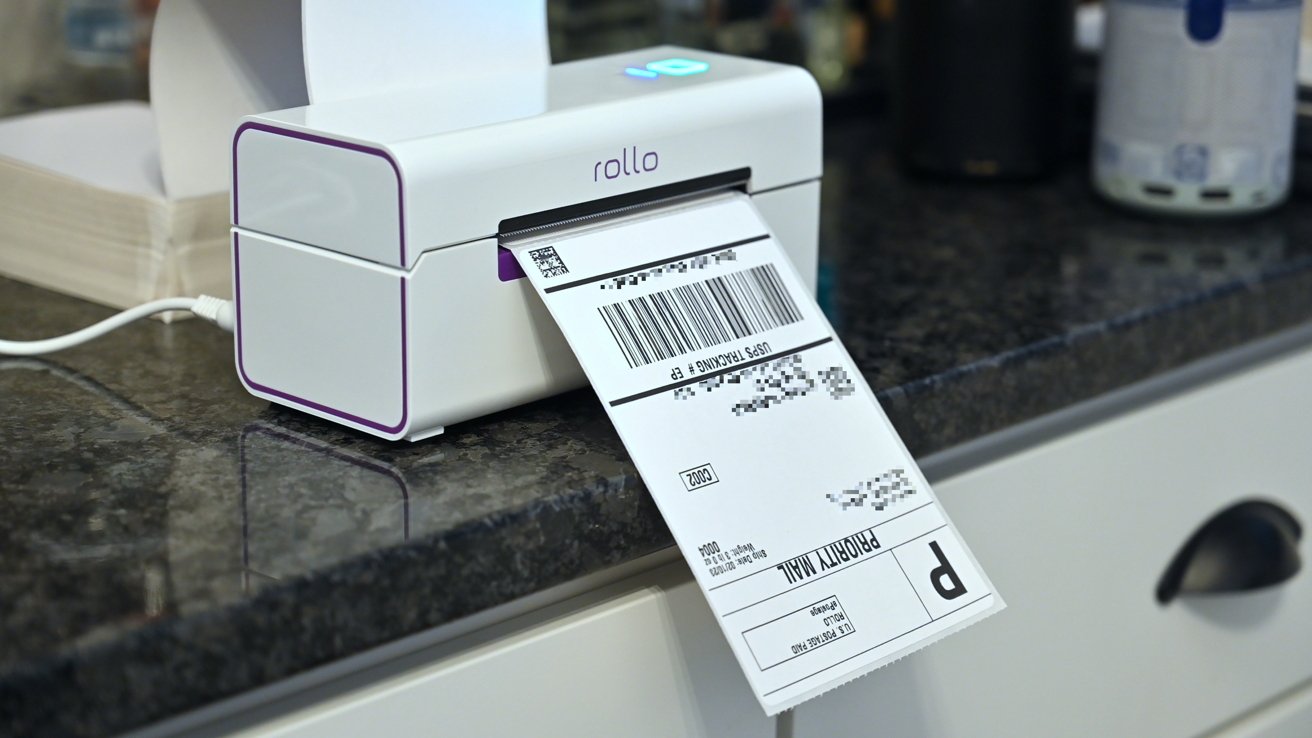 The Rollo wireless printer
Printing labels is an absolute pain. You have to deal with everything from being overcharged for portage, printing them at the right size, to adhering the labels to the packages themselves.
While it won't fix all the pain points of online shipping, the new Wi-Fi enabled Rollo thermal printer sure does its best to alleviate most.
Because this is a thermal printer, it requires no ink or cartridges. It just uses heat and compatible thermal paper. It does have a lifespan of about 650,000 labels though, so it won't last forever. But, if you're shipping 650,000 packages, you're probably going to look for a more industrial solution anyway.
It will fit paper and labels from 4 cm (1.57 inches) to 10.4 cm (4.1 inches) wide, and theoretically infinite length, allowing for just about any label to be printed.
Rollo wireless printer - a compact design
The Rollo printer is one of the most compact printers and far smaller than your traditional full-sized printer. Of course, this only prints those small labels and not entire sheets of paper.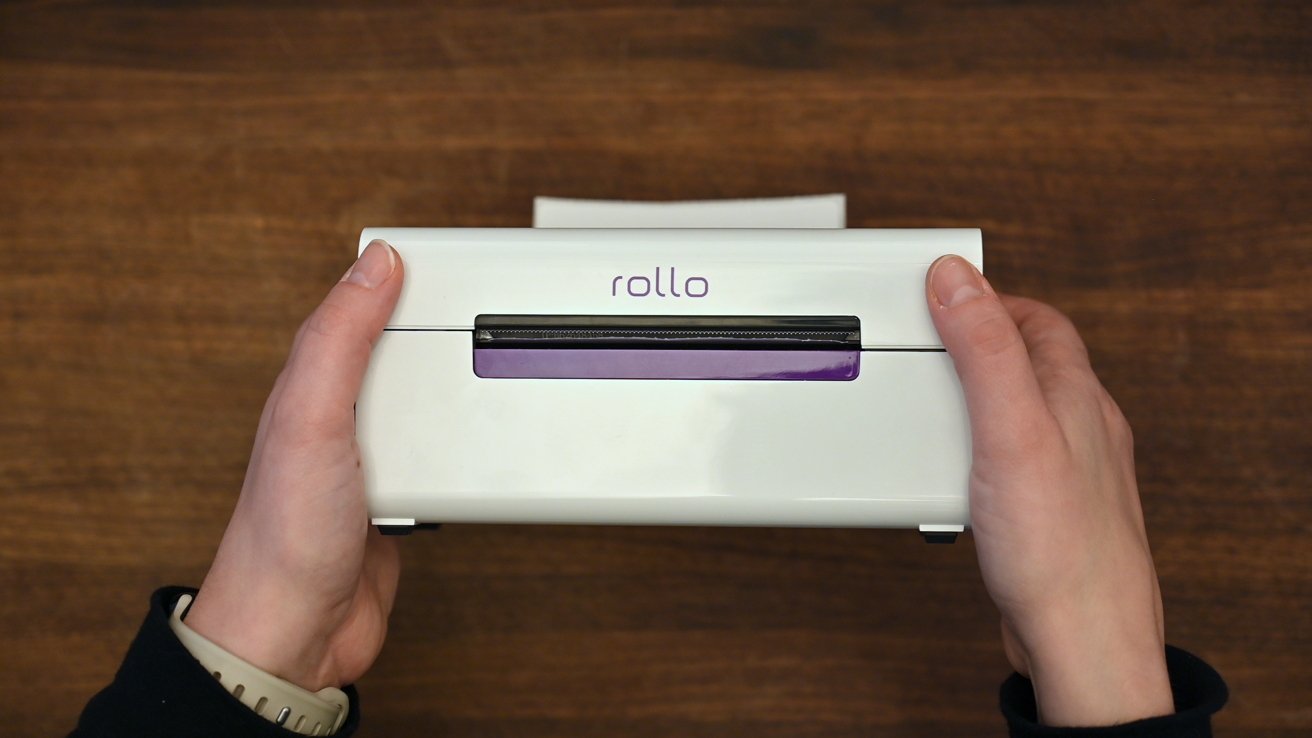 Holding the Rollo printer in our hands
It makes it almost a little awkward to place though, because neither the paper nor the power supply are within the printer. The power supply, an off-the-shelf adapter with a Rollo sticker on the top, can hopefully sit under your desk.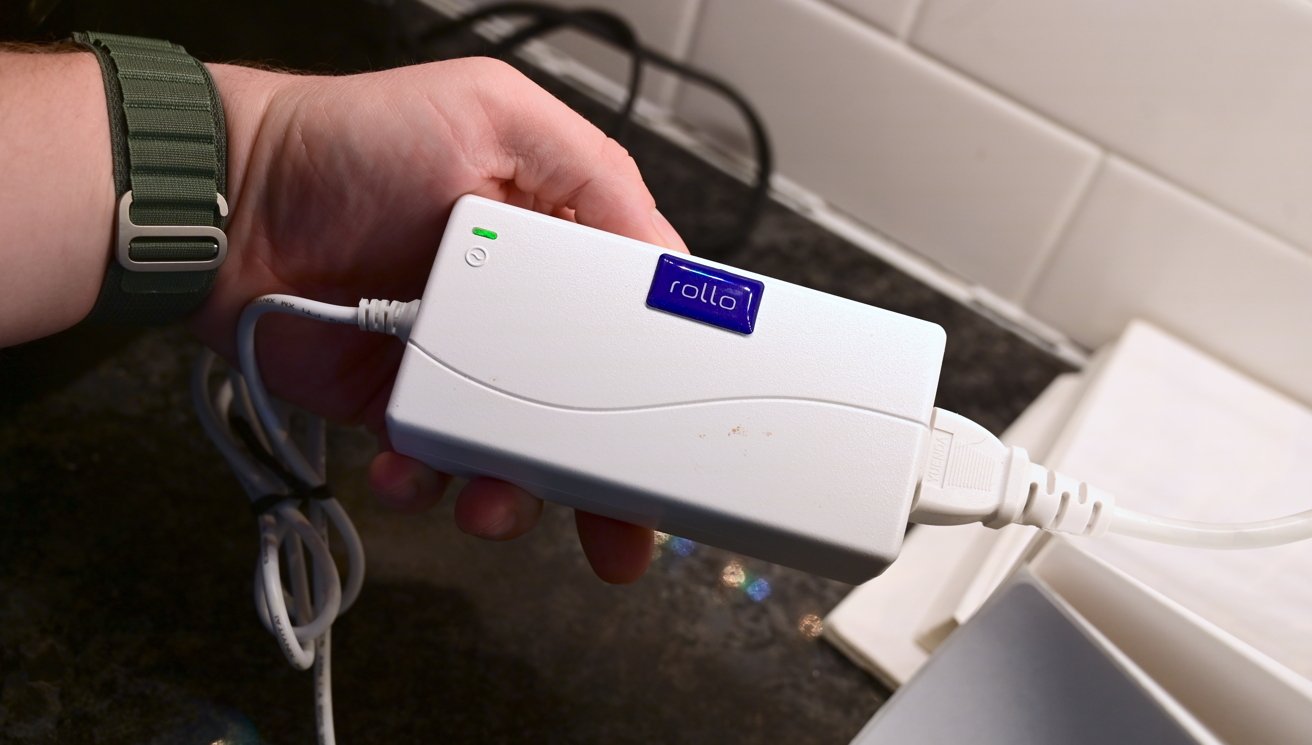 The large power supply
At least Rollo labeled the power supply so you know where it belongs if you were to pull it out of a box of cords. On the back of the printer, you'll find the power input, a USB type-B port, and a physical power toggle.
Paper comes as a stack of labels that accordion-folds onto itself. The topmost label is placed into the open printer before the top is closed, securing it in place.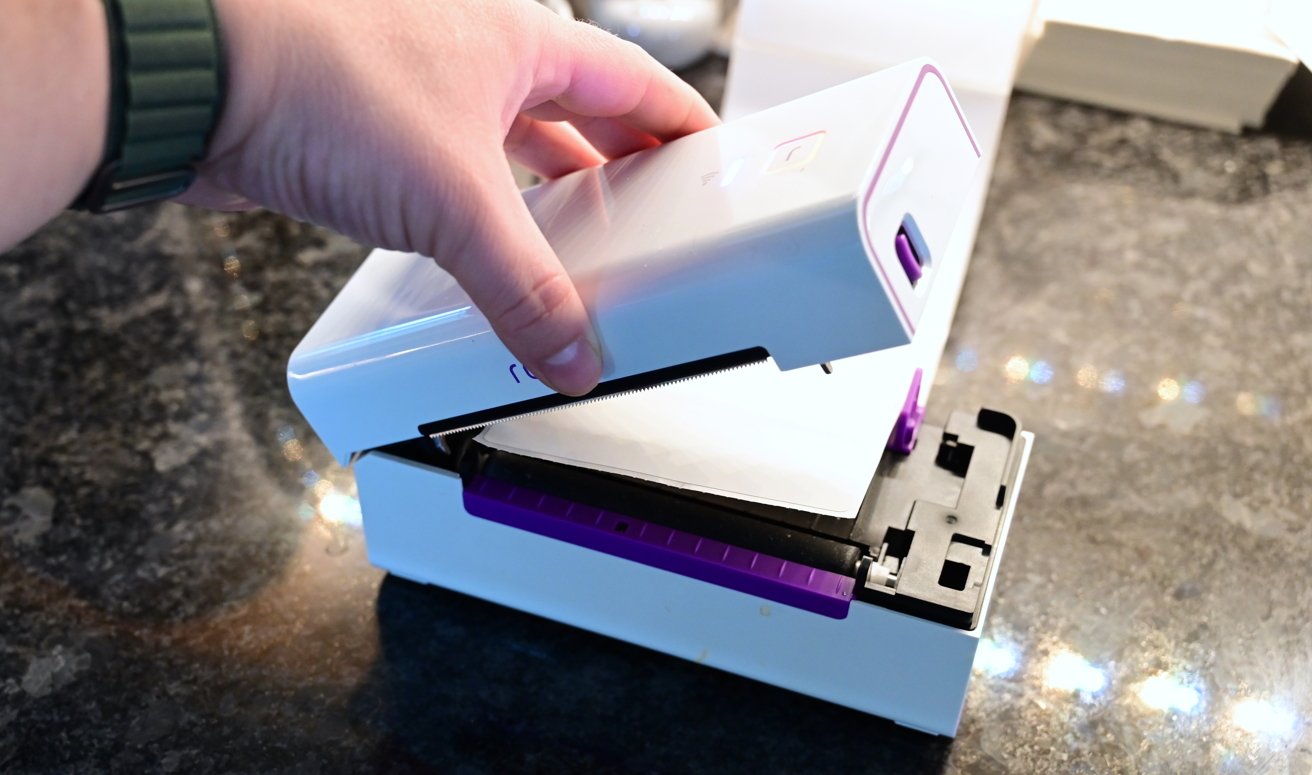 Inserting new paper in Rollo
Once the paper is loaded inside, it will shoot in and out of the printer as it detects the front edge and properly aligns it for the next print job.
Rollo wireless printer - saving on printing
There are plenty of variables, but as a generality, the Rollo printer can help you save on printing costs. Many apps and services have negotiated prices through the big shipping companies here in the US.
UPS, FedEx, and USPS are among the shipping services that can offer lower costs when you buy the label through the Rollo app compared to the companies themselves.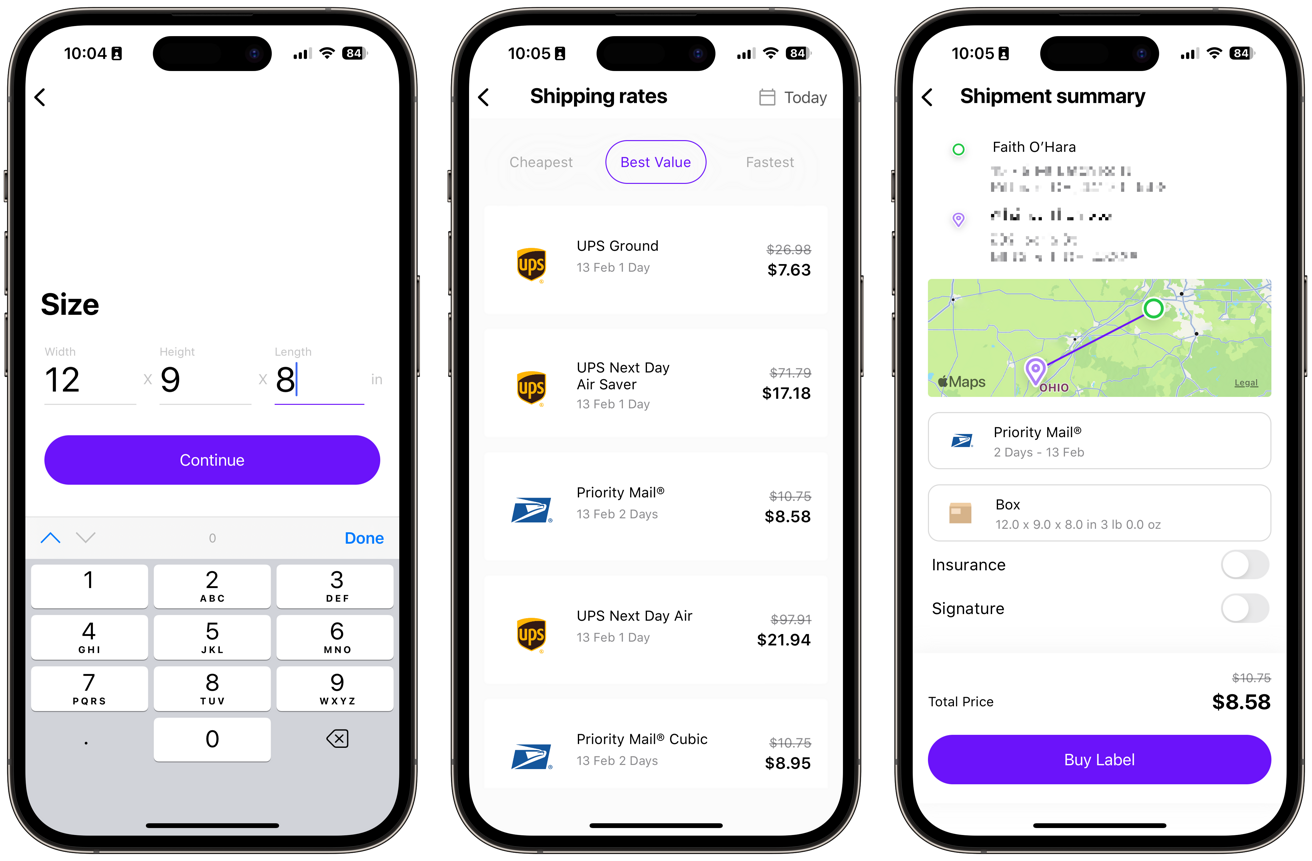 Creating a shipping label
We go to create an on-demand label and Rollo guides us through entering the package details like weight and dimensions. We then get shown all the various options for shipping the package and how much we can save.
Shipping a small box within the same state would cost $10.75 when purchased through USPS but only is $8.58 via Rollo. UPS apparently would have also charged us $71.79 for Next Day Air service but it was only $17.18 in the Rollow app.
You can get similar rates with ShipStation, eBay, PirateShip, or EasyShip, but this was the far better solution as it has a great UI, accompanying hardware, and no monthly fee.
Rollo wireless printer - an excellent mobile app
Unboxing the Rollo printer was a treat. It was incredibly thoughtful with internal printing and a quirky unboxing experience that had lots of attention.
Beyond that, the hardware is also premium. The printer looks sleek and compact, is easy to operate, and takes up very little space.
What we didn't expect was the excellent mobile app.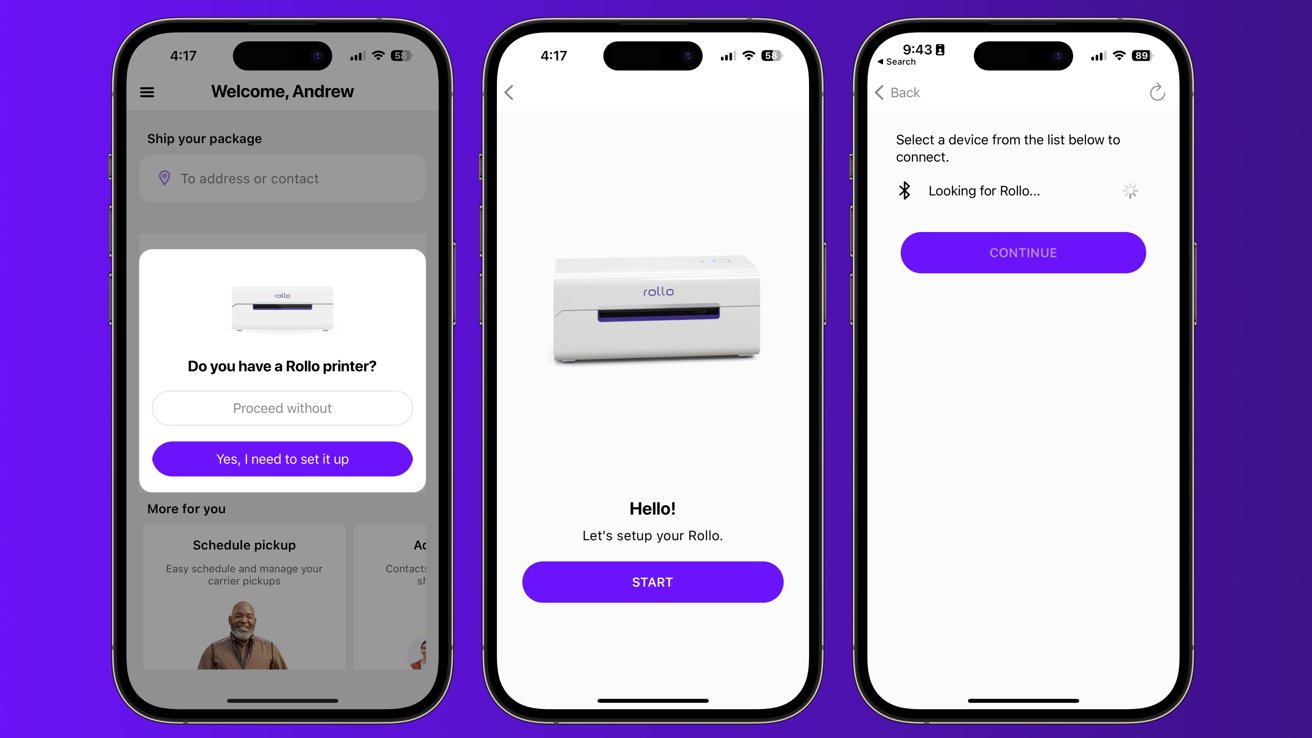 App setup
The mobile app guides you through the first-time setup process for your printer, which includes onboarding it to your network. It first scans locally via Bluetooth to pair it with your phone.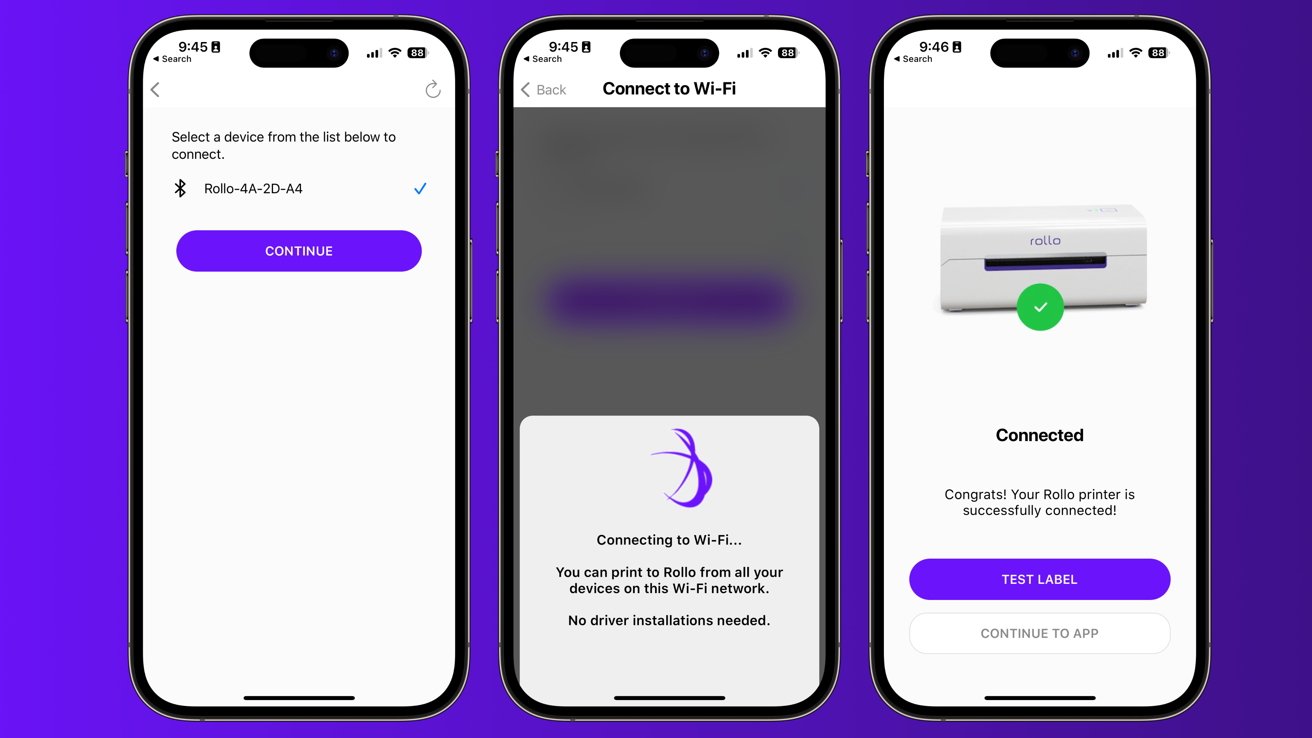 Remainder of the app setup
Once Bluetooth connects, it will convey your Wi-Fi credentials. As soon as it has connected to the Wi-Fi, we immediately saw it available as a network printer from our phone.
While we did have an initial firmware update, firmware updates are delivered automatically in the background. We'd walk up to our printer one day and see a confirmation message printed out, letting us know an update got installed.
The Rollo app has a helpful dashboard view as you open the app. You can immediately create a new shipment, see your sales for the month, any outstanding orders, and you can track your outgoing packages.
While you can create labels for any package, there is a clear and understandable focus on merchants.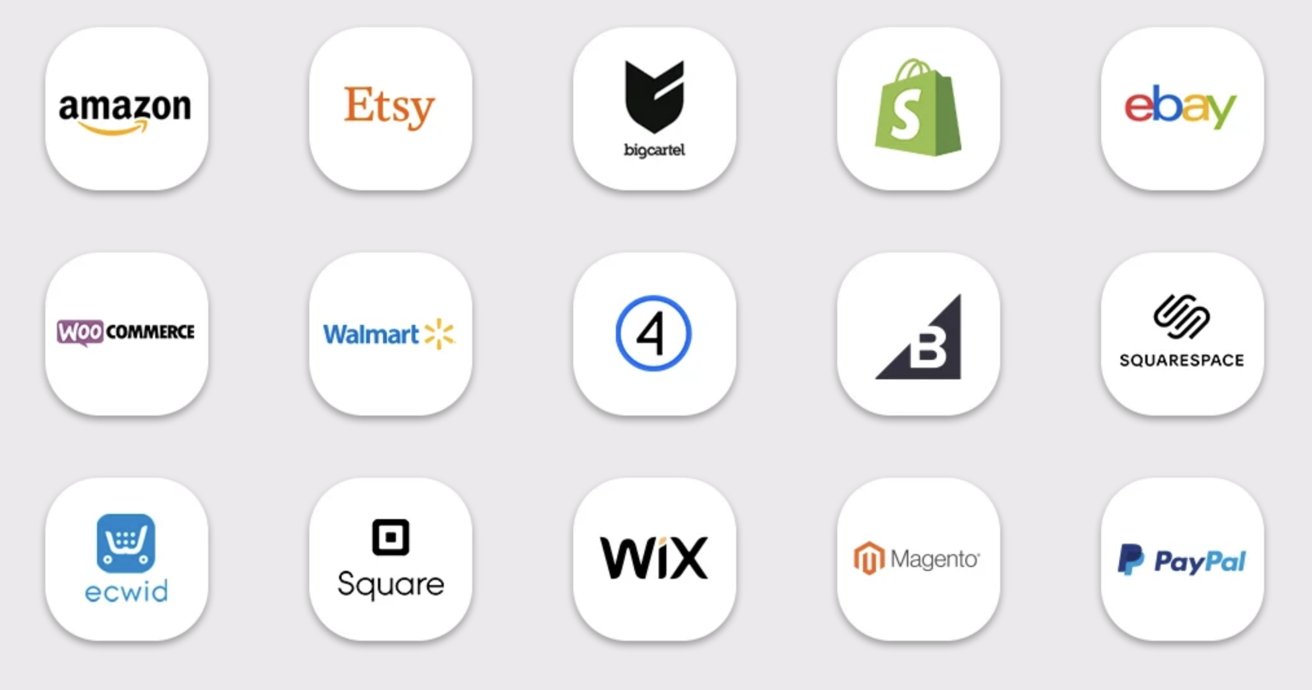 Rollo integrations
Within the Rollo app, merchants can directly integrate with e-commerce platforms. It supports Wix, Square, Shopify, Amazon, Etsy, eBay, PayPal, Walmart, and Squarespace, to name a few.
When your e-commerce store is connected, orders will be grouped and displayed within the Rollo app. We tested this with our eBay account and saw it immediately when a new order came in.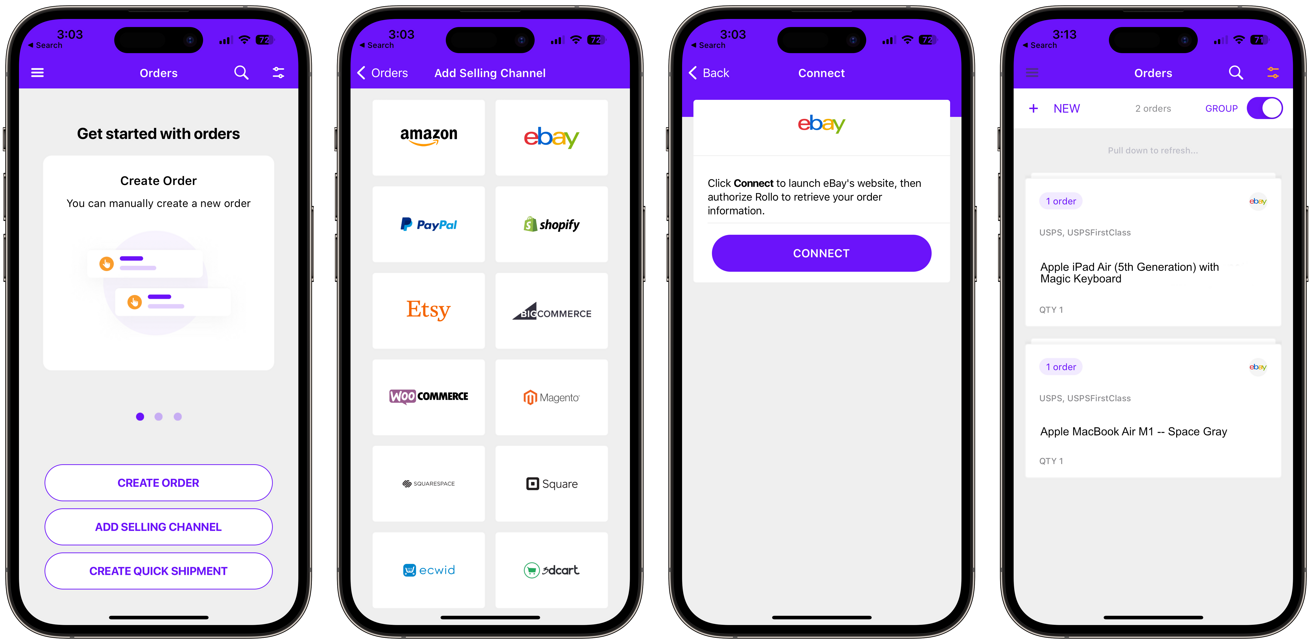 Integrating with eBay
Rollo then helped us generate labels, print them, and populate the tracking info on eBay -- all from within its app. A few times we had to re-authenticate, but otherwise, it was a near-seamless experience.
Rollo wireless printer - printing labels
When printing from a standard printer, there are some things you need to do to make sure the labels print correctly. Like selecting the correct paper size on the print screen, for example.
With Rollo, things magically work. At least most of the time.
When printing from select sources, Rollo will use label auto-detection to identify when it is a label versus not. This worked when we tried to print from the eBay website -- on mobile and
Mac
.
Despite a lot more information being shown in the print preview, when it printed to Rollo, only the label came out and it was perfectly cropped and sized.
This failed though when you downloaded the labels and then tried to print them. If you have a label from another source, you may have to crop the label before hitting CMD+P.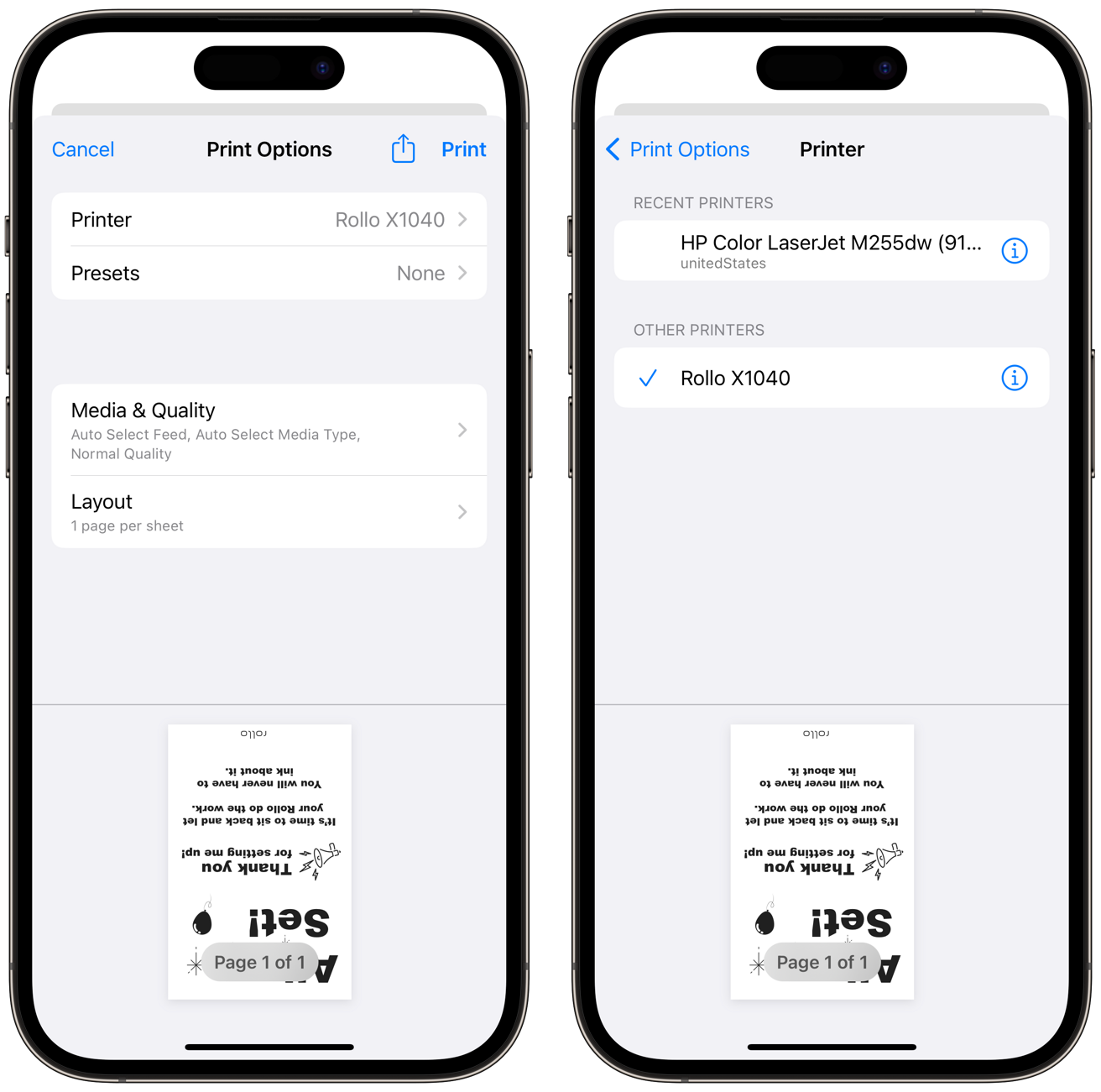 Printer selection via AirPrint
We touched on it briefly during the setup portion of the review but we wanted to specifically call out how easy the setup was on Apple devices. This printer supports Apple AirPrint, meaning once it was on the network, it automatically appeared for all Apple devices.
Just hit print and choose the printer from your list of available units. There was no software, drivers, or anything else that needed to be installed for this to work instantly with our iPhone,
iPad
, and Mac.
Should you buy the Rollo wireless printer?
We have been more than happy with the Rollo wireless printer. The design is top-notch, the setup is perfect, and it has excelled at printing labels in various sizes.
At just below $300, it isn't going to be a quick purchase if you're sending out birthday gifts a few times a year. If you sell your old stuff on eBay or run an online store, this is one of the best label printers you can buy.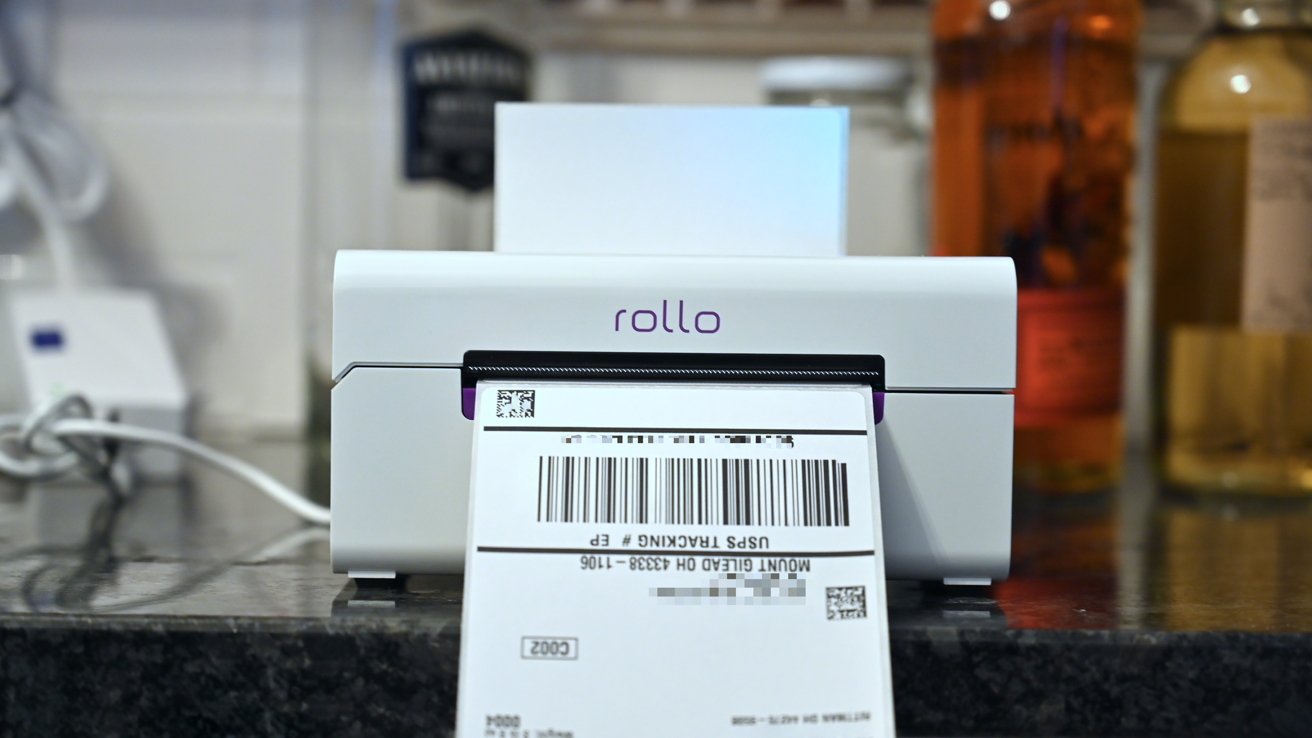 Rollo printing a label
Rollo wireless printer - Pros
Compact design


Cute packaging, messaging, and UI


Great app


Easy to use


Support for AirPrint


Selling channel integrations


Shipping discounts
Rollo wireless printer - Cons
Sometimes auto-crop doesn't work


Large power supply
Rating: 4 out of 5
Where to buy the Rollo wireless printer
You can pick up the Rollo wireless printer -- and some labels --
on Amazon for $299
.
Read on AppleInsider