Huanuo lap desk review: Comfort and convenience for MacBook users
If you're a MacBook user, the Huanuo lap desk could allow you to work comfortably from your couch or bed, providing a convenient alternative to sitting at a traditional desk.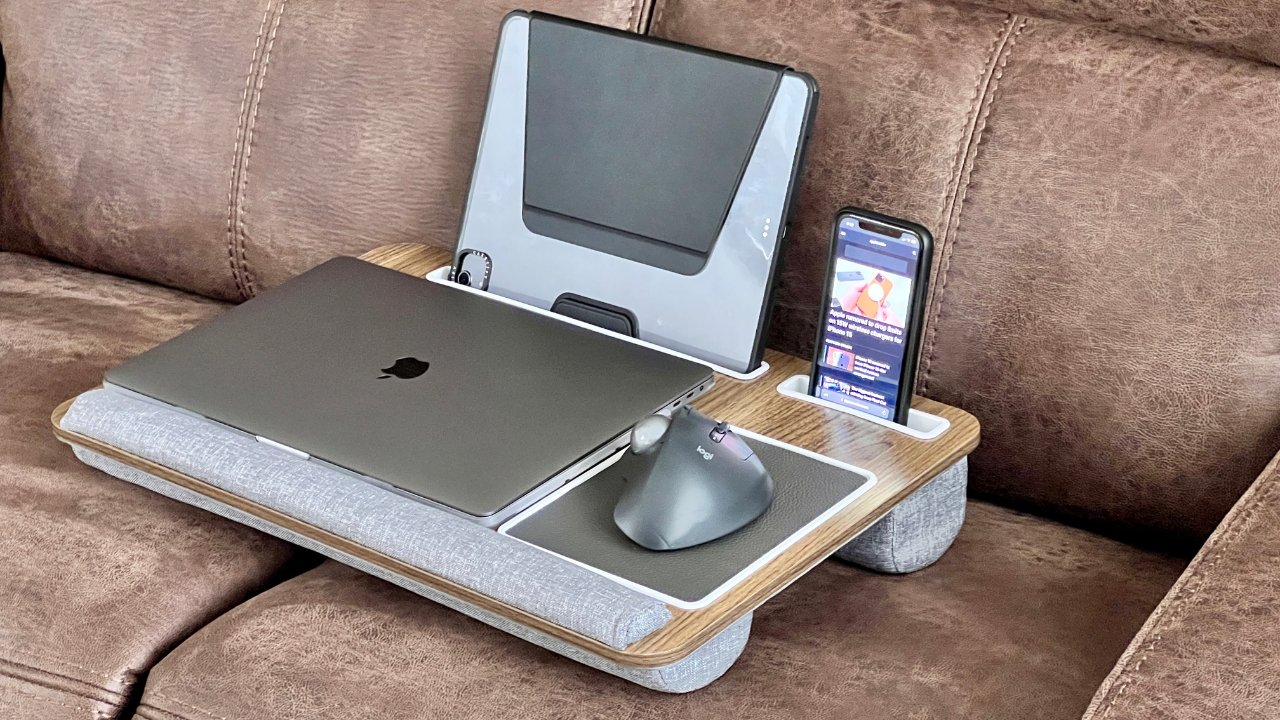 Review: Huanuo lap desk
While working on your MacBook from a couch or bed may not be the best for your posture, a lap desk can help alleviate some of the strain. It can reduce neck strain and improve your overall workflow by
elevating your MacBook
screen to eye level.
The Huanuo lap desk offers a versatile and convenient way to work on your MacBook. However, some features may not be suitable for everyone.
Huanuo lap desk -- features and usability
When shopping for a lap desk, you must ensure the surface is large enough to fit your MacBook. The lap desk tested for this review has a surface measuring 21.65 inches x 14.57 inches, just enough to hold a 16-inch
MacBook Pro
while not leaving much room for other accessories.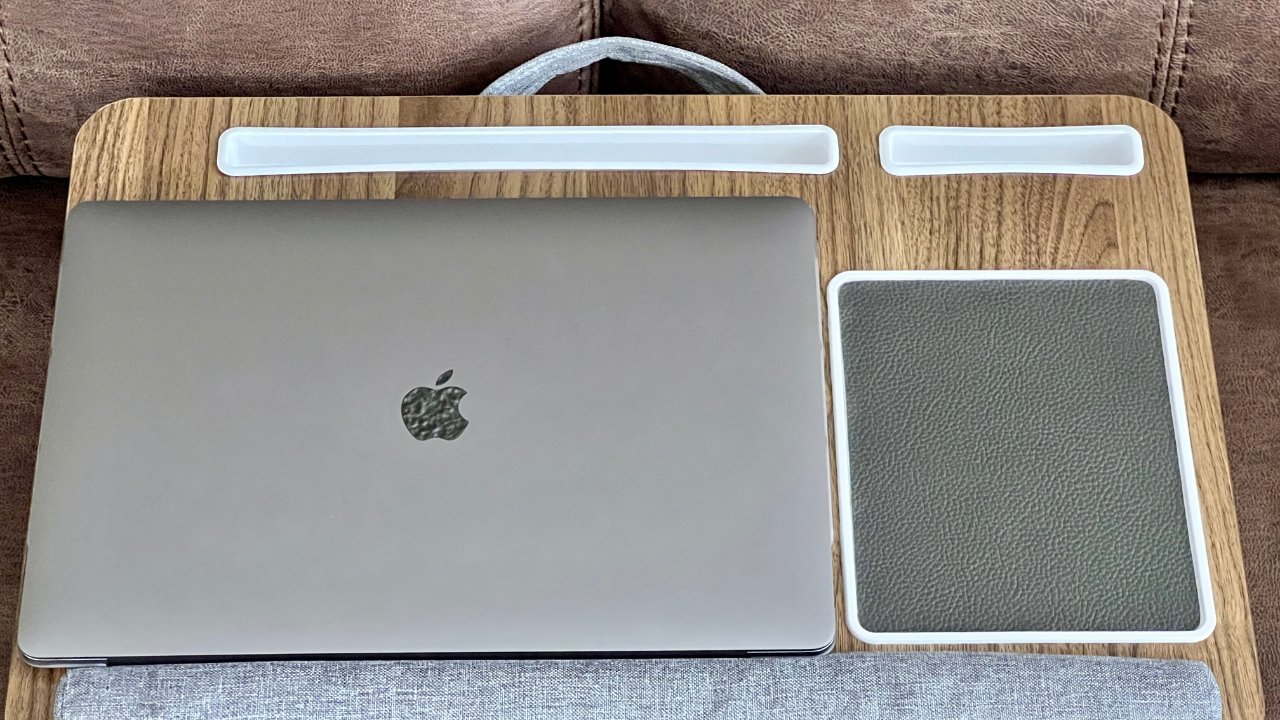 The Huanuo lap desk is just large enough to fit a 16-inch MacBook Pro
The Huanuo lap desk is available in three natural wood grain colors: light brown, dark brown, and black. It is lightweight for its size, weighing in at 4.5 pounds.
This lap desk features a cushioned wrist rest that supports your wrists and arms while you work. Not only does it prevent your MacBook from sliding, but it also runs along the width of the desk to keep you comfortable as you type or scroll.
Two cushions underneath the lap desk raise your MacBook about 2.5 inches, providing stability without causing fatigue.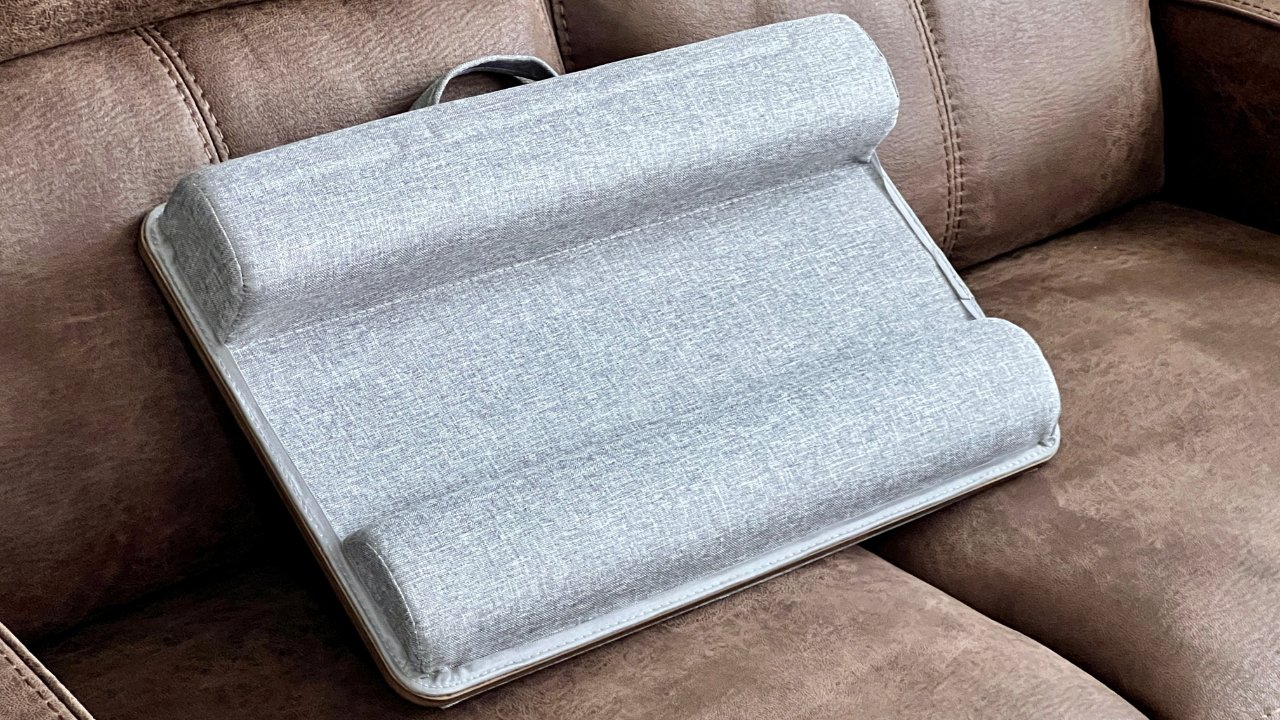 There are two comfortable cushions underneath the Huanuo lap desk
The Huanuo lap desk also features a built-in, non-removable mouse pad. The surface of the mouse pad is a shiny, textured faux leather material.
However, the mouse pad takes up a lot of space on the desk, so your laptop has to sit on the left side, causing the weight to rest more on your left leg than your right.
If you have a larger laptop, it may overlap with the mouse pad, reducing your workspace. Despite this, a 16-inch MacBook fits just fine during testing.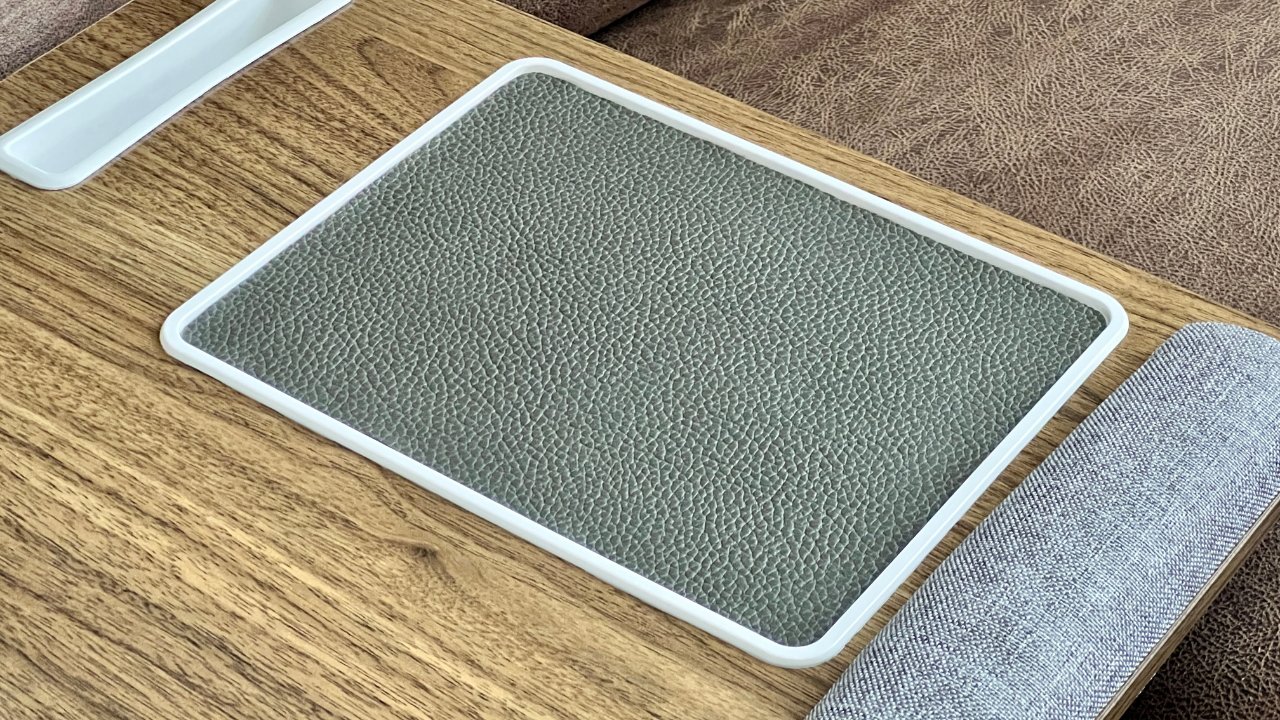 The Huanuo lap desk includes a non-removable mouse pad
This lap desk features slots at the top that is wide enough to hold accessories such as an
iPad
, iPhone,
Apple Pencil
, or other small items like a notepad or paper clips.
These slots provide a convenient place to store your devices and accessories while you work. However, they are not ideal as a stand for watching videos, as your iPad or
iPhone
may tilt forward when the desk is on your lap.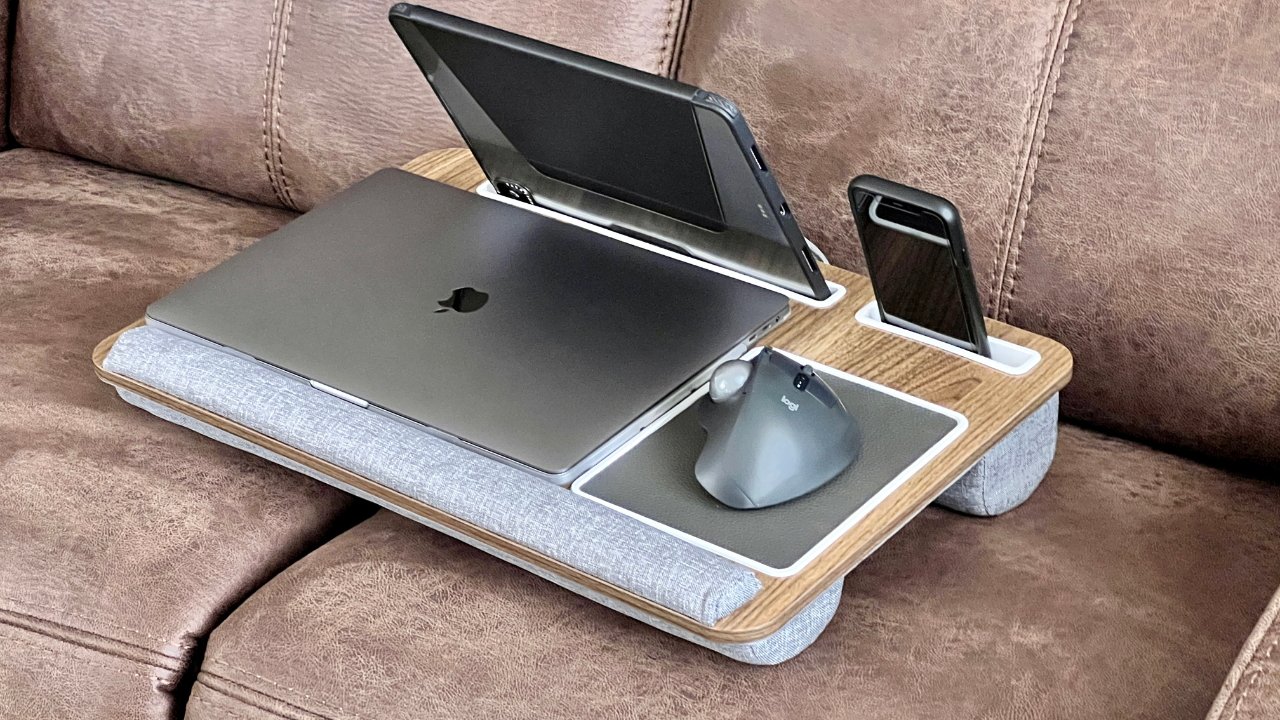 During testing, an iPad and iPhone kept tilting forward in the storage slot
While the built-in mouse pad may be a bit large for some, and the slots may not be ideal for others, this lap desk is still a practical choice for those looking for a no-fuss, portable option.
The Huanuo lap desk offers straightforward functionality for MacBook users. Its plush cushions provide a comfortable surface for your arms and legs, making it easy to work for hours on end -- or at least until your
Apple Watch
reminds you to get off your couch.
Huanuo lap desk -- Pros


Cushioned support for arms and legs


Large enough to fit a 17-inch laptop


Has a handle for easy carrying or storage


Huanuo lap desk -- Cons


Non-removable mousepad might be too big for some


Devices tend to tilt forward inside the storage slots


Rating: 3.5 out of 5
Where to buy
You can buy the
Huanuo lap desk
from their website or
from Amazon for $66.99
.
Read on AppleInsider