iPadOS 17 feature roundup: Interactive widgets, USB webcam support, Health app, more
Posted:
in iPad
edited June 13
Apple didn't spend much time on iPadOS 17, but there are several new features coming to the platform, plus almost everything from iOS 17 is included too. Here's everything coming in iPadOS 17.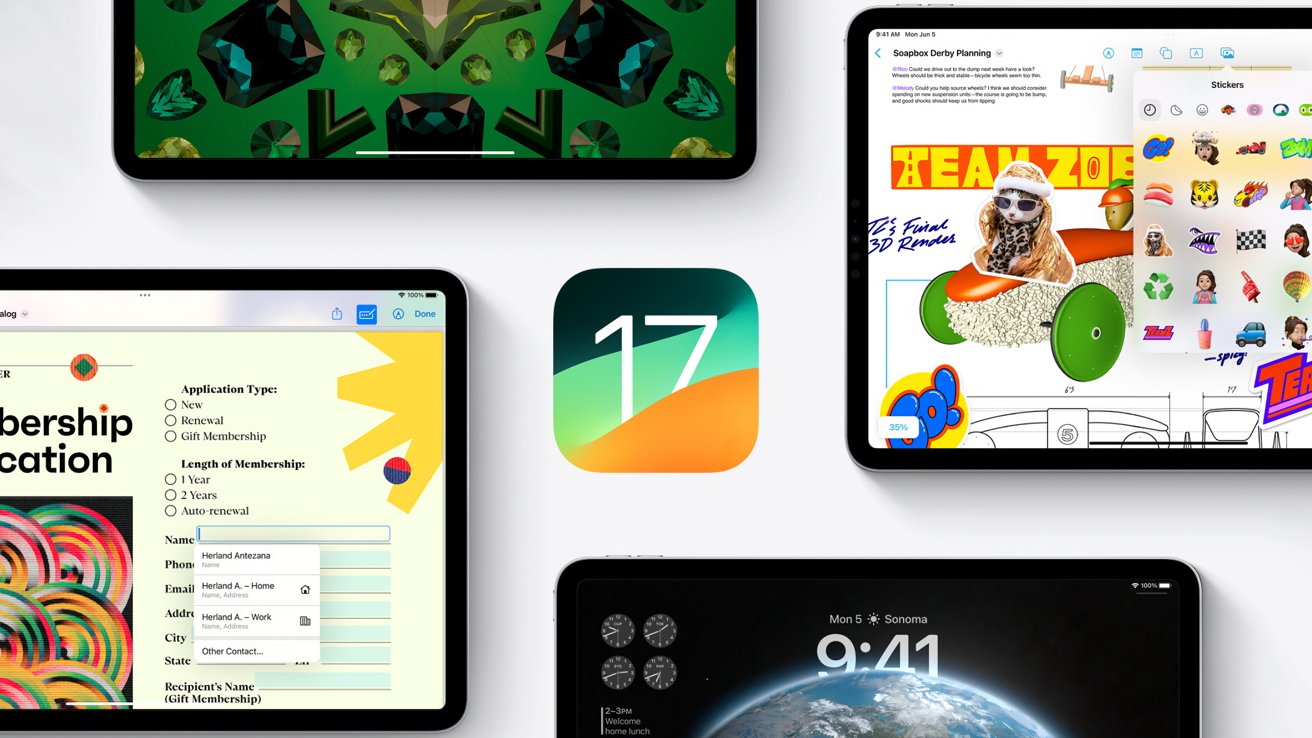 iPadOS 17 has several new features


The WWDC keynote spent a lot of time on Apple Vision Pro and visionOS, but iPadOS 17 did get a few minutes of stage time. Despite the short segment, iPad got several features that will benefit users and developers alike.

As expected, Apple brought Lock Screen customization and other features introduced for iPhone in 2022 to iPad. Stage Manager also got some attention despite being announced only a year prior -- which goes against Apple's usual schedule of updating features every other year.

AppleInsider has been searching for new features in iPadOS 17, and there's plenty to look forward to. Here's what we could discover from the keynote and the beta.


Personalization and customization


Apple has slowly pushed for more customization and control across its product ecosystem. That hasn't changed for iPadOS 17 and there are even some custom features for iPad.




Interactive widgets on the Home Screen


Customizable Lock Screen


Live Photos set as Lock Screen wallpapers will animate with frames added by machine learning


Astronomy wallpapers optimized for iPad


Live Activities on the iPad Lock Screen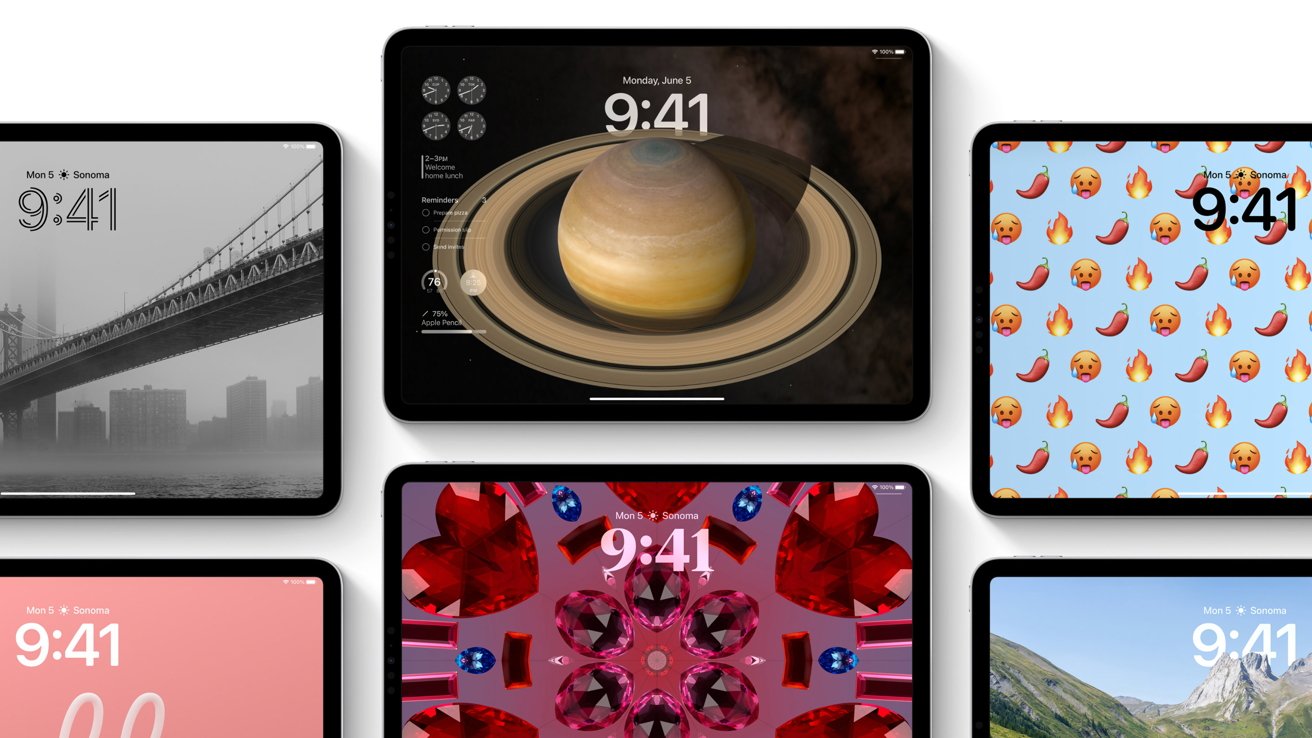 Customize the iPad Lock Screen
App updates and system changes


Apple brought the Health app to iPad, but there's no word on whether the new Journal app announced for iOS 17 will make it to iPad this cycle. Updates across the system focused on more ease of use and control.




Health app on iPad


Track mental health


A new Screen Time feature will warn if the display is too close to the user's face to protect their eyes


PDF editing in the Notes app gets a big update


PDF intelligent auto fill


System wide PDF editing


Link related notes in the Notes app


Spotlight shows app shortcuts at the top


Stage Manager gets more flexible with more control over window sizes and placement


External webcam support


Freeform updates with new drawing tools and Follow Along




The list of features specific to iPadOS is usually a little shorter than other operating systems. However, there are universal features that were introduced in iOS 17 that are also coming to iPadOS 17.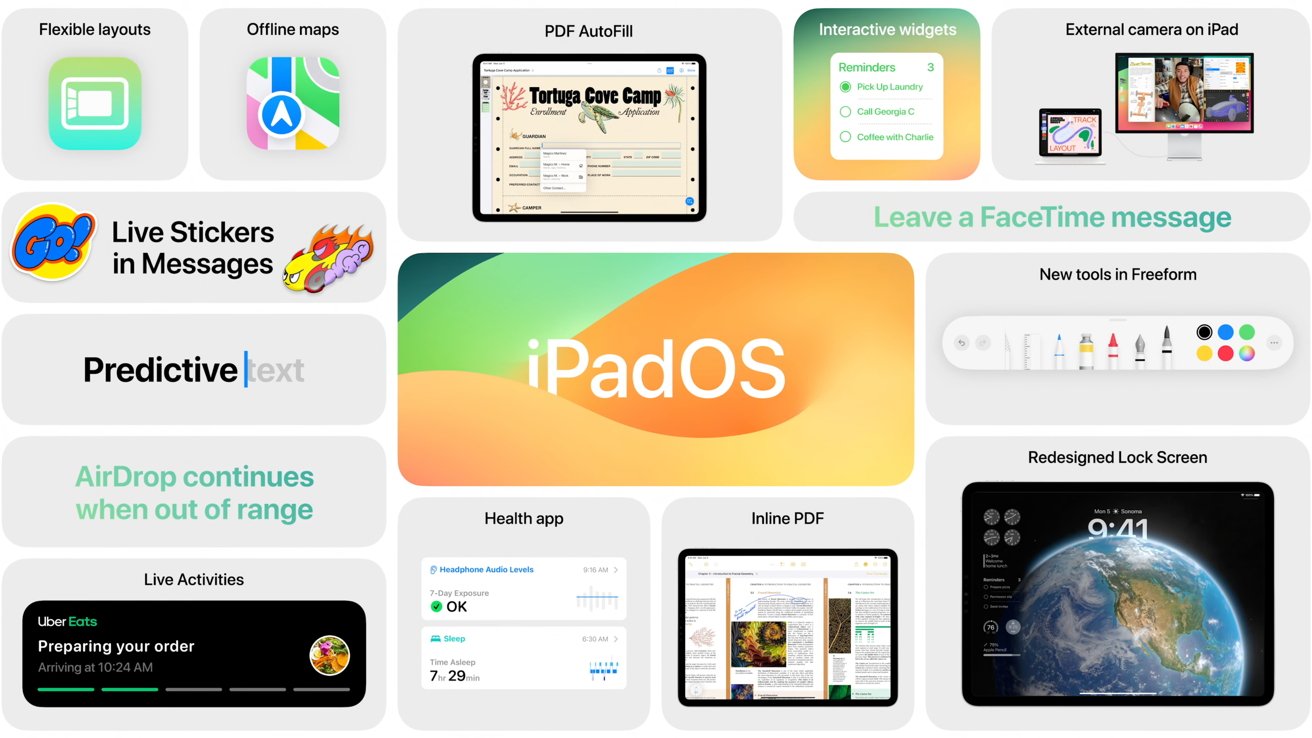 Many of the new iPadOS 17 features were also included in iOS 17


Find out what features are coming in iOS 17 with our roundup.

Apple is expected to release iPadOS 17 in the fall. It usually launches alongside iOS after the iPhone event in September but is sometimes delayed to combat last-minute bugs.

Read on AppleInsider