Super73-S Adventure Series review: The premium off-road e-bike
The Super73-S Adventure Series e-bike is fast, comfortable, and fun to ride. It's one of those products that's hard to forget once you try it, even if its cost is worth a double-take.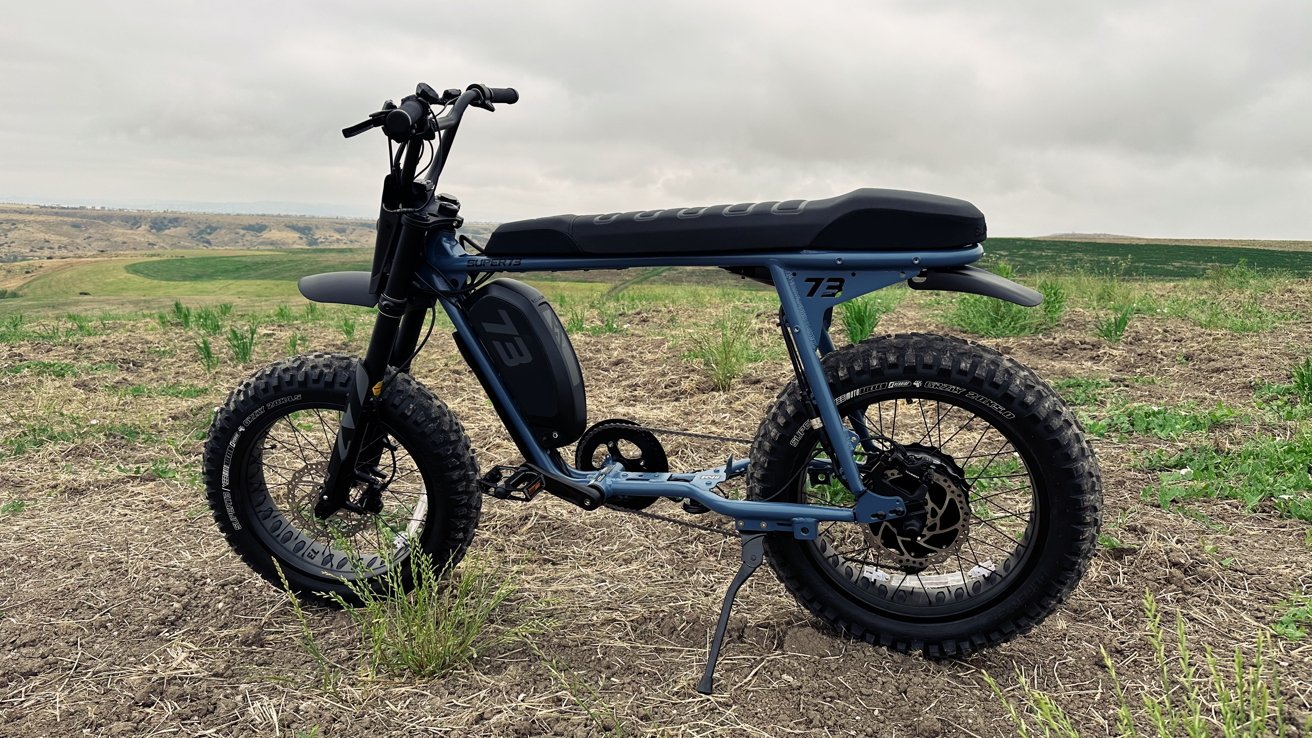 Super73-S Adventure Series


While most e-bikes are more traditional-looking, possibly used by buyers as a form of exercise assistance, Super73 heads in a different direction. The latest Adventure Series Super73 e-bike keeps the company's same motorbike-like aesthetic with a thick metal frame and ultra-long padded seat to focus even more on getting off the road and mashing the throttle.

With a retail price of $3,595, the Super73-S Adventure Series won't be for everyone. The bike's wide tires and solid battery range should make it tempting for outdoor enthusiasts and specific commuters.


Super73-S Adventure Series - Full throttle


The Super73-S Adventure Series e-bike has an 8-speed cassette to make pedaling the 80-pound beast easier, but this product is meant to be used with its throttle.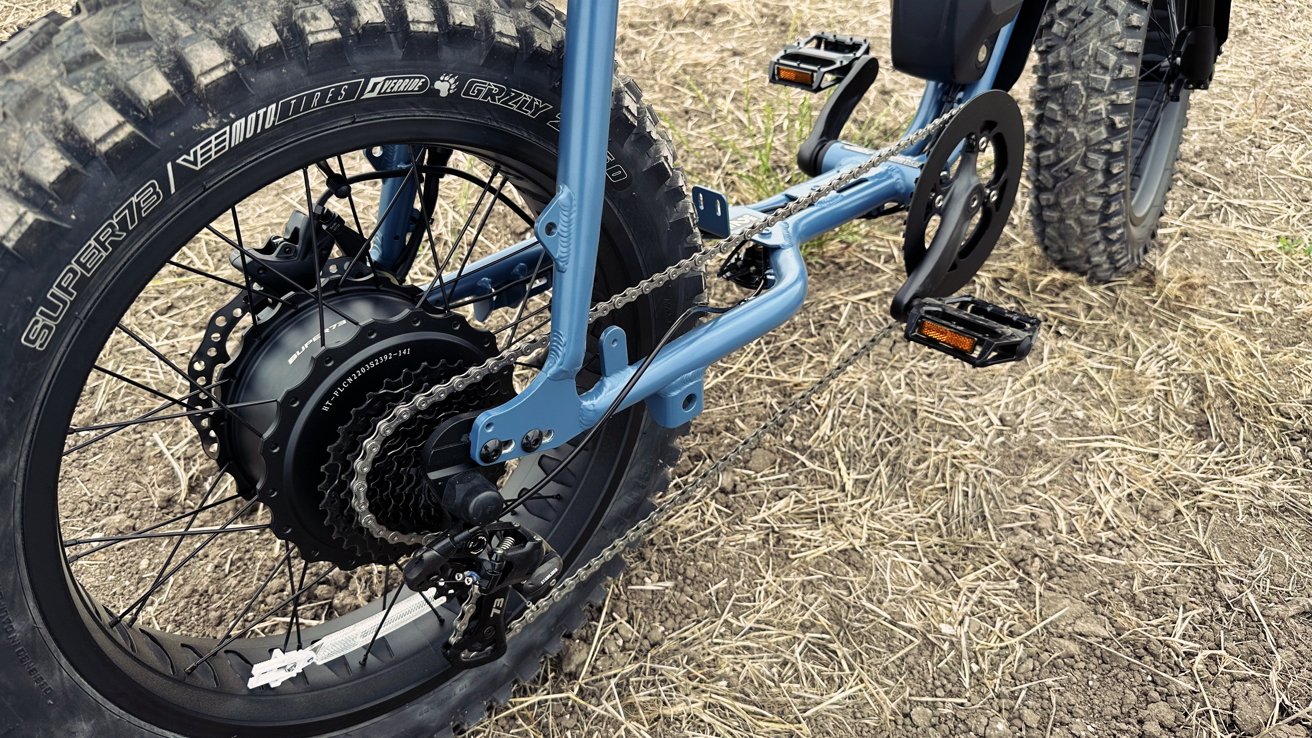 The e-bike can be pedaled, if need be


By default, the e-bike is a class 2 vehicle, which can hit speeds up to 20mph. That was a great speed to get started with, but it doesn't take long to start craving even more speed.

Using the mobile app, speeds of at least 28mph can be unlocked using the throttle. We tended to hit speeds of around 30mph, but top speed will depend on a rider's weight, hill grade, and other factors.

There is a loud horn onboard, which we thought was important for riding next to cars in the street. We did wish there were turn signals which we have used on other speedy e-bikes in the past.

Pressing down the throttle with our thumb worked great and was easy to use on the street and off-road. The light on the front was bright, too, and lit our way at night.

One annoying aspect of the speed was constantly needing to change the default classification of the bike. Getting the top 28mph speeds requires using the app to switch the bike to off-road mode each time it turns on.

Turning off the battery made the bike forget our speed preference. We thought this might be a safety feature, so we doubled checked that this was the intended function of the Super73-S Adventure Series, and it is.

We have used other similar style e-bikes, and once the off-road mode was activated, it stayed on that mode until we changed it. We understand Super73's decision but wish there was an option to keep it from changing back each time.


Super73-S Adventure Series - Range and riding comfort


Super73 moved the battery from the top of the frame, on past models, to a lower frame placement. Newcomers won't notice this, but we did like the change compared to past bikes we've ridden.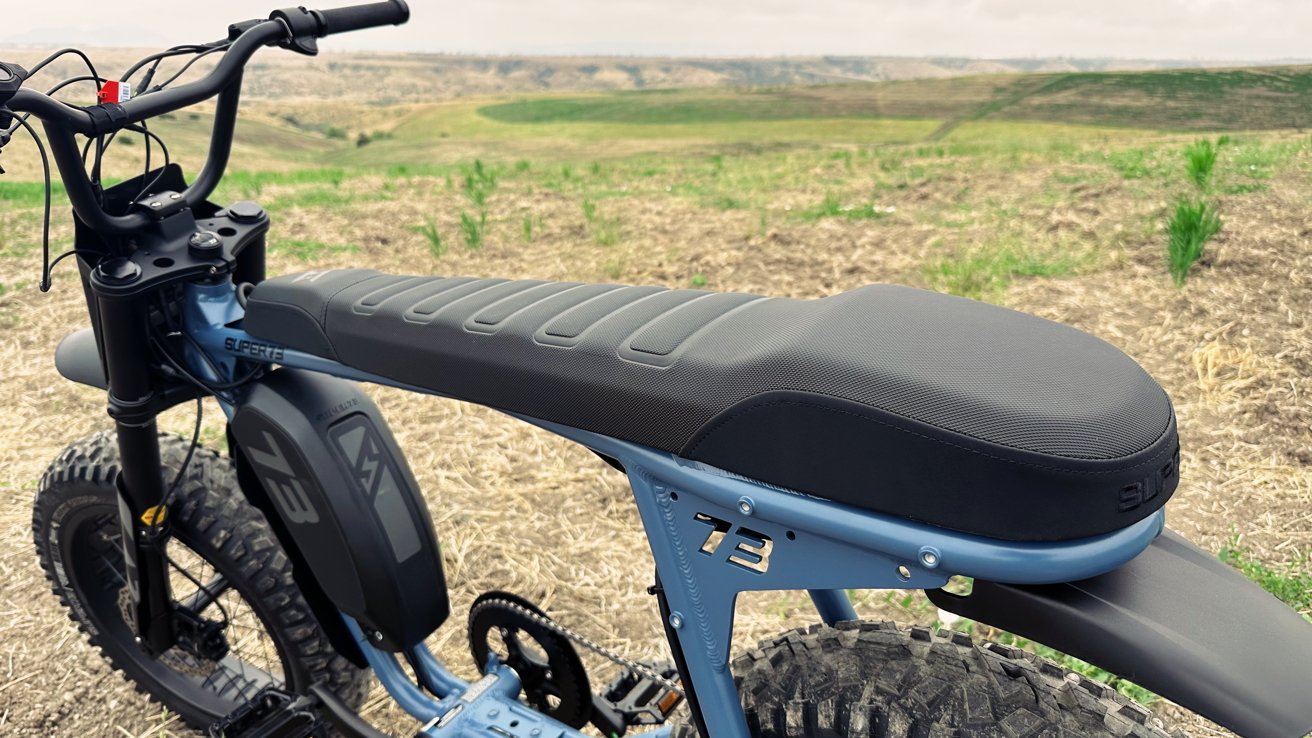 Long seat can accommodate two riders


Super73 advertises 40 to 75 miles of range, but you'll need to do plenty of pedaling to get the top end of that. We avoided that work in favor of mashing the throttle nearly 100% of the time. We think most people will do the same.

Even still, after we fully charged the battery, we had a hard time depleting it within our two-week review timeframe.

If you plan on riding the bike faster than 20mph, you can expect the battery to provide closer to 30 miles of range. We consider that enough for a full day of fun or multiple days of light commuting.

Importantly, the long padded seat was comfortable enough to support a full day of riding. It was cushy but also firm and supportive to create a perfect blend.

Because of the seat's length, it can accommodate a second rider. If you plan on carrying a second rider frequently, however, we recommend buying the foot peg accessory so the person in the back can rest their feet.


Super73-S Adventure Series - The smartness of an e-bike


Yes, the screen on the bike can provide turn-by-turn directions when connected through the Super73 mobile app. It can also show information like speed or remaining range, but its small size leaves a lot to be desired.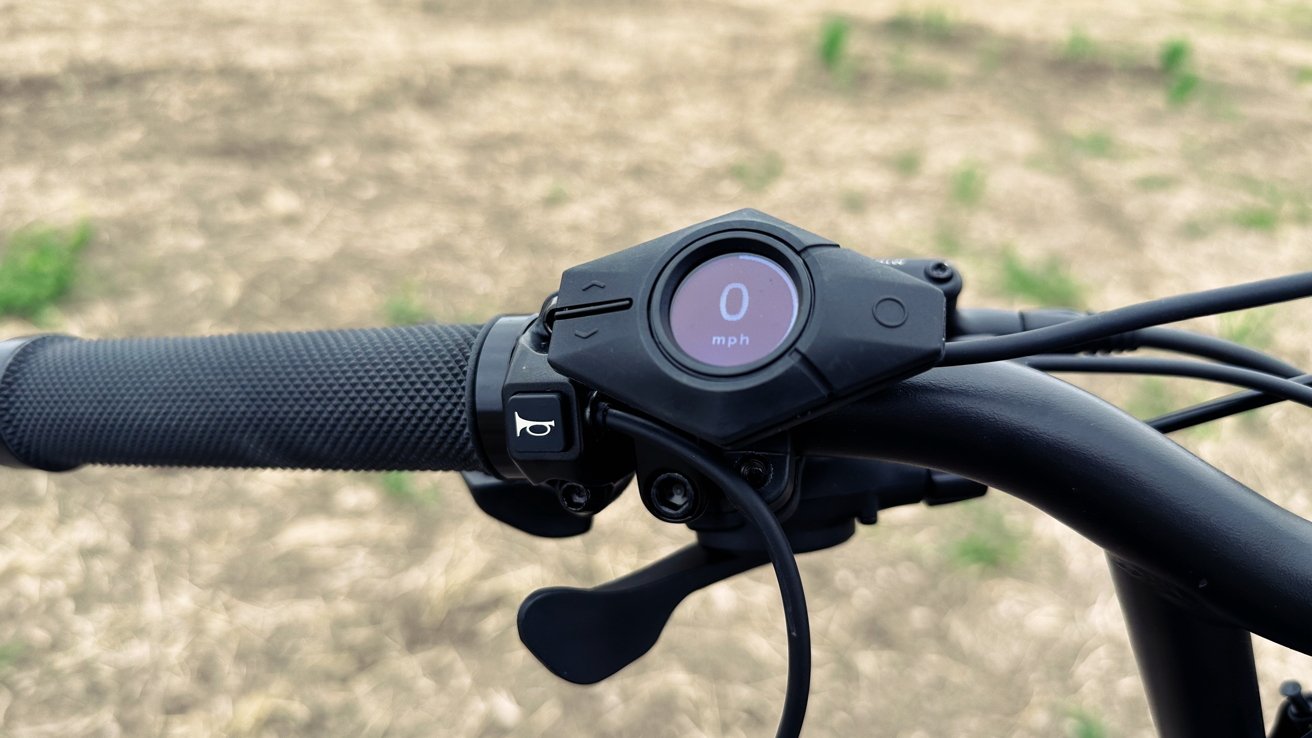 The bike's small display with the horn button underneath


We can't fault the screen's utility, but a slightly larger screen displaying multiple bits of information would have been much more helpful.

Super73's mobile app can double as a real-time dashboard for the bike too, but you'll need a phone holder that you feel comfortable can secure your phone while traveling over bumpy trails or at high speeds.

The app was easy to navigate but didn't feel too polished. The turn-by-turn directions on the bike's small display were neat, but we weren't riding to any place we needed directions.

The app also serves to update the bike's firmware from time to time. Overall, the app was fine, but we wouldn't have missed it if it wasn't there -- the story of most companion apps for connected products.


Is the Super73-S Adventure Series worth its price?


The price of this bike is a downside, sure, but we found very few other downsides about how it handled or felt. It's absolutely worth considering. It was about as much fun as we could have on two wheels, no matter where we rode it.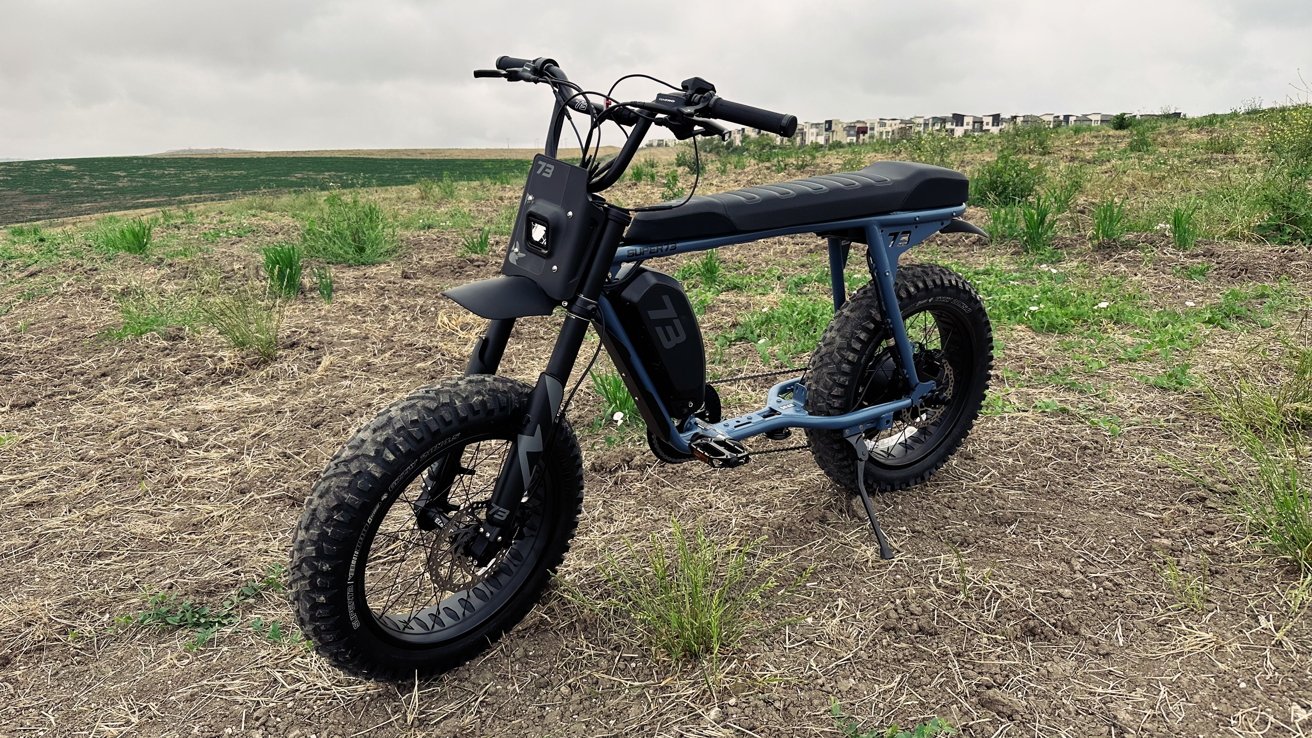 Super73-S Adventure Series handled off-road riding well


The real consideration is whether the e-bike is worth its $3,595 price. Ultimately, however, the product performs up to its cost even if it's not a great value.

The Super73-S Adventure Series is a premium e-bike with a premium price. There are cheaper options with similar styles for those who can't afford $3,600. If price isn't a factor, however, buyers will be satisfied with the results this bike delivers.


Super73-S Adventure Series - Pros
Long, comfortable padded seat


Long battery range


Quality parts and heavyduty frame
Super73-S Adventure Series - Cons
Expensive price


Off-road mode needs to be enabled for each ride


Screen on the bike is small and minimal
Rating: 4 out of 5


Super73-S Adventure Series is a fantastic product from front to back. Its high price is unfortunate for people on a strict budget and heavily skews its value, but the product itself still performs at the top of the rating scale. If you're looking for a lower-priced option with similar chops, check out the Ride1Up Revv1.


Where to buy the Super73-S Adventure Series


This e-bike is available for purchase at Super73 for $3,595.

Read on AppleInsider