Kinsa QuickScan thermometer review: Simple and accurate
Kinsa Health's QuickScan thermometer and app provide simple and accurate temperature, symptom, and community health tracking -- but the app has a few bugs.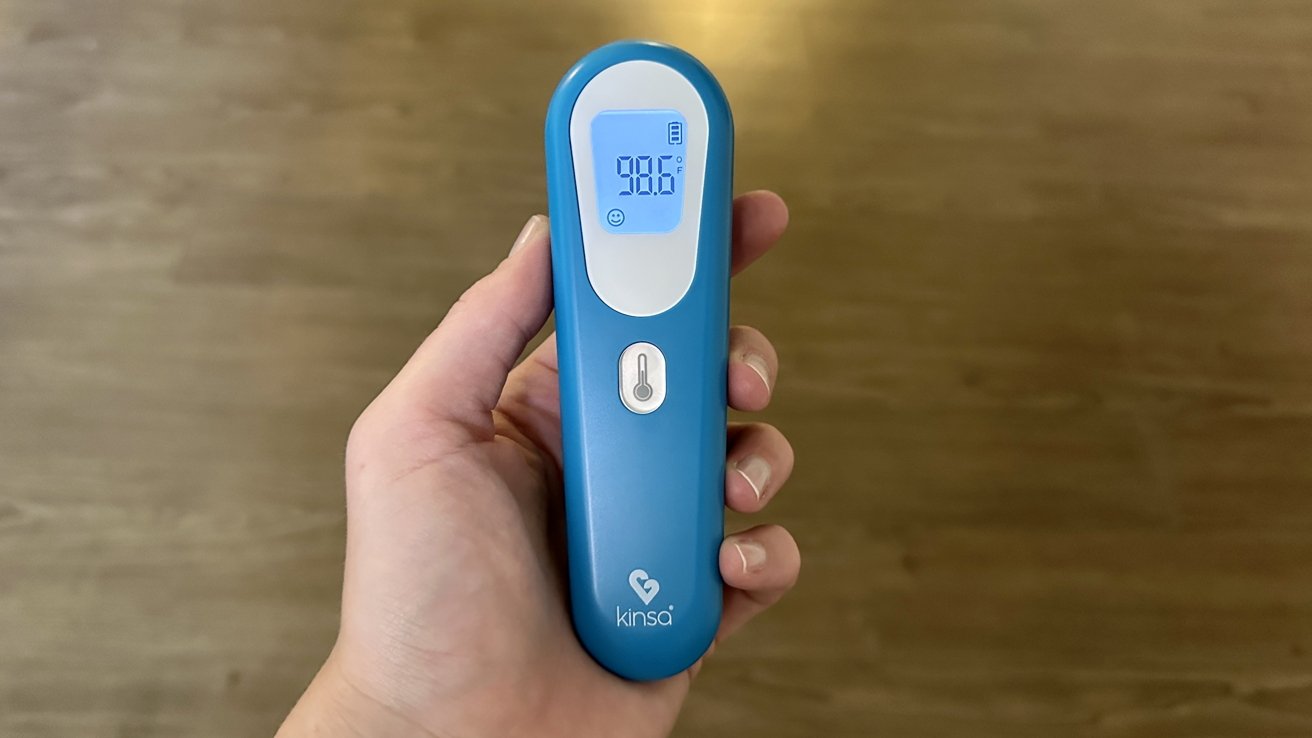 Having an accurate and easy-to-use thermometer is a must, especially when flu season hits. We wanted to know whether a smart thermometer is an upgrade compared to mercury-powered glass thermometers of the past.

Kinsa Health launched in 2012 with a mission to curb the spread of infectious illness through the use of technology. Ten years later, these smart thermometers are so ubiquitous that many schools require them for back-to-school shopping lists.

Kinsa's QuickScan thermometer is a no-touch device that connects via Bluetooth from your phone to the free Kinsa app. This allows you to aggregate your family's health data as well as anonymous local updates in one place.

The thermometer takes your temperature in seconds -- which sure beats sitting for minutes with a glass thermometer under your tongue. We tested Kinsa's QuickScan thermometer to determine whether it deserves a permanent spot in the medicine cabinet.


Kinsa Health QuickScan thermometer - Design


The QuickScan thermometer comes in an attractive blue-and-white design. The exterior is made of soft plastic with sloped edges for gripping comfort.

It includes a 1-touch button, a fever-level indication with emoticons, and a backlit display for easy reading. It weighs six ounces and has a sleek feel. It is powered by two triple-A batteries, which are included.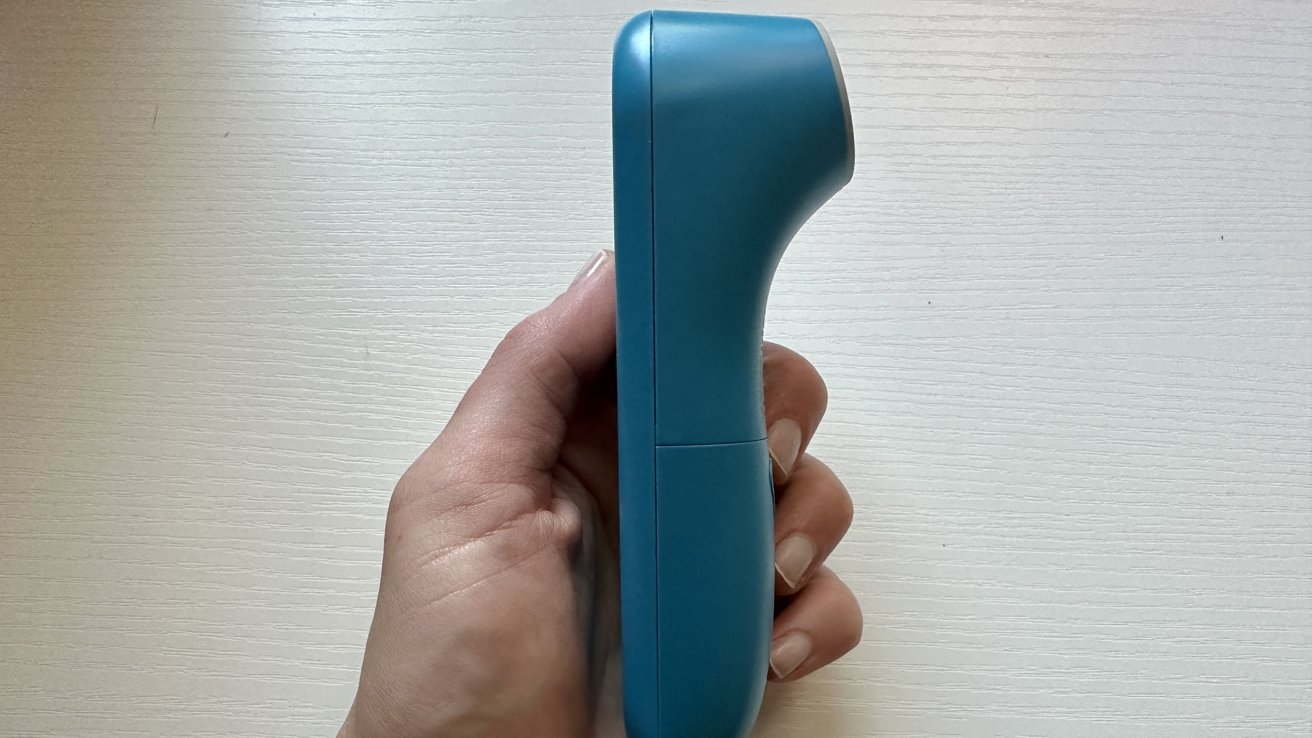 This light, six ounce design is simple, soft to the touch, and sleek


On the back of the device are sensors that detect infrared radiation. Touchless thermometers like this one work by measuring the amount of infrared radiation emitted by an object.

Of course, non-contact thermometers become popular during the pandemic. Businesses and schools looking to maintain good public hygiene would continue to benefit from this thermometer's touchless design.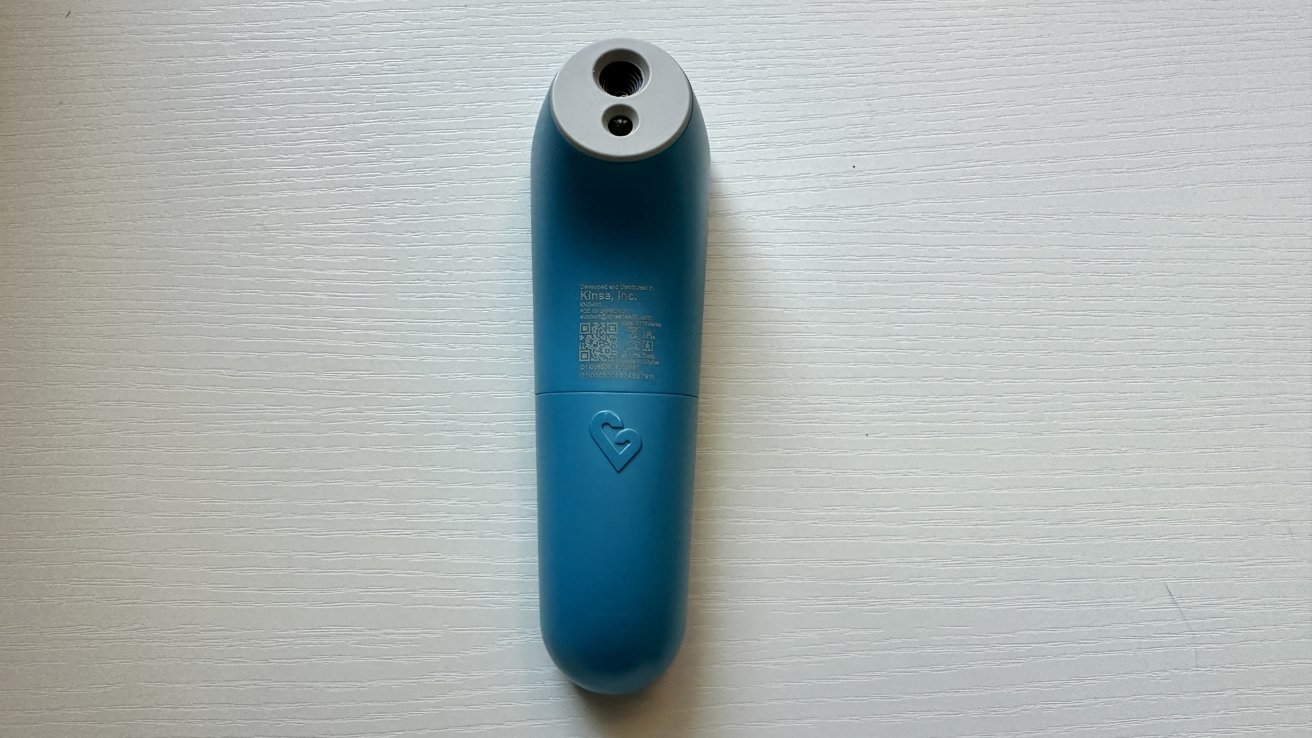 The Kinsa contactless thermometer uses infrared to detect forehead temperatures


The temperature reading is displayed in two seconds on both the device and within the app. What we appreciated was that even though it is a no-contact thermometer, the back of the device is soft to the touch in case sensors do accidentally graze a forehead during use.

We compared QuickScan to a mercury-run oral thermometer and found the readings were the same. We found QuickScan to be just as accurate.


Kinsa Health QuickScan thermometer - Light setup and app-pairing required


Like most smart devices, some light setup is involved before you can complete your first reading. Our suggestion is to set up the app and thermometer before you actually need it.

First, download the Kinsa Health app from the app store. The Kinsa Health app is free and easy to navigate. From there, you must pair the app with your device. Next, add all family members who will be using the device.

Aim the thermometer one inch from the center of the forehead and click the thermometer button to take someone's temperature.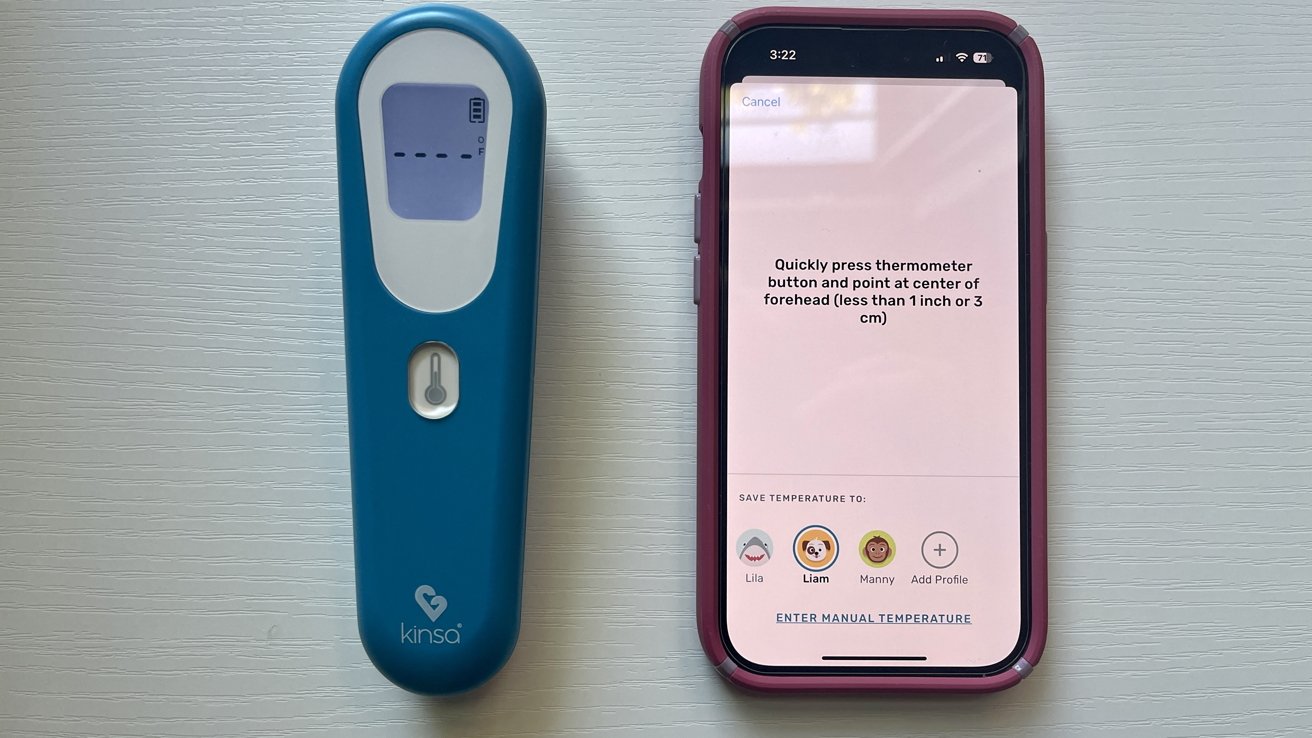 The Kinsa QuickScan thermometer speaks to the app, which guides you through the temperature taking process


You can then assign the temperature reading that pops up inside the app to the correct family member. In addition, you can track symptoms and medications.

Users can view a comprehensive daily timeline of medications given, dosage, symptoms, and temperatures. This helps parents stay on the same page and to see how their child is progressing.

Certain symptoms, like persistent fever, will warrant guidance from the device. For example: If the symptom continues for several days, discussing it with your doctor is a good idea. The log can be forwarded to physicians for easy reading.


Kinsa Health QuickScan thermometer - Features


Inside the Kinsa app, the user can create unlimited profiles to store and track symptoms, temperature readings, and the date/time of medications administered. Users can receive personalized guidance based on age, fever, and symptoms.

When symptoms cause concern, Kinsa refers the user to a Teladoc board-certified physician. The app displays a timeline that shows when symptoms were experienced, medications taken, and dosages.

In addition, to understand where illness is spreading in real-time, Kinsa collects anonymous temperatures and symptoms in your area and displays community alerts in-app.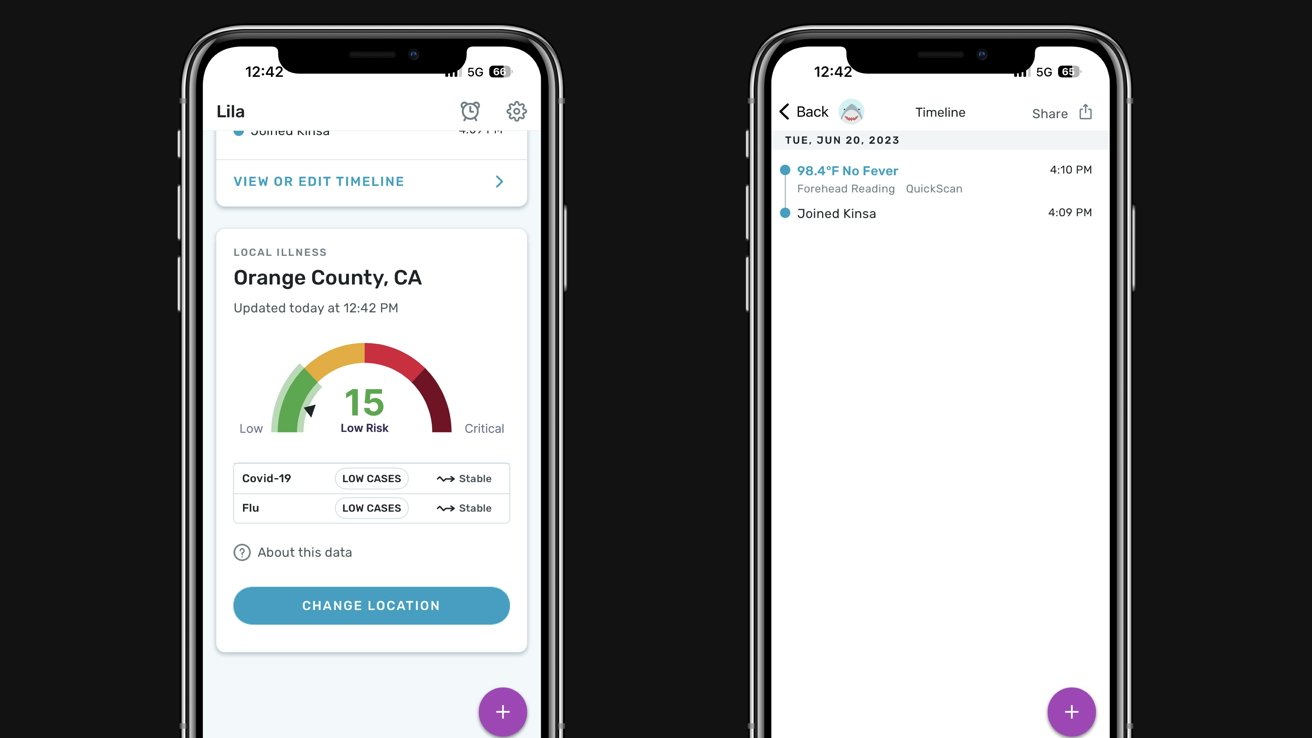 View local illness rates on the Kinsa app


One issue we found was in-app. The app has a bug where it occasionally crashes and needs to be restarted. This is annoying if you're trying to quickly take the temperature of a sick or fussy child.

One other grievance we had was with the app's initial use. The thermometer will ask you to connect to the app before you can take your first reading. If you're looking for a fast reading, this can be frustrating.

Once you've connected the thermometer to the Kinsa Health app, however, the thermometer will display future readings on the thermometer screen without needing the app open.

Another consideration is that the drop-down menu does not list all possible symptoms. If you are experiencing a symptom that is not listed, you will not have the capability to log the correct symptom. It would be helpful to manually log symptoms instead of having to use a drop-down menu.


Kinsa Health QuickScan thermometer - Who would benefit


The QuickScan is a solid thermometer, and we feel that most people would benefit from having one on hand.. It is especially suited for those with children who must symptom-track in the middle of the night.

If multiple family members take care of a sick child, the app can show a timeline of symptoms and dosages so that no duplicate dosages are given.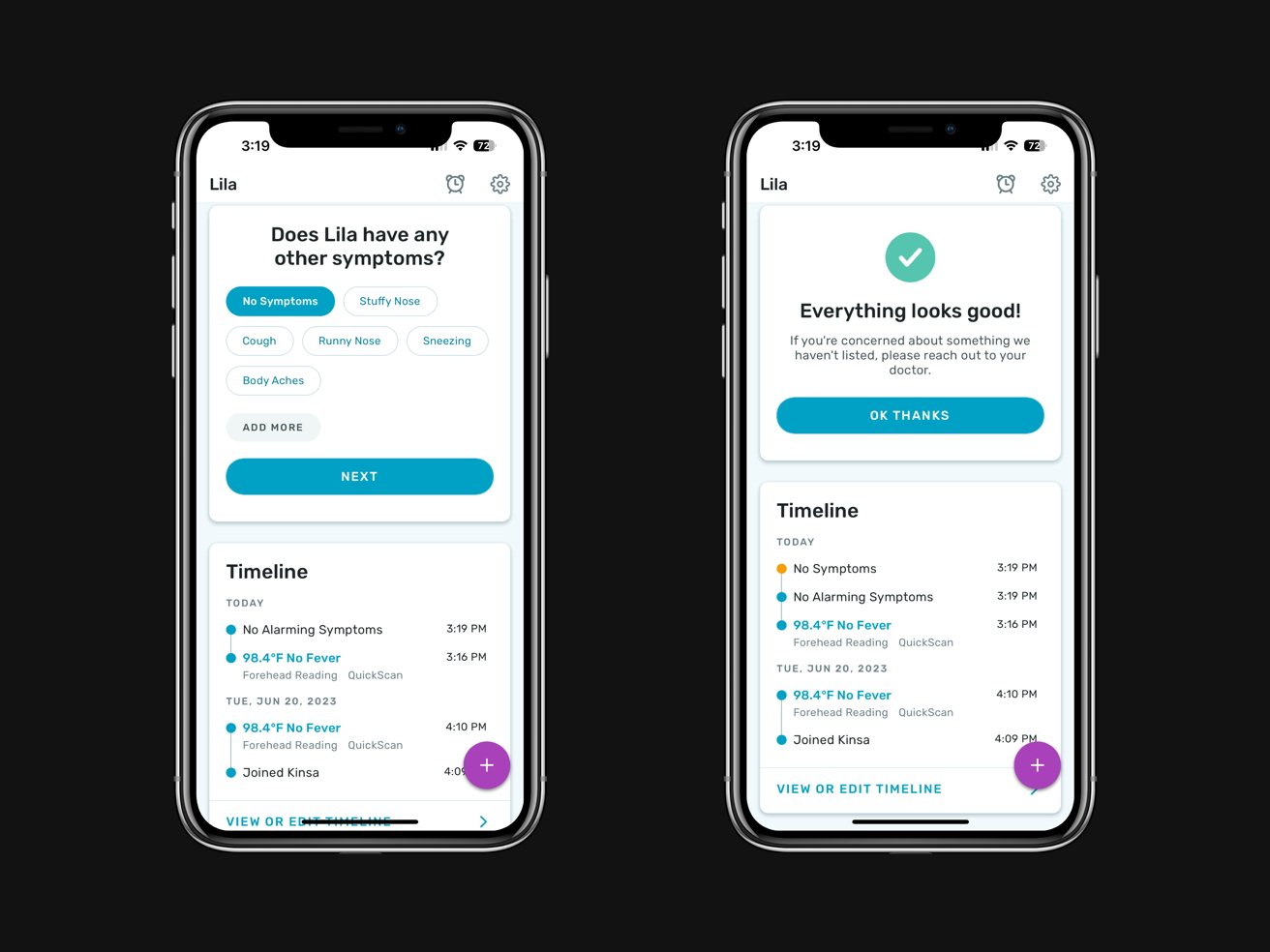 Timeline shows dosage, symptoms, and fever data for each family member


This thermometer is conveniently HSA/FSA eligible, so check your health insurance to see if you can get one for free from the Kinsa Health store. In addition, Kinsa has partnered with schools to inform parents about possible viruses in classrooms.


Kinsa Health QuickScan thermometer - Purchase one for the medicine cabinet


This thermometer is a great gadget for those who frequent the Health app and enjoy keeping comprehensive tabs on their health. Its non-contact design is a smart and health-conscious option for schools and businesses alike.

All in all, this product lives up to the hype. With a straightforward app, 2-second temperature readings, medical guidance, FSA/HAS eligibility, and FDA approval, Kinsa QuickScan deserves a permanent spot on your medicine cabinet shelf.


Kinsa Health QuickScan thermometer - Pros
Device & Kinsa app easy to use


Non-contact


FDA approval


FSA/HSA eligible


Health guidance


Health app syncing


Symptom, medication, and fever tracking
Kinsa Health QuickScan thermometer - Cons
Must connect to app before first use


Symptom tracking from a limited list of symptoms


Occasional crashing of app
Rating: 3.5 out of 5
Where to buy the Kinsa Health QuickScan thermometer


You can purchase the thermometer from Amazon for $36.99 or directly from Kinsa Health for $49.99.

Read on AppleInsider