Apple reveals iPhone 15 and iPhone 15 Plus with Dynamic Island & USB-C
Posted:
in iPhone
edited September 12
The iPhone 15 and iPhone 15 Plus have arrived with new colors, a faster processor, camera improvements, and much more.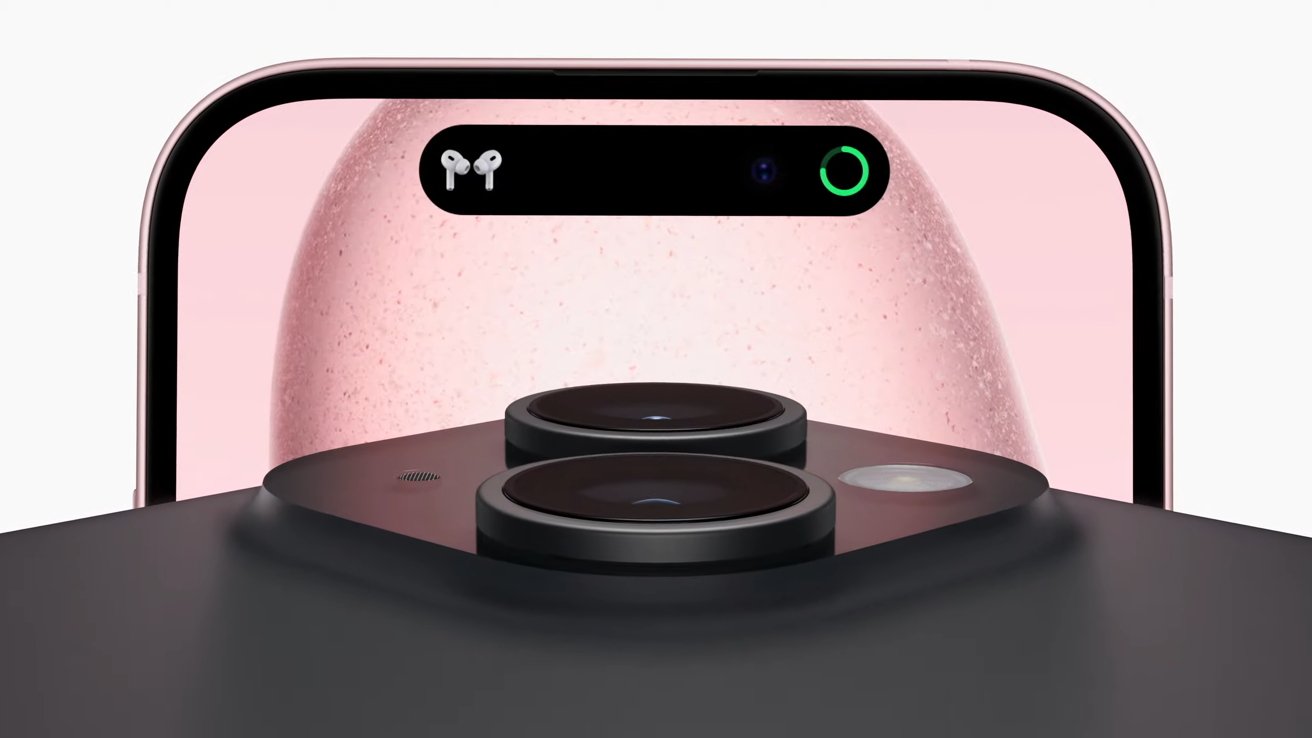 iPhone 15 with Dynamic Island


Two tiers of iPhone are differentiated by build materials, processor, display technology, and camera features. Apple has brought a handful of elements from the iPhone 14 Pro to the iPhone 15 and iPhone 15 Plus.

The iPhone 15 and iPhone 15 Plus were revealed during the Wonderlust Apple Event. These standard models are made from aluminum, have only two rear cameras, and use the previous-generation A16 processor.

New features include a USB-C port, Dynamic Island, and an improved 48MP Main Camera. The iPhone 15's A16 processor was previously used in the iPhone 14 Pro, an upgrade from the iPhone 14's A15.

The iPhone 15 Pro and iPhone 15 Pro Max have also been announced.

"iPhone 15 and iPhone 15 Plus represent a huge leap forward with exciting camera innovations that inspire creativity, the intuitive Dynamic Island, and features like Roadside Assistance via satellite that make a real difference in users' lives," said Kaiann Drance, Apple's vice president of Worldwide iPhone Product Marketing. "We're also pushing the power of computational photography to new levels this year with a 48MP Main camera featuring a new 24MP default for super-high-resolution photos, a new 2x Telephoto option, and next-generation portraits."


iPhone 15 and iPhone 15 Plus design


The iPhone 15 has a 6.1-inch display, while the iPhone 15 Plus has a 6.7-inch display. They both have Super Retina XDR display technology, which offers HDR, True Tone, P3 color, and 2 million to 1 contrast.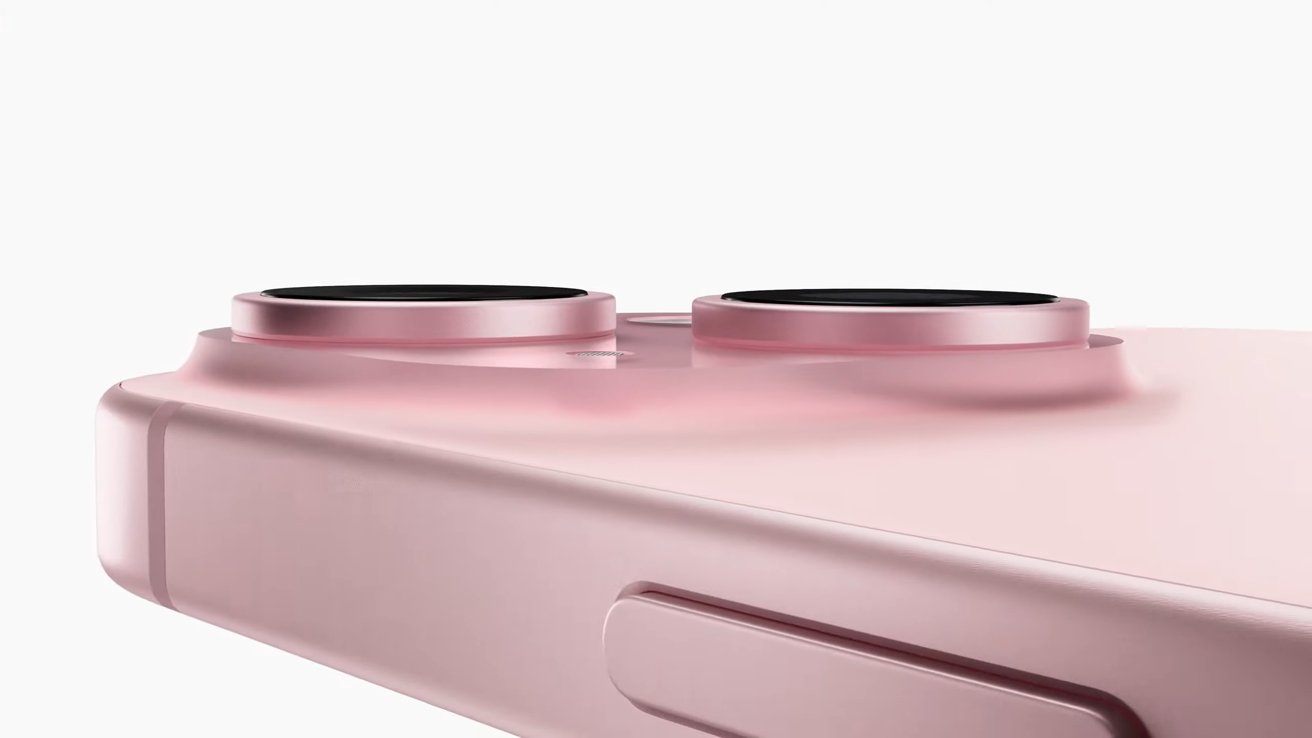 Curved aluminum sides


The most noticeable design change this generation is the move away from the notch to a Dynamic Island. This cutout is surrounded by active display pixels, which iOS uses to display Live Activity information.

Despite still being aluminum and glass, Apple opted for more muted colors. These colors are blue, green, pink, silver, and black.

The glass on the rear of the device is one piece, including the camera bump. It is made with a dual ion exchange process and nanocrystalline particles for increased durability.

As expected, the device edge is made from aluminum but has a curved edge. Apple says this will be easier to grip.


iPhone 15 and iPhone 15 Plus features


Apple usually doesn't offer many significant upgrades to the standard iPhone models year after year. However, the iPhone 15 and iPhone 15 Plus have several updated features, mostly inherited from the iPhone 14 Pro, that make this a larger-than-normal upgrade year.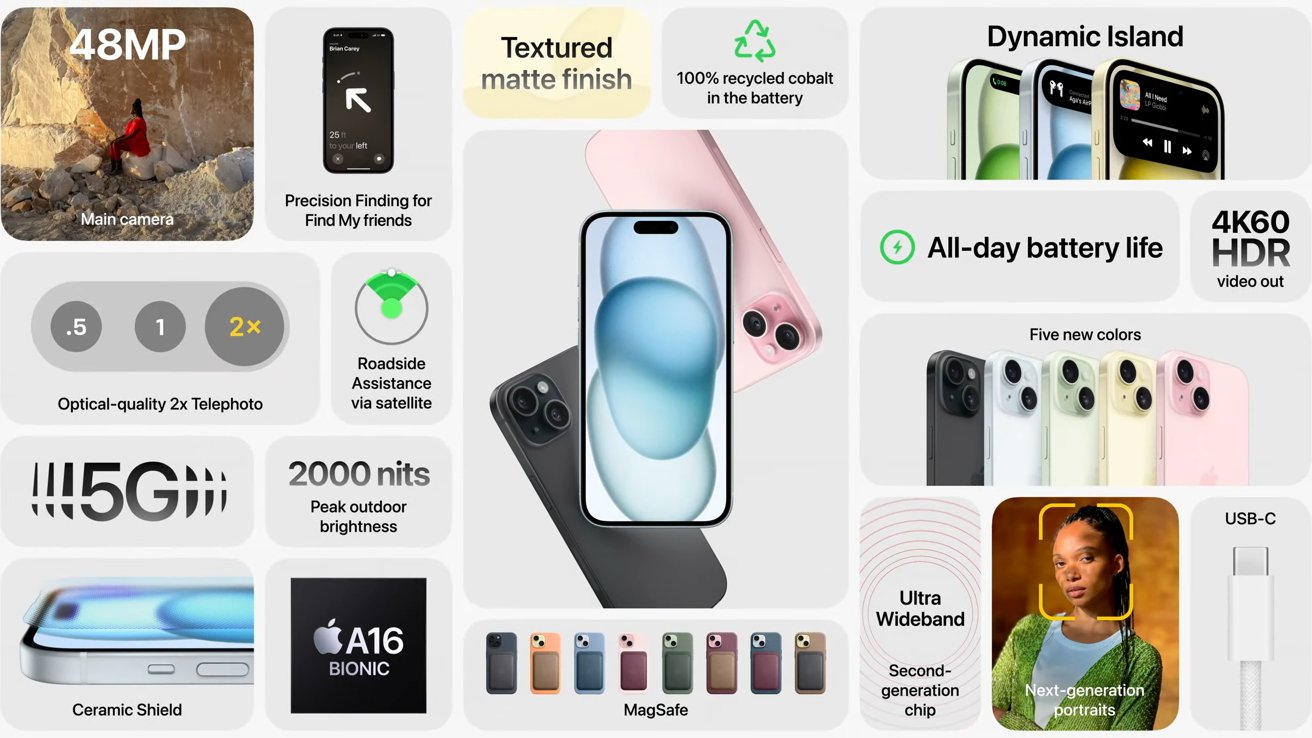 iPhone 15 features


The Dynamic Island houses the unchanged 12MP selfie camera and Face ID components. As mentioned, these components are obscured by software that shows Live Activities like now playing music or a current timer.

The rear camera module has been upgraded with a 48MP sensor. The sensor shoots higher resolution 24MP photos using pixel binning but has access to more information for image processing than the smaller 12MP sensor.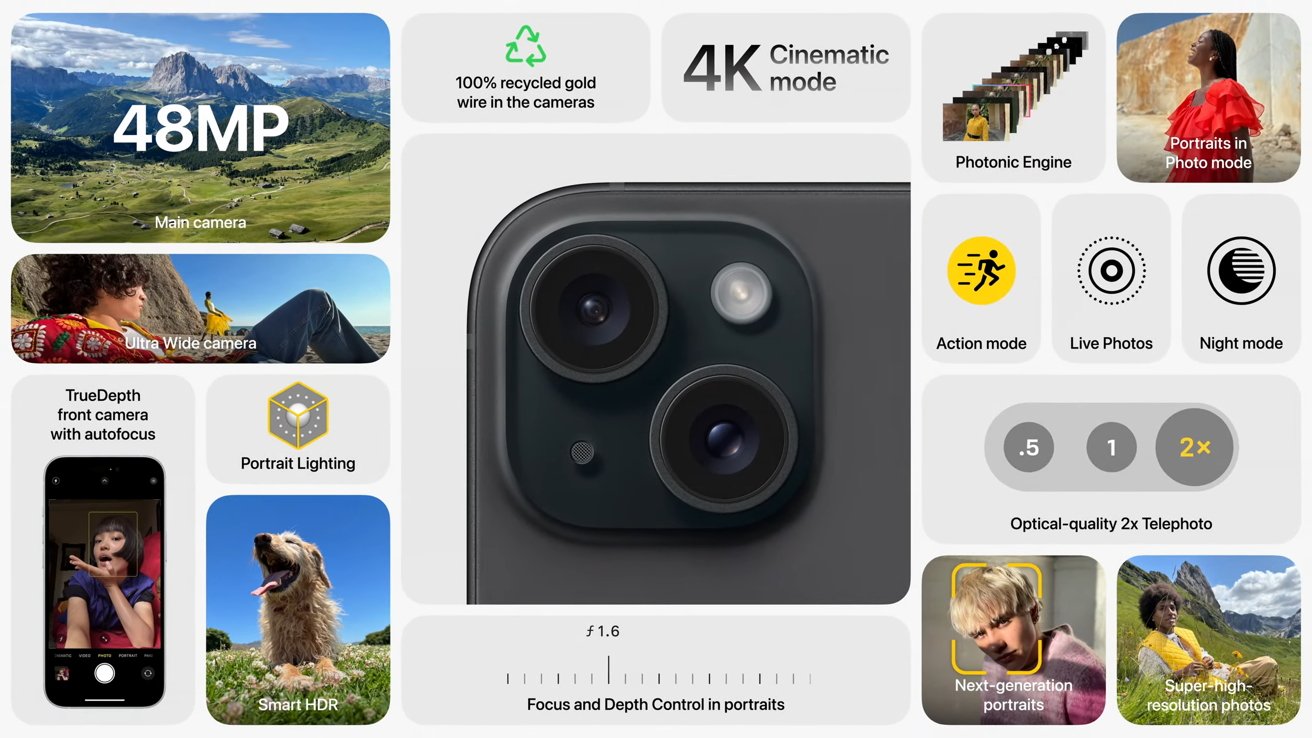 48MP Main Camera


Standard iPhone models also have access to a zoom function for the first time. The 2x zoom takes a crop of the 48MP sensor for a tight crop and still produces a crisp image.

Apple also announced a new automatic depth capture mode. Users no longer need to be in Portrait mode to capture depth data. It uses machine learning to detect when a person or pet is in the frame to capture depth info.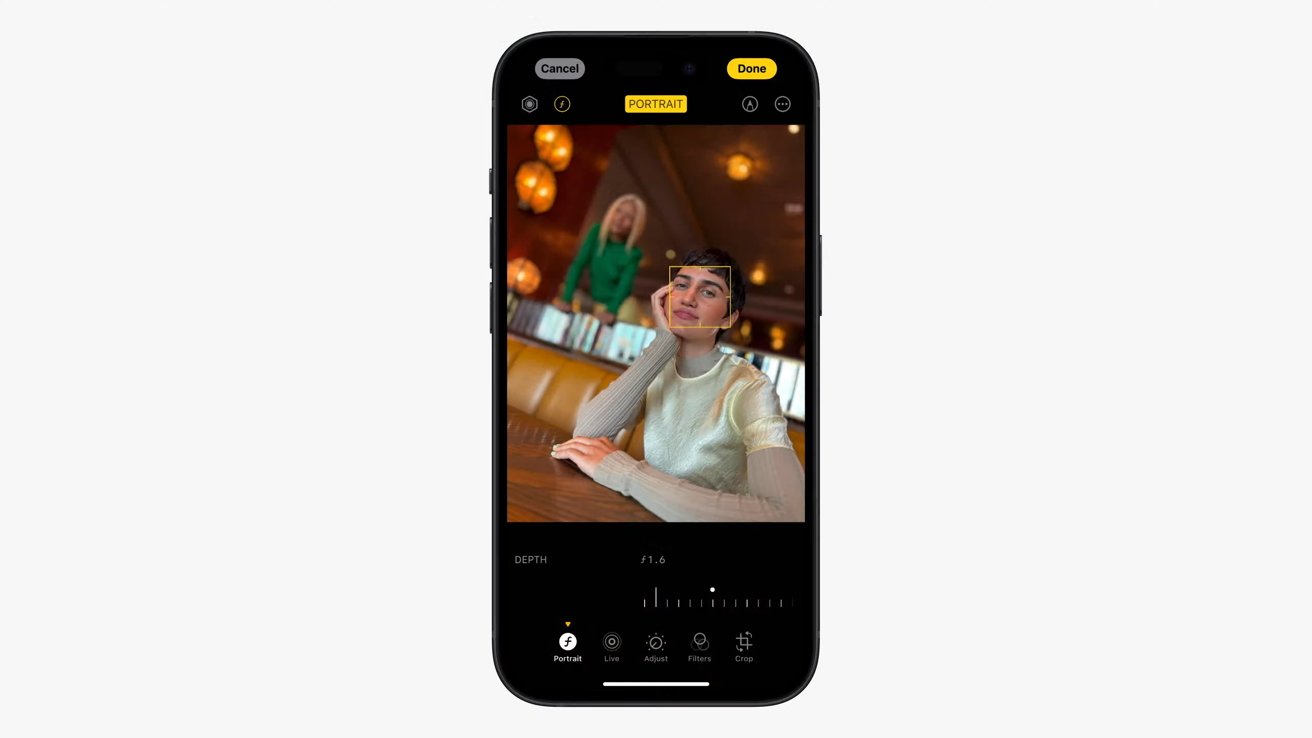 Control focus after a photo is taken


Also, this depth info can be edited after the image is shot. This allows users to change focus from one person to another after the fact.

Since these are non-pro devices, there isn't any access to Apple ProRAW, which enables users to shoot massive, unbinned 48MP photos. However, third-party apps can be used to do this.

SOS via Satellite is expanding to more use cases with Roadside Assistance via Satellite. Get help from AAA when stuck on the road -- even when a cell signal isn't present -- free for the first two years.


USB-C in an iPhone


One of the most anticipated changes for iPhone has finally arrived -- USB-C. While most buyers won't be completely rid of Lightning yet, it is a sign the standard is being sunsetted.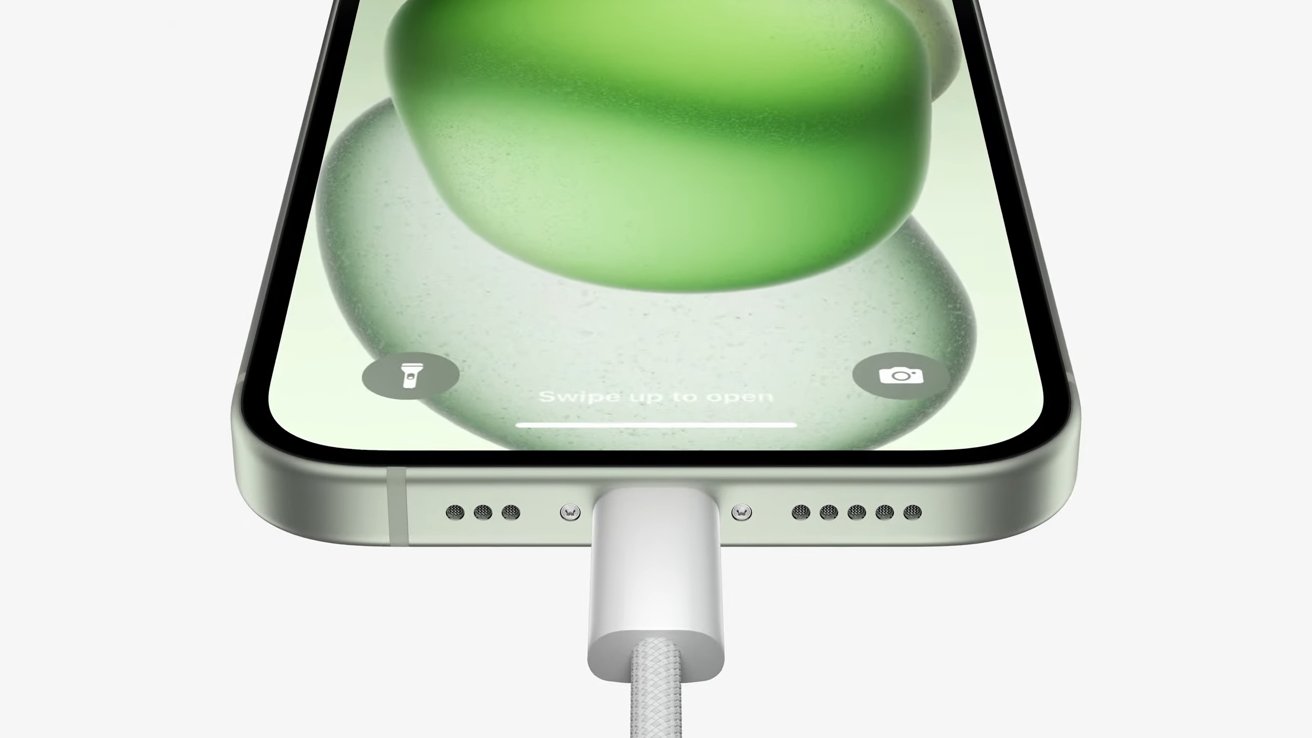 USB-C in iPhone 15


The move to USB-C is the first port transition for iPhone since Lightning was introduced in 2012. People generally associate USB-C with Android devices, but now that standard applies to nearly everything Apple does.

During the event, Apple did not disclose any details about the transfer speeds for iPhone 15. However, indications from the A17 Pro imply that the USB-C speed for the upcoming iPhone 15 will be equivalent to USB 2.0, which translates to a data transfer speed of 480 Mbps, just like the Lightning port.

MagSafe is still a thing for those who don't bother with wires. A new set of FineWoven cases with MagSafe joins the existing silicone lineup.

iPhone 15 also supports the Qi2 standard, so customers no longer need official MagSafe chargers for 15W. As long as it is Qi2, it'll charge at 15W.


A16 Bionic returns


Apple has a new tradition of keeping the standard iPhone models one processor generation behind the pro models. That means iPhone 15 and iPhone 15 Plus have the A16 Bionic.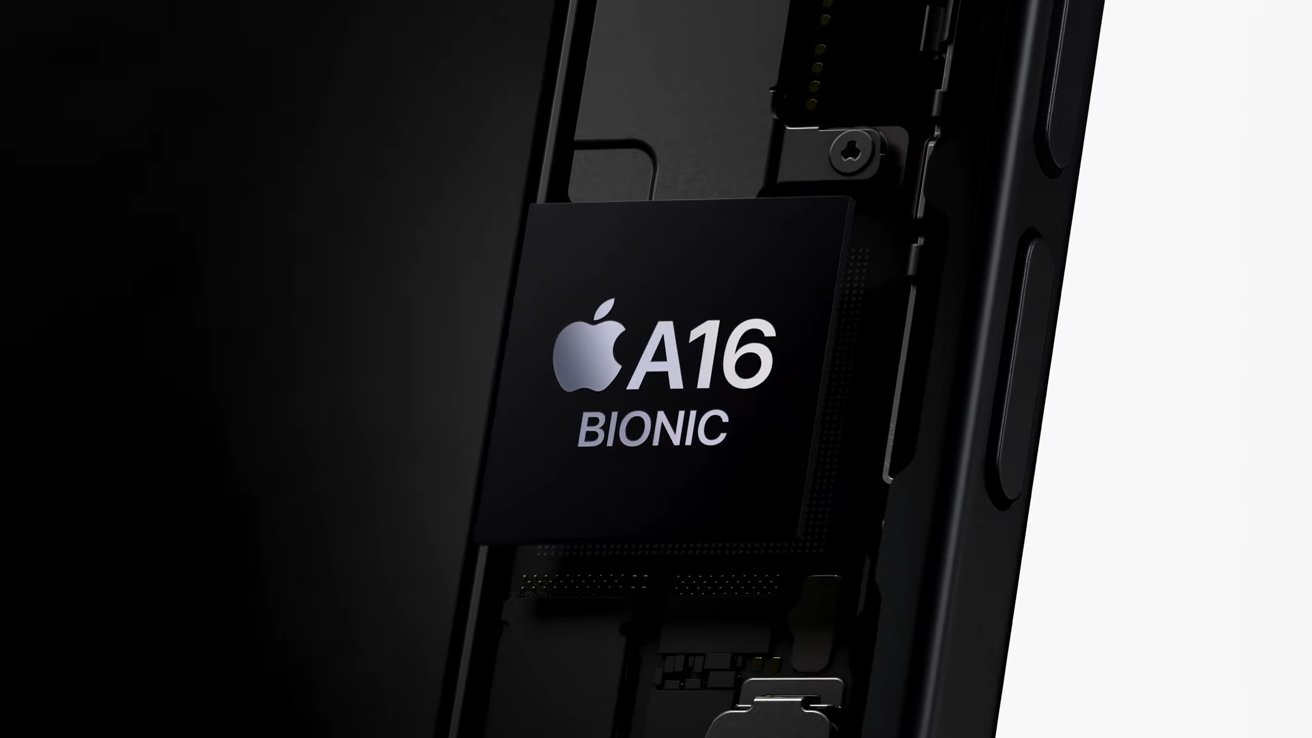 A16 returns


That's still an upgrade from the iPhone 14's A15 Bionic. The A16 has a 5-core GPU with 50% more memory bandwidth and a faster 6-core CPU. The image signal processor is also more powerful to handle the 48MP sensor.

Users upgrading from older non-pro iPhones should see a slight performance boost. The most noticeable areas of improvement are battery life and camera performance.


iPhone 15 and iPhone 15 Plus pricing and availability


Customers can pre-order the iPhone 15 and iPhone 15 Plus on Friday, September 15. Initial shipments and in-store availability begin on September 22.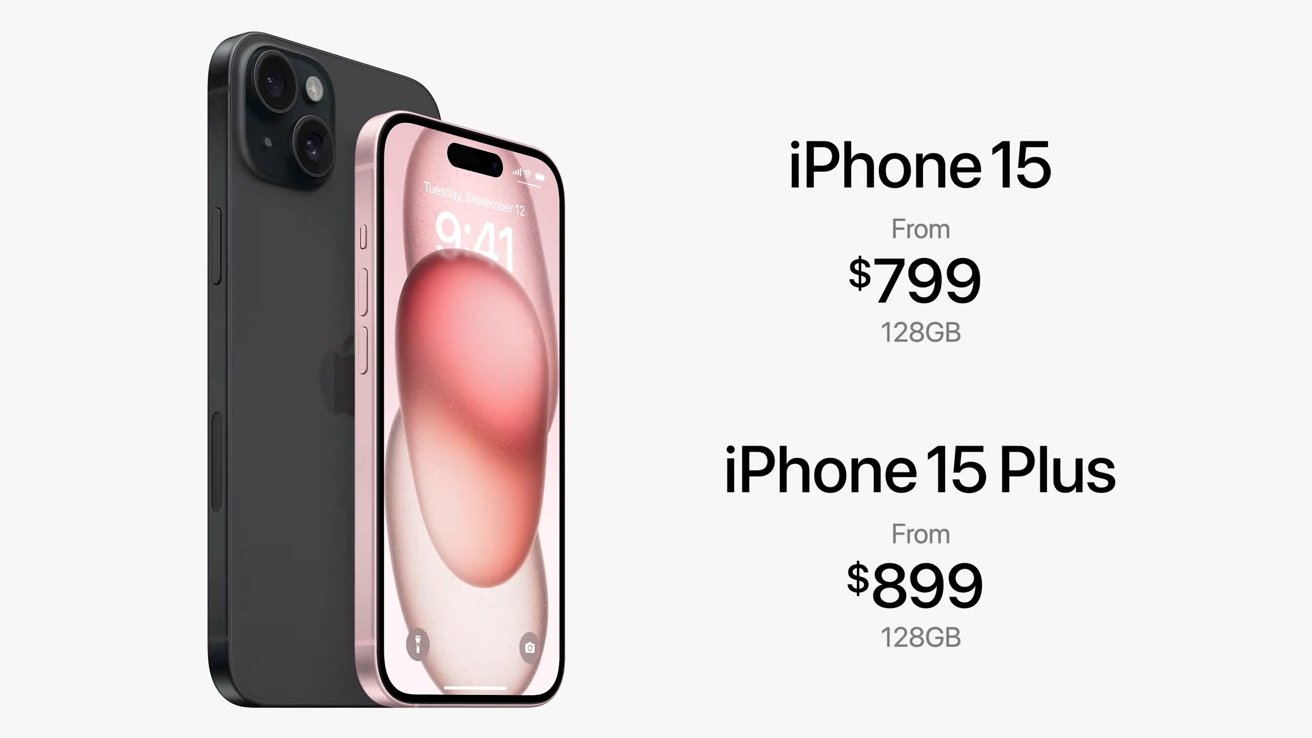 Pre-order on Friday


The iPhone 15 starts at $799 for 128GB of storage. It can be configured with 256GB of storage for $899 or 512GB for $1,099.

The iPhone 15 Plus starts at $899 with 128GB of storage. It can be configured with 256GB of storage for $999 or 512GB for $1,199.

Read on AppleInsider