ErgoFx desk review: Optimize your cable management and storage
The ErgoFx desk has unique perks, such as cable management and a built-in wireless charger for your iPhone -- but it comes at a steep cost.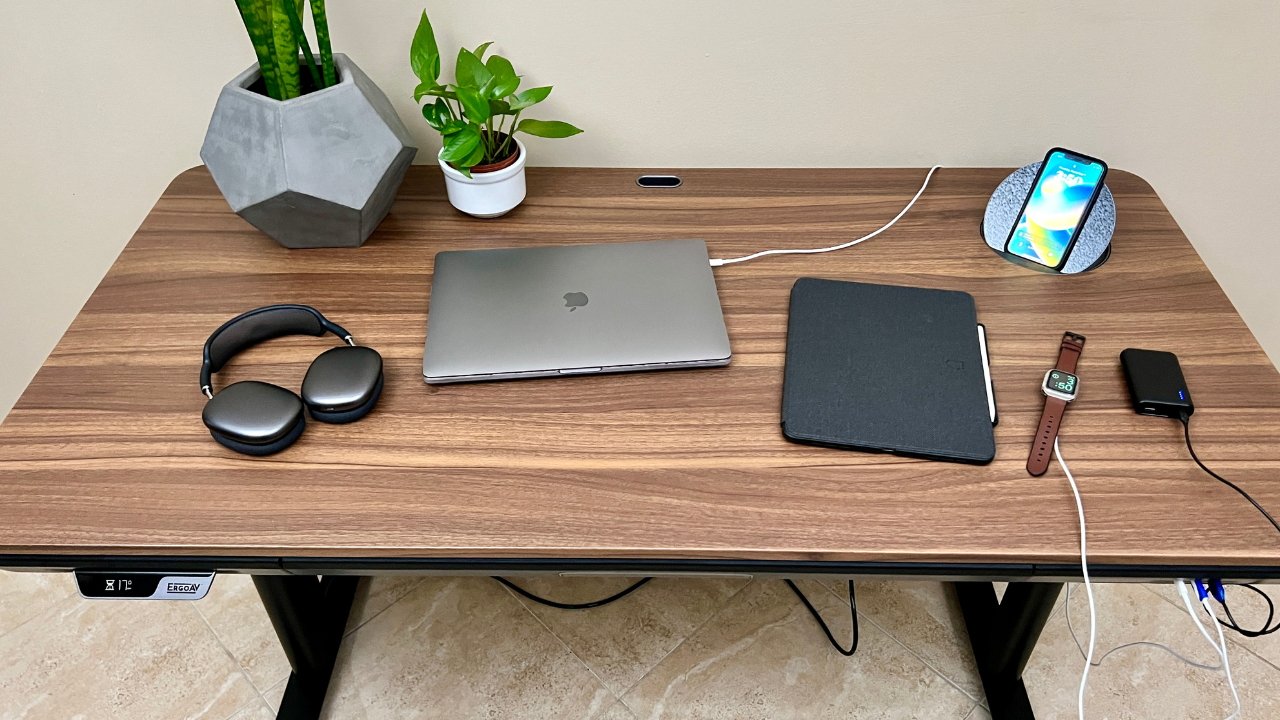 Review: ErgoFx desk


An adjustable desk can be a valuable investment for your health and productivity, allowing you to switch between sitting and standing positions throughout your workday. However, some standing desks have limited features, which could affect your comfort and convenience.

If you are looking for a standing desk that offers more than height adjustment, the ErgoFx desk lets you switch between sitting and standing positions and has practical features to enhance your workspace.


ErgoFx desk - Straightforward setup


The ErgoFx desk arrived in two heavy boxes. The assembly process was straightforward, thanks to the clear instructions and the well-designed parts. It can be a one-person job to assemble it, but you will need an extra pair of hands to turn it over after securing the legs.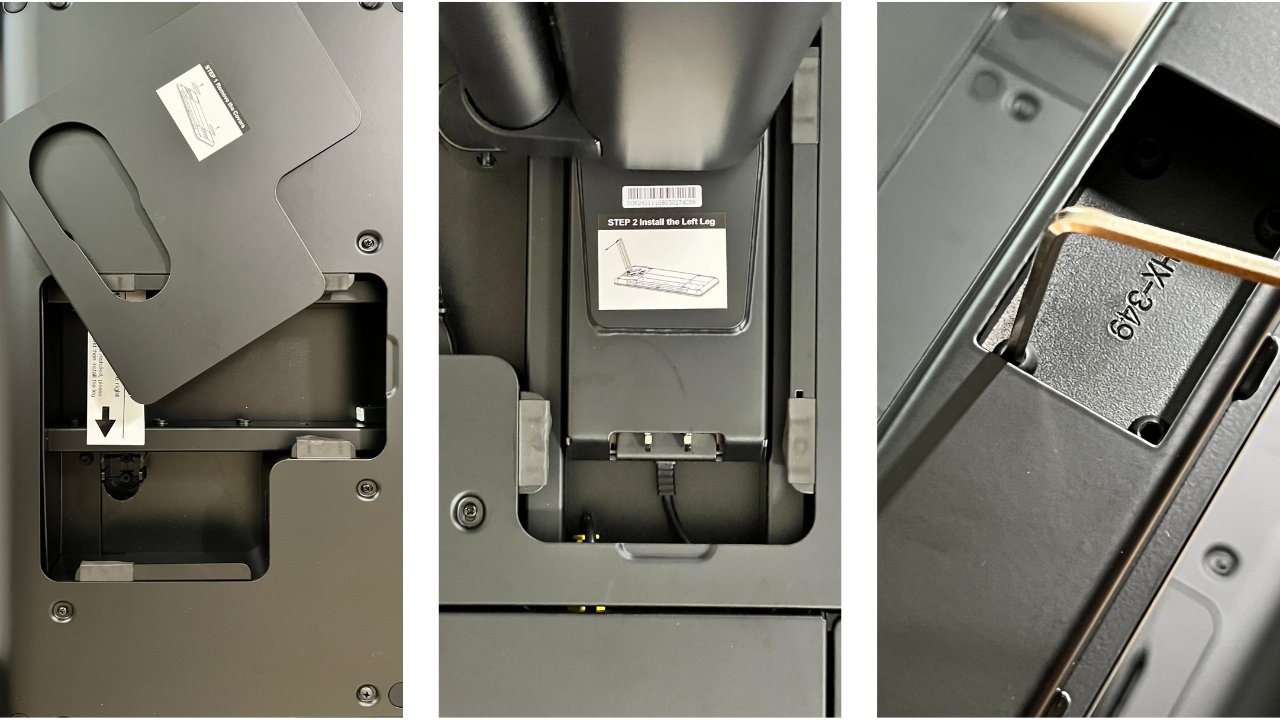 Setting up the ErgoFx desk was straightforward


The first step was to connect the cords and two legs. The legs had a mechanism that allowed them to snap into place when we tilted them, and this did not require any special tools.

The next step was to attach the feet to the legs using four screws for each leg. The screws fit perfectly into the pre-drilled holes, and we tested the stability of the legs by trying to move them with some force. They did not budge and were very secure and solid.

After we put it together, we were pleased with its sleek and elegant look. The ErgoFx desk is available in three different finishes, and we used the matte walnut finish for this review. The desktop had rounded edges, making it comfortable to work on for extended periods while enhancing its aesthetic appeal and preventing accidental injuries.


ErgoFx desk - Specs and features


The ErgoFx desk measures 62.1 inches x 31.3 inches x 5.31 inches and has a maximum load capacity of 176 pounds, which could readily accommodate a computer, keyboard, and other office essentials. However, it is not ideal for heavy-duty tasks that require multiple large monitors and heavy boxes of documents.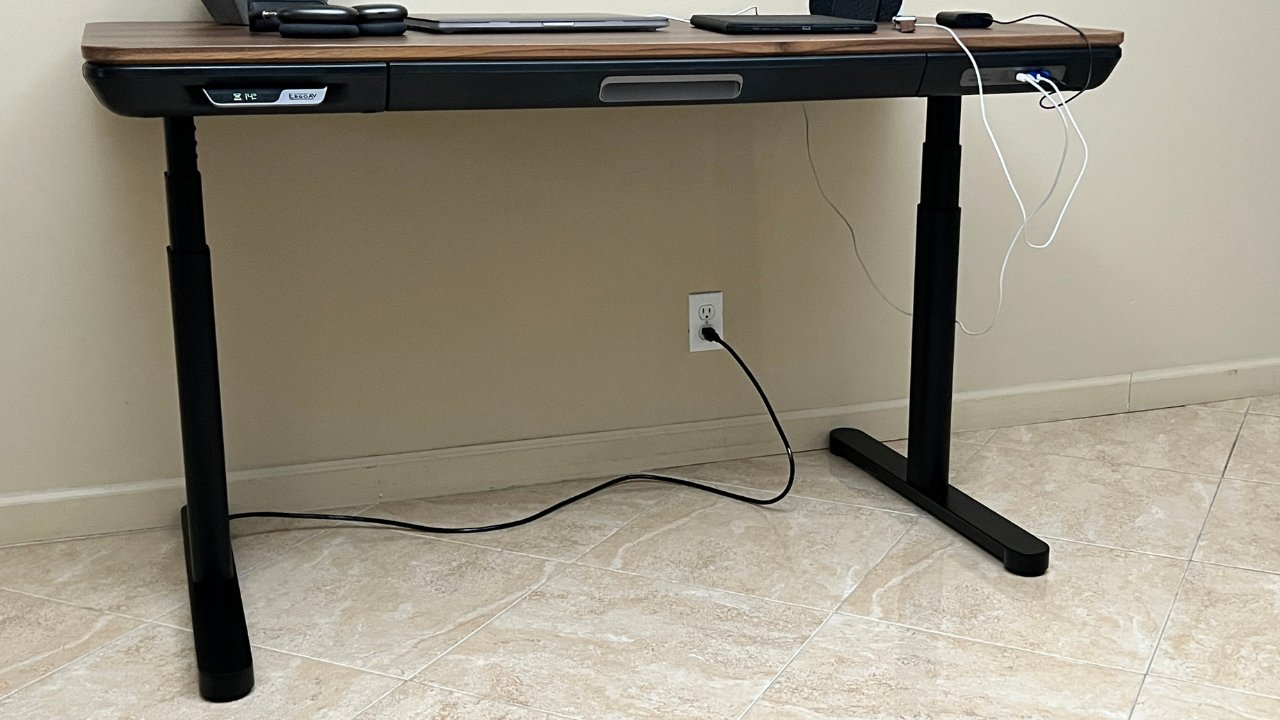 The ErgoFx desk with a control panel, drawer, and USB ports


To the desk's left is a control panel featuring a digital display showing the current desk height. You can easily adjust the desk height by pushing the control panel up or down. This is a more intuitive and user-friendly method compared to other standing desks that require you to search for buttons to press.

You can also customize three preset heights - sitting, standing, and a third to set as you wish. The desk transitioned smoothly and quietly during our testing.

We tested the anti-collision feature of the desk by placing a plastic storage container underneath it. As we lowered the desk, it detected the object and stopped moving. To prevent any harm to the desk or the container, it automatically raised itself by approximately an inch.

You can also secure the control panel to prevent accidental adjustments. The lock feature was easy to activate and deactivate by following a few steps on the control panel, and it worked as expected.


ErgoFx desk - Organization and cable management


A unique feature of the ErgoFx desk is a wireless charging module integrated into the desktop. This module allows you to charge your iPhone wirelessly while serving as a stand that tilts your phone to an optimal viewing angle. When you remove your phone, the module flattens itself and blends in with the rest of the desk, giving you more space and less clutter.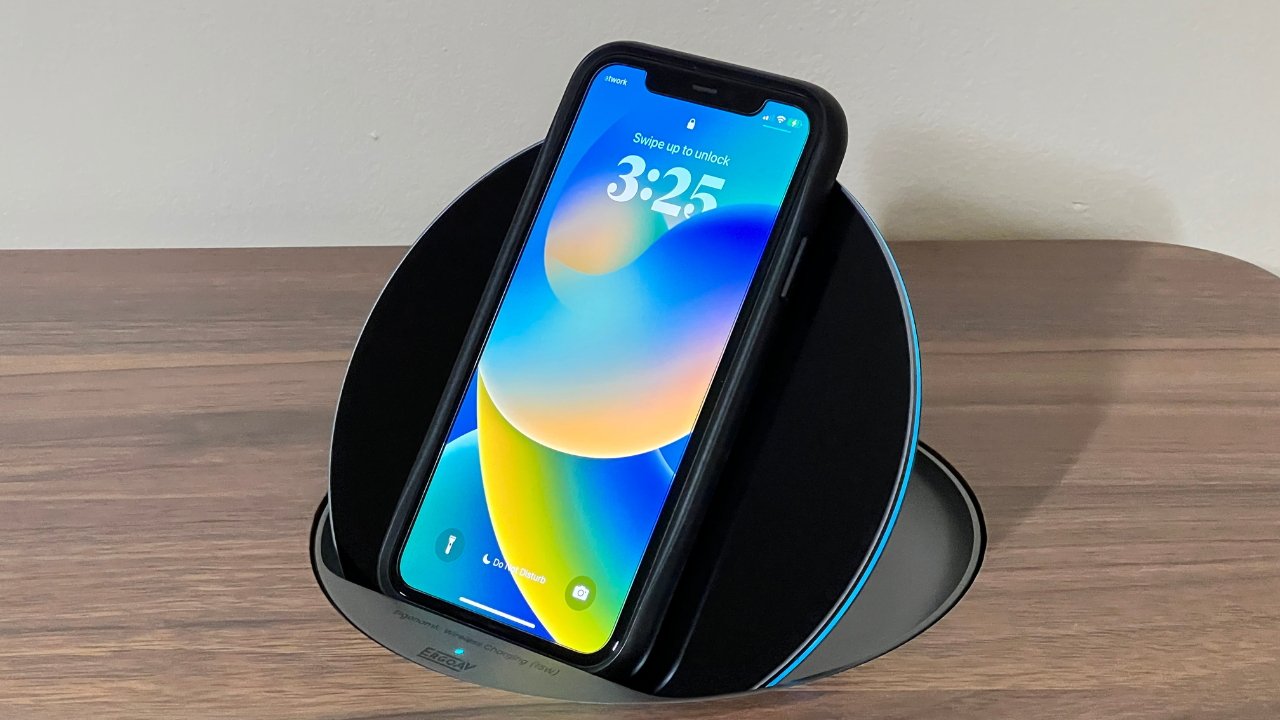 The ErgoFx desk has an integrated wireless charging module


Another aspect of this desk we liked was the integrated ports that enabled us to charge our devices directly from the desk. While we could have used our wireless chargers, having two built-in USB-C ports and one USB-A port on the side of the desk gave us more options to keep our devices powered up.

The USB port area lights up when your hand is nearby, making it easy to find and plug cables in dim lighting or at night. This intuitive design improves the user experience and offers a clever solution to keep your gadgets charged.

The ErgoFx desk also features a drawer that offers storage space for your accessories. When you open it, the drawer lights up, so you do not have to rummage for your accessories in the dark. This attention to detail was a simple but thoughtful feature that enhanced the user experience.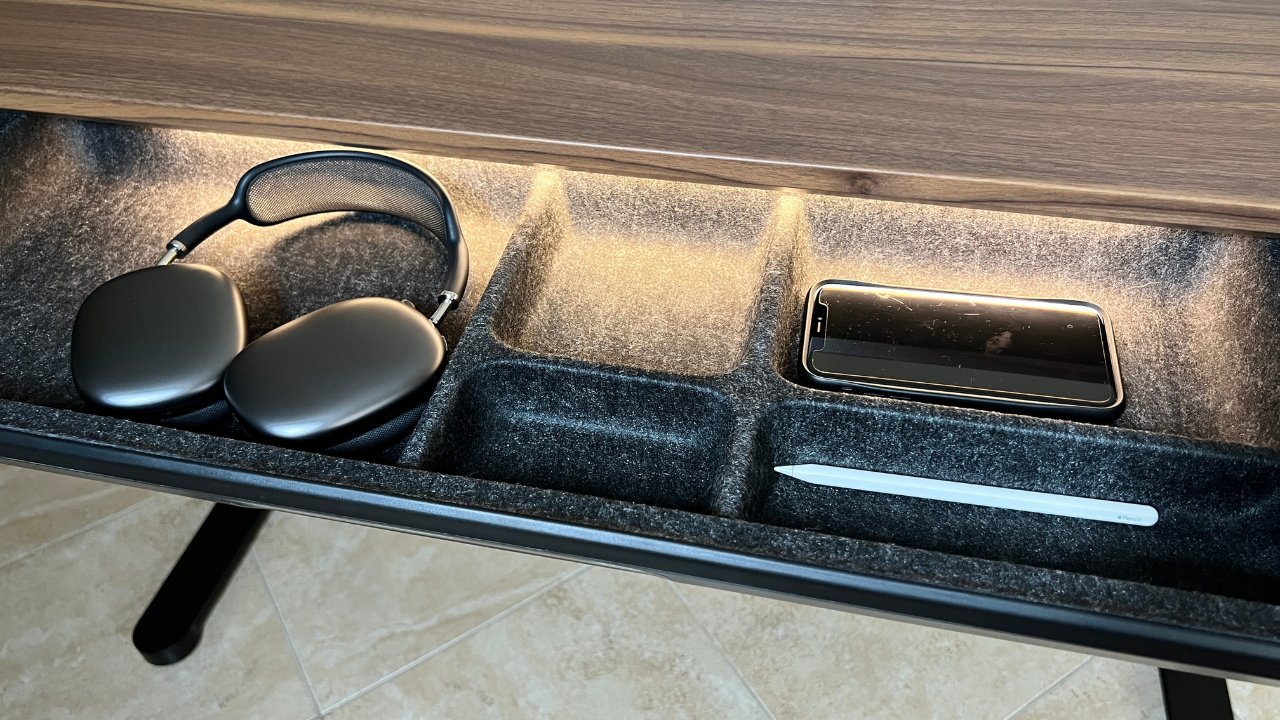 The desk drawer has removable built-in compartments


The drawer has built-in compartments that allow you to organize your items neatly. However, you can also remove them and customize the drawer according to your preferences.

There's a built-in 5-outlet power strip beneath the desk to keep cords and cables organized. The panel can be lowered to connect devices and closed again once plugged in. This concealed power strip is great for maintaining a tidy and organized workspace.


ErgoFx desk - App-enabled


There is an optional ErgoFx app that you can download for additional features to optimize your desk usage. For example, you can set a sedentary reminder for the app to alert you to stand up at timed intervals -- in case your Apple Watch's reminders are not enough to motivate you. The ErgoFx app also gives you a personalized recommendation for the ideal sitting and standing height based on your metrics. You can enter your measurements in the app when you set it up and get a suggested height range for each mode.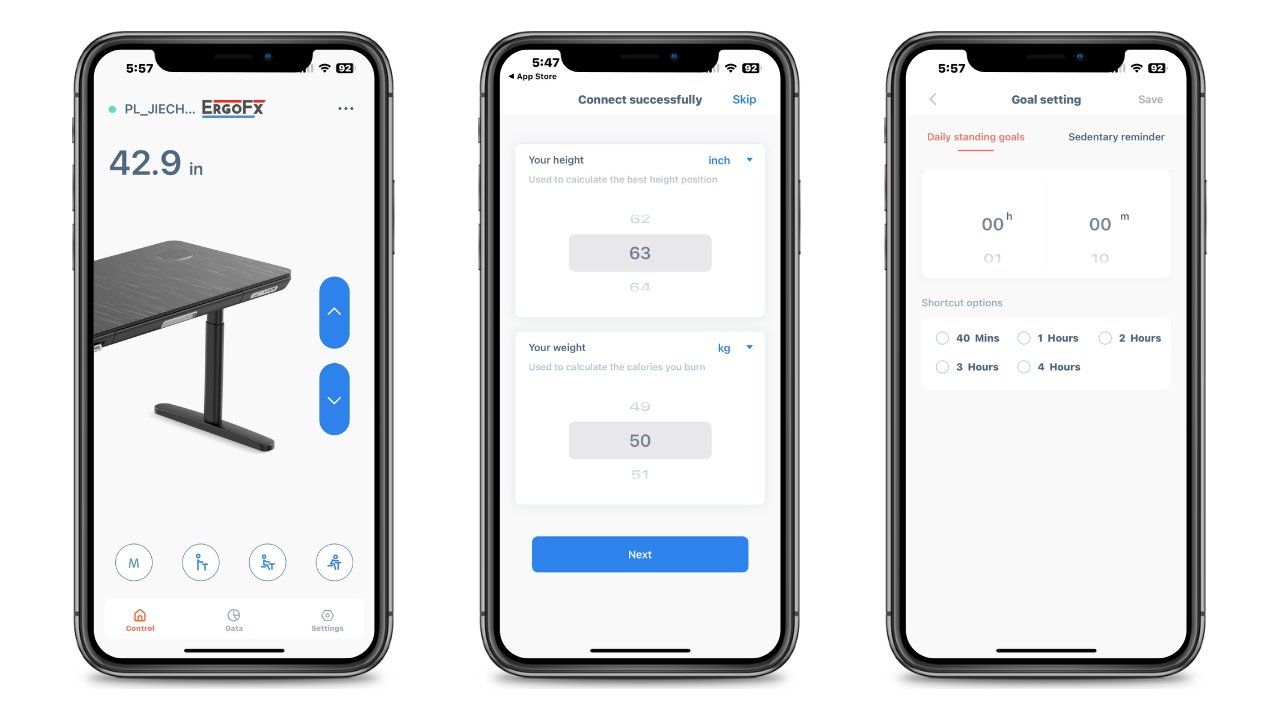 The ErgoFx app allows for additional features to optimize your desk usage


When we tried this feature, we preferred our desk slightly lower than what was recommended by the app. Of course, the suggested height may vary depending on individual preference and comfort level, and you can specify your presets instead of following the recommendations.

The app is minimal and user-friendly. There were no annoying pop-up ads, and it was responsive and quick to sync with the desk. We found the app to be a practical addition to the desk that enhanced its functionality and convenience.


ErgoFx - Keep your workspace organized


The ErgoFx desk may come at a higher cost, but it offers exceptional performance and quality, with added features that are not commonly found in other standing desks. The desk's organization features, such as the concealed power strip and storage drawer, were particularly impressive. For individuals seeking a standing desk that goes beyond just adjustable height, this may be a valuable investment.


ErgoFx desk - Pros
Wireless charging module


Hidden power strip and built-in charging ports


Storage drawer


Responsive controls and app
ErgoFx desk - Cons
Expensive


Weight limit may be low for some
Rating: 4 out of 5
Where to buy the ErgoFx desk


The ErgoFx desk in the walnut finish retails for $2,199.99, and you can get it directly from their company website.


Read on AppleInsider