Updated AirPods Pro bring USB-C and the promise of a Vision Pro future
Posted:
in iOS
edited September 18
First reviewers are saying that Apple's new AirPods Pro 2 are great now, but will really shine when Vision Pro is released in 2024.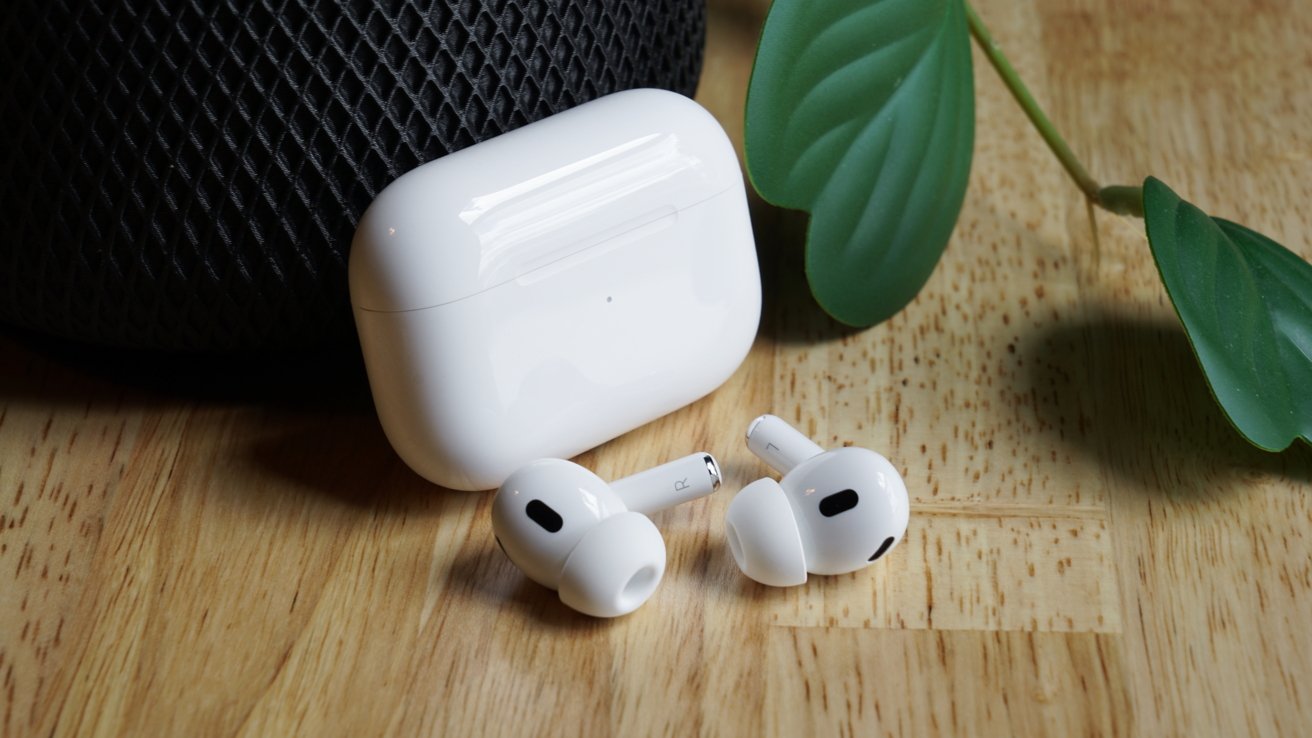 They look the same, but the new AirPods Pro 2 uses USB-C and will support Vision Pro


Although Apple included the AirPods Pro in its iPhone 15 launch event, it was just to mention that they now use a USB-C connector instead of Lightning. It's true, but without fail, every reviewer has seen that there is a little more to it.

Only a little more -- for now, Apple has just improved the dust resistance. But when Apple Vision Pro launches, these AirPods Pro will support it, and reviewers can't wait.

"The new AirPods Pro 2 have lossless audio specifically designed for Apple's mixed reality Vision Pro headset," says the Irish Independent. "[But they do] also benefit from the audio feature upgrades that come to all AirPods Pro (and to a lesser extent, regular AirPods) in the iOS 17 update for iPhones."

"The USB-C AirPods Pro 2 were actually more new than Apple said," says Stuff. "There's an updated IP54 rating for both the AirPods and the case - an upgrade from IPX4."

"Rather than increased water resistance," continues Stuff, "that change in rating actually means they're dustproof or 'protected against the ingress of dust'."

"They also have lossless Audio with ultra-low latency,'" reports the publication. "It'll deliver 20bit lossless audio at 48KHz [for the Vision Pro]... [however,]it must be said that quality is less than Apple Music delivers - 24bit/192Khz."

The Verge is a little more wary in its praise before Vision Pro comes out, putting quote marks around "groundbreaking" and "revolutionary new format," before examining the audio quality.


Great now, brilliant later


YouTube iJustine is full-on ecstatic about the new release, saying that she has only recently come to enjoy AirPods, and that she welcomes both the USB-C port and the device's promise for Apple's future.

"[This] port is kind of exciting because this will allow you to charge USB-C to USB-C on your new iPhone 15," she says. "And the other new thing is lossless audio. We're gonna have the ability to use this with Vision Pro, which will be coming out at some point, and I cannot wait to try that."

"So obviously, if you are gonna be getting a Vision Pro," she continues, "then making the upgrade to the USB-C case might be for you, so you'll be able to fully experience that latency-free lossless audio with your Vision Pro."

No one seems to be pointing out that after having paid out $3,500 for a Vision Pro, you'd best pay $229 more for great sound. But iJustine thinks that providing lossless audio for the Vision Pro is huge because of what else it could mean.

"This is kind of big news that Apple has unlocked lossless audio in their ecosystem, because you may see this elsewhere with the H2 chip," she says. "Right now it is only gonna be with the Vision Pro, but who knows what the future holds?"


Updates in software


The existing AirPods Pro 2 will also be getting certain features introduced in the new edition.

"The headline addition is Adaptive Audio," says the review in Engadget, "a tool that automatically and 'dynamically' blends transparency mode and active noise cancellation (ANC) based on your surroundings."

"Apple says it will change the noise control settings continuously throughout the day," continues Engadget, "making the proper adjustments as you move to different settings."

"Conversation Awareness is easily the best addition to the AirPods Pro," says Yahoo Finance in a review headlined "the best gets better."

"It automatically lowers the volume of whatever you're listening to and increases the sound of people's voices in front of you whenever you begin to speak," explains Yahoo Finance. "It's almost surprising how well the feature works."

"Whether I was in a crowded airport or my hotel room, Conversation Awareness automatically kicked in when I started speaking to someone," continued the publication. "What's more, it doesn't activate if you're mumbling to yourself under your own breath like I was while waiting for my plane."

One other thing that all reviewers at least allude to -- apart from the USB-C charging point, the new AirPods Pro are visually indistinguishable from the previous edition.

Read on AppleInsider