iPadOS 17 arrives with added Lock Screens, Health app, and more
The iPad had a rough software cycle through 2022, but iPadOS 17 is now here with refinements, more customization options, and nearly every iOS 17 feature piled on top.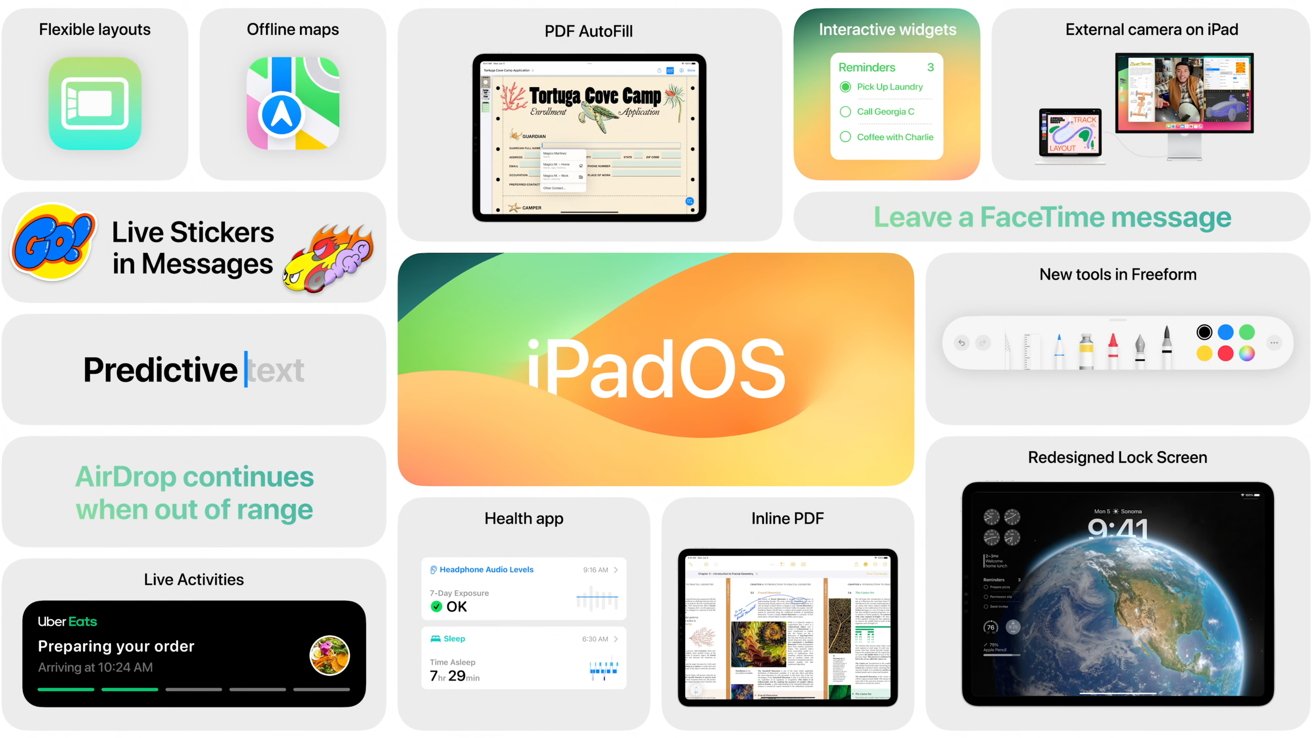 iPadOS 17


Apple's brief mention of Stage Manager during WWDC concerned some power users, but iPadOS 17 has shown a strong turnaround for the controversial feature. In addition to those refinements, Apple has squeezed in multiple upgrades and added the Health app to the platform.

As seems to be the case with Apple's software releases, iOS 17 got the lion's share of new features, while iPadOS 17 got a subset of those. A few platform-exclusive updates were also made, but this is the tock in the tick-tock iPad software update cycle -- meaning fewer new features overall.

StandBy was revealed for iPhone, but not iPad, since there aren't any iPads with always-on displays. Also, it seems the Journal app might be iPhone-only, though that hasn't yet been confirmed.


A nod to Stage Manager


Apple didn't want to spend much time discussing Stage Manager during the iPadOS 17 reveal. It was briefly mentioned that layouts were more flexible and stability improved, but that's it.




After months of betas, it is clear that Stage Manager is now a fully operational feature. While still not perfect, it is where it should have been with the iPadOS 16 launch.

External display support is still limited to M-series processors, and developers still don't have much insight into window sizes. But, pro iPad users will be satisfied with this release.


Custom Lock Screens


Lock Screen customization was introduced with iOS 16 and has made its way to iPad with iPadOS 17. Since iPads are used in two orientations, users can customize both layouts with different widgets.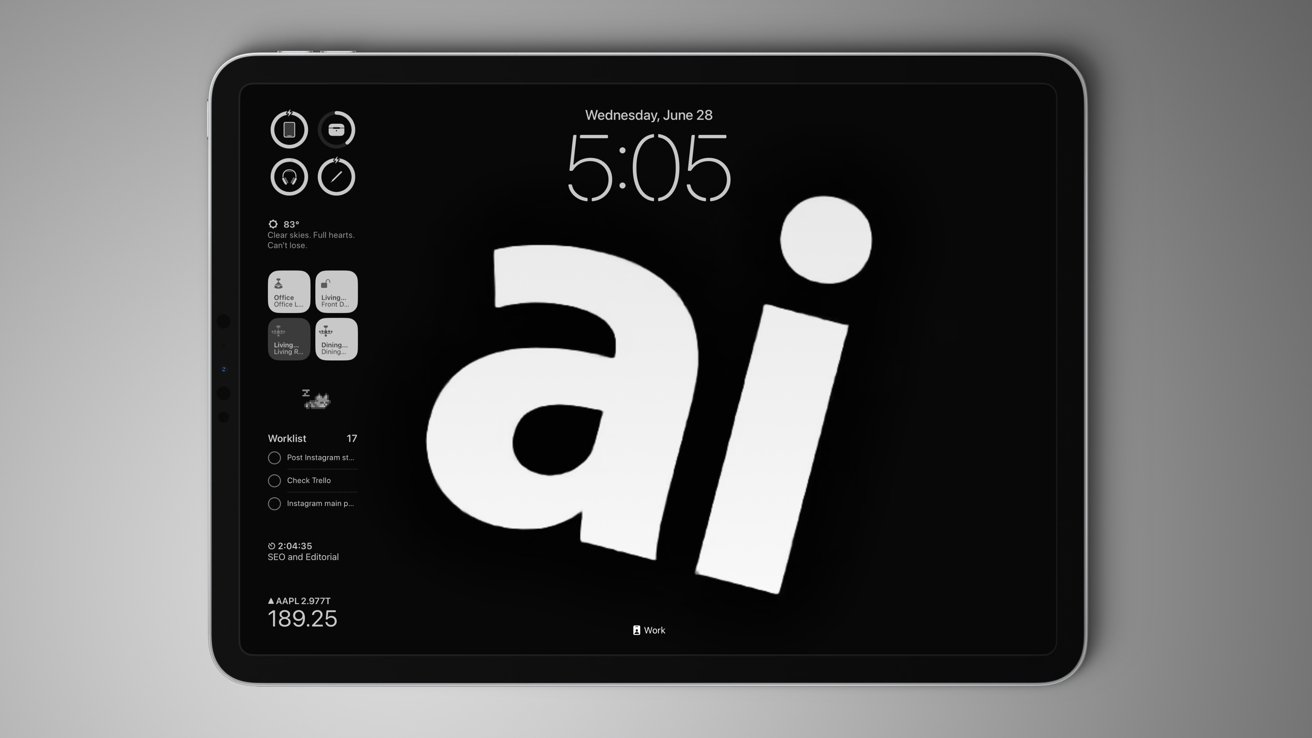 Set custom Lock Screens for work or personal Focus Modes


Like with the iPhone, users can assign different Lock Screens to Focus Modes. That way, Lock Screens, Home Screens, and widgets all change based on the active Focus.

The feature is slightly more limited on current iPad models versus iPhones since there isn't an always-on display. Information is available at a glance on the Lock Screen but only after waking the device.


External webcam and capture card support


Apple has added external webcam support to the iPad. That means USB-connected webcams or those integrated into monitors will work with iPadOS.




Users can also attach capture devices to the iPad as a side-effect of this feature. Capture cards are generally used for streaming video games to the web, but they have other uses.

Connect a capture card to the iPad through a USB-C adapter, and any HDMI device can be displayed on the iPad. That means the iPad can be transformed into a portable smart display for things like Nintendo Switch.


Health app


Apple has finally launched the Health app on iPad. It has been built to take advantage of the large display with a sidebar and columns of data.

All of the expected features are present in the iPad Health app. Enter data, view trends, and share with family.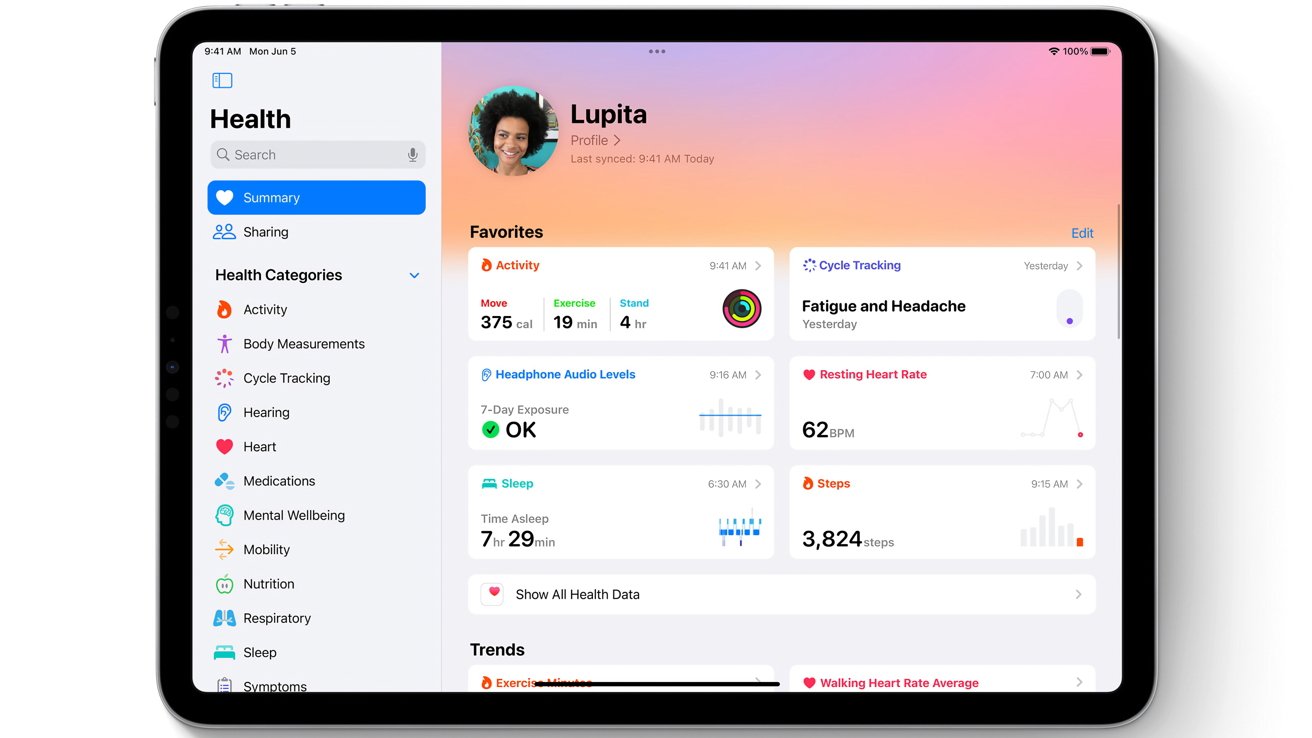 Apple Health on iPad


It isn't clear if third-party apps will be built for iPad to log Health data, but it seems possible.

The most obvious Health-related function for iPad would be the newly-announced Journal. However, it isn't clear if that will be available for the iPad at launch.

The Journal app isn't coming to iOS 17 until a later update.


Features from iOS 17


As usual, Apple has provided several ecosystem-wide updates that debuted with iOS 17 but are available on all platforms.




Autocorrect gets transformer language model


Contact Posters, NameDrop, Live Voicemail, and FaceTime Video Messages are all-new communication tools


Temporary codes sent via Mail app show up as a suggestion (similar to Messages)


Live Photo Stickers and animated stickers can be created and used across the system


PDFs can now be edited in Notes or in place across the system


Settings app toggle enables automatic deletion of messages with temporary codes in Mail and Messages after the code is used


Reminders gains a grocery sorting feature, new sorting methods


Photos is better at recognizing people, now lets users tag their pets


Set up Safari Profiles to provide more separation from work and personal browsing.


Share passwords and passkeys with friends or family




Some of the features are enhanced by being on iPad. For example, system-wide PDF editing is improved with Apple Pencil, and Reminders app columns look great on the big iPad screen.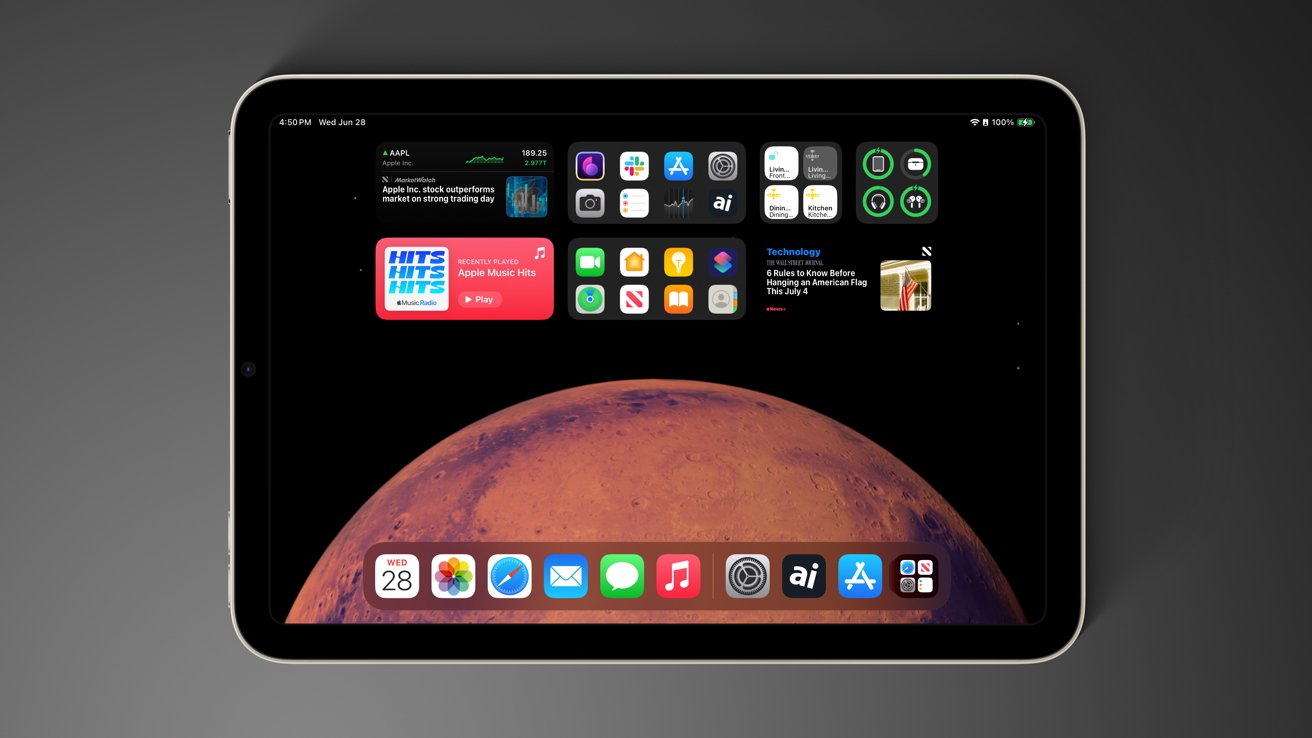 Interactive widgets are also available on iPad
How to install iPadOS 17 and compatibility


Install iPadOS 17 by navigating to the iPad Settings app, select General, then select Software Update. Ensure beta updates are turned off, and the final release version should appear if not already installed.

Read on AppleInsider