Skype for iOS gets Siri and CallKit support in latest update
Posted:
in iPhone
edited March 2020
Skype on Wednesday became the latest app to take advantage of Apple's new iOS 10 APIs, with the popular VoIP product now supporting both Siri commands and CallKit for a completely integrated experience.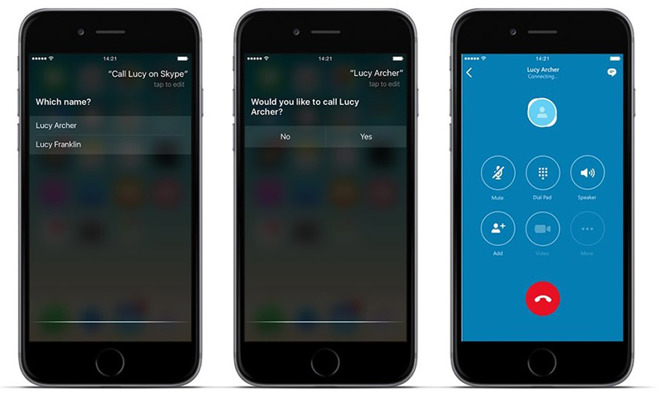 With
Skype version 6.25
, users can now place calls by invoking Siri. For example, if a user has John Smith's Skype information in Contacts, they can initiate a Skype call simply by telling Siri to "Call John Smith."
Contact list integration, enabled by CallKit in iOS 10, extends beyond phone calls. Users can also use the Contacts app to invite friends to Skype. Further, CallKit enables incoming Skype calls to appear as regular phone calls in the lock screen, complete with the usual slide to answer UI.
Aside from iOS 10-only options, the new app version lets users buy Skype Credit with Israeli Shekels and better differentiates contacts from bots in the in-app contacts list.
Skype version 6.25 is available as a
free download
from the iOS App Store.