Review: Jaybird's X3 Bluetooth earbuds are a great choice for pumping iron
Posted:
in iPhone
edited January 2021
The Jaybird X3s are a high-quality, yet affordable alternative to other fitness-oriented Bluetooth headphones, including Apple's AirPods and Beats products. Whether or not they're right for you, though, can be very subjective.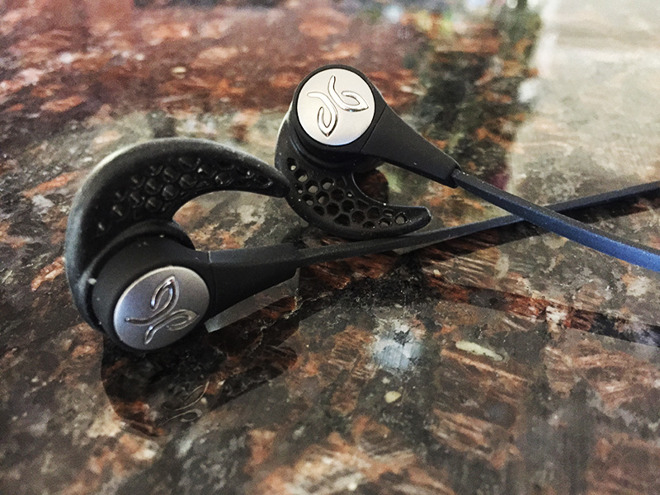 Anyone who does regular timed running or lifting weights knows that a good set of headphones are worth their weight in gold. The perfect pair is so comfortable you'll forget you're wearing them, while being secure enough that you can perform any exercise without worrying about them falling out. They'll also sound good, naturally, and be durable with solid battery life.
The X3s attempt to hit all of those points, and for the most part succeed. More than any other headphones we've experienced, though, this depends on how you customize them.
Jaybird bundles an almost absurd number of accessories that you'll need to pick and choose from for an ideal fit. You can wear the headphones loose or cinched, over or under the ears, and with or without ear fins, which help keep the buds in place and come in three different sizes.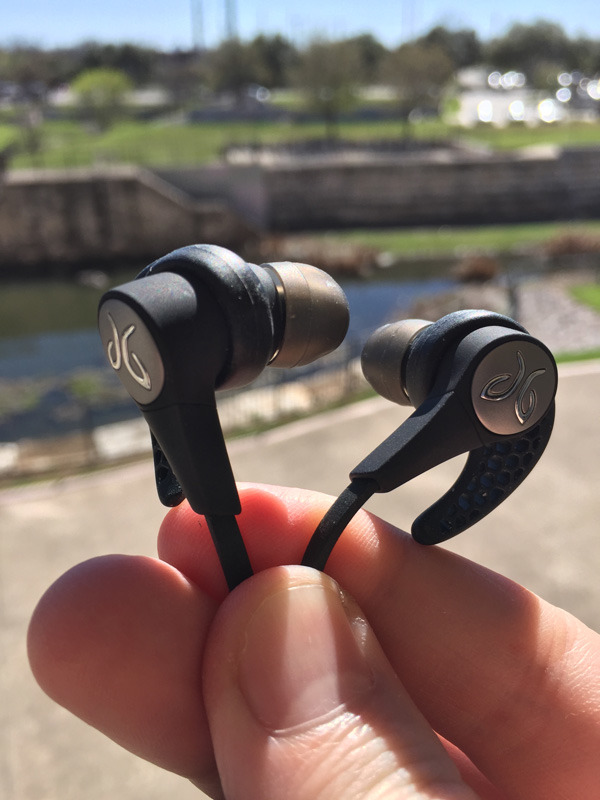 There's also an optional shirt clip, and six different pairs of tips, three of them foam ones by Comply. We highly suggest picking a pair that fits deeply and snuggly inside your ears -- not just because they'll stay put, but also because much like the Powerbeats3s,
a tight fit
is the separator between weak and amazing sound.
Even once you're wearing the X3s the way you like them, tweaking doesn't stop. Downloading Jaybird's
MySound app
is almost essential, since this lets you create custom EQ settings that are saved directly to the hardware -- alternately, you can pick from a variety of celebrity and user-made presets.
By default the headphones' EQ settings are relatively flat, so choosing new ones can have serious impact. A lot of users will probably want to increase bass -- in fact we ended up settling on one preset, "Better Than Beats," that was very bass-heavy without being overwhelming.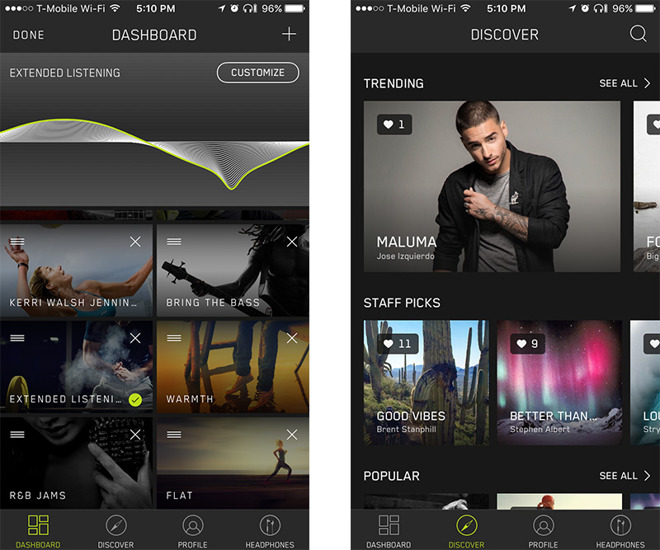 MySound is fairly well-designed and intuitive, but we did find some quirks. You have to be playing some music of your own to test presets, and if you temporarily lose your Bluetooth connection, you may have to reconnect in the app as well to save any changes.
Once everything is finally set up properly, the X3s do sound great, comparable in fidelity to other high-end fitness headphones. They're also fairly well-balanced, which should appeal to people who aren't just pumping rap, industrial, or dance music.
That being said, we found ourselves missing the punchy bass from current-generation Beats gear, even if Apple sacrifices some mids and highs to get it -- not to mention any semblance of a discreet external design.
Speaking of which, while we found the X3s to have a solid grip, the Powerbeats3s are arguably the workout headphones to beat when it comes to fit. Hooks can be a little ungainly, sure, but they're simpler, and allow buds to be worn (slightly) looser without giving up on good sound or risking them popping out. The X3s' design also tends to put their inline remote in an awkward position too close to the ear.
The product offers 8 hours of battery life, equivalent to Apple's
BeatsX earbuds
, but below the Powerbeats3, which can last up to 12 hours. The X3s are also slower to charge, taking about 15 minutes to get 1 hour of playback. That's healthy, but not as impressive as Apple's Fast Fuel technology, which in 5 minutes gives Powerbeats3s owners up to an hour, and BeatsX users up to 2 hours.
Another minor drawback is that Jaybird uses a proprietary charging adapter rather than Lightning or micro-USB. Although this helps keep the headphones sweat-resistant (unlike the BeatsX, incidentally), losing the adapter means you'll be out of luck until you buy a replacement accessory kit for $9.99.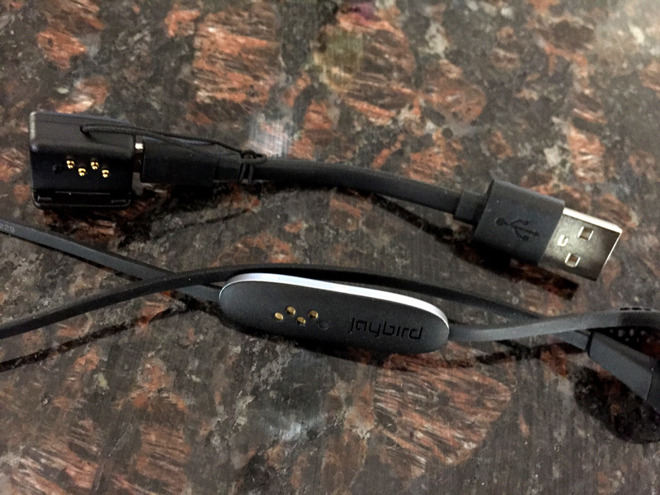 In testing at the gym we found the X3s' Bluetooth performance to be good, but not perfect. While we were able to wander around pretty far from our iPhone -- certainly more than the industry standard 33 feet -- signal began to cut out sooner than other recent headphones we've looked at, like
the Powerbeats3
or anything from
Master & Dynamic
. Likewise, they were also more vulnerable to interference, whether from hands or other factors. Thankfully, these issues should be minimal to non-existent if you keep your phone close by.
Conclusions
If you need a set of Bluetooth headphones and don't care about Apple-exclusive pairing options, the X3 is certainly a must-look, even if you don't care about exercise. They certainly have price going for them, since at $129.99 they're cheaper than anything Apple has to offer.
As you might have gathered however, we'd pick the Powerbeats3 for fitness if budget and their conspicuous design aren't an issue, especially since we enjoy their sound and you won't spend 30-60 minutes setting them up for the first time.
That's the thing about headphones though -- ultimately, it comes down to preferences. If you want extra customization and more balanced output, the X3s might trounce anything Apple could sell you.
Score: 4 out of 5
Where to buy
The X3s are $129.99 from
Jaybird
, as well as third-party retailers like
Amazon
and
Best Buy
.