Magic Keyboard with Numeric Keypad order delays fuel speculation about new model for iMac ...
Mac users looking to buy the Magic Keyboard with Numeric Keypad face a long wait before getting their hands on the peripheral if they order it through Apple's online store, with the long backorder time potentially suggesting a change to the hardware is on the way.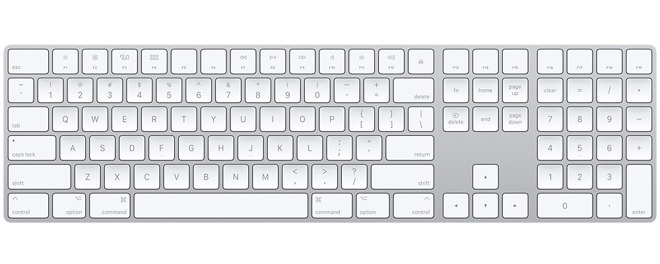 The product page for the
Magic Keyboard
with Numeric Keypad in the online Apple Store advises it will ship within 4 to 5 weeks.
AppleInsider's
testing found the same lead time for shipping is advised for all language variations of the keyboard available to purchase via the US storefront.
It is a similar situation in other regional online Apple stores, with the versions covering the United Kingdom, Germany, France, Sweden, Mexico, Japan, and other markets all listing the same 4- to 5-week period of time.
Notably, the Magic Keyboard without the extra keypad does not appear to be affected. Delivery times for the keypad-less model seem to be normal, taking days or a few weeks to ship, depending on the market and the selected language.
It is unknown why the Magic Keyboard with Numeric Keypad has such long shipping estimates across the board, and just for this version. Apple does sometimes hold a product from dispatch if a refresh is incoming, but as Apple introduced the keypad-equipped model
during WWDC 2017
in June, it seems to be too early in a typical product cycle for major changes to be made to the hardware.
The December shipment timing may have something to do with the expected release of the
iMac Pro
before the end of the year. Space Grey versions of the Wireless Keyboard, Magic Mouse 2, and Magic Trackpad 2 accessories will be sold alongside the iMac Pro, matching the color of the chassis.
There is also the possibility of Apple adding the
Touch Bar
, the thin touchscreen display included as part of the MacBook Pro, to peripherals used by desktop Macs. In April, patent applications were uncovered for a "Keyboard with Adaptive Input Row," which uses a similar touch-enabled screen situated just above a standard keyboard.
While there is potential for the introduction of the Touch Bar to the accessory, it would seem to be more likely for Apple to offer the Touch Bar as part of an update to the smaller Magic Keyboard alongside the Numeric Keypad variant, rather than just for the larger model.
Those looking to pick up a Magic Keyboard with Numeric Keypad can find it in stock at Adorama for
$124.00
($5 off) with free shipping and no sales tax collected on orders shipped outside NY and NJ.