Apple's second-generation AirPods with health tracking features coming first half 2019
The second generation of Apple's AirPods will arrive in the first half of 2019, according to supply chain sources, with the wearable devices expected to include health tracking functionality that will make them more attractive in the overall wearables market.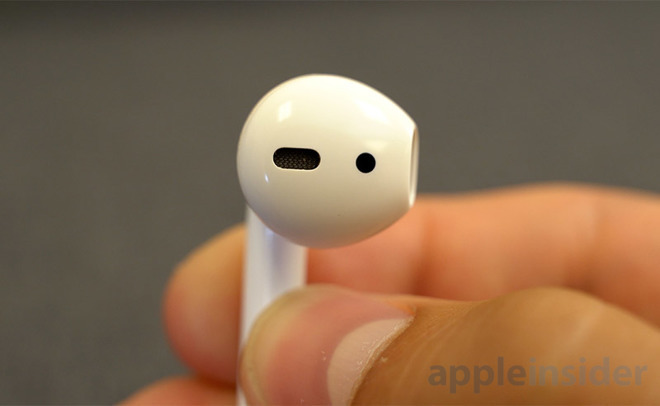 Apple's AirPods
The
rumored AirPods 2
is tipped to launch in the first half of the year. The new wireless models, which may include health monitoring functions, are expected to receive an enthusiastic response from consumers, with
competitors
preparing to take them on with their own versions later in the year .
The competitive wearables market has already seen considerable growth over the last few years, with Apple's revenue from the wearable segment believed to have grown by 50 percent in 2018 compared to the full year of 2017, sources of
DigiTimes
claim
. Apple's success in the field is said by supply chain insiders to demonstrate potential for the market to grow even more in 2019.
The claims by the industry insiders seemingly match a prediction made by
Ming-Chi Kuo
in December. Kuo also suggests the inclusion of "wireless charging support" and a Bluetooth specification upgrade in the release, though a more pronounced revision may arrive in 2020.
The report mainly deals with the anticipated growth of the flexible and rigid-flex PCB market in 2019, with Apple's AirPods and the Apple Watch Series 4 thought to be major drivers for the industry.
Leading Taiwanese flexible PCB suppliers Zhen Ding Tech and Flexium Interconnect are said to be two suppliers in the chain providing components for both the Apple Watch and AirPods. However, the two companies are tipped to gain more orders from other device vendors in the future.
The diversification is also apparently expected for Compeq Manufacturing and Unitech PCB, which supply rigid-flex boards used in AirPods, with both firms likely to gain more clients in the earbuds industry throughout the year.