iWork app updates coming with improved Apple Pencil support and new iOS features
An update to Pages, Numbers and Keynote is coming that concentrates on bringing the iOS versions more into line with the macOS ones, as well as bringing along extended Apple Pencil support, and improved collaboration.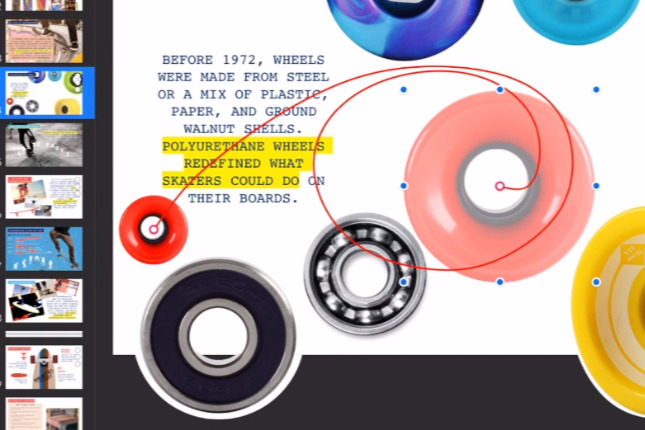 New updates to iWork include the ability in Numbers to specify an animation route by drawing a line with Apple Pencil
Alongside its latest
iPad
and
iMac hardware
updates, Apple has also revealed that it is to release a significant update to its
iWork
suite of apps with Pages, Numbers and Keynote. The majority of the updates are to do with bringing previously macOS-only features to these apps' iOS counterparts but also include improved collaboration for both platforms.
Previously, whether you were collaborating with other users on macOS or iOS, you had certain limitations. You couldn't work on a document larger than 1GB in size, for instance, but as of the new release, that will double to 2GB.
You also had to ungroup objects before anyone collaborating on the document could edit them and that restriction has now been lifted too.
Templates and syncing
While the iOS editions of Pages, Numbers and Keynote are a fully-functional word processor, spreadsheet and presentation app respectively, you needed the Mac ones in order to create certain templates and custom drawing shapes.
This, too, is changing with the latest release and you will now be able to create templates on the iOS. More, those templates and any custom shapes you draw will also sync correctly over iCloud so that they are all available on both platforms.
Keynote
Similarly, Keynote for Mac's greater features for animations such as moving, scaling and changing the opacity of graphics is coming to the iOS version. This feature comes as part of a completely revised set of controls to make what Apple calls Action Builds.
Where Transitions and Transition Builds are to do with how you move between each slide of your presentation, Action Builds have let you create and control movement inside the individual slides on the Mac.
On iOS, this now also includes the ability to define your animation using the Apple Pencil. While you can equally do this with your finger, you can use the Pencil to draw a path which specifies how you want an object to move. You can also specify that it shrinks or grows on the way.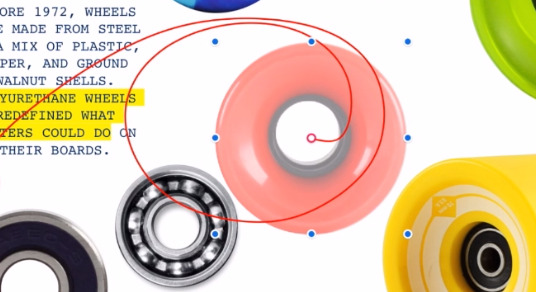 You can draw a path to specify how an object should move -- and then also choose to have it grow
This needn't only be useful for presentations, though. With this new edition of Keynote, you will be able to select one, two or more slides and export them together to create a single animated GIF.
When you are presenting, the new iOS edition adds a much-wanted improvement to speaker notes. You've always been able to display notes that you see and your audience does not, but now you will be able to edit those notes during the presentation.
This is a boon for presentations when you need to take feedback from your audience or you want to record in the moment whether a slide worked or not.
Apple has not, however, revealed whether the new update will also improve on a long-standing constraint on Keynote for iOS. At the moment, you can't have your presenter notes displayed to you if you also want both your current and next slides the way you can on the Mac.
Pages
Pages is a strong word processor which comes with a lot of page-layout and page-design features. This new update will make switching between writing and designing faster and more obvious. Apple is adding a new button to let you swap between the two functions.
We'll have to see how that's implemented, but it could be a step back. One of Pages's strengths has been this ability to just do what you need next, whether that's typing a sentence or adjusting an image. So far it sounds as if this update will turn Pages into an app with two different modes and that's practically old-fashioned.
However, what's clearly improved is that Apple is adding support for vertical text. It's not clear yet whether this is across both the macOS and iOS versions, but the feature allows for Traditional Chinese, Japanese and Korean writing. Plus the newly updated Pages will ship with three vertical template that presumably will sync between the macOS and iOS editions.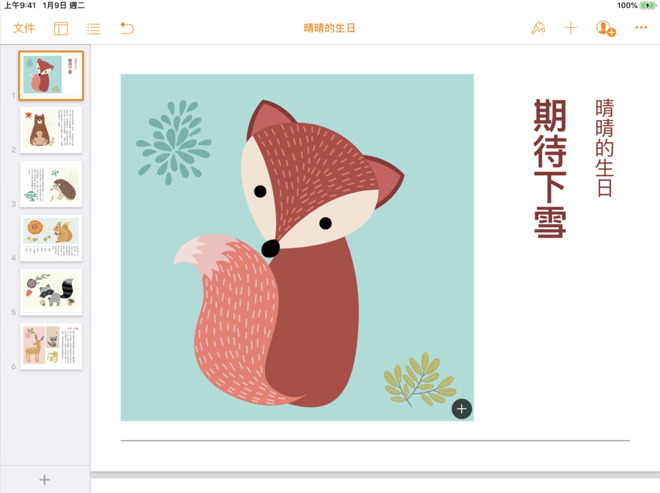 The new Pages update will support Traditional Chinese vertical writing
For people writing long documents, the new Pages will add a Table of Contents view to both the iOS and macOS editions. This is specifically meant for helping you navigate through an extended document so it's going to be similar to the
Show Page Thumbnails
option on the Mac.
You've not previously been able to create a Table of Contents on the iOS edition, though, and now you will. This is a Microsoft Word-like feature which means this TOC page can be updated as you add or move headings throughout your document.
Numbers
Numbers gets the fewest updates in the latest edition of iWork but the improvements are important. You will now be able to zoom into a spreadsheet until it is 400 percent normal size -- double what you could before.
You'll also be able to much more precisely define how wide or tall you want rows and columns to be. Apple says these are precise and quick adjustments, and also that it will making specifying the number of rows and columns faster.
Apple also says that these six updated iWork apps will be available for download from the App Store and Mac App Store some time next week. That's
Pages
,
Numbers
and
Keynote
for macOS plus
Pages
,
Numbers
and
Keynote
for iOS.
Keep up with AppleInsider by downloading the AppleInsider app for iOS, and follow us on YouTube, Twitter @appleinsider and Facebook for live, late-breaking coverage. You can also check out our official Instagram account for exclusive photos.