Comparing AT&T, Sprint, T-Mobile, & Verizon's unlimited wireless plans for iPhone in 2019
Posted:
in iPhone
edited September 2019
All four of the major carriers in the United States offer competitive "Unlimited" plans, but they all vary in terms of what they actually offer to customers. AppleInsider compares the plans to try and work out what actually provides the better deal for iPhone users.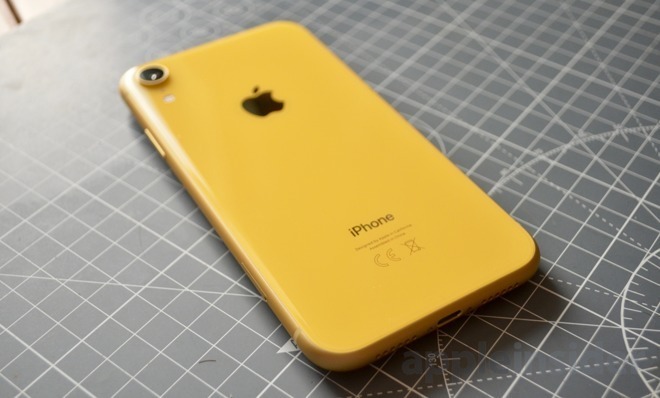 The mobile network business is extremely competitive, with all of the main wireless plans offering similar items, including "unlimited" calls, texts, and data allowances. While this is mostly true, "unlimited" really means LTE speeds for a certain amount before potentially being cut down to slower data rates, with the allowance varying between carriers and plans.
Carriers are also offering many extras to their plans that aren't directly communications-based, such as subscriptions to video or music services. Savvy shoppers may feel they can get a bit of a deal by going for such plans, with the money from not paying for a subscription directly offsetting some of the overall cost of the plan.
All four of the main carriers have similar unlimited plans at first glance, but as will be explained, there are quite a few differences to take into account when deciding where to spend your hard-earned money.
AT&T
The offering from AT&T hasn't changed much from the last time
AppleInsider
took a look at it, but this time under the $70 before taxes and fees Unlimited &More and $80 Unlimited &More Premium names that take advantage of AT&T's online television offerings. Both plans offer
unlimited calls, texts, and data
that work in the United States as well as for Mexico and Canada, as well as more than 35 channels of live and on-demand television.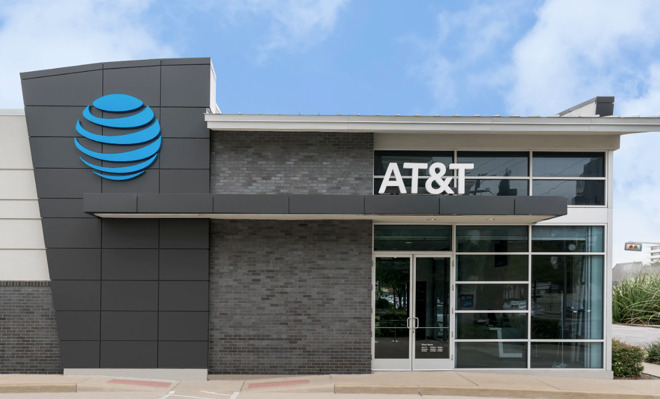 The differences start with the data, as while both are "unlimited," AT&T's slowdown during times of network congestion for the non-Premium version can kick in from the very first byte of data, while Premium users are safe from such measures for their first 22 gigabytes in a billing cycle. The standard also does not have mobile tethering, whereas Premium has 15 gigabytes available per line.
There is also a difference in terms of the resolution of video that can be streamed on each, and again Premium customers are better off with 1080p HD streaming versus 480p "DVD quality" streams that max out at 1.5Mbps.
Premium adds in an extra bonus for subscribers, with the choice of one of HBO, Cinemax, Showtime, Starz, VRV, Amazon Music Unlimited, or Pandora Premium subscriptions.
Sprint
Last time, Sprint had just one tier of service, but now it is offering three:
Unlimited Basic, Plus, and Premium
, priced at $60, $70, and $90 before taxes and fees respectively. All offer unlimited calls, texts, and data usage, as well as free text and basic data when roaming in more than 200 countries, and unlimited talk and text in Mexico and Canada.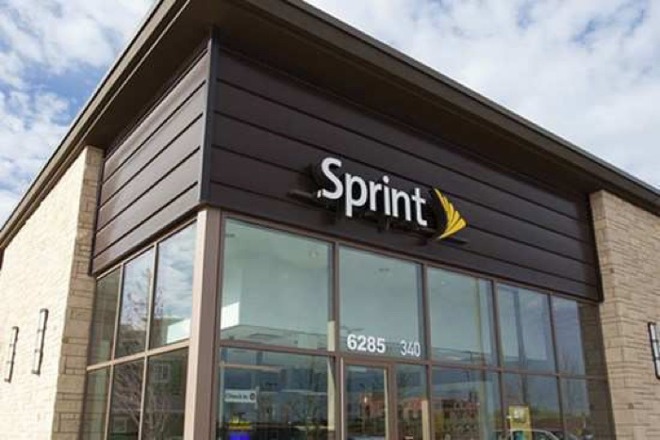 Basic provides 480p video streaming, upgrading to 1080p for Plus then "Full HD Streaming" for Premium. The mobile hotspot allowance also goes up with the price, from 500 megabytes for Basic to 50 gigabytes in Plus, and 100 gigabytes in Premium.
This data limitation also extends to roaming in Canada and Mexico, as while Premium users have unlimited 4G LTE data while in those destinations, the allowance goes down to 10 gigabytes and 5 gigabytes for Plus and Basic respectively.
On all tiers, users will find their data reducing from LTE to 3G speeds after exceeding 50 gigabytes of usage in a month.
One other add-on users could consider is the inclusion of streaming services. Basic has Hulu, with Plus adding Tidal on top, but Premium users also have Lookout and Amazon Prime at their disposal.
Verizon
Verizon has effectively kept their plans the same since last time, with
three plans
on offer. Go Unlimited is the basic service at $75 per month for one line, before taxes and fees, while Beyond Unlimited is $85 and Above Unlimited is $95. The primary difference is when each are subject to slowdowns caused by network congestion, with Go automatically affected while Beyond and Above have 22-gigabyte and 75-gigabyte allowances before the slowdown rules apply.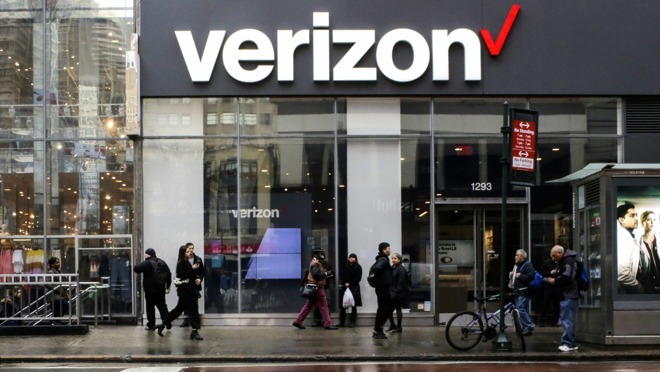 All do include an unlimited hotspot facility, but where Go is limited to 600Kbps, Beyond allows up to 15 gigabytes at LTE speeds before reducing down, and Above sets the tethering barrier at 20 gigabytes. Video streaming is limited to "DVD-quality" on Go, described as 480p, but the other two allow "HD" 720p streams through.
The three plans all have unlimited texts and minutes, offer usage in Mexico and Canada, Verizon Up Rewards, and a
six-month subscription to Apple Music
.
On top of that, Above Unlimited also has five "TravelPasses" per month for roaming using the device in 185 countries and 500 gigabytes of Verizon Cloud storage.
T-Mobile
As with Verizon, T-Mobile has kept its offering pretty much the same, with two plans called
T-Mobile One and T-Mobile One Plus
. The standard T-Mobile One costs $70 per month for one line, with Plus costing an additional $15. Unusually, T-Mobile is including taxes and fees as part of the plan's marketed cost.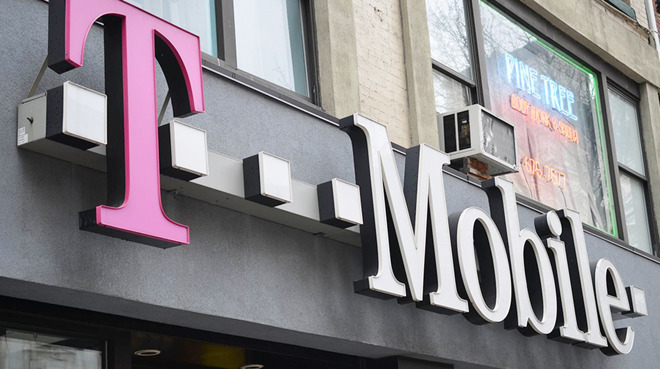 Under the standard One plan, customers get unlimited calls, texts, and data, with a 50 gigabyte LTE allowance before speed limiting comes into play. Texting and data abroad is also included, with the addition of talk in Mexico and Canada, as well as mobile hotspot data, albeit at 3G speeds, and video is streamed at 480p.
Bonus items under the basic plan includes the standard Netflix plan, free texting from Gogo while flying, and other weekly freebies.
Adding Plus to the plan brings streams up from "DVD" to "HD," though the resolution is not specified, as well as a 20-gigabyte LTE allowance for tethering before dropping to 3G speeds. There is also unlimited in-flight Gogo Wi-Fi, faster data speeds while abroad, a Voicemail-to-Text facility, and Name ID, which tries to identify calls from unknown numbers.
Which do you go for?
Your primary concern has nothing to do with the features of each plan and everything to do with reception, as there is no point opting for a plan if there is no coverage for that particular carrier for where you live, work, or generally need to use your devices. While Sprint and T-Mobile tend to fare very well in urban areas, neither is great in rural locales, making AT&T and Verizon better bets for those who travel and need coverage everywhere.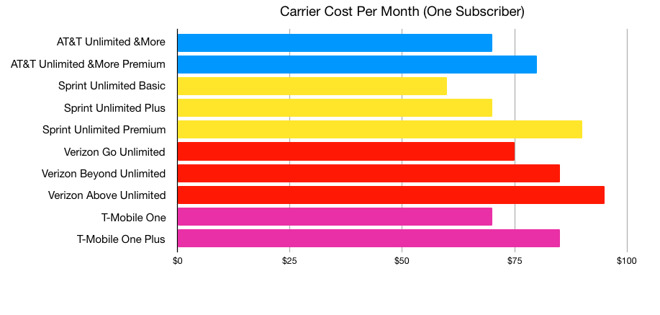 The cost of each carrier's unlimited plans for one line, per month.
For urbanites, the decision is less clear-cut as there's a lot of elements to consider.
If the amount of data you need to use is important, Sprint, T-Mobile, and Verizon Above Unlimited's throttling limits of 50 gigabytes or more are going to be the main attraction. For tethering, Sprint's
Unlimited Premium
is king, but with strong showings from Sprint Unlimited Plus, T-Mobile One Plus, and
Verizon Above Unlimited
.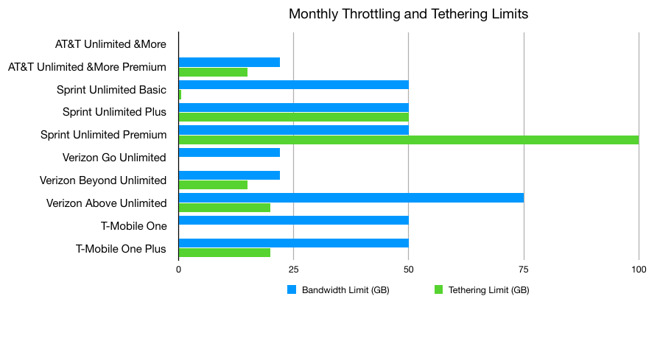 The limits for each price plan before connection throttling can occur, and how much tethering allowance each offers.
The extra additions of each plan in terms of third-party services are also worth considering, especially in relation to the price of the plan, and if you already have a subscription for them. Bear in mind that it may seem like an attractive thing to go for, but going for a higher plan just for a non-telephony bonus may not necessarily be a good deal for you.
For example, Sprint's addition of
Amazon Prime
on the Premium plan may be attractive for non-subscribers, but you're effectively looking at a $20-per-month add-on for Lookout's security, more tethering allowance, and access to a service that would normally cost $120 a year on its own.
Also bear in mind that the pricing of the plans being compared are based on one single line, with all carriers providing discounts for each additional line on a plan. Families are typically better off if they have all of the lines on the same carrier through a single account.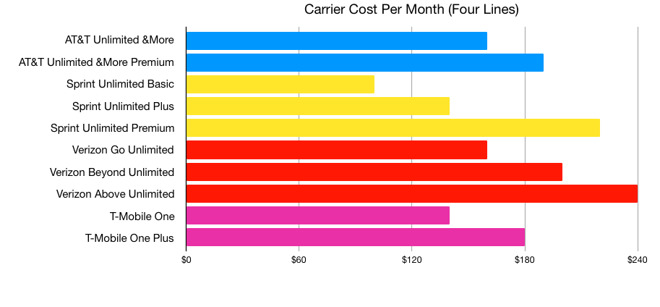 The same price plans but with four lines on an account instead of just one.
An example of this would be Verizon's plans going down in price by $35 per line when there are four or more lines on an account. The $75 per month per line Go Unlimited reduces down to $40 for each of four lines, or $160 per month in total, just over double the cost of a single line on its own.
Despite the hype surrounding 5G, and
each carrier's plans
to bring the next-generation networks to consumers as soon as possible, there is no point considering these future connections as part of your buying decision for the moment. It will take years for the 5G networks to become fully useful to consumers, and with Apple unlikely to bring out a 5G-capable iPhone
until 2020
at the earliest, there's still a while yet before you will be able to take advantage of the higher bandwidth on an Apple device.