Review: Satechi finally nails the HomeKit smart outlet
Other than smart light bulbs, smart plugs are the most prevalent smart home product genre on the market. It escapes us, why it took so long for us to finally get an option that checks all the boxes before the Satechi Dual Smart Outlet.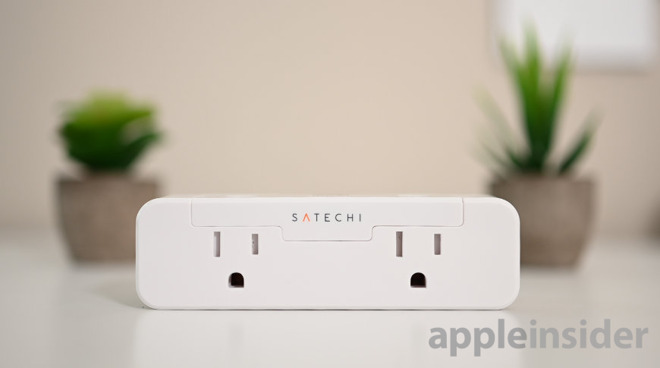 Satechi Dual Smart Outlet works with Apple HomeKit
HomeKit-specific
As far as the basics go, there is no Google Assistant or Amazon Alexa support, only
HomeKit
. For Apple users, that is just fine and reduces the possibilities of it being compromised and cuts the need to rely on other companies to zero.
Like all HomeKit devices, It can be controlled via Siri, scheduled, or automated using location or device triggers. It can be set up in a matter of seconds by merely just opening the Home app and scanning the HomeKit code stuck to the top of the outlet.
What sets it apart?
There are four primarily reasons why we've pegged the Satechi Smart Outlet as the perfect HomeKit outlet to date. It comes down to the design, features, number of outlets, and connectivity. Let's break those down.
Design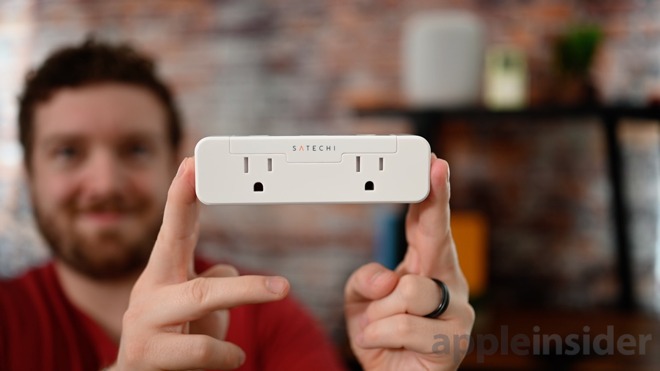 Satechi Dual Smart Outlet has a slim design
Starting with the design, Satechi chose to go with a very slim design, similar to the Belkin WeMo smart plug. By keeping it thin, it doesn't obstruct the second outlet in a standard receptacle. Then something else can be plugged in too, including a second Satechi Dual Smart Outlet. Some like the Koogeek smart plug are too bulky and can get in the way.
It is a bit wide, and is wider than we thought by looking at the pictures. That width wasn't an issue in most use cases, unless there was a particularly tight outlet that it was trying to connect to.
Features
Most HomeKit outlets only can be toggled on and off. A few add the extra feature of being able to monitor the energy consumption. Any device that is plugged in to the Satechi Dual Smart Outlet, you can view how much electricity it is using in the Satechi Home app.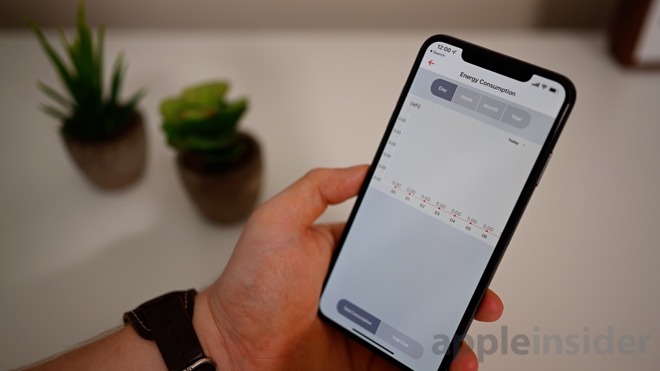 Satechi Dual Smart Outlet monitors your energy usage and cost
If you enter in your local energy rate, it will even do the math and spit out the projected cost of those electronics as well. For those who are embracing smart homes as a way to save electricity, this feature is great. It lets you know exactly what you are spending by using that Bluetooth speaker every day or by leaving your TV on too long.
Number of outlets
Most plugs have a single plug available, which means you need to buy a second smart plug for a second device. This has two separate outlets that can be controlled independently. If you have two lamps plugged in behind your couch, each light can be turned off on their own, or together.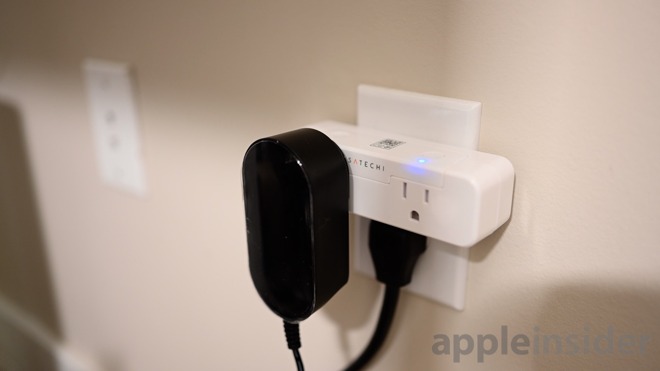 Satechi Dual Smart Outlet allows two devices to connect
There are round buttons on the top of the plug too that can be used to turn each outlet on or off. The energy monitoring that we outlined above also monitors each outlet and not the unit as a whole.
We have seen multiple plugs in a HomeKit outlet before -- think ConnectSense Smart Outlet or the
Eve Energy Strip
-- but this is far more compact.
Connectivity
Satechi opted for Wi-Fi rather than Bluetooth in the Dual Smart Outlet. As a general rule, Bluetooth for HomeKit works well, but there are considerations. Bluetooth has limited range and must be relatively near your Home Hub -- that is your iPad, HomePod, or Apple TV.
If you have your HomePod in your kitchen, your Apple TV in the living room, a Bluetooth switch in your bedroom may have issues connecting when you are outside your house. By going with Wi-Fi, you will always have connectivity in or away from your home.
Minor quibbles
We are extremely happy with this outlet but there are two minor issues we have with it, neither of which are deal-breakers.
First, we really like the night light feature found in the iDevices Switch. It is nice to add a bit of light in the dark aside from the benefits of the switch. It is a unique feature we wish others would adopt -- including Satechi.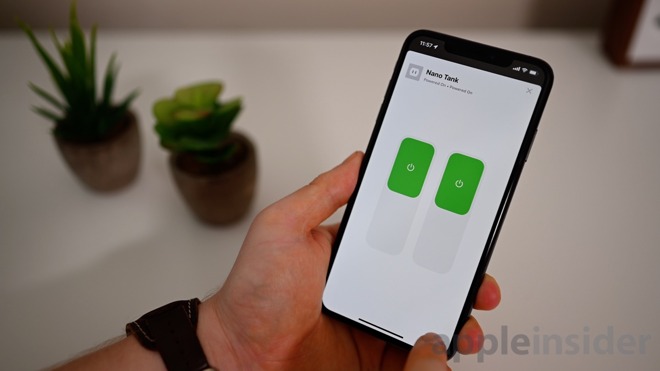 Satechi Dual Smart Outlet being controlled in the iOS 13 Home app
Our other grievance is how the energy monitoring is handled. Satechi does a decent job with the energy monitoring. You can view if the outlet is in use, what the current is, the total consumption and the total cost. You can also view the latter two graphically over time by day, week, month, or year.
Eve, however, does this even better. For the Eve Energy devices not only does it show all of what Satechi does, but it has a real time graph that live updates as you watch it. It also -- more importantly -- shows the
projected
cost for the year. That doesn't just tell you what it was for the day or the house, but what you are looking at by the end of the year if your behavior continues.
This is all presented a bit more clearly in the Eve app. It would be fine if the Eve app could tell you this same information about the Satechi Dual Smart Outlet, but this information is siloed away in the Satechi Home app. It would be great if other apps could read this info and provide analysis as well as the Satechi Home app.
A smarter home
Despite our nitpicking, the Satechi Dual Smart Outlet remains our pick for the best HomeKit outlet on the market. It is slim, has two outlets, connects over Wi-Fi, and monitors your energy use on top of all the great features HomeKit provides.
For inspiration, we like to tie out smart outlets to our wall switches so that when we press our HomeKit wall switch to turn on the ceiling lights, it also toggles our Satechi Dual Smart Outlet and turns on the two additional floor lamps we have plugged in. This makes it so easy to light up a room and not have to do them all by themselves.
We can also tie them into our TV so when we call on Siri to set the "movie time" theme, our TV turns on and the lights go out. Location-based automation also allows us to have the lights automatically turn on when we arrive home late at night and turn off when the last person leaves.
There are quite a few great smart outlets on the market but Satechi has made a real impact with their first entry into the HomeKit ecosystem.
Rating: 4.5 out of 5
Where to buy
You can pick up the Satechi Dual Smart Outlet
from Amazon for $59.99
.