Apple asks White House not to apply tariffs to Mac Pro parts
Apple has made a request to the Trump Administration to keep parts used in the new Mac Pro from being affected by import tariffs, a move that aims to keep the cost of the premium macOS workstation as low as possible for its release to consumers in the United States.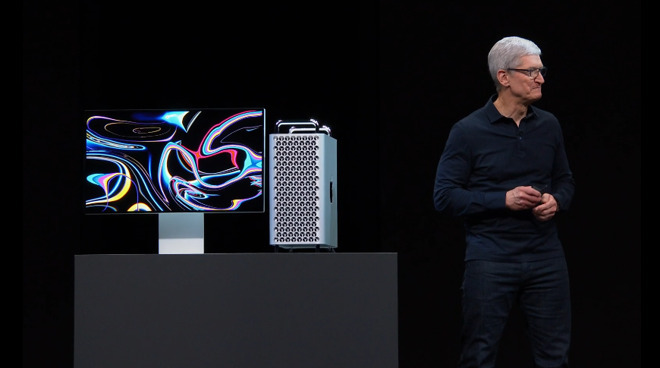 Apple CEO Tim Cook with the new Mac Pro
The ongoing trade war between the United States and China has led to the former applying a wide variety of tariffs on products being imported into the country from China. So far products like the iPhone have
largely avoided
being hit by the import charges, but Apple is keen to avoid the modular Mac Pro from being subjected to the fees.
Apple made the exclusion request on July 18,
Bloomberg
reports
, asking for relief from duties worth 25% of the value of key parts and accessories for a device that, though not outright named as a Mac Pro, can be identified by details included in official documentation. The list of parts includes the stainless steel and aluminum frame, power supplies, cables, circuit boards, and wheels.
The request is now in a public comment period ahead of being reviewed. Apple has so far declined to comment on the finding.
The new Mac Pro is a change in tactic for Apple from the previous model. While the preceding Mac Pro was largely constructed in the United States, Apple has instead shifted production
to China
for most of the parts, with Quanta Computer contracted for production at a factory near Shanghai.
Tariffs are a major potential problem for Apple, as hardware including iPhones, iPads, and Macs would potentially be covered by
$300 billion
in proposed Chinese import tariffs, on top of tariffs already in force. So far, Apple has managed to avoid having its main products affected by tariffs, but
some accessories
have been subjected to the charges.
Apple has been a
vocal critic
of the tariffs, and has suggested their application would "
tilt the playing field
" in favor of competing device vendors.
The tariffs are having an effect on
some device producers
who predominantly manufacture in China and import to the United States, but rather than shifting manufacturing more towards the US as originally proposed by President Donald Trump, the firms are instead looking to
mitigate the tariff
and keep production in countries with a relatively low labor cost.