AMC launches new video on demand platform to take on iTunes
AMC Entertainment is going from the theater to the home with the launch of an iTunes-style video on demand service for renting and buying movies.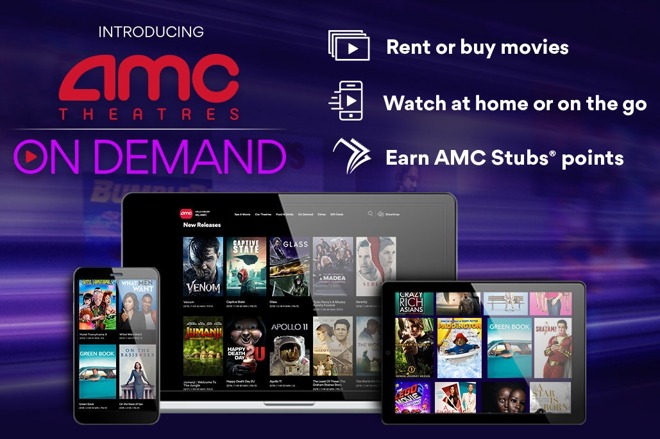 AMC Theaters On Demand video on demand platform
On Tuesday,
AMC
will make
AMC Theaters On Demand
available to users in the United States, reports
The New York Times
. With over 2,000 movies for purchase or rent, the theater chain is set to compete with iTunes, Amazon and Google Play, among others.
AMC Theaters On Demand will charge between $3 and $5.99 for rentals and around $9.99 to $19.99 for purchases -- similar to prices offered on other VOD platforms.
As a the world's largest theater chain, AMC stops being able to capitalize on movies once they've left the cinema. AMC Theaters On Demand extends that relationship with the moviegoer and gives the company a strategic marketing advantage.
With over 20 millions households subscribing to its Stubs loyalty program, AMC is able to target customers more directly based on what they see in the theaters. If customers see a movie in person, they may get a notification when the same movie is available for purchase or rent at home.
Somewhat recently, AMC debuted its highly successful Stubs A-List program which allows moviegoers to see up to three movies a week for a flat monthly rate. When making purchases, users will also be able to earn rewards points tied to its Stubs loyalty program.
"Our theater business is mature," said Adam Aron, AMC's president and chief executive. "There is a high-growth opportunity in this digital expansion."
The five largest movie studios have all made deals for hosting previous and upcoming movies on AMC Theaters On Demand, including Disney, Warner Bros., Universal, Sony and Paramount.
"For us, it's all upside. Most of our other big digital partners are focused on multiple categories -- music, books," said Warner Bros. president of worldwide distribution and home entertainment Ron Sanders. "The great thing about AMC is that movies are the whole focus."
AMC is entering the digital space as Apple is focusing more on its new and upcoming
Apple TV+
subscription service
due to kick off
on Nov. 1. Apple
will debut
several of its own original films in theaters before they hit their own streaming service.
AMC Theaters On Demand will let users watch at home or on the go with iPhone and iPad apps available alongside an Android app, support for Roku, and LG TVs. Apple TV support is not currently listed.