Apple TV+ versus Disney+ compared -- the streaming wars escalate
The next phase of the streaming wars is upon us. On November 12, Disney+ launched with an overwhelming catalog of content. Here's how it stacks up to Apple TV+.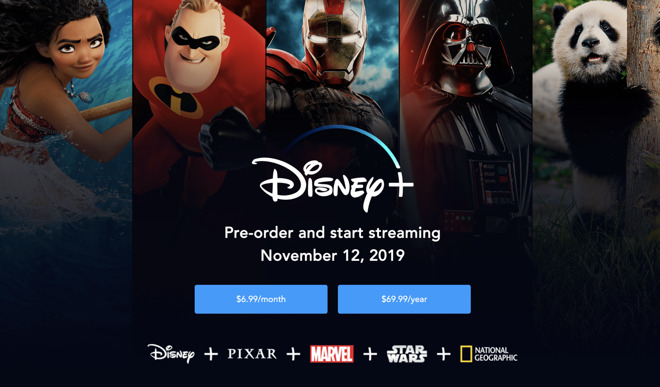 Apple TV+
went live on November 1.
Disney+
combines some original programming with a massive back catalog from Disney's sizable trove of intellectual property.
Disney and Apple: Friends and foes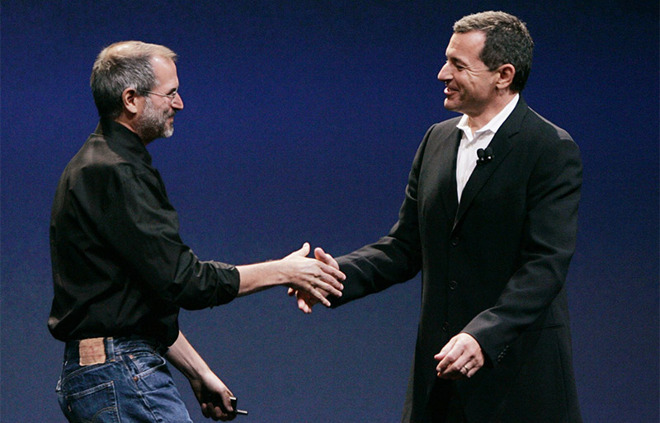 Steve Jobs and Robert Iger
Disney and Apple, as companies, have a long and intertwined history. Steve Jobs co-founded Pixar Animation Studios, which was later sold to the Walt Disney Company, and Jobs both served on the board of Disney and was the company's largest shareholder at the time of his death in 2011.
Following Jobs' passing, Disney CEO Robert Iger joined Apple's board, on which he served until resigning earlier this year, ahead of the streaming competition. Iger also shared several revelations about Jobs and Apple in his recent memoir, including that
he believes the companies may have merged
had Jobs lived, and that Jobs told Iger on the day in 2006 that the Disney/Pixar merger closed that his cancer had returned.
But now Apple and Disney find themselves rivals, with services launching the same month with rival slates of original shows.
How can Apple users watch Disney+?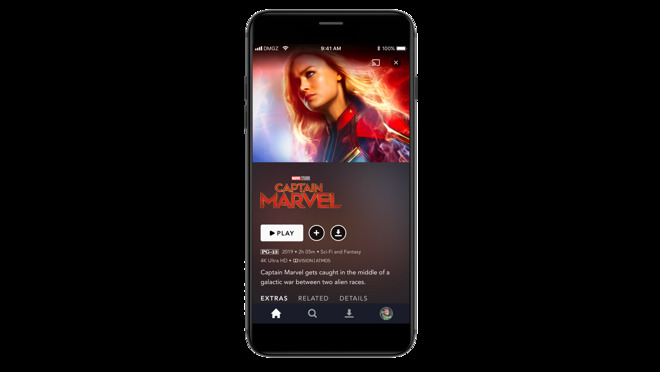 Captain Marvel on iOS
Apple and Disney may be competing directly, but that doesn't mean Disney+ won't be easily made available to Apple users. The Disney+ app will be available on Apple TV at launch, as well as on iOS devices.
What does Disney+ cost?
Disney+, at launch,
costs $6.99 a month
-- slightly more than Apple TV+ -- or $69.99 a year. It's also available in a
$12.99 per month bundle
with Hulu and ESPN+.
The Disney+ Originals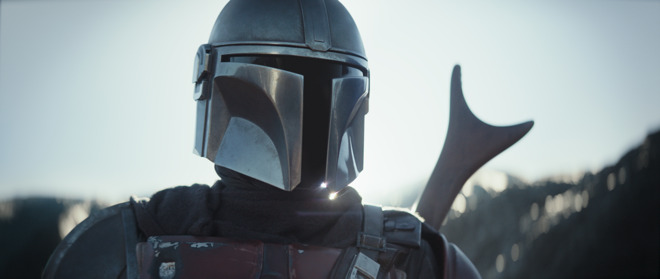 Disney's The Mandalorian (photo courtesy Disney Plus)
Disney has made seven original series that are launching this month available to the media, although the highest-profile new show on the service, the Star Wars saga
The Mandalorian
, was not shown to the media.
What stands out most of all about the new Disney shows is that most of them have something to do with some prominent pieces of existing Disney intellectual property.
Forky Asks a Question
, produced by Pixar, is a series of shorts featuring Forky, the animated fork character from this year's movie
Toy Story 4
.
High School Musical: The Musical: The Series
is based on a popular series of musical movies from The Disney Channel (between 2006 and 2008), while
Encore!
is a reality show version of same, starring one of the voice actresses from
Frozen
and featuring at least one musical that was adapted from a Disney movie.
Lady and the Tramp
, of course, is a remake of the Disney animated movie from 1955, while
Marvel's Hero Project
is an inspirational reality series built around Disney-owned Marvel Comics.
The Imagineering Story
is a documentary series about the history of Disney itself.
The World According to Jeff Goldblum
was produced under the auspices of National Geographic, in which Disney owns a controlling interest. Goldblum, ironically,
appeared in prominent Apple commercials
, for the iMac, in the 1990s.
For all of the hand-wringing about Apple's supposed content restrictions on its Apple TV+ shows, the Disney+ launch slate is even more family-friendly, which is not a surprise considering Disney's brand. Iger has said that Disney+ will not offer any R-rated content, with such content instead hosted on Hulu, in which Disney also has a controlling stake.
Reviewing the originals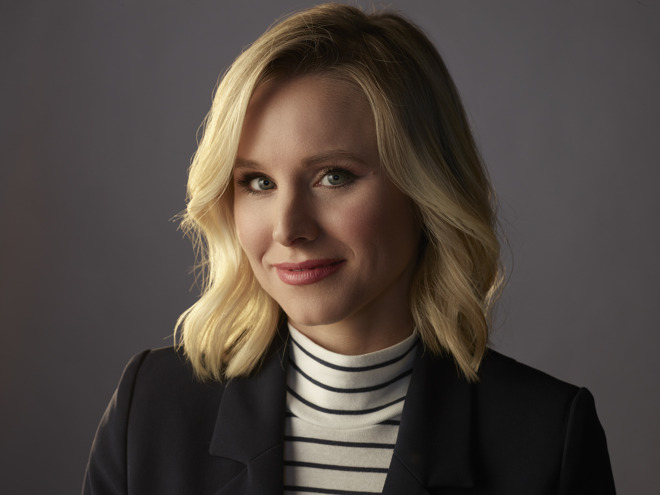 Kristen Bell, producer and host of Disney+'s Encore!
If any of the new Disney+ shows is a strong bet to break out at launch, it's
The Mandalorian
, the first-ever live-action TV series set in the
Star Wars
universe, and also the only one of the new shows with a prominent behind-the-scenes creator, Jon Favreau, who directed Iron Man and the Disney remakes of
The Jungle Book
and
The Lion King.
But that series, once again, has not been made available in advance, so we can't speak to its quality.
The Mandalorian
arrives on launch day, November 12.
The other shows have a chance to appeal to some niche audience segments, but aren't as likely to break through in any significant way.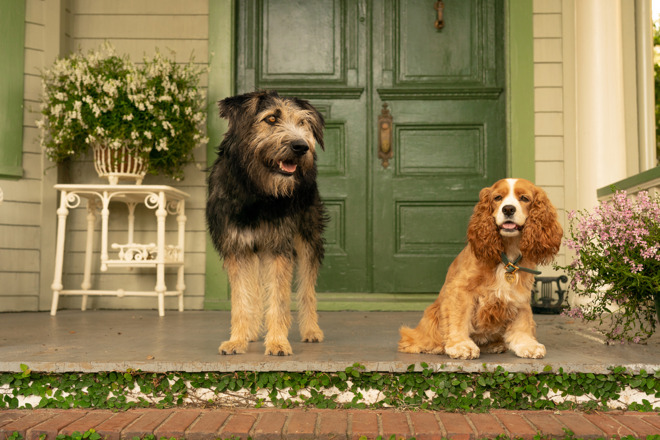 Disney's 2019 Lady and the Tramp
Lady and the Tramp,
a feature-length movie, is another live-action remake of a classic Disney film, in the tradition of the theatrical remakes of
Dumbo
,
Aladdin
, and
The Lion King
that Disney released earlier this year. That also debuts on November 12.
Directed by Charlie Bean, it's a very handsome production in terms of the sets and shots, and its story- being essentially the same one as the original- is quite timeless. But the film suffers some of the same pitfalls of the other recent remakes, which is that this story did not need to be told again, in this way. That, and it's running time is about a half-hour longer than that of the original.
Tessa Thompson and Justin Theroux voice the two title characters, and while the animals talking doesn't look quite as unnatural as it did in the
Lion King
remake, it doesn't look quite right, either.
When the three theatrical remakes were released this year, I wondered why, when they're eventually sitting side-by-side on Disney+ with the originals, anyone would choose to watch the newer one instead of the older one.
Lady and the Tramp
is an improvement on the truly wretched 2019 versions of
Dumbo
and
Lion King
, but I'm still not sure why the average Disney+ consumer will choose to watch the new version when the original is sitting right there.
Encore!
, my favorite of the shows, has a delicious concept: It's a reality show in which, in each episode, the cast of a high school musical from the 1990s reunites in the present day, as adults, to re-enact their performance, with the help of a professional Broadway director.
Hosted by
The Good Place
actress and executive producer Kristen Bell, who introduces each episode and shows up to meet the performers at the end, this show is going to appeal strongly to anyone who's ever been a theater kid. The first two episodes feature
Annie
, which over the years has been only tangentially associated with Disney, and
Beauty and the Beast
, which long has been.
Enjoyable as the show is,
Encore!
could have run on any broadcast network, probably, at any time in the last 30 years. If the show were debuting this fall on NBC, it wouldn't look the slightest bit out of place.
Encore!
debuts November 15.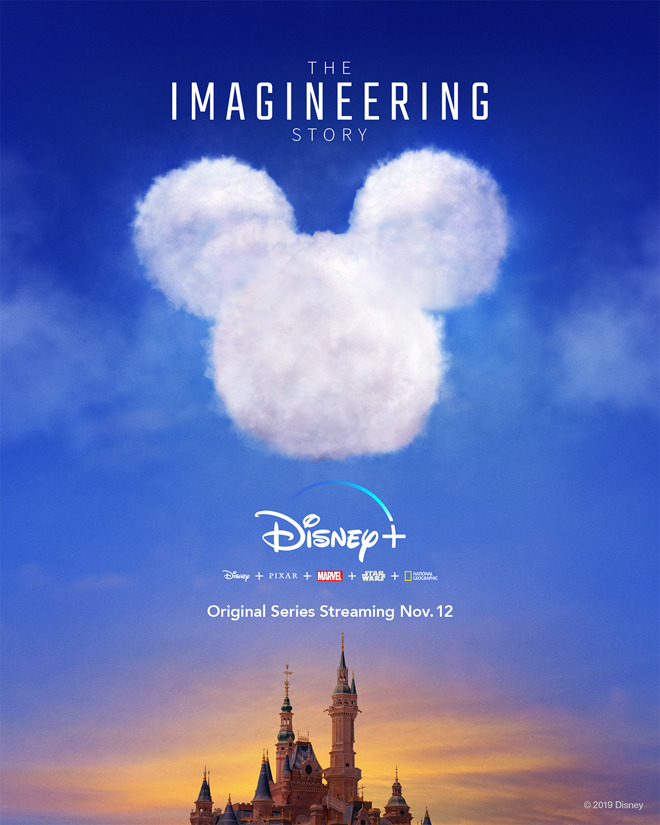 The Imagineering story
The Imagineering Story
is a bit of naked self-mythologizing on Disney's part, something to which the company is no stranger. But it's still very fascinating, and likely to appeal to the sizable niche of people who love Disney iconography and the history behind it.
Narrated by actress Angela Bassett, this documentary series looks at important moments in Disney history and how the "Imagineers," Disney's name for its research-and-development division, helped make them possible. The first episode is about the establishment of Disneyland, so we get the origin stories of "It's a Small World After All," Tomorrowland, and other touchstones of that park. It later gets into the early plans for Walt Disney World, although Disney himself died before its completion.
While the Disneyland episode is willing to acknowledge that Disneyland got negative reviews and suffered other trouble upon first opening, the show looks at times like an internal corporate video. The second episode, meanwhile, is about how Disney moved forward following its founder's death. Those who are highly into Disney history will likely find the show very enjoyable.
The Imagineering Story
debuts November 15.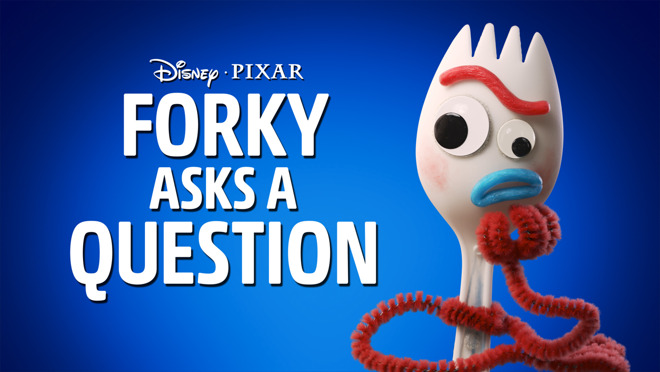 Forky Asks a Question, from Disney+
Forky Asks a Question
, of which we've seen two episodes -- each about three minutes long -- is an educational series that seems aimed at very small children.
The Forky of
Toy Story 4
was a conceptually fascinating character who spoke to existential questions about the sentience of toys and the basis of The
Toy Story
series itself. There's little of that here, although fans of actor John Ratzenberger will enjoy his vocal performance as Hamm the pig. That debuts November 15.
High School Musical: The Musical: The Series
is a mockumentary, also set in a theater-kid milieu and ironically, the first thing we see on it is an iPhone, as a teacher (Kate Reinders) watches a number from the original
High School Musical
on her phone.
The conceit is that the kids are performing a stage version of
High School Musical
, but the cameras capture all the behind-the-scenes drama as well. The actors are appealing, especially leads Joshua Bassett and Olivia Rodrigo, and the musical numbers first-rate, but the show is something of a retread, and one that comes across as a clear nostalgia play for those who were fans of the movies a decade ago.
The series also owes a great deal to the old TV series
Glee
, from the too-overzealous teacher to the triumphant audition scene in the first episode to the similar incidental music.
High School Musical: The Musical: The Series
debuts November 15.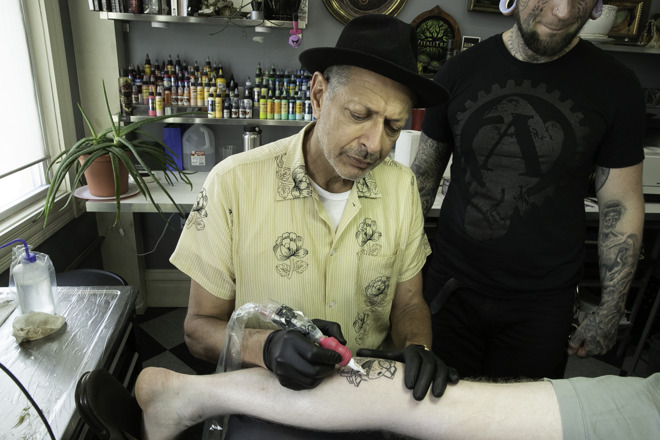 Jeff Goldblum, in Disney+'s "The World According to Jeff Goldblum," photo courtesy of George Lange/National Geographic
The World According to Jeff Goldblum
is a documentary series that's exactly what it sounds like: In each 30-minute episode, the actor travels around, interviews experts, and learns about a different subject: Sneakers in one episode, ice cream in another, and tattoos in a third.
The series, in the tradition of shows like
Adam Ruins Everything
, combines content that's thought-provoking with the presence and charisma of a respected performer, even if Goldblum's one-of-a-kind vocal cadences aren't quite a natural fit for this sort of material. This is another one in which it could very easily have been broadcast on some basic cable network, this year or ten years ago, and not looked at all out of place. The Goldblum show arrives on November 29.
You can't say
Marvel's Hero Project
doesn't have its heart in the right place. It's a series of 30-minute episodes about kids with amazing stories, usually involving some type of hardship or adversity. In each episode, the Marvel Comics team works to create a comic book out of the kid's story.
It's sweet, inspirational stuff, familiar to anyone who's watched a pre-competition highlights package on the Olympics, or even
American Ninja Warrior
. The first episode is about Jordan, a girl born without a left hand, who designed herself a glitter-shooting artificial arm- and at the end, she's surprised with her own comic book. Yes, it's admirable, even if it does feel at times like an infomercial for Marvel Comics.
Marvel's Hero Project
makes its debut November 22.
A difference in emphasis
It's clear that, when it comes to original shows, Apple and Disney are doing different things.
The Apple shows available at launch and shortly thereafter, while they vary in quality, all have some degree of high ambition. In most cases, they have bigger stars, and bigger creators behind them, with bigger budgets, and they are generally aiming higher.
None of Apple's shows are about Apple, and of the launch shows, only
The Morning Show
even has Apple products in it. Apple did not launch Apple TV+ with a documentary about Steve Jobs, a multi-part series about the engineering of the iPod, or anything else of that nature.
Of course, Disney+ offers something Apple does not, for that extra couple of dollars a month: That massive back catalog. Disney can offer its subscribers access to thousands of titles encompassing nearly a century of cinema history. This includes much of the output of two classic Hollywood movie studios (Disney and Fox) and eventually the entirety, or something close to it, of the Star Wars, Marvel, Pixar, and Disney Animation canons. Some of the Marvel and Star Wars movies remain on Netflix for another year or two, but will make their way to Disney+ in time.
Its ownership of Fox, meanwhile, gives Disney access to the entire 20-year run of
The Simpsons
, and other shows produced by Fox's television studio.
The company even spent a day last month tweeting out some of the weirder,
more obscure catalog titles
that will be available at launch on Disney+, such as
The Computer Wore Tennis Shoes
,
Sammy The Way Out Seal
and
The Million Dollar Duck.
Disney has been building towards this with its last 10 to 15 years of strategy, including the acquisitions of Marvel, Lucasfilm and 21st Century Fox. The company has assembled a massive war chest of content, while also using that intellectual property to develop new shows, as they've already announced several Marvel-based projects that will debut on Disney+. Therefore, Disney is in more of a position to directly challenge Netflix, and is even striking that service in one of its particularly vulnerable points, its lack of older titles.
Apple, which does not own a movie studio with decades of legacy content- let alone two of them- cannot offer that. How Apple addresses that disparity, whether by licensing deals or an acquisition binge, is something worth watching as the new streaming wars develop.
Apple has not outwardly declared, as Disney has, that will avoid R-rated content.
The interface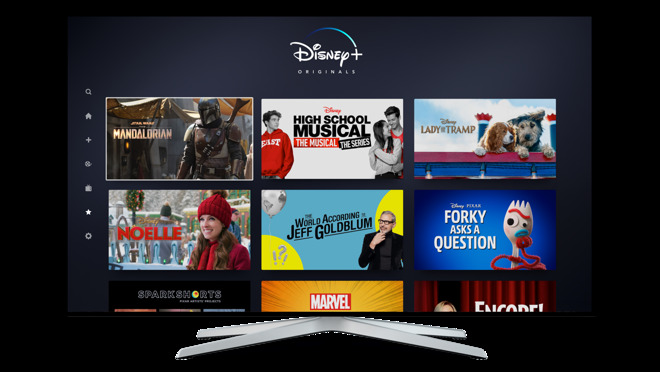 Disney Plus' interface (photo courtesy of Disney)
Disney introduced the look and feel of its Disney+ interface its D23 conference back in August, and the consensus from those in attendance was that it's cleaner than that of Netflix, but that the lack of clutter is more a matter of it offering less content at launch than its more established rivals.
Also, rather than the sort of "Movies From the 1990s With a Strong Female Lead" subcategories for which Netflix is famous, the Disney+ categorization scheme is much simpler: It's divided into sections for Star Wars, Disney, Pixar, Marvel, and National Geographic, as well as originals.
Apple TV+'s interface is even cleaner, in part because it offers much less content.
What it all means
The streaming wars aren't necessarily about one particular service "beating out" all the others and emerging as the final victor. Signing up for Apple's service doesn't mean eschewing Disney's, or subscribing at the expense of Netflix or one of the other incumbent services.
Both companies are also doing things to make things easier for early adopters. Apple TV+ is free for a year for
new Apple device purchasers
, while Verizon is
giving a free first year of Disney+
to new and existing subscribers to wireless unlimited plans, and to new Verizon Fios Home Internet or 5G Home Internet customers.
The assumption is a future in which most consumers subscribe to several of the services, possibly instead of a cable subscription. The key for each service will be coming up with enough to offer consumers to make themselves an indispensable part of that streaming equation.
It is, of course, very early on, and the current offerings of both Apple TV+ and Disney+ are both very far from where they'll be a year from now.