Apple Pay with Express Transit arrives at Penn Station in New York City
Posted:
in iPhone
edited December 2019
New York's Metro Transportation Authority continued a planned rollout of its Apple Pay Express Transit-compatible One Metro New York, or OMNY, system on Wednesday, expanding support to the busy hub at 34th St.-Penn Station.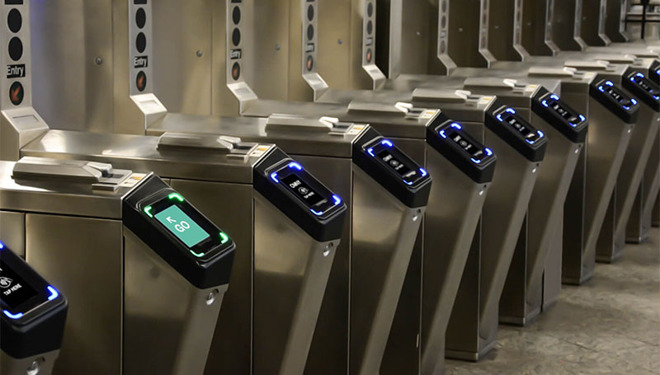 Source: MTA
Announced in a press release, the new
OMNY availability
is part of the MTA's
ongoing efforts
to modernize its payment network.
A total of 96 OMNY readers at 18 turnstile arrays serving the A, C, E and 1, 2, 3 subway lines now accept
Apple Pay
and touchless payment solutions from American Express, Discover, Mastercard and Visa. Google Pay, Samsung Pay and Fitbit Pay are also accepted.
With OMNY, riders simply tap their compatible contactless card or device like iPhone and Apple Watch on an active turnstile to payment point to enter subway stations or MTA-run buses. Additionally, support for Express Transit means iPhone and Apple Watch users can conduct touchless terminal transactions without unlocking or waking their device.
By the end of December, OMNY is slated to go live at 85 subway stations across NYC, all MTA-operated buses on Staten Island and two Staten Island Railway stations. A wide rollout to all subway stations and MTA buses is planned for completion by the end of 2020.
"Today is yet another momentous occasion in the continued rollout of OMNY, the MTA's game-changing contactless fare payment system," said Andy Byford, president, NYC Transit. "Penn Station is one of the system's busiest subway stations and will allow hundreds of thousands of commuters the opportunity to tap and ride using a device or contactless card of their own choosing, including customers arriving on the Long Island Rail Road, New Jersey Transit, and Amtrak, who connect with the subway system here at Penn Station. Chase, Visa and other partners have done an immense amount of work to help spread the word about OMNY and we're thankful for their support."
Apple Pay with Express Transit mode first debuted at a handful of NYC subway stations and buses in May. For now, OMNY offers a flat-fare, pay-per-ride option, though alternative fare products like passes are expected for availability in 2020.