OWC Accelsior 4M2 offers 8TB 6GB/s storage upgrades for Mac Pro
Mac upgrade specialist OWC has launched the Accelsior 4M2, a PCIe M.2 NVMe SSD that is capable of transfers of over 6 gigabytes per second in RAID 0 configurations, one that is aimed primarily at Mac Pro owners seeking to add more high-speed storage to their workstation.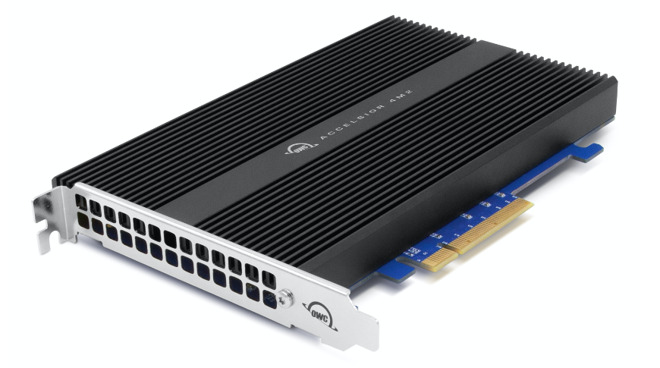 The
Accelsior 4M2
is offered as a high-performance way to boost the onboard storage of the
Mac Pro
, including the current generation and versions released in 2012 and 2010. It is the fastest SSD solution OWC has ever produced, offering access speeds in excess of 6,000MB/s, which OWC suggests makes it ideal for 4K and 8K video editing, gaming, and compute-intensive tasks requiring high amounts of bandwidth.
Fitting into a half-height or full-height PCI 3.0 or 3.0 8x or 16x slot, the card is compatible with the new Mac Pro as well as the older 2012 and 2010 versions, along with PCs. If no expansion slot is available, it also works with Thunderbolt 3-based external enclosures.
The card is made up of four NVMe blade-style drives, that operate at full x4 PCIe speeds for performance. OWC also suggests even higher speeds can be achieved by using multiple Accelsior 4M2 cards together in RAID.
Though drives can be used individually, they can also be used in RAID on the card itself, including support for Raid 0, 1, 4, 5, and 1+0 volumes using the included SoftRAID software. Raid 0 ,where data is striped across multiple disks, is essential to reach the headline 6GB/s speeds.
The card is entirely slot-powered, meaning it doesn't require any extra power connections to function, is plug-and-play without needing additional drivers for installation, and is able to be used as the boot volume for fast start-up times. The four NVMe sticks are protected by a finned heat sink cover across the entire length of the card, which provides cooling without additional noisy fans.
OWC is selling the Accelsior 4M2 in a variety of different capacities, ranging from
1TB for $479.99 to 8TB for $1,599.99
, while the card on its own without NVMe drives is $249.99. OWC plans to start shipping the card in the week of December 30.