'Guardians of the Galaxy' star Dave Bautista to join Apple TV+ 'See'
Former WWE wrestler and "Guardian of the Galaxy" star Dave Bautista will join Apple's "See" in its second season.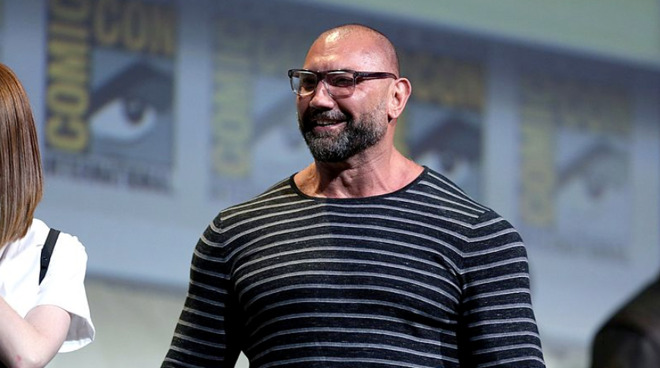 Dave Bautista speaking at the 2016 San Diego Comic Con | Image Credit: Gage Skidmore
Dave Bautista will star opposite of Jason Momoa in the second season of "
See
," as noted by
Deadline.
While the actor has starred in movies, such as "Guardians of the Galaxy" and the upcoming "Dune" movie by Warner Brothers, "See" will be his first major TV gig.
Bautista also performed as a professional wrestler in the WWE from 2000 until his retirement of this year.
"See" takes place 600 years in the future, after a viral apocalypse had eradicated much of the world's population. The humans who survived were rendered blind, reverting to a primitive,
tribal-like culture.
Jason Momoa ("Aquaman", "Conan the Barbarian") plays series lead Baba Voss. Voss' wife gives birth to twins, the first humans in six centuries who are born sighted. He must protect his children and tribe against a powerful queen who believes the children will herald in the destruction of their world.
"See" launched at
Apple TV+'s
debut on November 1, along with titles like "
The Morning Show
," and "
Dickinson
."
Apple TV+ is priced at
$4.99 a month,
though if you buy new hardware, such as a new Apple TV, iPhone, or Mac, you'll get a year for free. Additionally, even if you don't own any Apple devices, you will be able to watch Apple TV+ from your favorite browser at tv.apple.com.