Sonnet Fusion Dual SATA SSD card offers Mac Pro storage expansion over PCIe
Sonnet is giving Mac Pro owners an extra option to boost the capacity of their workstation with high-speed storage, with the Fusion Dual 2.5-inch SSD RAID PCIe 3.0 card enabling solid-state SATA drives to be installed via one of the expansion slots.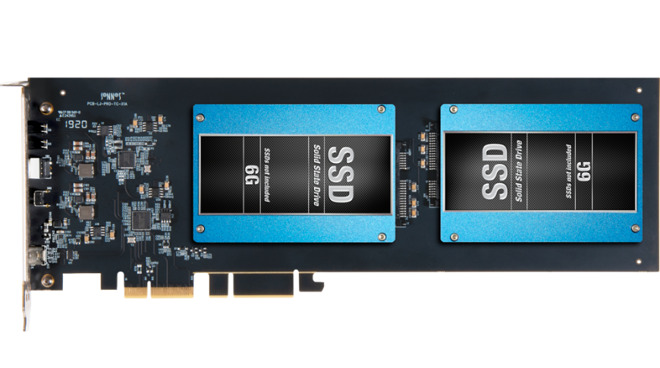 Unlike a PC or other Mac desktops, such as previous Mac Pro models, the current iteration of
Mac Pro
does not include any drive bays to easily install more storage. Customers wanting more storage have to either use an
aftermarket drive bay
with the built-in SATA connections, use external storage systems, or use an expansion card that provides more capacity.
Sonnet's Fusion Dual 2.5-inch SSD RAID PCIe 3.0 card offers a solution for those who want to use normal SSDs, as it consists of an expansion card that fits into a full-length PCIe card slot. The 2.5-inch SSDs are held by the card, so there is no need to include extra SATA or power cables, or even to acquire a mounting system for the drives.
When connected, the SSDs are managed by the onboard RAID controller, with support for RAID 0, RAID 1, Span, and JBOD configurations. When set in RAID 0, the card is capable of sustained data transfer speeds of up to 1,000MB/s, with RAID one reading at 540MB/s and writing at 480MB/s.
The card supports up to two SSDs up to 4 terabytes in capacity, with a potential total capacity of 8 terabytes. To further take advantage of the PCIe 3.0 connection, the card also includes a SuperSpeed USB-C port that connects at 10Gb/s, which can also provide power delivery at up to 15 watts.
While the card offers considerable benefits to new Mac Pro users, it also has its uses on other devices, including the older 2010 and 2012 Mac Pro models with free PCIe 3.0 slots, PCs, and Thunderbolt 3 external expansion devices. Support is offered for macOS 10.10.5, macOS 10.12.6, and later releases, but not macOS 10.11.
Fusion Dual 2.5-inch SSD RAID PCIe card will be available for purchase
at $129.95
, starting on January 31.