J.P. Morgan tweaks AAPL target up to $300 on Apple Watch, AirPods strength
On the eve of Apple's crucial holiday quarter earnings, J.P. Morgan has slightly hiked its Apple stock target price to $300, but is warning about the "high bar of investor expectations."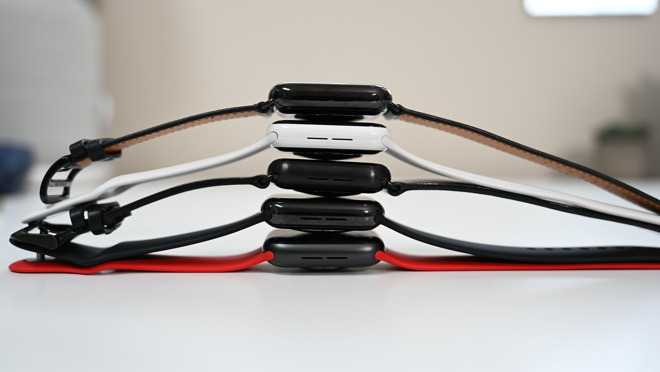 All of the Apple Watch Series 5 case materials
In a note to investors seen by
AppleInsider
J.P. Morgan stock analyst Samik Chatterjee is expecting Apple to deliver a strong quarter primarily from better than expected
Apple Watch
and
AirPods
performance, with revenues at the high end of guidance. Where Apple has predicted between $85.5 billion and $89.5 billion for the quarter, Chatterjee is expecting to see $88.7 billion on the quarter.
Specifically, the iPhone is said to be $49.7 billion of that, with the the iPad and Mac both bringing in $7.3 billion each, Services earning $12.9 billion, and Wearables plus Home and Accessories drawing $11.6 billion. Gross margin is expected to be 38% overall, with Services gross margin by itself hitting $64.5%.
The hike to $300 per share of Apple stock, versus the $296 it set on December 20, is driven by a "strong ramp for wearables in the quarter." Chatterjee also says that he expects "continued progress on the Services transformation," predicting 18% growth from the year-ago quarter.
The hike is based on a very slight increase to the profit to earnings multiplier to 18.5x versus 18.4x, and no meaningful increase in the earnings per share.
But, Chatterjee still recommends caution, and a tempering of expectations somewhat, despite the currently lofty price of the stock.
"We continue to recommend shares of AAPL for long-term shareholders, with upside led by the re-rating of the shares from the Services transformation," writes Chatterjee "However, heading into the earnings announcement later this week we would be wary of the high bar of investor expectations."
For the second fiscal quarter, Chatterjee is predicting total revenues of $63.7 billion, with a gross margin of 37.9%. In the second quarter of fiscal year 2019, Apple had revenues of $58 billion.
In trading before the market opens on Monday, Apple stock is presently sitting at $311.50, down 2.1% over the weekend in a market impacted by Corona virus fears.
Other analysts are more optimistic about Apple stock pricing going forward. A
note from Cannacord
on January 15 also predicts strong "iPhone 12" sales on top of high demand for the
iPhone 11
. Canaccord sees sustained Services revenue momentum into the next year, pushing the multiple from 16x to 20x, and the price target from $275 to $355.
Jun Zhang from Rosenblatt
is not as optimistic about the stock. On Friday morning, Zhang upped his share price from $150 to $250, but doesn't see strong Services results, nor is he expecting any dramatic movement from the "iPhone SE 2" nor the 5G iPhone 12.