Review: Mous and the merits of a modular iPhone case system
Posted:
in iPhone
edited January 2021
For the latest crop of iPhones, case manufacturer Mous has pushed forward to its Limitless 3.0 magnetic mounting system to provide a modular and protective lineup.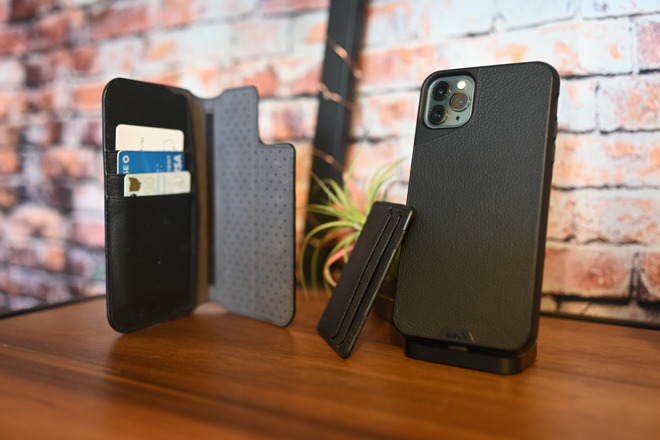 Components of the Mous modular case system
When I look for a case, I'm looking for that is well made, using quality materials. I also need it to adequately protect my device and support wireless charging.
"Nice to haves," include things like a unique look, possibly some sort of wallet integration, slim profile, coupling with Moment lenses, and works easily with various mounts.
There are a lot of excellent cases out there, that fulfill a subset of my needs. Mous, doesn't tick all the checkboxes either, but with its Limitless 3.0 mounting system is it a great option by going for a more modular approach than most.
The Mous case
Mous starts with a simple slip-on shell case. From the front, it looks very simple with not much flair. A closer look reveals the details, though.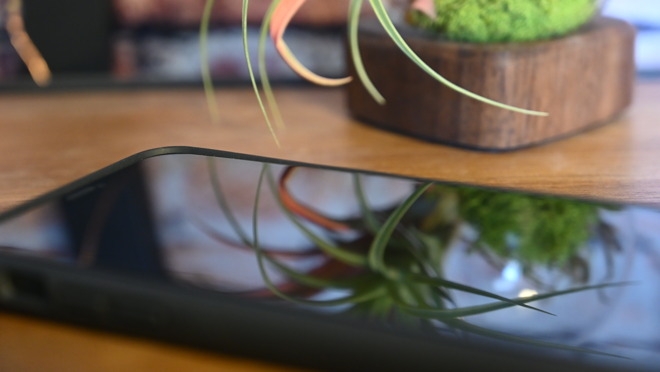 The top and bottom edges of the case protrude slightly more than the sides
For example, it protrudes slightly more from the bottom and the top of the phone on the front to be more protective during drops and to keep the phone elevated when face down on a table. It also keeps the sides near flush to the phone to keep it more comfortable to hold.
When you turn it over, there are several different premium materials that are inlaid into the case. I opted for black leather, but there is also a white leather, a stunning walnut, a handsome bamboo, and a rugged aramid fiber. All look great and can fit a variety of personal styles.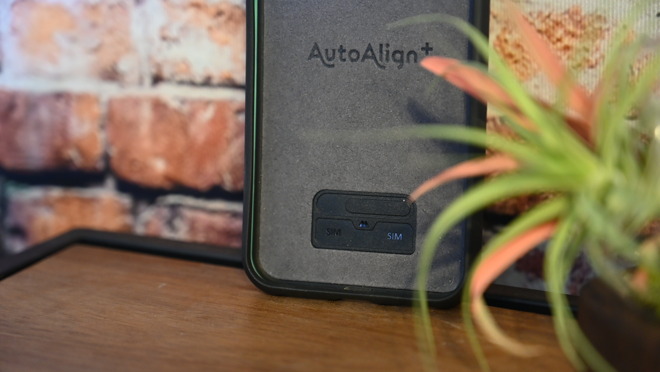 Inside the case is a microfiber lining, a storage for two SIM cards and a removal tool, and AiroShock for impact protection
If you take the case off the phone, you see there is also a hidden holder on the inside where you can tuck two additional SIM cards and a SIM card removal tool. Even though the new iPhones support dual SIM cards, if you are a frequent traveler this can still be quite handy.
From the inside, you can see the AiroShock lining which is a mint-green color. This helps absorb shock in the case of drops. Mous doesn't give a specific drop height it was tested against, but if a looping video clip from their site is to be believed, you can toss your phone high in the air without any issues.
We don't recommend trying this on your own.
Limitless 3.0
The last killer feature of the Mous case is its Limitless 3.0 mounting system. Within the back of each of its cases is a quartet of magnets. They are spaced far apart enough to retain wireless charging support, yet they have enough strength to hold onto a variety of different accessories.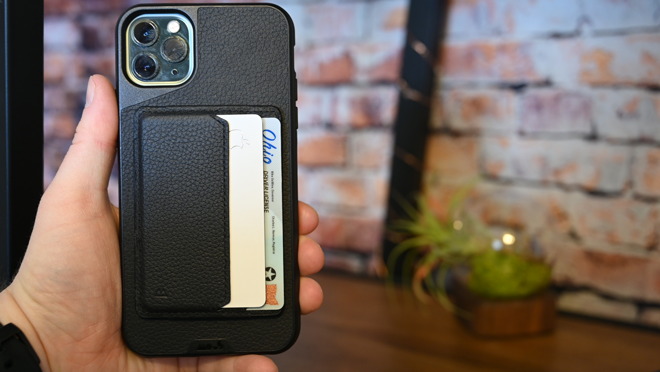 The Mous card wallet on the back of an iPhone 11 Pro Max
Mous has a vent mount, a suction mount, a wall mount, a flip wallet, and a card wallet that all are magnetically attached to the back of the phone case.
Limitless 3.0 is an iteration on its original Limitless magnetic mount which means that while similar, they aren't the same. There is no backwards compatibility -- you can't use a Limitless 3.0 case with a Limitless 2.0 mount or vice versa.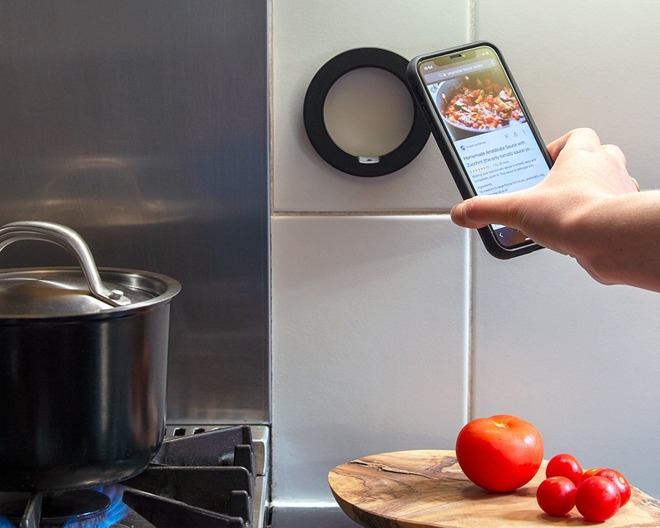 The Mous wall mount
The wall mount is a simple ring with an adhesive on the back to affix it to a wall, table, or cabinet. I mounted this on my kitchen cabinets to view my phone hands-free while cooking.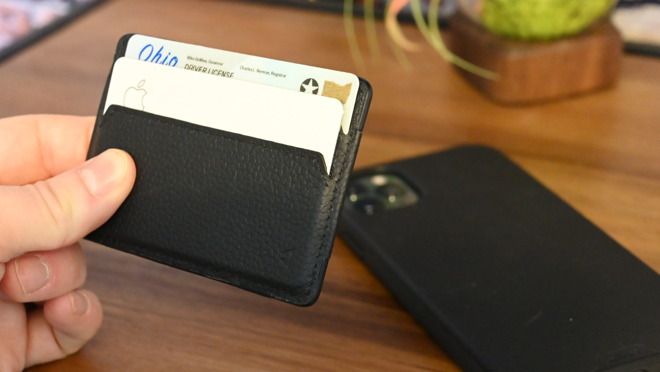 Mous Card Wallet is slim, holds two cards, is wrapped in leather, and magnetically connects to the back of the phone case
I picked up both the Card Wallet as well as the Flip Wallet because I wanted options. The Card Wallet is small, slim, and can be perfect for holding one to two cards when I head out. I do wish it could hold three cards, as I usually travel with my debit card, credit card, and ID.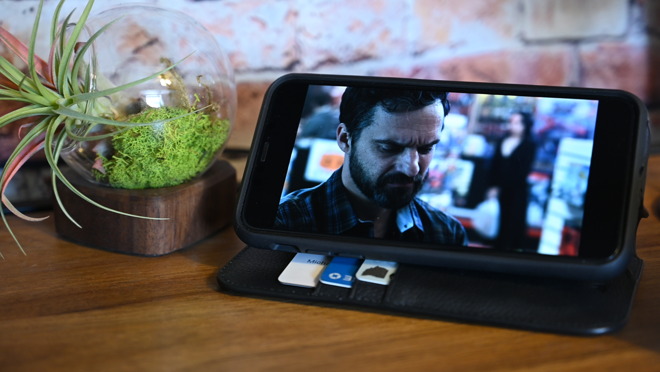 The Mous Flip Wallet which can be propped up into a stand
However, that is where the Flip Wallet comes in. It is more substantial and offers a more folio-like experience. It protects the front of your phone and can prop your phone up in landscape mode for watching a movie or TV show.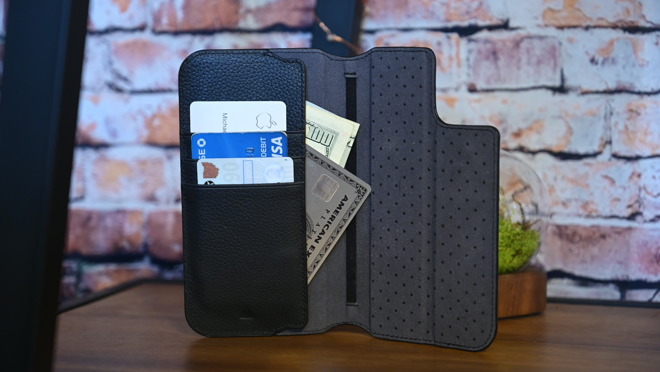 The inside of the Mous Flip Wallet folio
There are small silicone dimples on the back that help ensure the magnets don't give, an elastic band in the center to hold cash, three pockets for cards, and a larger pocket to hold business cards, receipts, cash, or other small items.
If you have a case that perpetually has a folio wallet attached, it adds a lot of bulk when you don't necessarily need it. You don't need to carry your wallet around your house. By being detachable, it can be removed when unnecessary and re-attached on your way out the door.
I've always liked wallet-style cases, but with cards on the back wireless charging is prohibited. With either the Card Wallet or Flip Wallet the cards can be removed.
Feeling limitless
Using the Limitless 3.0 system with the Mous case on my iPhone 11 Pro Max has been freeing. I can use clean, simple, magnetic mounts at home and in the car. I can snap either wallet on the back as I head out of the house.
Everything -- the case, the mounts, the wallets -- are made impeccably well. They are stylish and I feel like my phone is very well protected while they are in use.
It isn't perfect, though. The case family doesn't support Moment lenses so I still have to shift to my
Nomad Rugged Case
when I plan to shoot some photos using those lenses.
The case is also not the thinnest we've seen. It is sleek, but still adds some substantial bulk compared to a naked iPhone -- but these are tradeoffs for the magnetic mount and ample protection.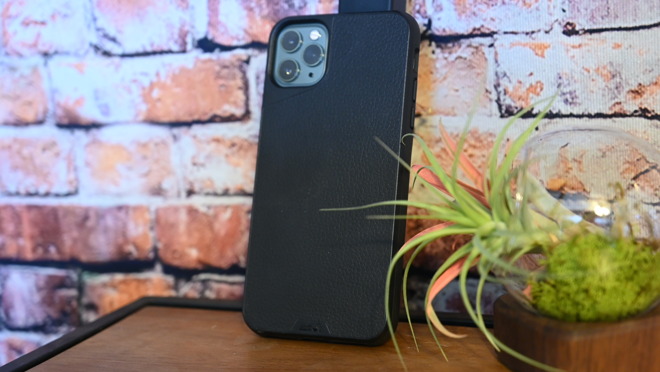 The Mous Limitless 3.0 case in black leather
One thing I hope that Mous explores is the idea of a Qi mount. It is nice that the case supports wireless charging but is disappointing none of the mounts support it directly, forcing us to plug it in. There are many magnetic wireless charging mounts and we wish Mous had its own to support the Limitless 3.0 mounting system.
Should you buy the Mous case and Limitless 3.0 accessories?
There are a whole lot of iPhone cases on the market if we wanted to woefully mischaracterize the overwatered case ecosystem. We can't easily say "yes, this is the case everyone should buy" simply because everyone has different requirements, different tastes, and different preferences.
What we can confidently say, is that the Mous case is very protective, has great attention to detail, has great features and touches, and has a variety of useful accessories that conveniently attach magnetically.
A lot of iPhone cases roll across all of the
AppleInsider
desks. While Mous doesn't fulfill everything I need in a case, it gets about as close as it can.
Pros
Great drop protection


Wallet accessories are well-designed


Various magnetic mounting options available


Relatively thin


Internal SIM storage


Easily depressible side buttons


Great material options for back


Supports wireless charging
Cons
Not the thinnest case around


No Qi charing mounts


Card Wallet only holds two cards
Rating: 4.5 out of 5
Where to buy
The Mous Limitless 3.0 case in various materials is available on Amazon for the latest iPhones starting at $44.99. There are also wallets, mounts, and screen protectors available starting at $19.99. Head over to
Amazon to check out the entire lineup
.