First Alert adds Apple AirPlay 2 support to Onelink Safe & Sound smoke detector
First Alert on Tuesday issued a software update that adds AirPlay 2 support to its Onelink Safe & Sound smoke and carbon monoxide alarm-cum-speaker, fulfilling longstanding customer requests for integration with Apple's audio streaming technology.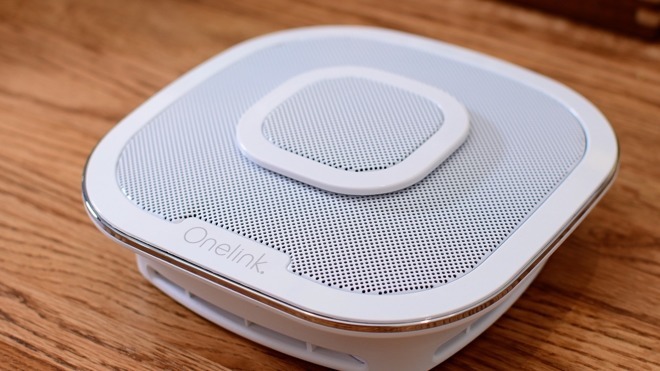 Announced in a
press release
, the new capability is rolling out now to Onelink Safe & Sound owners. Once the unit is updated, users can stream audio from compatible devices like iPhone, iPad and Mac.
With smoke alarms typically installed in every room of a home -- with larger spaces necessitating more than one unit -- Onelink Safe & Sound makes for an ideal AirPlay 2 platform. Depending on a given installation, users can leverage Apple's wireless protocol to play back and control audio content on a per-speaker, room-by-room or whole-house basis.
AirPlay 2 also allows playback synchronization with other compatible speakers, as well as Siri voice control.
First Alert initially promised AirPlay 2 integration when the device
debuted at CES 2018
, saying compatibility would arrive "upon availability." The company went silent on the topic for well over a year, sparking rumors that the project was dead in the water. Hope was revived last October, however, when beta testers posted screenshots showing the system at work to Reddit and other outlets.
In its
review of the Safe & Sound
,
AppleInsider
lauded First Alert's integration of HomeKit and Amazon Alexa, but dinged the device for poor audio quality over Bluetooth. AirPlay 2, with its Wi-Fi audio capabilities, might address those early gripes while adding utility to the nearly two-year-old system through new streaming options.