2020 iPad Pro's A12Z shows little improvement over 2018's A12X in early benchmarks
Posted:
in iPad
edited March 2020
Apple's 2020 iPad Pro is set to arrive in customers' hands on March 25, but some have received their unit early and are putting the tablet through its paces. Surprisingly, the new machine with Apple's A12Z processor is mustering benchmark scores nearly identical to those achieved by the more than year-old A12X predecessor.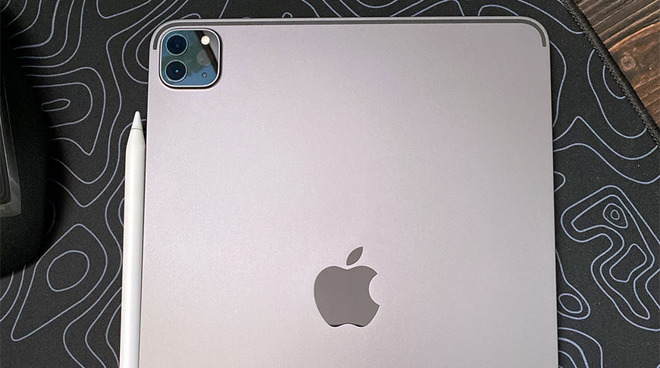 2020 iPad Pro. | Source: "Zindexed" via Reddit
Redditor "Zindexed" received their 11-inch iPad Pro
on Monday
-- a full two days ahead of Apple's scheduled delivery date on Wednesday -- and promptly put the device through a battery of tests.
Using Geekbench 5, the new
iPad Pro
running iOS 13.4 managed a single-core score of 1114, a multi-core score of 4654 and a Metal score of 9894. Save for an improvement in Metal processing, those marks are roughly identical
to averaged
2018 iPad Pro scores as collected by Geekbench.
According to the benchmarking service, Apple's iPad Pro running an A12X processor scored 1113, 4608 and 9020 in single-core, multi-core and Metal testing, respectively.
Antutu testing was a mixed bag, with the new iPad Pro scoring a total of 685120, down from last year's composite score of 709337. The 2020 model managed 187648 for CPU, 348519 for GPU and 71476 for memory. By comparison, Antutu's performance rankings show the 2018 iPad Pro scoring 184553 for CPU, 357335 for GPU and 90598 for memory.
The disparity in memory performance is a surprise considering a report last week claimed all 2020 iPad Pro models
come with 6GB of RAM
, two more gigabytes more than all but the top-tier 1TB model from 2018.
As with any early evaluation, the results gleaned from "Zindexed" might not be indicative of real world performance. That said, the numbers could be presumed from two A12-based system-on-chip designs with little architectural deviation. Both the A12X and the new A12Z feature 8 CPU cores clocked at 2.48GHz. Apple's latest variation, the A12Z, boasts eight GPU cores compared to seven on the A12X, which could explain the higher Metal score from Geekbench. That the new "Z" series silicon fared poorly in Antutu GPU testing is at this point an anomaly, though it could be the consequence of benchmarking software optimization.
AppleInsider
will provide thorough evaluation of Apple's flagship tablet, including exhaustive benchmarking analysis, in the days to come.