Apple offers free 90-day trials of Final Cut Pro X and Logic Pro X
Apple this week activated free trials for its professional media creation apps Final Cut Pro X and Logic Pro X, presenting potential users a 90-day period to see if the software is a right fit for their workflow.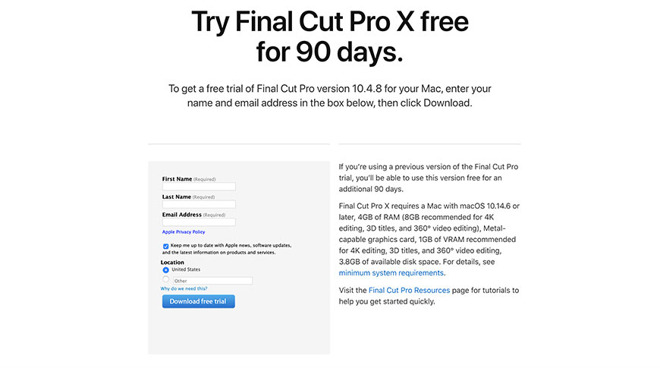 Apple is offering a 90-day free trial for Final Cut Pro X and Logic Pro X.
Available through Apple's
Final Cut Pro X
and
Logic Pro X
webpages, the free trials offer potential buyers a chance to use the pro-level apps without committing to a relatively expensive purchase price.
Apple's traditional Final Cut Pro X free trial period lasted 30 days. Those who are currently taking advantage of the 30-day trial can tack on an additional 90 days with the new offer. As a limited time event, the 90-day Final Cut Pro X trial will eventually revert back to its original 30-day period at some point in the future. Final Cut Pro X retails for $299.
The free trial is available to users around the world.
Though not currently denoted on its webpage, Apple will also roll out a
90-day free trial
for Logic Pro X in the next few days, reports
MacRumors
. Like the Final Cut Pro X special, the upcoming 90-day Logic Pro X trial is a limited time offer. Logic Pro X is normally $199.
Apple's pro apps trials arrive as people around the world take shelter at home to escape the COVID-19 pandemic.