AT&T manager iPhone theft scheme & bandits with surgical masks on the Apple Crime Blotter
Posted:
in iPhone
edited April 2020
Postal worker stole iPhones and Viagra, an AT&T manager's iPhone theft scheme, police inaction over an iPad theft, and more from the world of Apple-related crime.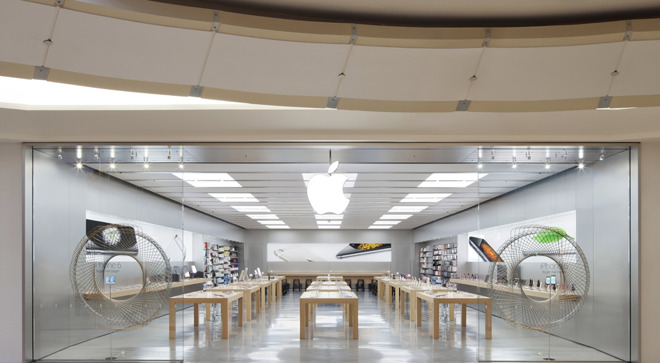 The Apple Store at the Mall of New Hampshire
Even with most Apple Stores and many other businesses closed, there's still plenty of Apple-related theft in the news. The latest in an occasional
AppleInsider
series.
Trio accused of dressing as FedEx workers to steal iPhones
A group of suspected thieves who dressed as FedEx workers to steal goods were all arrested in Connecticut this week -- including one of them twice -- when residents stuck at home became suspicious and called police. According to
The Hartford Courant
, police found
two unopened iPhones
in their car, which the caller said had been stolen from her porch.
After two members of the group were arrested, charged and released, one of them was arrested again, along with an accomplice, that same night. The accused thieves had FedEx shirts and were wearing surgical masks and gloves.
Man used stolen credit cards at New Hampshire Apple Store
Back in December, long before all of the Apple Store locations closed, an unidentified man
charged $11,000
on stolen credit cards at the Apple store at the Mall of New Hampshire in Manchester. A report on March 28 by
WMUR
states police believe the man stole the cards from a car at an area gym called the Zoo Health Club.
Postal worker who stole an iPhone and 1,000 Viagra tablets gets probation
A former postal worker in Northern Ireland who was arrested in September for stealing an
iPhone in the mail
-- as well as over 1,000 Viagra tablets -- has been sentenced to probation and ordered to pay restitution.
Armaghi.com
reports the man was caught after he took the phone, put it up for sale on eBay, and it was returned to an address associated with the accused. When his home was raided, the Viagra pill stash was also discovered.
AT&T store manager charged in iPhone theft scam
Police in suburban Philadelphia announced the 28-year-old manager of an area AT&T store has been charged with executing a
$95,000 theft scheme
involving iPhones.
According to
Main Line Media News
, the manager is accused of creating "fake business accounts and phony purchase transactions" throughout the summer and fall of 2019, involving dozens of fraudulent transactions. At least five iPhone 11 Pro Max devices are involved in the ring.
Ex-Verizon store employee accused of stealing iPhones
A former employee at a Verizon store in Connecticut has been charged with a
less sophisticated theft
of iPhones. According to
The Daily Voice
, the 40-year-old man, who had been fired from the store earlier that day, entered a storage room at the store and took several iPhones valued collectively at $7,190.
Police later found one of the phones in the man's car.
British man retrieves stolen iPad after police "can't make it"
A 51-year-old British man used the Find My app to
track down his iPad and wallet
after they were stolen from a pub. While police had offered their support for when he went to retrieve it, they ended up no-showing.
The
Evening Standard
reports the man went to the "thieves' den," but the police weren't there when he arrived. When he called to find out where they were, they told him "sorry, we can't make it." After some "screaming and shouting," the man got back his iPad and wallet. Police later apologized.
iPhone stolen from South African actress
Thuli Phongolo, a South African actress and TV personality, had
her iPhone 11 Pro Max stolen
while she ate lunch at a restaurant. According to
The Daily Sun
, the theft took place in mid-February in a suburb of Johannesburg.
Phongolo was texting when an unidentified man took her phone, ran away, and jumped into a blue Toyota Corolla.
Photo on iPhone screen identifies accused car thief
A 32-year-old Pennsylvania man who police say stole a car and immediately crashed into a parked truck before fleeing has been identified.
He left his iPhone
at the scene and police matched his lock screen photo with his picture in a database.
According to
The York Daily Record
, the incident happened in early March, the suspect fled after a struggle with the owner of the car. While police know the name of the alleged thief, he remains at large.
Have an Apple crime story for us? Email
AppleInsider
and tell us about it.