New H.266 VCC codec up to 50% more efficient than previous standard
The Fraunhofer Heinrich Hertz Institute on Tuesday announced the H.266 Versatile Video Coding codec, which will power more data-efficient video capture and transmission on future iPhones.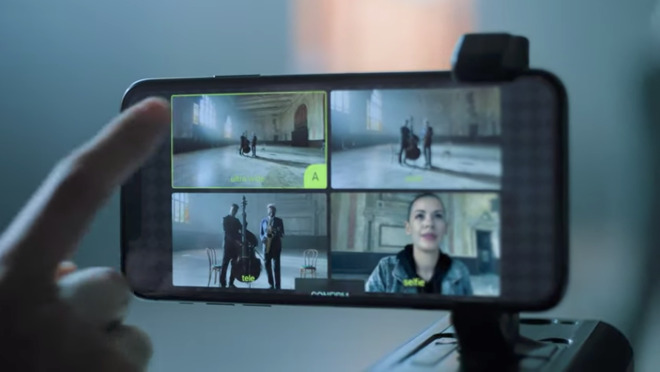 Credit: Apple
Apple adopted the predecessor to the new codec, H.265/HEVC, in
iOS 11
. The updated video codec, which was developed after years of research and standardization, will bring a number of tangible benefits to future iPhone users.
In its
announcement
, the Fraunhofer HHI said that H.266 will reduce data requirements by around 50% thanks to improved compression. With the previous HEVC codec, it took about 10GB of data to transmit a 90-minute ultra-high definition (UHD) video. H.266 can do that with 5GB.
The codec, as detailed in a 500-page specification, was designed from the ground up for use with 4K and 8K streaming. It'll allow users to store more high-definition video and reduce the amount of data on cellular networks.
"Because of the quantum leap in coding efficiency offered by H.266/VVC, the use of video will increase further worldwide. Moreover, the increased versatility of H.266/VVC makes its use more attractive for a broader range of applications related to the transmission and storage of video," said Benjamin Bross, the Fraunhofer HHI's Video Coding Systems head.
The H.266 represents what the Institute calls the "pinnacle" of four generations of international video coding standards. The previous codecs, H.265/HEVC and H.264/AVC, process an estimated 90% of the total global volume of video bits.
Of course, it will still take years for consumer-facing devices and platforms to support H.266. The H.265 standard was completed in January 2013, but was supported by Apple's iOS 11 in 2017.
The Fraunhofer HHI developed the H.266 standard in partnership with industry leaders like Apple, Intel, Huawei, Ericsson, Qualcomm, Sony and Microsoft. Apple, although a longtime user of the standards, signaled support for
alternative codecs
in 2018.