Review: iVanky Dual USB-C docking station powers even the beefiest MacBook Pros
The iVanky 12-in-1 Docking Station is a plug-and-play dock that expands your MacBook Pro's ports without tying you down.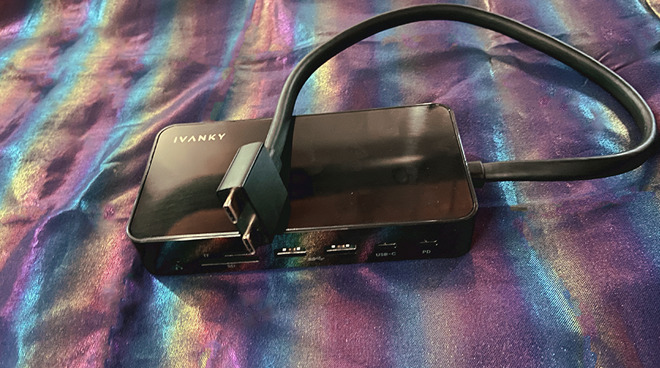 One of the first things we noticed about the
iVanky 12-in-1 Docking Station
is how well-made it feels, as it's substantially heavy for its small size. All the ports are tight-fitting without requiring excessive force to plug or unplug anything, and the plastic seems to be fairly sturdy with a non-slip rubber bottom to help keep it right where you place it.
There is a slight downside -- the plastic of the dock is very shiny, meaning it quickly shows fingerprints and dust and is prone to scratching, especially around the ports. If iVanky were to release the second generation of this dock, we would like to see it in a satin-style finish, which would keep it looking newer longer.
Ports of all sorts
If you're reading this, you're probably someone who already sings the praises of
USB-C
. That being said, you're also probably the type of person who has a plethora of legacy devices that require different ports. Docking stations, such as this one, are a great way to expand the capabilities of your
MacBook Pro
.
Important:
This dock is USB-C, not Thunderbolt 3.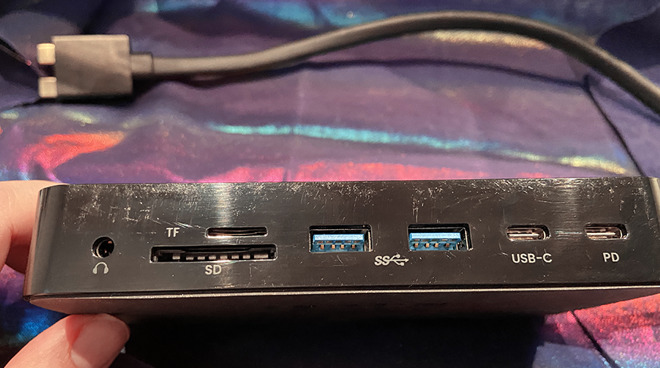 Front port layout
The ports included in the iVanky 12-in-1 docking station are:
Mini Display Port 1.2

HDMI 2.0

Gigabit Ethernet

(2x) USB-A 3.1 Gen 1 (5 Gbps, 5V/1.5A)

(2x) USB-A 3.1 Gen 1 (5 Gbps, 5V/0.9A)

SD card slot

MicroSD (TF) card slot

USB-C (5 Gbps, 5V/1.5A)

USB-C PD (5 Gbps, 9V/2A)

3.5mm audio port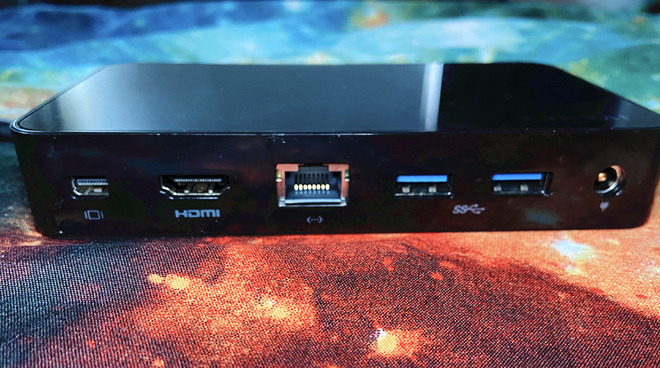 Rear port layout
One of the best features of this dock is that it splits its USB-A ports between the front and back of the device. Devices that rarely go unplugged, such as mice dongles or seldomly-moved charging cables, can reside in the rear, while quick-access devices like flash drives can plug into the front.
Multi-monitor setup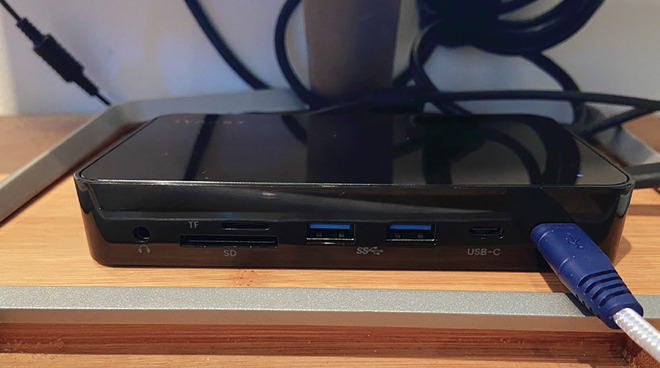 The 12-in-1 dock in use under monitor
If you have a 15-inch MacBook Pro or a 16-inch MacBook Pro, this dock will allow you to connect two 4K displays with resolutions of 3840 x 2160 at 60Hz. For other MacBook Pro and
MacBook Air
models, the first monitor will work at 60Hz, while the second will work at 30Hz.
Convenience for commuters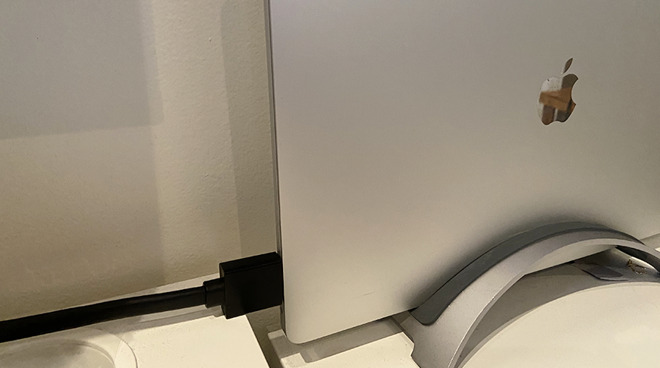 The iVanky docking station requires two USB-C ports
Not only does it offer additional ports that your MacBook Pro might be missing, but it adds an indispensable layer of convenience for those who regularly commute. Instead of unplugging a bunch of cables to free your MacBook from your desk -- not to mention digging out your power adapter from wherever it may be inconveniently located -- there's one cable to unplug.
That sort of grab-and-go convenience has gone by the wayside for many of us. This is especially true for those who choose to use a computer in clamshell mode with an external monitor. A great dock can become an invaluable tool for those who take their laptop everywhere.
Compatibility
Usually, we have to put a warning on third-party docking stations stating that they're not compatible with the 2019, 16-inch, Core i9 MacBook Pro, as it will not provide enough power. Not this time -- the iVanky 12-in-1 docking station offers 96W of charging to keep even the beefiest MacBook Pro charged up at full speed while in use.
Additionally, it's compatible with the following computers:
16-inch MacBook Pro

15-inch MacBook Pro (2016 and later)

13-inch MacBook Pro (2016 and later)

13-inch MacBook Air (2018 and later)
Don't see your MacBook on the list? Don't worry! We also reviewed the
Plugable Thunderbolt 3 and USB-C Docking Station
, which is compatible with late 2016, Mid 2017, 2018, 2019 MacBook Pros, 2018 MacBook Air, 2018 Mac Mini, and Mid-2017, 2018, 2019 iMacs.
Overall
It's hard not to like the iVanky dock. Yes, it eats up two of your USB-C slots, but the ability to keep your MacBook Pro fully charged under any load more than makes up for it.
If you want to get your own iVanky 12-in-1 dock, head over to Amazon, where
they retail for $179.99.
Be sure to check the $20 off coupon box, which drops the price to $159.99 -- for a limited time only!
Score: 5 out of 5 stars
Pros
Adds 12 ports to your MacBook Pro

Both SD and microSD card readers

Powers Core i9 MacBooks
Cons
Shiny plastic is prone to showing scratches, fingerprints, and dust.